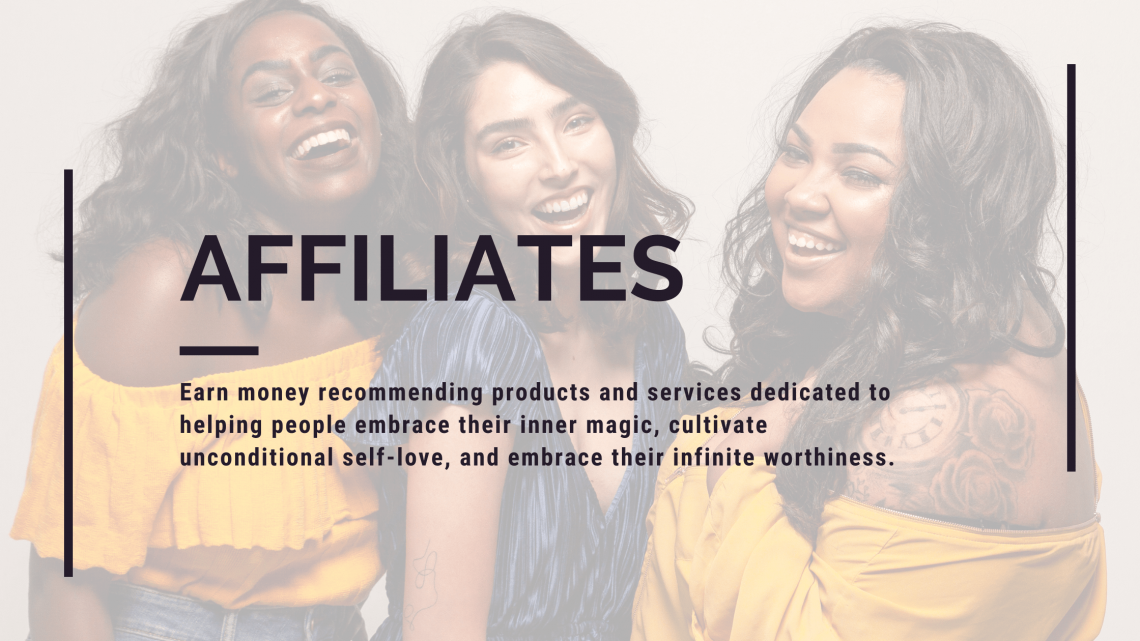 Would You Like To Be An Affiliate For ZannaKeithley.com?
Do you want to make some extra income sharing products and services you love? I'd love for you to join me in this journey of helping others to embrace their worthiness, cultivate unconditional self-love, and discover their inner magic.
What does it mean to be an affiliate? An affiliate is someone who works with me to help sell products and services available in the online shop. When you become an affiliate for ZannaKeithley.com, you'll receive your own personal links that you can share with your audience through your own website and social media channels. Whenever someone clicks on your link to make a purchase, you'll receive 25% of the total purchase. It truly is that simple. You don't have to create your own products to start making money today; all you have to do is spread the word!
Want to learn more? Here are the details:
If you're interested in becoming an affiliate for ZannaKeithley.com, all you have to do is click here to get started.
This link will take you to sendowl.com. Here, you'll be prompted to create a free SendOwl affiliate account, and you'll have a chance to read over our terms and conditions.
Once you're signed up, you'll receive your own affiliate links. You'll also be able to access your affiliate dashboard at any time, allowing you to see your total sales and income.
As soon as you have your personal affiliate links, you can start sharing your links with your audience on your website and social media channels. When a person clicks one of your links, a cookie will be put on their device that will last for 90 days. That means for any purchases they make in the following 90 days after clicking your link, you'll receive 25% commission (excluding sales tax).
After signing up, you'll also be added to my affiliate mailing list. I'll email you from time to time letting you know about new products and services available in the shop; provide you with discount codes; and send you images and banners you can display on your own website.
You'll be paid for any successful referred sales two weeks after the final sale. Though I don't accept refunds on digital products, this allows enough time to make sure the customer will not need to be refunded for their purchase (just in case). Unfortunately, I cannot offer you commission for a refunded sale.
What You Need To Become An Affiliate
An active PayPal account. (I can only send you payments through PayPal.)
A sincere desire to help others.
A belief that we all possess our own inner magic.
Social media channels and/or a website through which you can promote the products on ZannaKeithley.com.
If you have any additional questions about becoming an affiliate, please don't hesitate to email me at zannakeithley@gmail.com.
What Products Do We Offer?
Click any of the banners below to learn more about the products offered in the online shop. More products for manifestation, spirituality, chakra healing, positive affirmations, and self-love will continue to be added in the future. Click here to go to the online shop.