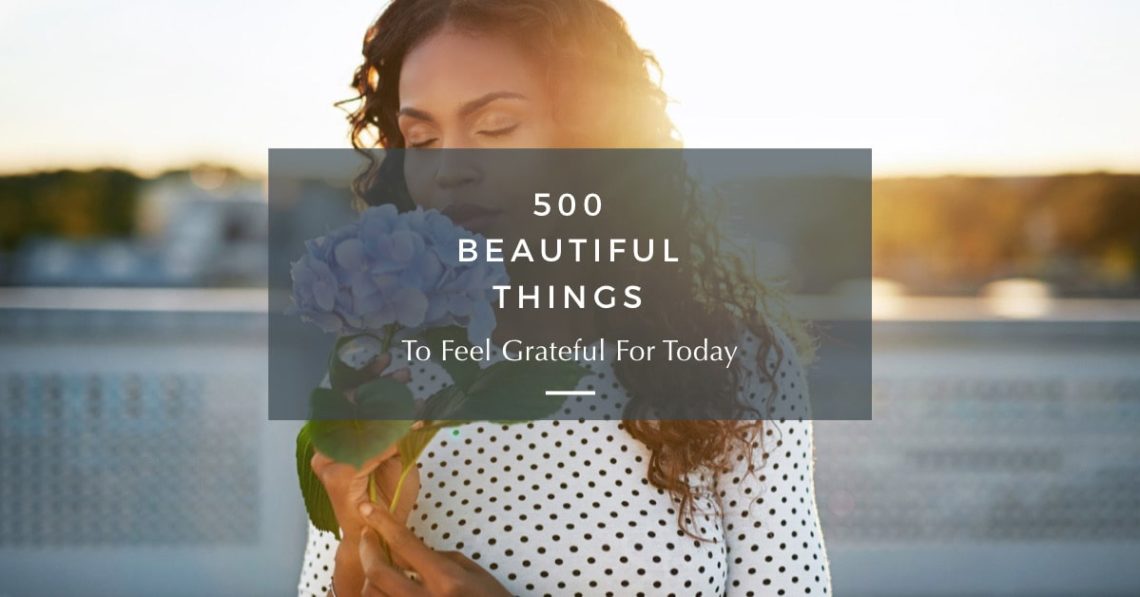 500 Things To Be Grateful For Today
In this article, discover 500 things to be grateful for today. For easy reading, these 500 list items have been divided into 15 categories. Use this list to help you develop your own gratitude practice and remind you that while life may not be perfect, there's still a lot of really wonderful things in this world to feel grateful for.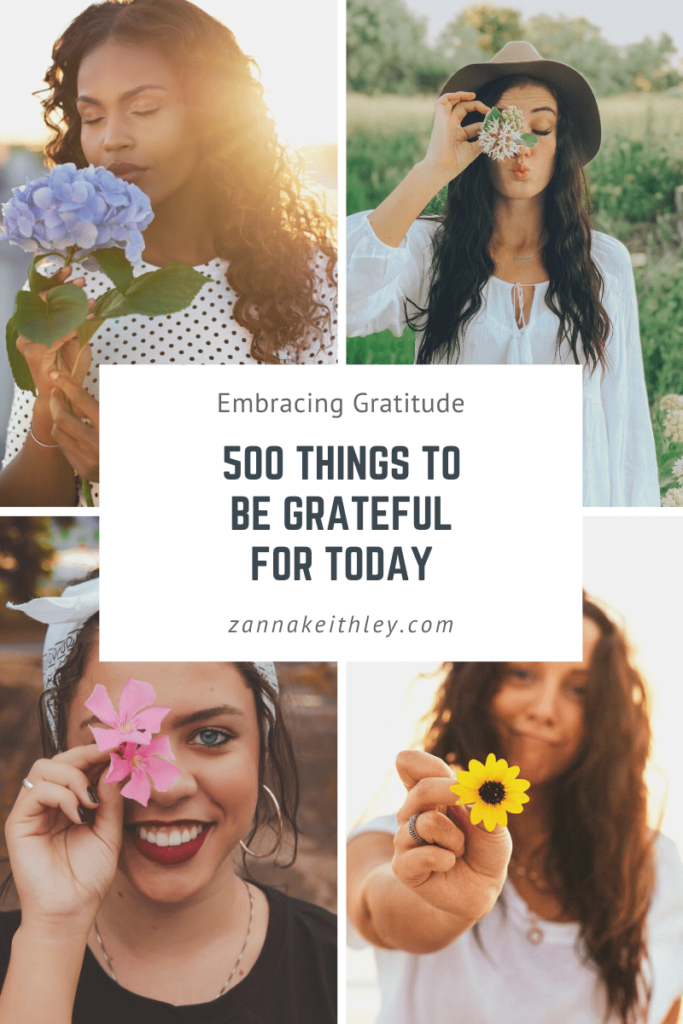 Finding Gratitude
Embracing gratitude is the practice of expressing sincere appreciation for your daily miracles. But these daily miracles aren't necessarily "really big" things. Often, it's the normal, everyday experiences of our lives that provide us with the biggest reasons to express our gratitude:
Having a safe, warm home to live in. Being loved and appreciated by family and friends. Possessing a strong heart and healthy lungs. Your first sip of coffee in the morning. The ability to open your eyes and greet a brand new day.
Every morning, I write down at least three things I'm grateful for that day. However, in this practice, I find myself often writing down the same things week after week. And while there's nothing wrong with this, I wanted to see if I could come up with a longer list of people, places, things, and experiences to feel truly grateful for in my life.
Below, you'll find 500 things to be grateful for today. I've separated these list items into subtopics such as Body, People & Relationships, Past Experiences, and Nature. However, you'll find that many of these list items can fit under multiple categories.
Whether you have an ongoing gratitude practice or are starting a new one, I hope that this list of 500 things to be grateful for today helps you to view your life from a perspective of true abundance: seeing it for all that you have rather than all that you lack.
Not all list items will apply to you, and that's okay. They may still help you to spur new thoughts and ideas about things you feel grateful for in your life. Because while 500 things to be grateful for may seem like a lot, it's actually just barely skimming the surface of all there is in this world to appreciate. (For instance, after I finished the list, I realized I didn't include very much about your job and career!)
And finally, no matter what's going on in your life, I hope you remember that expressing gratitude doesn't mean you have to ignore the your heavy emotions or suppress any frustration you may feel in this moment.
Rather, it's an opportunity to take a deep breath and acknowledge that even when life isn't perfect, there's still a lot of really beautiful things in this world to feel grateful for.
500 Things To Be Grateful For Today
Body
Healthy lungs for breathing
A strong heart
Eyes that give you vision to see the world
Ears to hear music and laughter
A nose to smell flowers and freshly baked cookies
A tongue (and taste buds!) to taste your favorite foods
Lips to kiss your partner, your children, or your pets
A functioning brain for thinking, problem-solving, and all-around living
Healthy legs for walking, running, and dancing
Arms for hugging the people you love
Hands and fingers that allow you write, draw, and hold a hot mug of something warm and tasty
An immune system that keeps you healthy
A liver that removes harmful toxins
Muscles that help you to move, lift, speak, and enjoy life to the fullest
Strong bones to help you stand, move, and experience the world
Resilient, self-repairing skin that shields and protects you
Those scars you have that are proof of a life fully lived
Yourself
Your skills and talents
Your kindness
Your compassion
Your strength
Your courage
Your resilience
The challenges you've faced with your own courage and strength
Your ability to see the world through the eyes of love and appreciation
How far you've come
Your endless capacity to love
Your ability to persevere, even when life feels hard
Your generous heart
Your integrity
Your intelligence
Your creativity
Your problem-solving skills
Your deepest, most heartfelt dreams
Your passions
Your humor
Your unending hope
Nature
Sunsets and sunrises
Dreamy blue skies
Fluffy white clouds
The breeze against your skin on a warm day
The endless beauty of the ocean
That glorious mountain in the distance (or the one you've climbed)
The trees that stay rooted to the ground, no matter how hard the wind blows
The changing of the leaves from lovely green to spectacular reds, oranges, and yellows
A peaceful lake, river, or creek
The warm sand beneath your bare feet
The brightness of the full moon
A sky full of stars on a clear night
Beautiful, majestic wild animals
The soft whisper of the snow as it blankets the earth
That one place you can always find peace, no matter how heavy life feels
Birds chirping outside your window
The smell of freshly cut grass
Wildflowers
Lavender fields
People & Relationships
Your mother
Your father
Your siblings
Your children
Your partner
Your grandparents
Your stepmother
Your stepfather
An adult who helped raise you
Your aunts and uncles
Your cousins
Your nieces and nephews
Your in-laws
Your first best friend
Your high school best friends
Your college best friends
Your current best friends
Your boss
Your coworkers
Your neighbors
Your community
Your first love
Your past and present mentors
Your coaches
Your mentors
Your classmates
Your religious leaders
Kind strangers
A teacher who made a difference
The cashier who knows you by name
Your mail deliverer
Your doctor and nurses
Your work best friend
Your roommates
Your hairdresser
Your therapist
Someone you barely knew who said something that sticks with you to this day
Someone who makes you feel safe
Someone who always makes you laugh
Someone you can be your true self with
Someone who has seen you through your highs and lows and still loves you, no matter what
Someone who makes you believe in the goodness of people
Entertainment
That song that always makes you want to dance
That song that touches your heart every single time you hear it
That song that reminds you of a special memory
Your favorite band
Your favorite singer
Music, in general (and its healing power)
Your favorite movie
A movie scene that always makes you laugh
A movie quote you love
The best acting you've ever watched
That TV show you can rewatch 100 times without ever getting tired of it
A nostalgic video game
Your favorite podcast
Your favorite content creator
Your favorite writer
Your favorite book series
Lord of the Rings Marathons
Harry Potter Marathons
Watching Home Alone every December
Anything with Keanu Reeves
Going to a concert
Going to a show
Going to a sports game
Watching the Super Bowl for the game
Watching the Super Bowl for the commercials
Watching the Super Bowl for the snacks
Watching the Super Bowl for the people you get to spend time with
Past Experiences
Past experiences you're really proud of
Past experiences that made you stronger
Past experiences that helped you to grow
Past experiences that brought you joy
Past experiences that made you laugh so hard you cried
Past experiences that showed you the beauty of being alive
Past experiences that led you to where you are today
Past experiences that you wouldn't take back, even if they didn't lead where you wanted them to
Past experiences that showed you that you're so much braver and stronger than you realized
The smallest moments that made the biggest difference in your life
Past experiences that brought you peace
Past experiences that showed you the power of forgiveness
Past experiences that surprised you in the best way
Past experiences that helped you to learn from your mistakes
Past experiences that helped you to break out of a rut
Past experiences that made you shake and tremble with nerves – but you got through them
Past experiences that allowed you to feel truly alive
Past experiences that showed you the meaning of true love
Past experiences that helped you to connect to yourself
Past experiences that helped you to connect to others
Past experiences that helped you to connect to the universe as a whole
Possessions
Your home
Your car
Your phone
Your laptop
Your tablet
Your video game consoles
Your television
Your bed
Your blankets
Your pillows
Your toothbrush
Your toothpaste
Your body-cleansing products
Your lotion and moisturizer
Your hairbrush
Your makeup
Your kitchen table
Your coffee maker
Your favorite coffee mug
Your plates and bowls
Your eating utensils
Your kitchen sink
The food in your pantry
Your microwave
Your stove
Your refrigerator
Your toaster
Your air fryer
Your Instant Pot
Your pots and pans
Your baking sheets
Your oven mitts
Your dishwasher
Your garbage cans
Your couch
Your desk
Your clothes
Your washer and dryer
Your security system
The locks on your doors
Your Smart Home devices
The roof on your house
Your furnace
Your wall decorations
Your fitness tracker
Your headphones or AirPods
Your shoe collection
Your hair dryer
Your hair straightener
Your curling irons
Your vacuum
Your windows
Your curtains
Your blinds
Your light fixtures
Your gardening equipment
Your lawn tools
Your toys and games
Food & Drink
Water
Coffee
Tea
Smoothies
Chocolate
Spicy snacks
Pancakes & waffles
Pumpkin pie
Pizza
Tacos
Pasta
Seafood
Sushi
Fresh vegetables
Tropical fruit
Organic foods
Gluten-free foods
Sour candy
Hard candies
Gummy bears
The combination of peanut butter and chocolate
Mint chocolate chip ice cream
Cookie dough
Lemon-flavored sweets
Chocolate-covered strawberries
Burgers (Vegetarian ones, too!)
Crispy fries
Your favorite meal
Your favorite treat
Comfort food on heavy days
Warm soup when it's cold outside
Soft, warm, freshly baked bread
That one meal from your favorite restaurant
Home-cooked meals
Home-baked desserts
Sparkling water
Sparkling cider
Your favorite soda
Orange juice
Freshly squeezed lemonade
Animals & Insects
Cats and kittens
Dogs and puppies
Horses
Rabbits
Squirrels
Deer
Cattle
Pigs
Chickens
Hummingbirds
Ladybugs
Butterflies
Eagles
Giraffes
Zebras
All. The. Animals. (I could make a list of just 500 animals, so I'm going to stop myself here!)
The Little Things
Seasonal candles
Fuzzy socks
Stretchy leggings
Slippers
Crystals & gemstones
Essential oils
Affirmation cards
Motivational quotes
Souvenirs from past vacations
Old journals and diaries
Polaroid cameras
Plants
Freshly cut flowers
Succulents
Mala beads
Old pictures
Bookshelves filled with classic literature
A meaningful piece of jewelry
The soft glow of a Himalayan salt lamp
The scent of your favorite body wash
Bubble bath
Throw pillows
Coffee dates with your best friend
A kind smile from a stranger
Board game nights with friends and family
The feel of freshly washed sheets against your bare legs
A rainy day spent inside snuggled on the couch
Deep conversations with people you connect with on a soul level
Wearing a new outfit that makes you feel really good
Getting a meme or gif that makes you laugh
Crying it all out
Finding money you didn't know you had
The scent of chocolate chip cookies baking in the oven
Ridiculous dancing with friends
The moment your favorite song starts playing on the radio
Your favorite family traditions
Buying from a small, family-run business
Winning something unexpectedly
Running into someone you love while you're out in public
Comfy pajamas
Girls' nights
Guys' nights
A feel-good book
Sleepovers with your best friends
Three-day weekends
Creating a playlist of your favorite songs
The first sip of coffee in the morning
A warm shower
Outdoor lunch breaks on a perfect-temperature day
A peaceful moment to yourself before the day starts
Rewatching your favorite holiday movie for the 500th time
Beach days
Lake days
Cabin days
Snow days
Summer nights with friends
The fresh scent of the post-rain air in the spring
The touch of the sun's rays against your skin in the summer
The autumn colors and crisp coolness of the air
Snowy winters spent indoors next to the fireplace
Getting dressed up for no reason at all
Giggling with your best friend over inside jokes
Taking a vacation day to stay in and do nothing
Taking a nap in the middle of the day
Dinner parties with friends
Having breakfast for dinner
Having cold pizza for breakfast
A goodnight kiss
A kiss on the forehead
Your favorite childhood toy
A beautiful ending
A new beginning
Moving into a new home
Doing a cartwheel
Talking to your mom on the phone
Cuddling with the person you love most in this world
Receiving an unexpected gift
Giving a gift to someone when they don't expect it
Firsts
The first time you saw the ocean
The first time you travelled by plane
The first time you touched snow
The first time you held your crush's hand
Your first kiss
The first time you drove a car
The first car you owned
The first time you ran 5K
The first time you ran 10K
The first time you achieved something you never thought you would
The first time you meditated, even though you were quite certain you were doing it wrong
Your first job
Your first paycheck
Your first promotion
The first time you fell in love
The first house you bought
Modern Conveniences
Food delivery services
Grocery delivery services
Curbside pickup
Wireless internet
GPS
Fast food
Drive-thrus
Online shopping
Zoom
Spotify
Meditation apps
Google Calendar
Netflix
Hulu
Amazon Prime
HBO Max
Cell phone cameras
UPS
Fed-Ex
Same Day Delivery
Two-Day Shipping
Overnight Shipping
Indoor plumbing
Electricity
Water heaters
Curbside garbage service
Activities & Experiences
Meditating
Practicing yoga
Camping
Hiking
Jogging
Biking
Reading
Writing
Painting
Drawing
Crafting
Cooking
Dancing
Singing
Baking
Gardening
Exercising
Roller blading
Ice skating
Skateboarding
Skiing
Sledding
Snowboarding
Snowball fights
Building a snowman
Going on a picnic
Art in the park
Roasting marshmallows over a campfire
Running through the sprinklers on a warm day
Swimming in the ocean
Swimming in the lake
Swimming in a pool
Paddleboarding
Spending a day at the theme park
Riding a roller coaster
Road trips
Stargazing
Daydreaming
Journaling
Traveling somewhere new for the first time
Working in a job you love
Going to a museum
Golfing
Mini-golfing
Working from home
Re-reading your favorite book
Watching the city lights from a viewpoint high above it all
Celebrating a birthday
Dressing up for Halloween
Staying up until midnight on New Year's Eve
Sharing a New Year's kiss with someone you love
Going to a high school reunion
Watching a waterfall
Traveling the world
Walking on the beach
Falling in love
Learning how to love yourself
Speaking your truth, even when your voice shakes
Standing up for yourself
Standing up for someone else
Places In Your Community
The gym
The grocery store
Restaurants
Clothing stores
Schools
The building you work in
Hospitals
Urgent care clinics
Fire stations
Recycling centers
Hair salons
Spas
Parks
Nail salons
The yoga studio
The art studio
The art museum
Your local bookstore
Your local game store
The family-owned corner store that's been there forever
Coffee shops
Bakeries
Bagel shops
Your favorite pizza place
Home decor stores
Locally-owned businesses
Shoe stores
Candy stores
Donut shops
Ice cream shops
The Farmer's Market
Plant and garden centers
Hardware stores
The bike park
The skateboard park
The airport
Gas stations
Hotels
Waterparks
Toy stores
Libraries
Office supply stores
Vet clinics
Daycare facilities
Sporting goods stores
Growing Up
Your education
Having your own bedroom (or sharing a room with your close-knit sibling)
Eating home-cooked meals
Wearing new clothes to school
Wearing brand new shoes on the first day of school
Having coats and warm clothing that fit you
Having parents who worked to keep you warm, fed, and safe
Having parents who made you feel unconditionally loved
Getting what you asked for on your birthday & holiday lists
Going on vacations with your family
Having adults in your life who cared about your well-being
Being in an environment in which your imagination was encouraged
Being told you can do and be anything you want
Never having to guess where your next meal will come from
Being allowed to just be a kid
---
What things are you most grateful for in your life? Share some of the items on your personal gratitude list below!
And for more resources on spirituality, meditation, manifestation, and all things self-love, be sure to connect with me on Instagram and Pinterest, where I'm posting positive affirmations and empowering messages daily.
---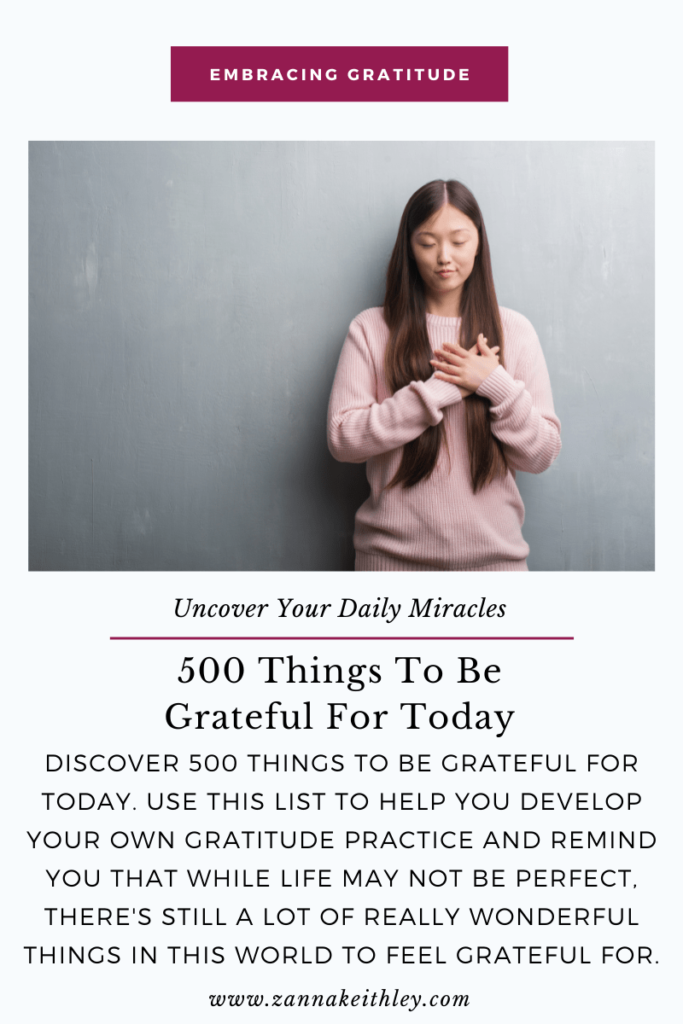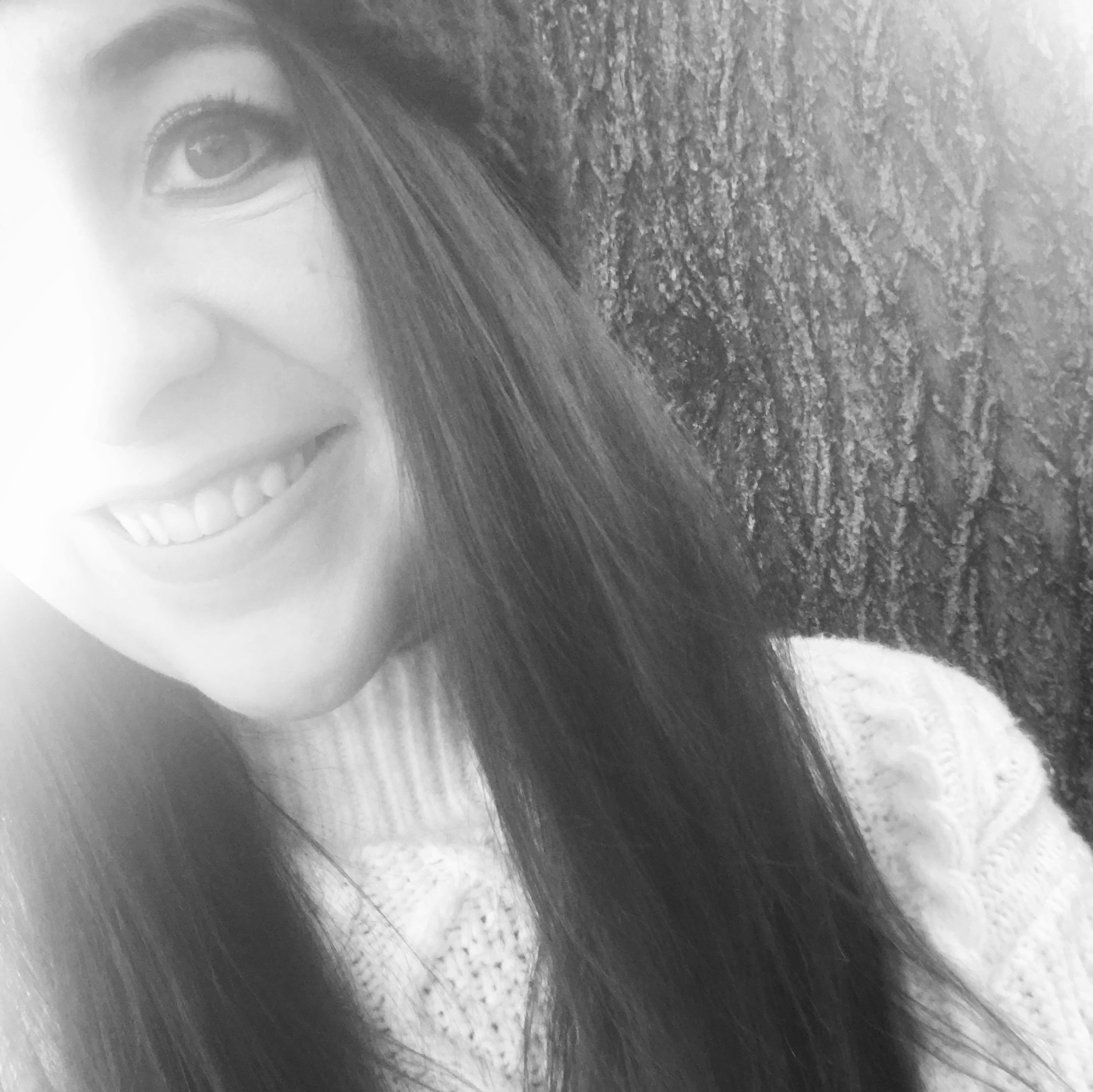 Hi, I'm Zanna! I'm a blogger/freelance writer living in Boise, Idaho. My mission is to help you break through the barriers holding you back from accessing infinite abundance and to inspire you to gather the courage and confidence to follow your dreams.