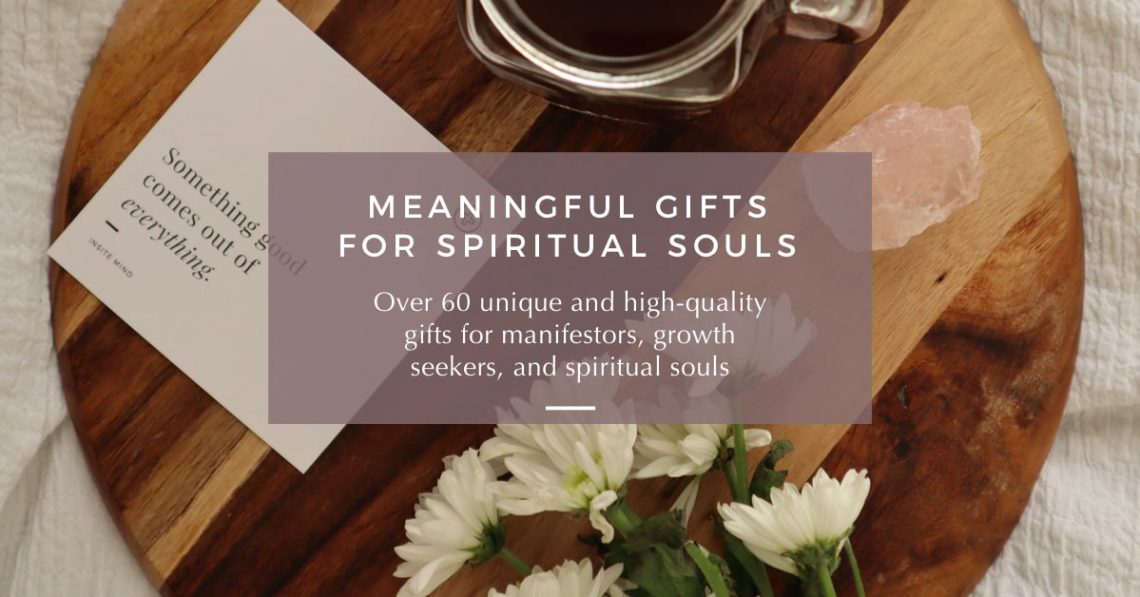 Meaningful Gifts for Spiritual People (for 2021)
Looking for high-quality and meaningful gifts for the spiritual people in your life? The gifts below are thoughtfully selected to encourage and support your loved ones' spiritual journeys. Recently updated with even more thoughtful gifts for 2021!
Disclaimer: This post contains affiliate links. If you purchase a product using my link, I may receive a small commission at no extra cost to you. As an Amazon associate I earn from qualifying purchases. You can read my full disclosure policy here.
Gifts for Spiritual People
Gift shopping is never easy, especially when you're looking for thoughtful and sincere gifts to show someone that you truly care. I've spent hours searching online and in stores for the perfect gifts for family and friends only to get overwhelmed by the sheer amount of choices out there.
Which is why I created this gift guide.
I've turned to gift guides in the past only to get disappointed when they're filled with expensive iPads and laptops and video game consoles. I didn't want to do that here, so most of the items are between $20 – $40 with some a little less and others a little more. The only $100+ item is a necklace in the Jewelry section, but it's balanced out with other beautiful and more affordable items.
Below are 60+ meaningful gifts for spiritual people divided into 11 sections. These gifts are thoughtfully selected to support, encourage, and inspire one's spiritual journey while showing you truly value their presence in your life.
(For even more ideas, check out my Favorites page, filled with self-care essentials, meditation products, and more!)
Spiritual Books
Books are one of the best all-around gift ideas because they're thoughtful, considerate, and last forever. Because there are so many books to choose from, it shows a lot of care when you select a particular book for someone. Of course, the vast amount of choices can also make it overwhelming to pick just one or two. Below are some of my favorite spirituality-centered books on topics like mindfulness, manifestation, faith, joy, enlightenment, and creating a beautiful life.
Journals and Notebooks
Journaling is one of the most powerful ways to truly connect to your inner self. For guided journaling, I love ones that have inspiring prompts like the Super Attractor journal. A gratitude journal is great for someone who may be short on time as it encourages them to write just a few things they're thankful for every morning. And I'm a bit of a compulsive notebook buyer, so I also love the gorgeous notebooks for journaling, taking notes, and displaying as beautiful office decor.
Affirmation & Oracle Cards
Oracle cards are essentially spiritual card decks that aren't confined to super strict rules or structure. When you choose a card, you follow your intuition to decipher its meaning. The meaning you perceive or interpret might be different than what someone else interprets, and that's totally okay. Oracle cards make a wonderful gift because they allow the recipient a way to truly get in touch with their intuition, and you can find some absolutely beautiful ones like the card decks below. If you're unsure about standard oracle decks, I definitely recommend affirmation decks as they're truly uplifting and inspiring, and they make for a super thoughtful gift.
For more ideas on how to use affirmation cards, plus recommendations for some of my favorites, check out my post, How to Use Affirmation Cards (With Recommendations).
Gabrielle Bernstein Card Decks
I've seen a lot of different types of affirmation and tarot cards, and Gabrielle Bernstein's are some of the most beautiful and inspiring ones out there. The Spirit Junkie cards are her latest deck, and it might just be my new favorite. The watercolor images are stunning, and I love the inspiring messages designed to uplift and empower spiritual junkies to let their light shine and be a force for good. (But truly, you can't go wrong with any of these card decks.)
Moon Decor
"Just add one moon decor product," they said.
"It'll be easy," they said.
I separated the moon decor from the other home decor items because it is, in fact, not easy to choose just one product. All of these items would make a beautiful addition to anyone's meditation room, office, dorm room, apartment, or bedroom. And these are exactly the types of gifts that evoke tiny gasps and starry gazes when they get opened.
Spiritual Decor
Beautiful home decor is always a good gift idea, especially when you choose something special that truly reflects your recipient's taste. I also love when I know it's something that they're going to love but wouldn't normally buy themselves. These gift items are perfect for meditators, crystal lovers, and anyone on a spiritual journey of self-discovery and enlightenment.
Beautiful Tapestry
Again, I wanted to choose just one here, but I couldn't. Tapestry makes a great gift item that can be used in any room. I love using tapestry as wall decor, but they can also be used as curtains, tablecloths, picnic blankets, and so much more. I especially love the tapestry below for one's yoga or meditation room, or just anywhere they want to feel calm, serene, and/or inspired.
Wall Decor
If you know your intended recipient has some extra space on their walls, wall decor always makes for a super thoughtful gift. I especially love to gift wall decor that includes inspiring quotes to uplift a person throughout the day. All of these options can be used in any room, and they're inspirational without being too over-the-top.
Chakra Books & Accessories
If you know someone who is just starting their spiritual journey but may not know all about chakras yet, then chakra items make a great gift to support them on their journey. And even if your intended recipient already has a strong understanding of chakras, items like the Tree of Life Wall Hanger and Energy Generator Pyramid make for beautifully thoughtful gifts that any spiritual seeker will love.
Positive Energy & EMF Protection
EMF stands for Electromagnetic Fields (or Electric and Magnetic Fields), also known as radiation. These fields are emitted from cell phones, microwaves, and other electronic devices. There are varying levels of concerns about EMFs, so this can definitely be a "know your recipient" type of gift. The items below are also great for chakra balancing, and they make beautiful decor pieces.
Jewelry
If you're shopping for a jewelry lover, then it's pretty hard to go wrong with choosing jewelry as a gift. Moons and lotus flowers both have rich symbolism in the spiritual world, and the pieces below are absolutely stunning. I'm also a big fan of the Joycuff inspirational bracelets like the one below. They offer a huge selection of inspirational quotes, so you're sure to find at least one that will perfectly fit your intended recipient.
---