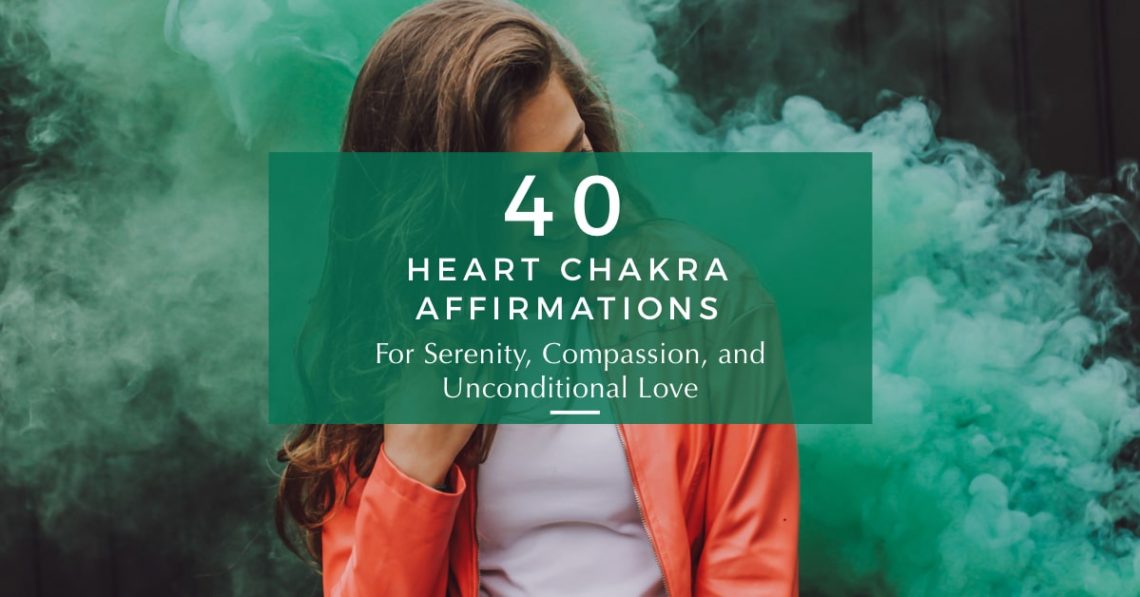 40 Heart Chakra Affirmations for Unconditional Love
Discover 40 powerful heart chakra affirmations to open and heal your spiritual energy center for love, compassion, empathy, and peace. If you're looking for more ways to heal your heart chakra, be sure to check out 30 Journal Prompts to Open and Heal the Heart Chakra. Also, don't forget to check out the links to my chakra series below, where I go in-depth on how to balance and heal each of your body's energy centers.
Don't forget to scroll to the bottom of this post for your free printable heart chakra affirmations and journal prompts!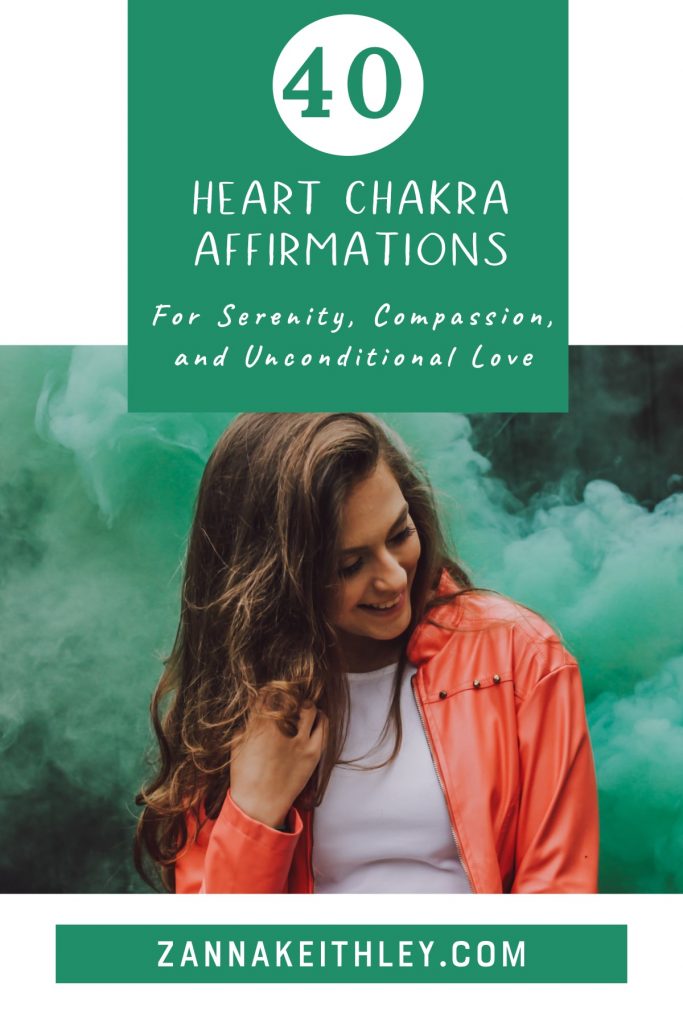 What is the Heart Chakra?
Located in the center of your chest, your heart chakra is your body's energy center for unconditional love, compassion, peace, kindness, connection, and empathy. When your heart chakra is open and balanced, you feel completely open to giving and receiving love. You feel a deep sense of connection both with yourself and with others, and you're more likely to extend empathy, compassion, and forgiveness. (Again, to yourself and to others.)
When your heart chakra is closed or imbalanced, this often manifests into feelings of depression, loneliness, fear of intimacy, and excessive self-isolation. It's also possible to have an overactive heart chakra, which may cause you to become more possessive, jealous, clingy, and possessive.
An open and balanced heart chakra is the foundation for deep healing of the soul. If your heart has been broken, or if you've found yourself closed off to love, the most powerful and profound thing you can do for yourself is to take the first step toward healing your heart chakra.
Below are 40 powerful heart chakra affirmations for embracing unconditional love, peace, serenity, and compassion into your being. For more info on how to use affirmations to get the most out of them, be sure to check out my post, How to Use Affirmations (So They Actually Work).
To learn more about how to open and heal your heart chakra, as well as the rest of your body's main spiritual energy centers, check out the links below.
And for even more deep spiritual healing, be sure to check out 30 Journal Prompts to Open and Heal the Heart Chakra.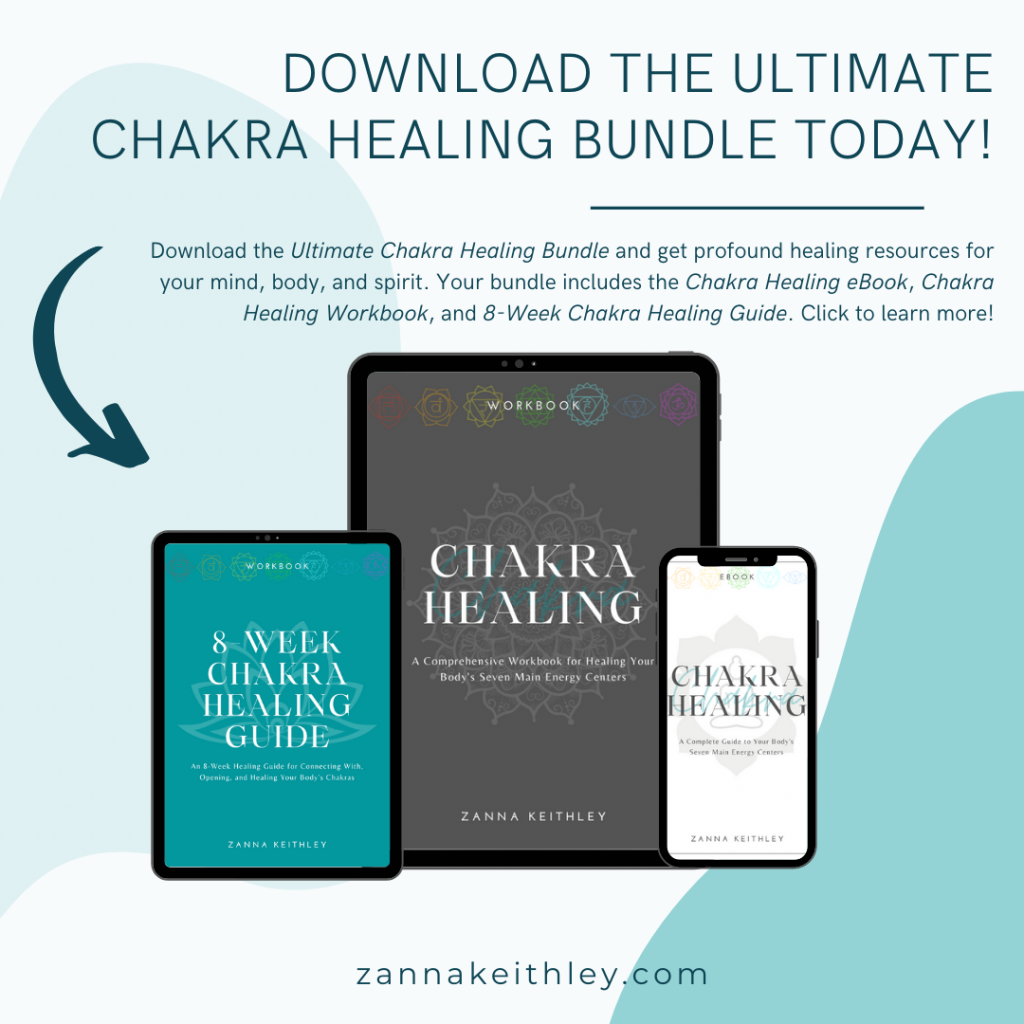 Discover More About Chakras
Discover more about chakras using the links below, plus get journal prompts and affirmations for each of your body's main energy centers! And for deeper insight into chakras as well as guidance on profound chakra healing, check out my Ultimate Chakra Healing Bundle, which includes a Chakra Healing eBook, Chakra Healing Workbook, and 8-Week Chakra Healing Guide. You can also discover more in my online shop.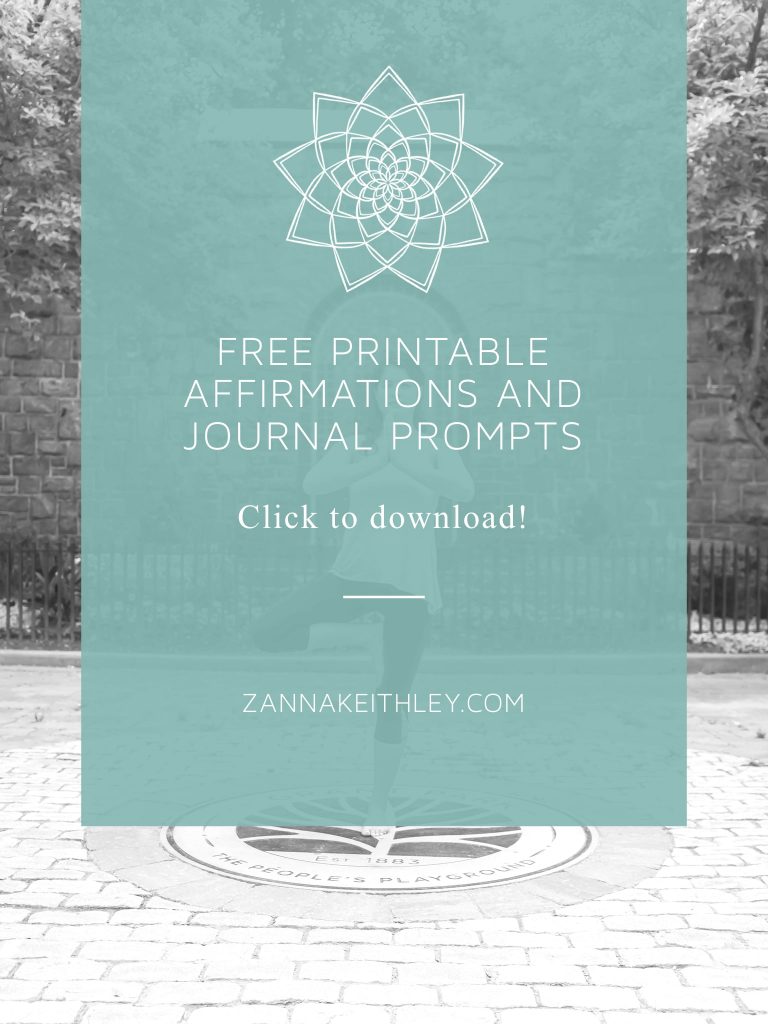 Heart Chakra Affirmations
I am loved, loving, and lovable.
I am patient, peaceful, and calm.
I radiate pure love, light, and positivity.
I choose to be kind to myself and love myself unconditionally.
I am aligned with the highest frequency of love.
I fully love and embrace who I am, even as I continue to grow.
My heart is open, loving, and pure.
I choose connection over division.
I choose compassion over judgment.
I give and receive love effortlessly and unconditionally.
I am worthy of praise, adoration, and unconditional love.
I am always deserving of love.
I am vibrating positive, loving energy, and I attract this same energy in return.
I am a beacon of love and compassion.
I am able to live in love.
I lead with love.
I am kind, generous, and compassionate.
I embrace silence and know deep inner peace.
I love and accept myself for exactly the person I am right now.
I allow myself to accept and receive love from myself and others.
I show compassion for myself always.
I cultivate deep courage and compassion within my body, mind, and spirit.
I embrace my gifts and my imperfections equally; I love every part of me fully and unconditionally.
Love and compassion are my superpowers, and they will carry me as far as I want to go.
I am deeply compassionate and allow myself the grace of imperfection.
My heart is grateful and my mind is at peace.
Every day, I love myself a little more.
I choose to love myself as deeply as I love others.
I lovingly nurture my mind, body, and spirit.
I am at peace with my past; I am in love with my present.
I am at peace with all that has happened, is happening, and will happen.
I am a loving and powerful force in the world.
I honor my heart. I honor my loving energy. I honor who I am.
I give myself the gift of unconditional love, compassion, and peace.
Every cell in my body is vibrating at the frequency of love.
When I'm unsure where to go next, I follow the path that feels most like love.
I am worthy of authentic, wholehearted, unconditional love.
I fully love the strong, powerful, divine human staring back at me in the mirror.
I inhale love for myself; I exhale self-criticism and self-doubt.
I am love.
Bonus! Heart Chakra Affirmation Cards to Save & Share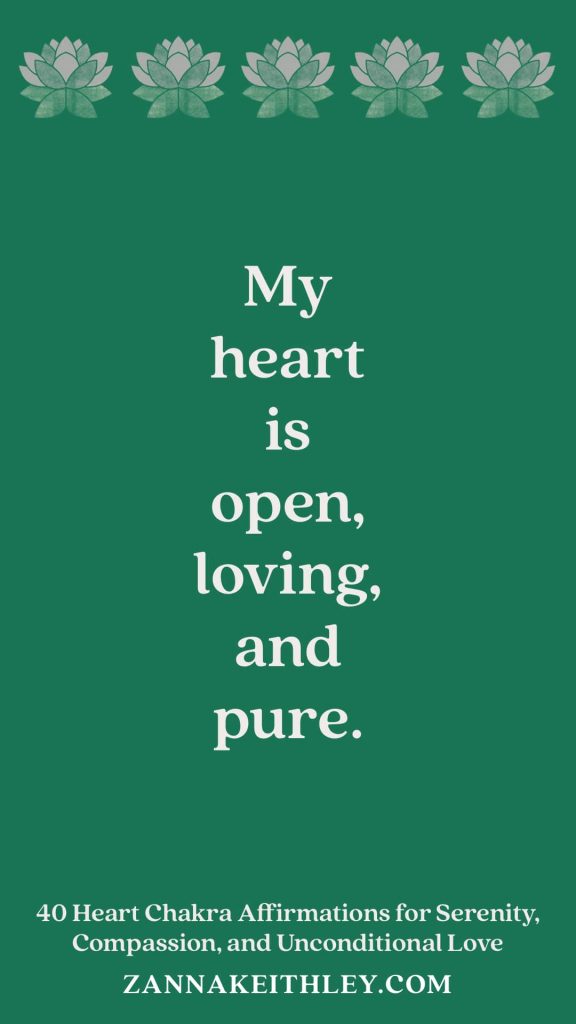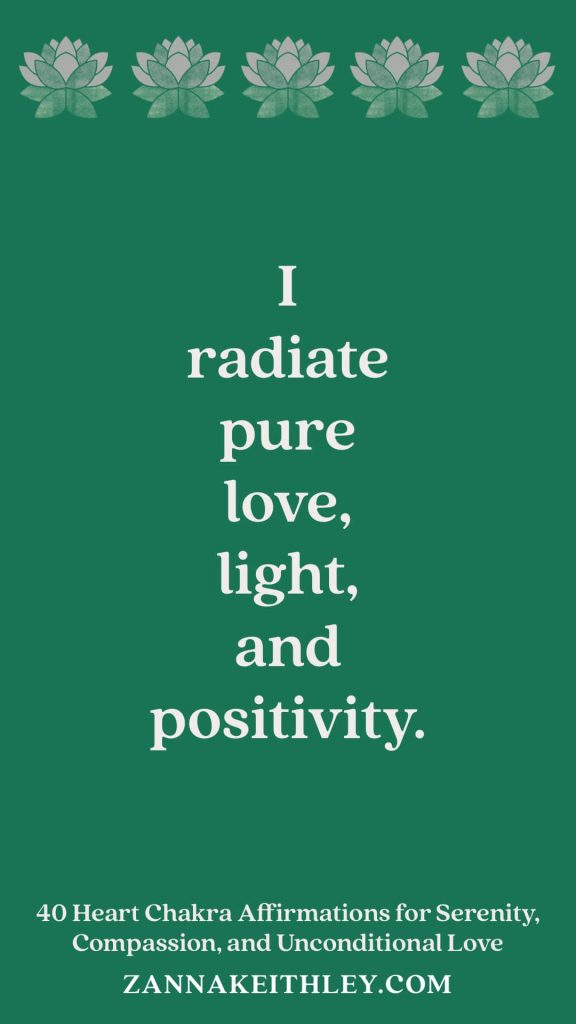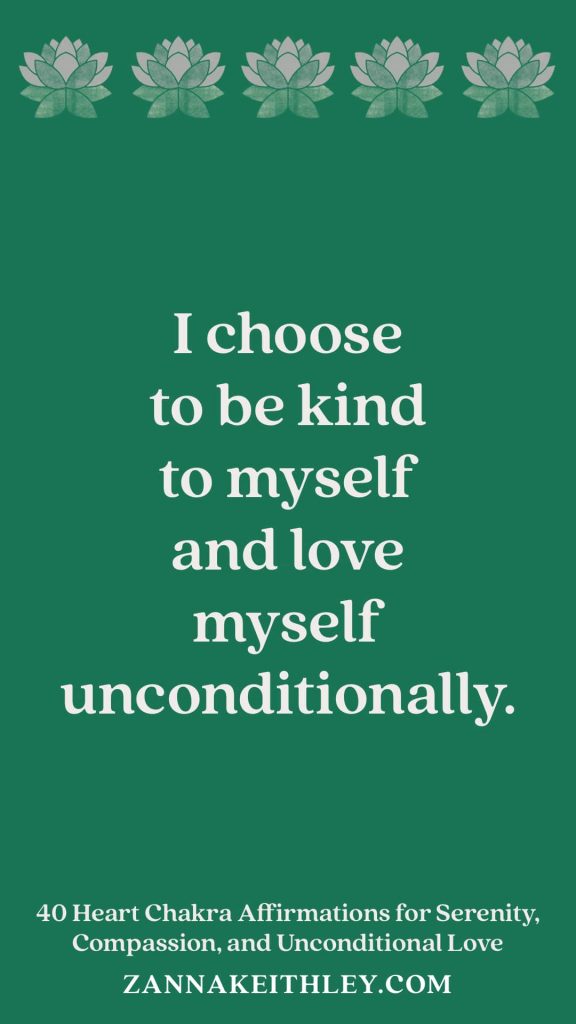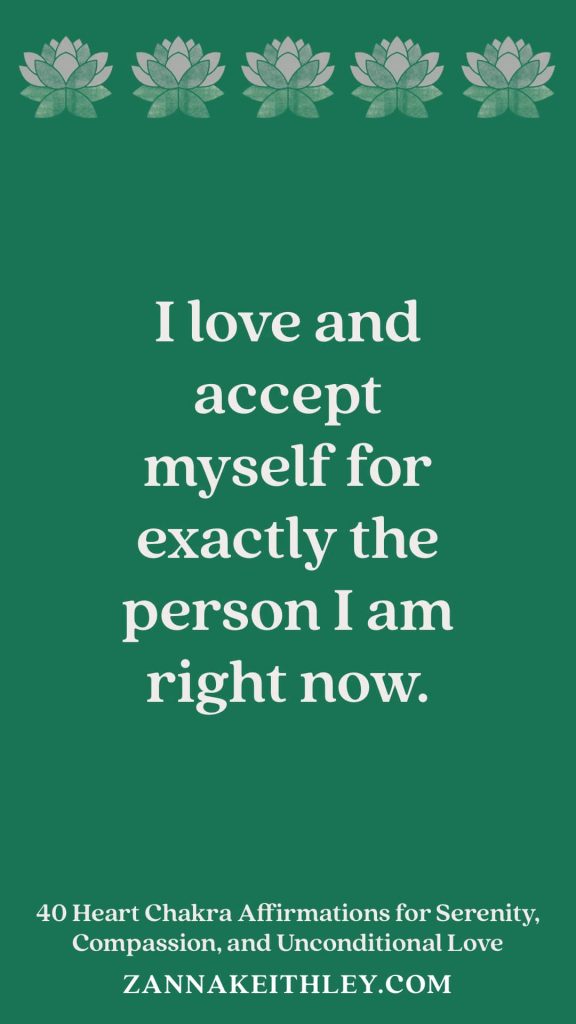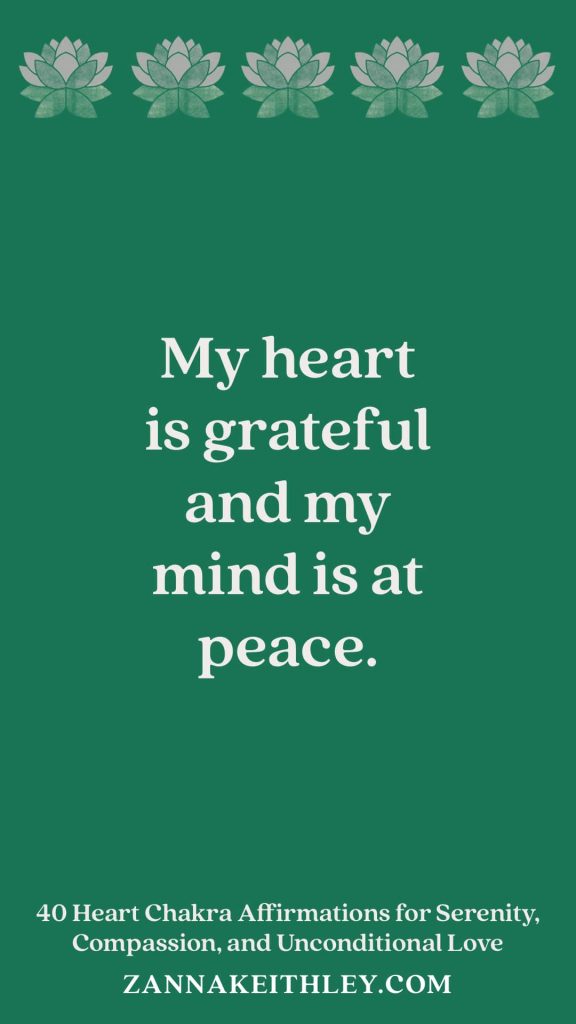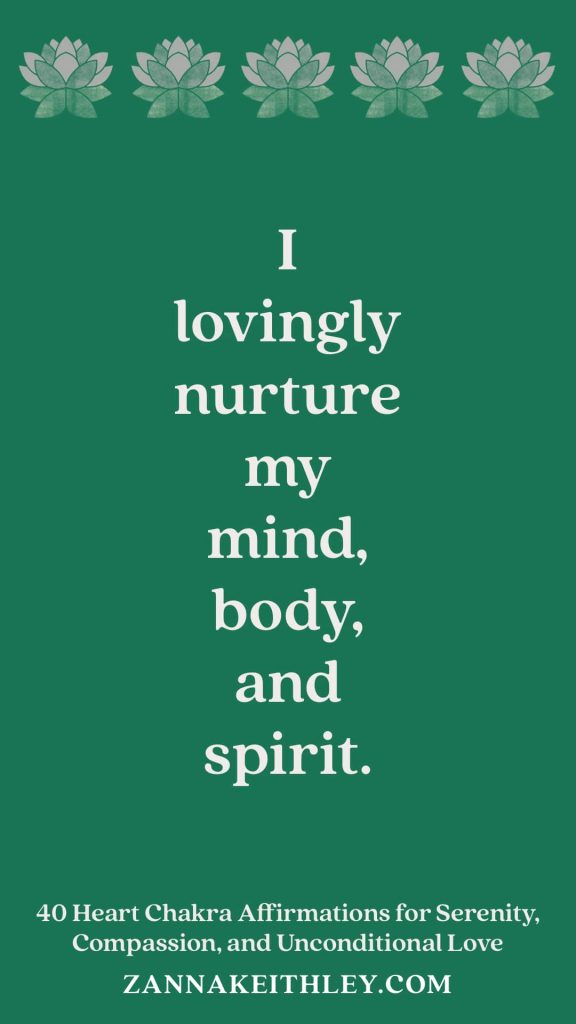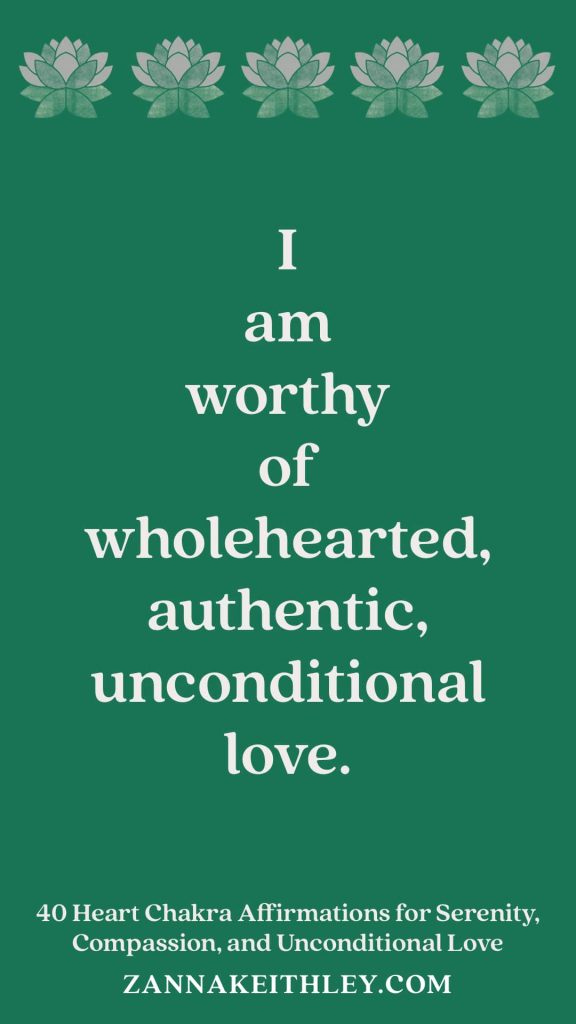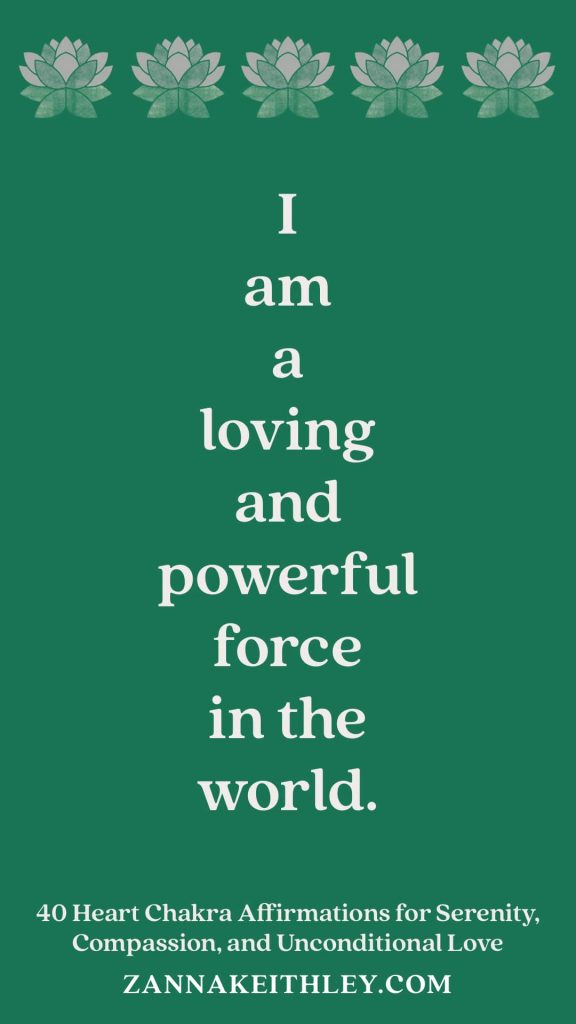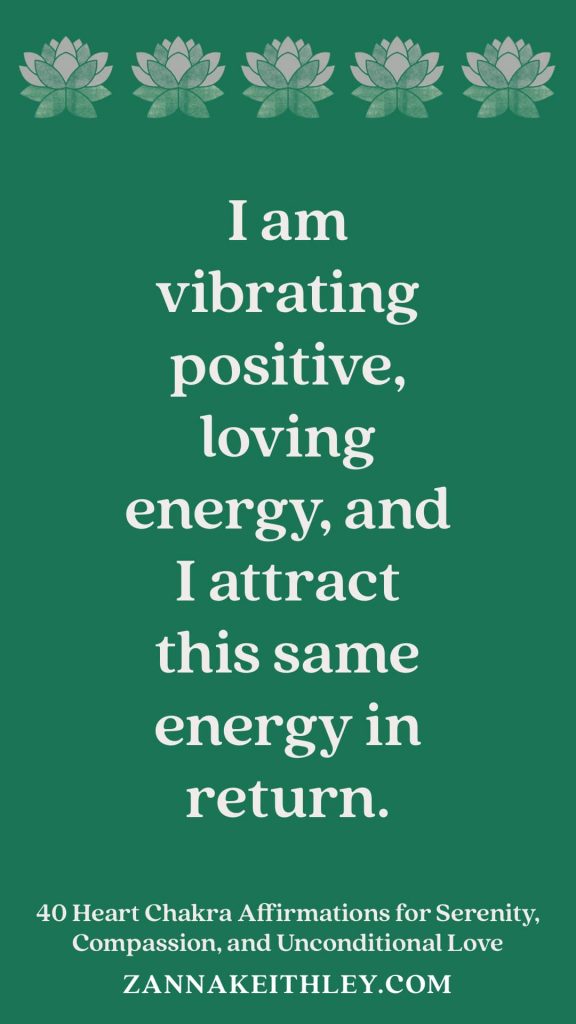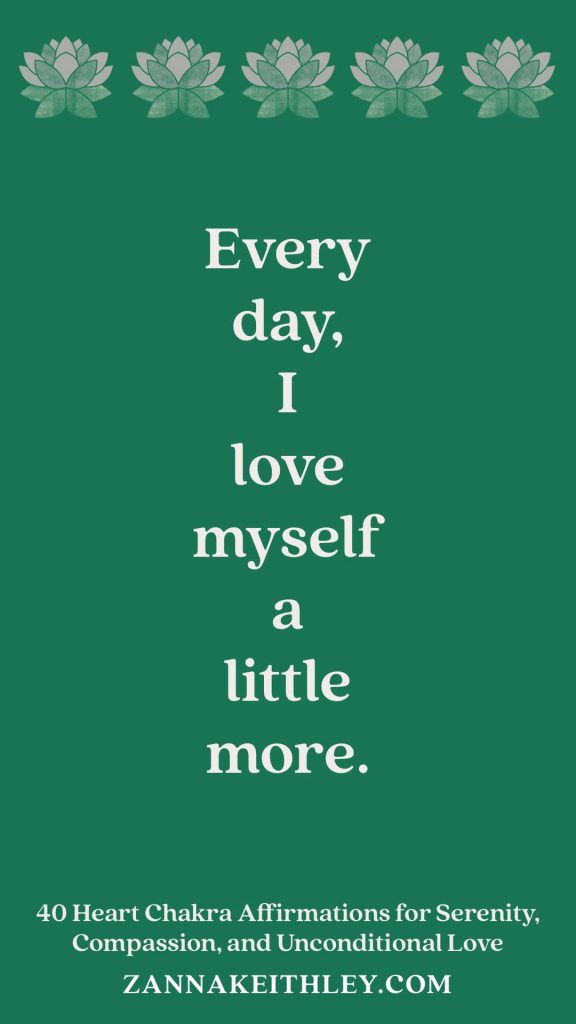 ---
For more more chakra resources, plus positive affirmations and self-love encouragement, be sure to follow me on Pinterest and Instagram!
---
Are you ready for your freebies? Enter your name and email address below for your free printables! (Note that it may take an hour or two for the email to come through.) Plus, receive a weekly newsletter with resources, affirmations, and new blog post updates straight to your inbox. (Don't worry, I hate spam, too! I only send one email a week, never share your personal info, and you can unsubscribe anytime.)
---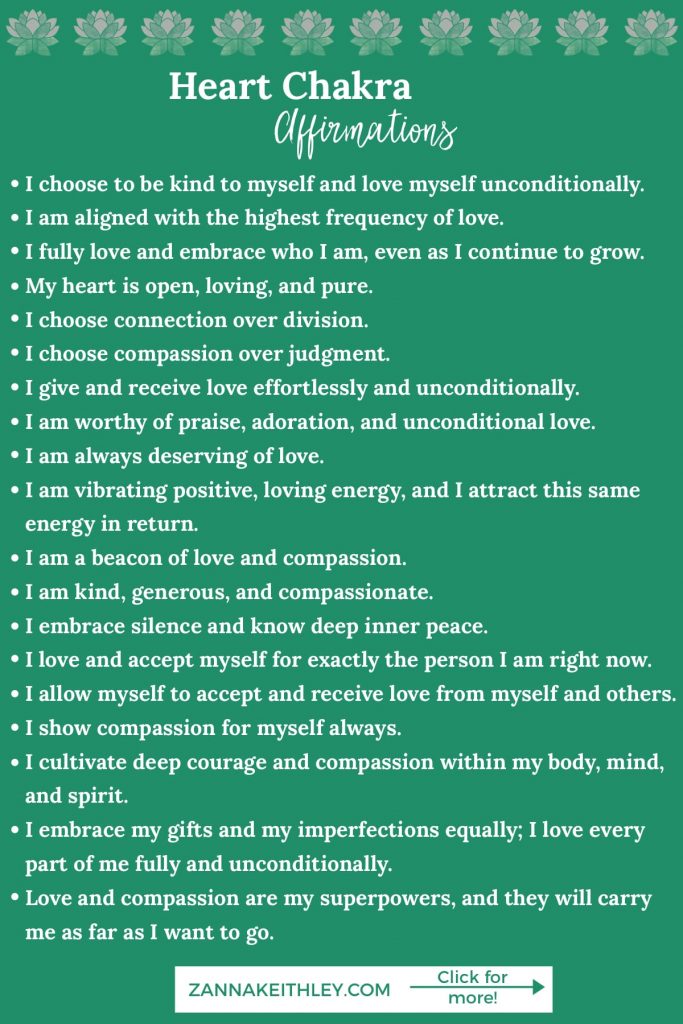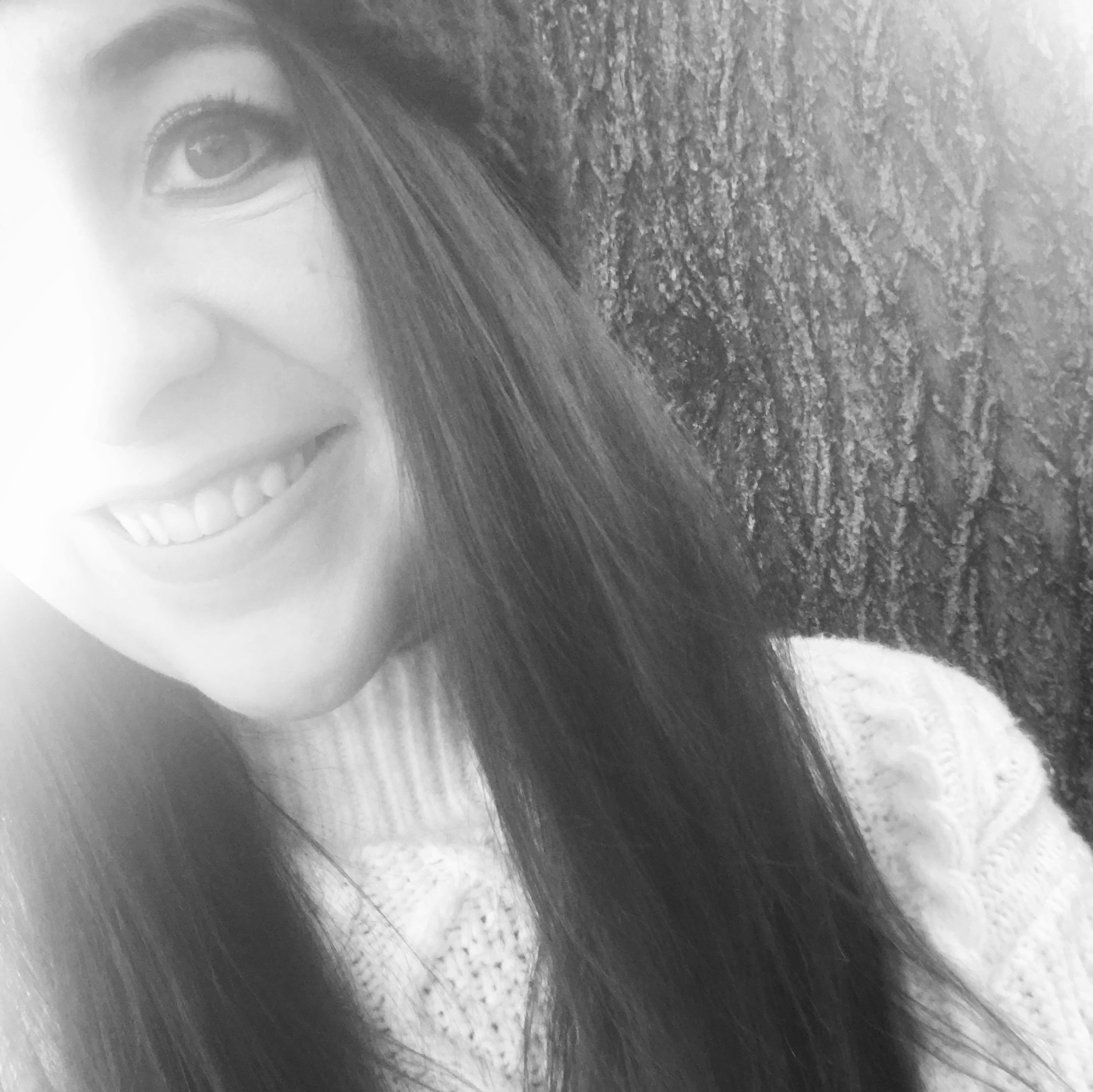 Hi, I'm Zanna! I'm a blogger/freelance writer living in Boise, Idaho. My mission is to help you break through the barriers holding you back from accessing infinite abundance and to inspire you to gather the courage and confidence to follow your dreams.