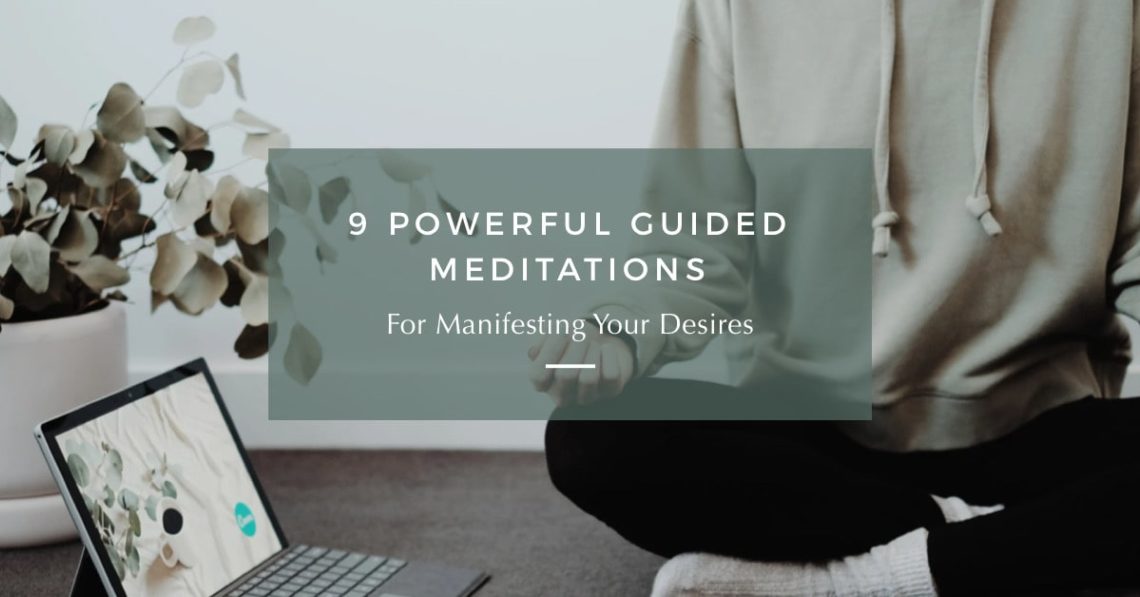 9 Guided Meditations For Manifesting Your Desires
In this article, discover nine powerful guided meditations for manifesting love, abundance, success, and so much more. (With links to each meditation so you can begin your manifesting journey today.)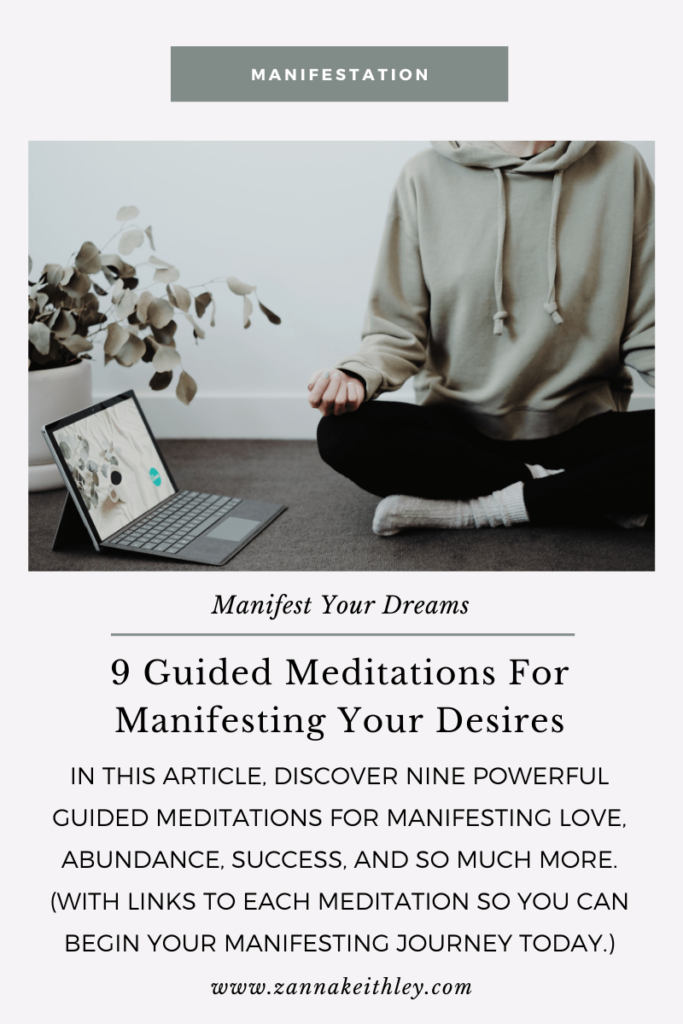 Getting Started: Guided Meditations For Manifesting
Meditation is a profound way to connect to your heart's deepest dreams and desires. Not only can meditation help you to cultivate inner peace, tap into your intuition, and lean a little deeper into gratitude, but it can also be a powerful way to visualize and align with the thoughts, feelings, and images of having your desires in this present moment.
And guided manifestation meditations are a powerful place to start.
First, what exactly is a manifestation meditation?
A manifestation meditation is a meditation specifically designed to help you align with the positive thoughts and emotions of your dreams and desires, lifting your vibrations so that you become a magnet for all of your deepest dreams.
Guided meditations for manifesting can be an easy yet profound way to help you set intentions, cultivate gratitude, lift your vibration, and visualize the truest, most beautiful life you can imagine for yourself.
And the best part? They don't actually have to take very much time.
As you'll see, most of the guided meditations below are only about ten minutes long, yet they're filled with tools to help you embody the vibration of already having your dreams and desires in this present moment.
While you can do these meditations any time of the day, I especially love to listen to them in the morning shortly after I wake up. I've found that by starting my day with a meditation, I set a positive foundation for the day ahead.
And when you specifically listen to a guided meditation for manifesting your desires in the morning, you can carry that positive energy from the meditation with you throughout the day.
Below, I've linked to nine of my favorite guided manifestations for manifesting love, abundance, and more. You'll notice that all of these meditations are available for free through Insight Timer. I have no affiliations with Insight Timer and don't receive anything for these links. I've been using Insight Timer for years, and it's by far my favorite app on my phone. I'm including it here because I wholeheartedly recommend it.
If you want to download the app, you should be able to find it on your device's app store. You can also check out their website to learn more about what they offer.
I sincerely hope these guided meditations for manifesting your dreams can serve and support you on your path as you move forward in creating a life that feels good and true to you.
And know that it doesn't matter if you're new to meditation or an experienced meditator; these meditations will serve you throughout your entire journey. (I've been meditating for years, and I still come back to many of these same meditations repeatedly.)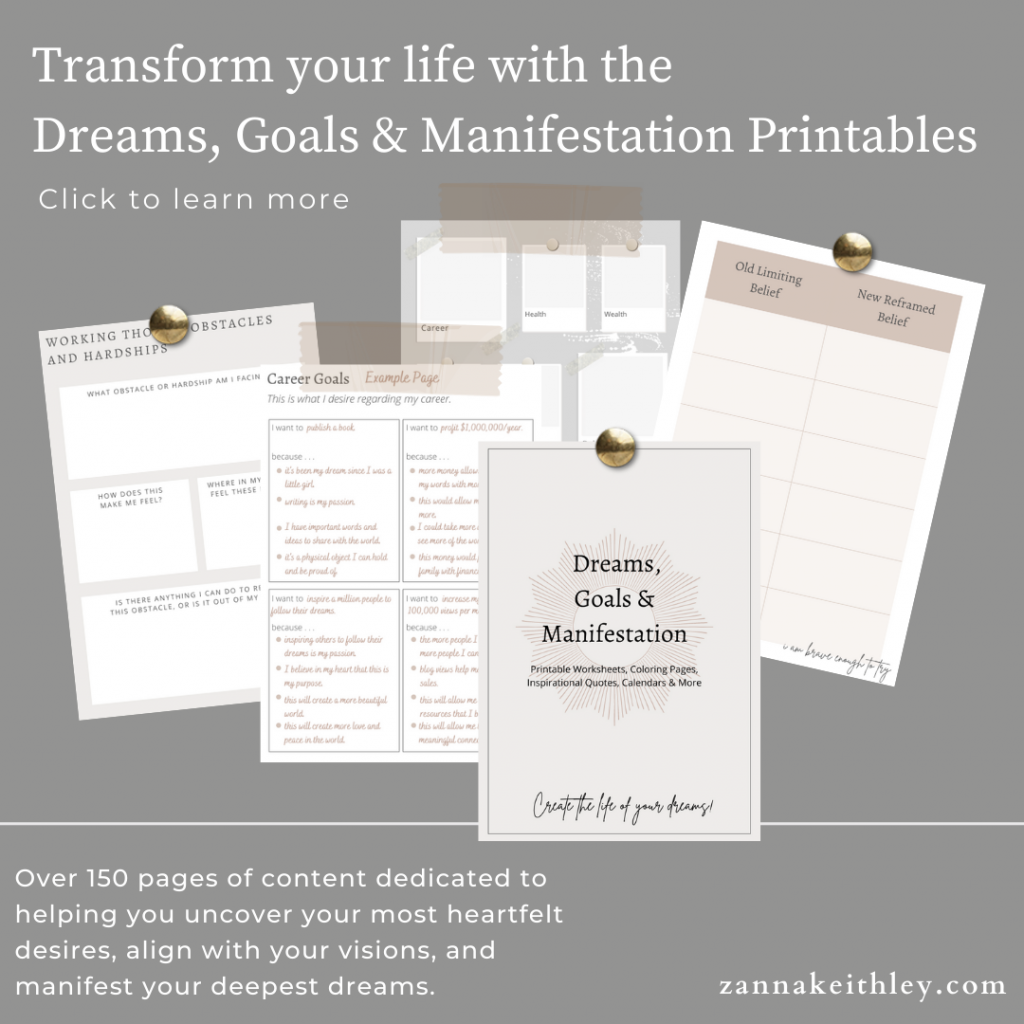 Guided Meditations For Manifesting
Manifesting A Positive Day
Liza Colpa's entire catalog of guided meditations is a treasure chest filled with beautiful and profound tracks dedicated to helping you set intentions, cultivate gratitude, and release what no longer serves you to make space for more love, peace, and abundance to come into your life. Her voice is effortless and soothing, and I find myself coming back to her meditations multiple times a week. With over 425k plays, her 10-minute Manifesting A Positive Day is her most popular track – for good reason. In this track, Liza gently guides you through a series of affirmations as well as a visualization practice designed to help you envision your best possible day. When you're finished with this track, you'll be ready to step forward feeling a sense of confidence, contentment, trust, and groundedness that will remain with you throughout your day.
Attracting All That You Desire
Carrie Suwal is another Insight Timer teacher who has an effortlessly gentle and soothing voice that will help you to feel relaxed and at peace as you follow her soft yet powerful guidance. Her Attracting All That You Desire meditation uses practices rooted in visualization, gratitude, affirmations, and positive vibrations to help you connect to your goals and dreams. This is a beautiful meditation for beginners and experienced meditators alike. If you're like me, you'll want to bookmark it and repeat it over and over again.
Being In The Energy of Millions, Billions, Trillions
If you're looking to manifest financial wealth and prosperity, Hayley Carr's Being In The Energy Of Millions, Billions, Trillions is the perfect guided meditation to help you vibrate at the frequency of unlimited abundance. In this powerful meditation, Hayley guides you to visualize receiving your desired amount of money (no amount is too big) as you feel all the wonderful feelings of having that amount of money right now. Hayley's voice and words are pure magic. This is another one you'll want to save and play on repeat.
Achieve Your Greatest Desires
Vanessa Michele's Achieve Your Greatest Desires is another powerful manifestation meditation that takes you on a journey of envisioning your ideal life. Before diving into the visualization, Vanessa does a wonderful job of helping you to relax, soften your muscles, and breathe intentionally and effortlessly. She then helps you to notice your current vibration and gently guides you to raise your vibration through visualizing your deepest dreams and desires surrounding you right now. Vanessa's calm guidance will leave you feeling grounded, centered, and ready to create the beautiful, abundant life of your dreams.
Believe
If you're feeling uncertain about your ability to manifest the life you want, Annemaree Rowley's Believe is the perfect meditation to help you realign with your true power. As she states, positive thoughts will bear positive fruit, and negative thoughts will bear negative fruit. But there's no fake positivity here. Through her calm yet strong guidance, Annemaree gently guides you to a place of deep trust, knowing, and belief in your power and your path.
Manifest An Abundant Life
Amanda Sellers' Manifest An Abundant Life is another profound guided meditation that uses the power of visualization to help you vibrate at the frequency of having your desires right now. What I love about this meditation is that Amanda begins by guiding you to harness the power of your breath to ground you in this moment. She then reminds you that the first step in manifesting is being grateful for all that you already have. Through gratitude, visualization, and positive vibrations, this guided meditation for manifesting an abundant life will help you walk into your day feeling inspired and empowered.
Live Your Desire Now
Lucy Love's Live Your Desire Now is all about knowing what you want and focusing your energy on the presence of it as if it's already yours – the perfect recipe for manifestation. Lucy gently guides you from living externally to living internally, focusing on your own inner world. In a calm and relaxed space, you're called to think about something specific that you authentically desire and begin imagining what it would look and feel like to have your desire today. This short and sweet track is the perfect meditation for living your desired manifestation today.
New Moon Meditation
This one's a little different, as it is specifically created for manifesting with the energy of the New Moon. In her New Moon Meditation, Camilla Sacre-Dallerup guides you through the process of setting intentions that align with what you truly want in life. I especially love the calming visualization experience she takes you on, as you connect with the energy of the New Moon and the new beginnings it represents. This is a quiet, soft, gentle guided meditation that helps you to focus on what truly matters in life – what you want to give your attention to, what you want more of, what's worth giving your energy to – and release all the rest.
Manifest Love – Creative Visualization
No matter where you are in your life journey, Sharon Kirstin's Manifest Love meditation is a powerful reminder that love has never left you. Sharon gently reminds you that the key to manifesting the love you desire isn't outside of you; it's within. I love all the wisdom Sharon shares, especially the gentle reminder that we must take intuitive action to manifest what we truly want in life. Sharon takes you on a powerful visualization journey where you see yourself connected to and wrapped in love at all times. By vibrating at the frequency of unconditional love, you invite even more love to come into your life – thus becoming a magnet for everything you desire.
---
What are your favorite meditation apps? Do you have any favorite guided meditations for manifesting love, abundance, and more? Share your favorites in the comment box below!
And for more manifesting tips, daily affirmations, and lots of positive vibrations, be sure to follow me on Pinterest and Instagram.
More Manifestation Resources
---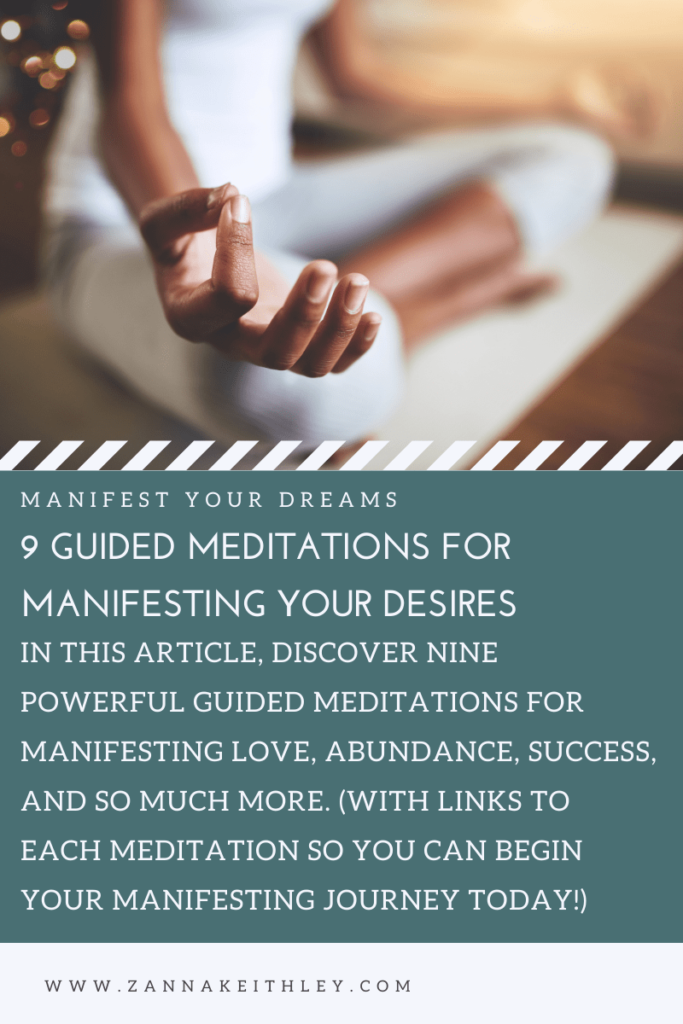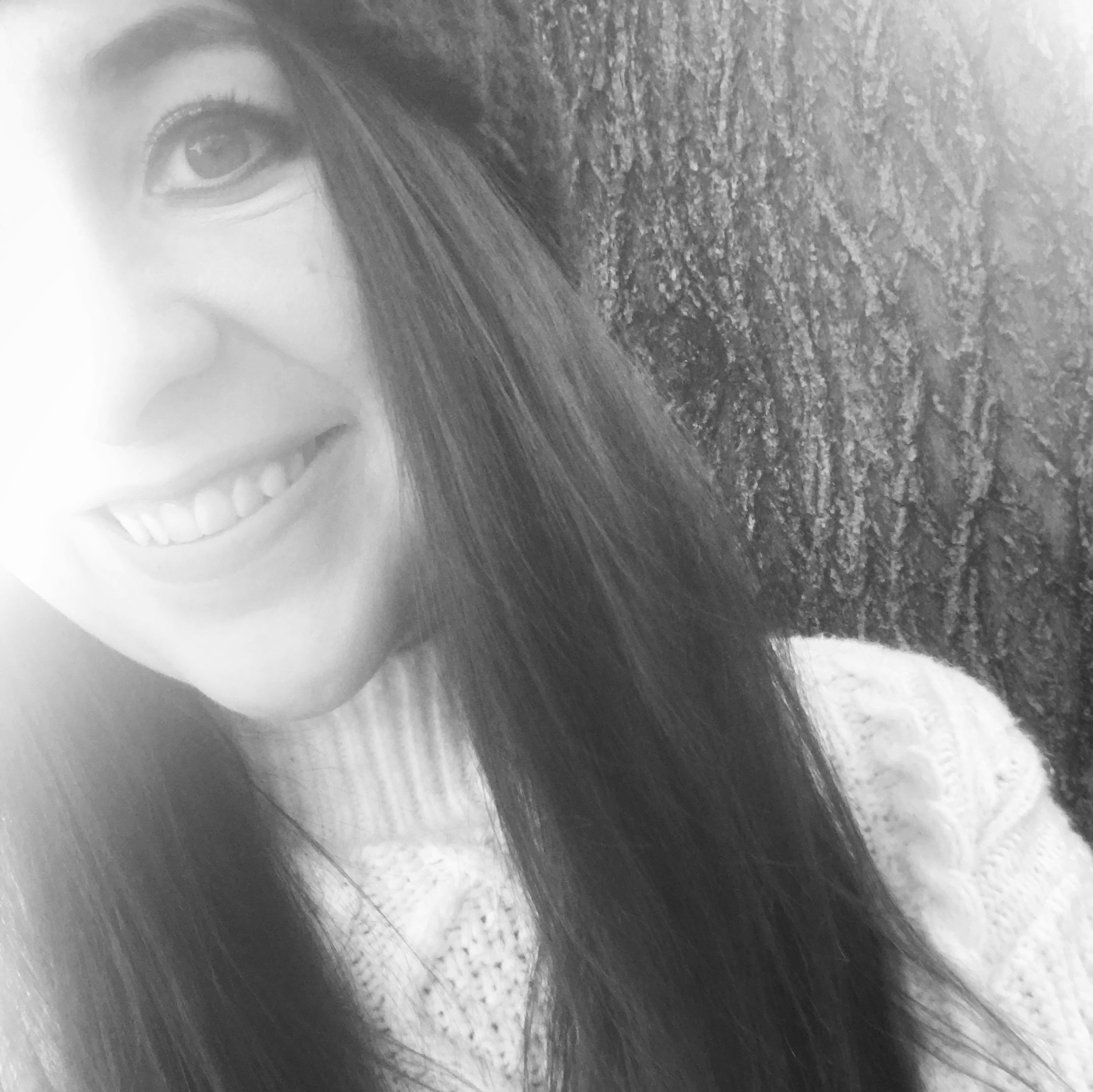 Hi, I'm Zanna! I'm a blogger/freelance writer living in Boise, Idaho. My mission is to help you break through the barriers holding you back from accessing infinite abundance and to inspire you to gather the courage and confidence to follow your dreams.