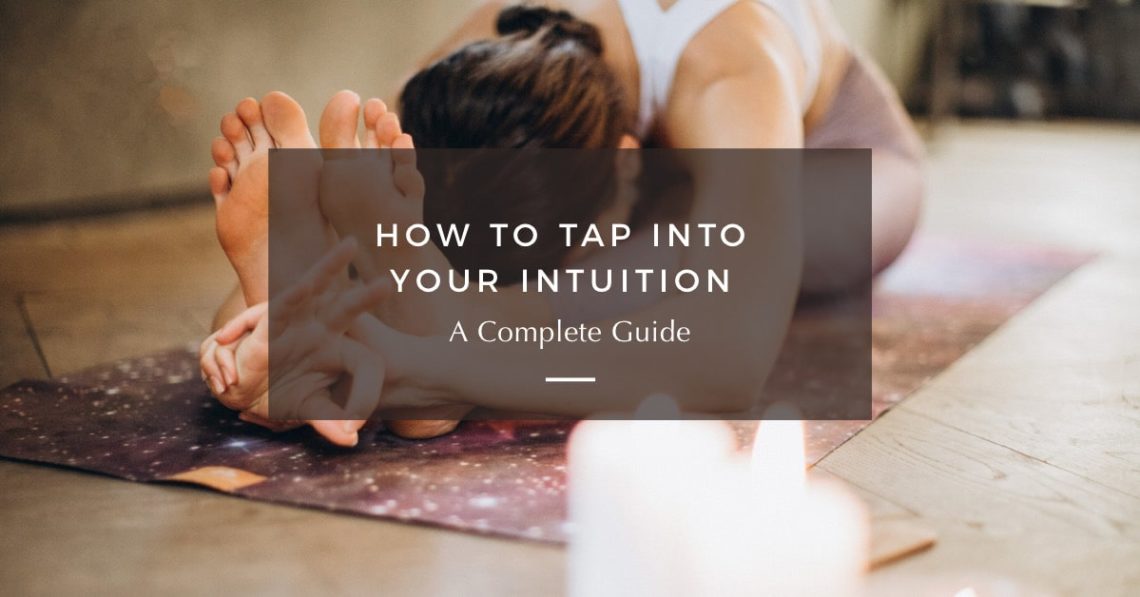 How To Tap Into Your Intuition (The Ultimate Guide)
In this article, learn how to tap into your intuition, plus discover what your intuition should feel like, how your intuition relates to manifestation, and what to do if you don't like what your intuition is telling you.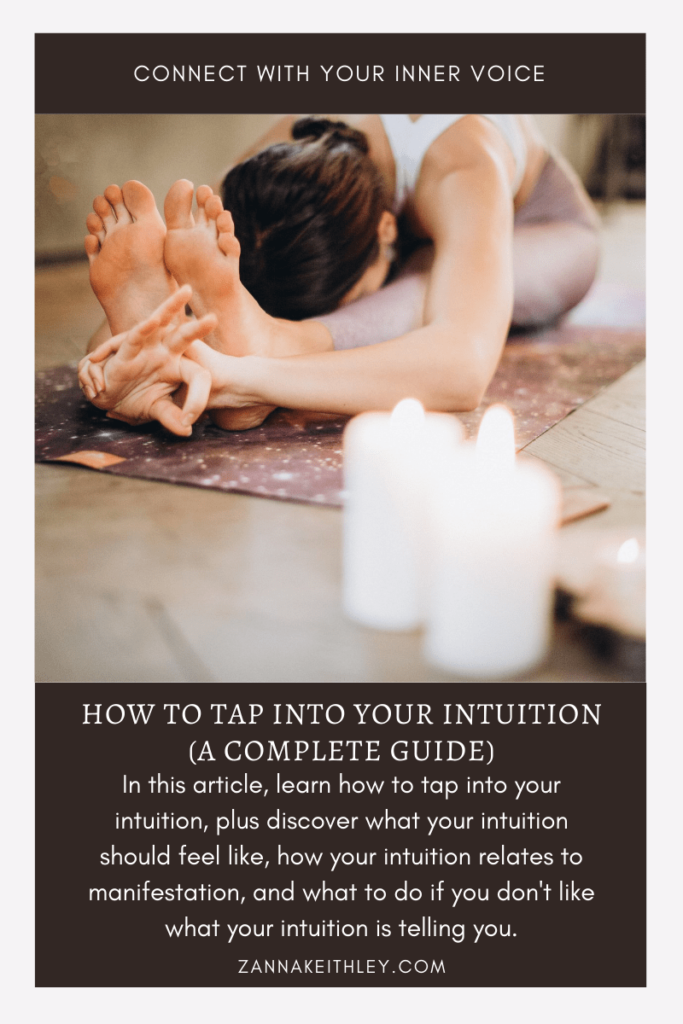 What Is Your Intuition?
In many ways, your intuition is the least glamorous thing about you. It isn't showy. It doesn't like to be the center of attention. It's so subtle, in fact, that many people question whether theirs works.
Right away, I'm here to tell you that you do have one, and it does work. You've probably even encountered it recently.
We all possess a deep inner knowing softly whispering inside of us; we just don't always listen to it because our cognitive minds are so busy worrying, stressing, second guessing, developing worst-case scenarios, and overthinking.
The second your intuition nudges you to do something out of the norm, your logical brain says, "Hold up, but what about all these 5,000 things that can go wrong?"
And sometimes, you actually hear your intuition loud and clear, but you don't want to listen to it.
Your intuition may tell you it's time to break up with your partner, but you're terrified of change and don't want to cause another person pain.
Your intuition may tell you not to accept that seemingly perfect job with the great pay, but how could you turn down that money?
Or your intuition may tell you that you need some more time to yourself before you dive into another relationship, but you really hate being alone.
This is one of the most frequently asked topics in manifestation, so I'm going to dive right in and cover a lot here today. Let's explore how to tap into your intuition, what your intuition should feel like, the relationship between intuition and manifestation, and what to do if you don't like what your intuition is telling you.
In This Article
How To Tap Into Your Intuition
Below, find six practices to help you tap into your intuition, plus a few additional exercises you can try. Consistently following these practices will strengthen your connection with your intuition and help you tap into this deep inner knowing with ease.
Quiet Your Mind
The first step to take to start connecting with your intuition? Listen. You can't hear what that inner voice is trying to tell you if you're constantly immersed in noise. The quickest and most profound way to start connecting with your intuition is to let silence be a normal part of your life.
If you have a daily meditation practice already, you may already be benefitting from these regular encounters with silence and stillness.
And if you don't have a meditation practice, that's okay. I know meditation may seem overwhelming at first. This is partially due to the myth that meditation requires you to have no thoughts. This is one of the biggest misconceptions about meditation and why many people believe meditation isn't for them.
But if you listen to just about any meditation teacher, they'll tell you the same thing: meditation is not about clearing your mind of thoughts. If it was, I'm not sure any of us, not even the most advanced meditators, would ever succeed. The last thing we want to do is suppress or evade our own thoughts.
At its heart, meditation (especially practices rooted in mindfulness) is about non-judgmental observation, conscious awareness, and gently rooting yourself in the present moment. It's a chance to step away from the external noise and come home to yourself for a little while.
And this is where your intuition shines: in the quiet places where you can simply be.
The paradox of using meditation to connect with your intuition is that you're not actively going to try connecting with your intuition during your meditation. If you sit in silence and try to force something to come forward, you're likely going to put excess pressure on yourself; in turn, this often causes frustration and anxiety.
The key is patience. Sit in stillness for ten minutes today. Then, sit in stillness for ten minutes tomorrow. Day after day, keep sitting in stillness for ten minutes at a time. Don't try to force anything. It will come on its own. All of the mental clutter will start to clear up, and your intuition will come forward.
Practice Mindfulness
One of the biggest barriers to connecting with your intuition is being anywhere but where you are right now.
What do I mean by this?
As you go about your day, it's easy to get lost in thoughts about the past or future. You might find yourself replaying yesterday's events or worrying about the days ahead. When this happens, your mind becomes so busy with troublesome thoughts, you lose your connection with that quiet voice within.
Mindfulness is the key to returning to this moment right now and getting in touch with your inner knowing.
First, let's take a step back and talk about mindfulness itself. What is it, and why is it so important?
Mindfulness is non-judgmental, conscious awareness in the present moment. This means being aware of what's happening within and around you in this moment. How does your body feel? Where do your thoughts stray? Are you experiencing any anxiety or tension? What can you perceive with your five senses?
The key here is not to judge anything you notice. Don't label any of it as right or wrong. Just notice.
So why is mindfulness important when it comes to connecting to your intuition?
Mindfulness allows you to become aware of what's happening within and around you in this present moment.
Remember, your intuition isn't flashy. Every once in a while, it might scream at you, like when it knows you might be walking into a dangerous situation. But for most of the daily stuff, it tends to be quiet and unassuming.
You can't always expect it to speak up louder; instead, you must consciously step away from all the mental chatter so you can hear it. 
Mindfulness quiets the noise of your worries, fears, judgments, and daily stresses so you can hear what's really going on in the deepest parts within.
If mindfulness is new for you, you can check out this article for some helpful exercises you can try to start practicing mindfulness throughout your day.
Truly, I can't emphasize enough how important mindfulness is in connecting to your intuition. It may feel like this is a slow process, but I promise, if you consistently practice mindfulness techniques for a month straight, you will begin noticing shifts within yourself.
This is the bridge to connecting to that quiet voice within: being consciously aware of what's happening inside you in this present moment, without judging what's going on. Simply listening. Breathing. Being.
Cultivate Calm
I'll keep this one short: clarity comes with calm.
People don't usually make good choices when they're feeling stressed, worried, angry, or depressed.
Connecting with your intuition requires you to first do the two things I mentioned above: quiet your mind and practice mindfulness. Mindfulness will allow you to recognize that you're feeling "low" or "off." By recognizing your own low mental state, you can choose not to make any big decisions at that moment.
Conversely, it will help to bring clarity when you're experiencing a more positive mental state. This is when the magic happens. When you're experiencing a sense of calm and inner peace, that's when you're in greatest alignment with your inner knowing.
Start consciously working with your intuition during moments when you're feeling really good. I started with walks around my neighborhood. During these walks, I always felt calm, grounded, and connected to my higher self. So I started asking my intuition to guide me when I should turn and where I should walk next.
Most of the time, nothing really happened. And that's completely okay! Sometimes, when you work with your intuition, nothing will actually seem to happen around you. This is normal. Just because nothing happens around you doesn't mean you're doing anything wrong.
Keep practicing in these moments. This is preparing you to trust your intuition for those bigger moments when something does happen.
Practice Picking Up Signals From People Around You
Think of the people you spend the most time with: family, friends, coworkers. How often have you taken one look at a person you're close with and known that something was wrong?
What about those times when it's less obvious? Someone may seem fine on the surface, but a feeling deep within tells you that something's off. They seem distant. Distracted. Heavy.
Start approaching your daily interactions with the intention to pick up on any underlying feelings that may be going on beneath the surface. When you begin your interaction, ask yourself, "What do I feel from this person right now?" See if you can name that underlying feeling.
As you continue to practice this, it will become easier to tap into that feeling within. In time, this will expand into other areas of your life. Not only will you be able to connect with your intuition when interacting with other people, but you'll feel those subtle hunches when it comes to your own life path.
Take Days Off
This directly correlates with what we've discussed in some of the different points above: make space for stillness, step back from the noise, and give your soul a chance to take a deep sigh of relief.
If you're currently immersed in a cycle of feeling stressed and busy all the time, you're going to have a difficult time connecting with your inner knowing. See if you can plan days throughout your month where you don't have anything on the to-do list. Do things that make you feel calm and at ease.
Again, you don't have to actively try to make your intuition come forward. Let it come to you.
(And to add to this, spending time in nature and taking social media breaks will also help you escape all the outer noise and connect to your inner self. You'll often hear about these practices when it comes to self-care and taking care of your mental and emotional health, but they have the added benefit of also helping you develop and strengthen your intuition.)
Connect With Your Body
You'll experience your intuition in goosebumps, shivers, chest pressure, and inner aches. You'll also experience it in more subtle feelings and hunches. The better connected you are with your body, the more you'll be able to pick up on subtle changes happening inside you.
Yoga and meditation are two practices you can use to connect with your body. You can also practice simply standing with your two feet on the ground, closing your eyes, and connecting with how you feel.
Connection also comes just by paying attention. Step back throughout your day and ask, "How does my body feel right now?" Answer without judgment. The more you practice this, the easier it will become to pick up on any understated shifts that happen within.
A Few More Practices
In the long-term, mindfulness and meditation are the two practices that will have the most profound effect on how you connect with your intuition. However, if you want to start working with your intuition more closely right away, there are plenty of other meaningful practices you can try today. Here are a few examples:
One of my favorite things to do is go into a store that has crystals and gemstones and let my intuition guide me to pick out a new gemstone for myself. (The small ones are often as inexpensive as $1, so this doesn't have to cost a lot of money.) Once I pick out my stone, I'll take it home and read about the spiritual meaning of that gemstone. Then, I'll think about why my intuition may have led me to that stone. Is it because of the spiritual meaning, or does it simply have a feeling of positive energy? There's no right or wrong answer here. It's just a fun and easy practice for developing your intuition, plus you get a new crystal or gemstone from it! You also don't exclusively have to do this practice with crystals. Pick something you like that makes you feel good, like flowers, books, jewelry, or candles.
Working with oracle cards is also a great way to develop your intuition. Pick a card, and before you consult a guidebook, let your inner knowing interpret the meaning of the card.
You might also start keeping a dream journal. Try to write what you remember about your dream shortly after you wake up. (The sooner, the better.) Consider if your intuition was trying to tell you something within your dream. You might also see if your intuition can help you uncover any deeper meanings or symbolism in the dream itself. 
A pendulum is another great tool for developing your intuition. It's most often used to gain insight and clarity when there are areas of uncertainty in your life. Anytime you have a question and are looking for help or advice, you can use a pendulum to receive guidance from a higher power. If you're interested in learning more about how you can use a pendulum to strengthen your intuition, this article explains what a pendulum is and how it's used.
What Does Your Intuition Feel Like?
Your intuition can be so subtle, it's often difficult to describe what it feels like.
For a situation in which you might be putting yourself in danger, the feeling will be louder and more obvious. Your heart will race, your palms will get sweaty, and that voice within will yell at you to turn around and find safety. Sometimes, your breath may quicken, and you'll get shivers down your spine.
When you encounter these experiences, don't question these feelings. And especially don't question whether you're overreacting. Err on the side of caution. Trust what you feel.
Most situations in life aren't like this, though–especially when it comes to intuitive nudges you have about your own life path. Your intuition usually doesn't speak in shouts but in whispers.
And often, it's less of a feeling and more of a knowing. You'll experience a sudden understanding: clarity that just comes to you, often unexpectedly. If something is off (maybe with a relationship or a business deal), there will be a part of you that just knows.
Your intuition comes from your heart's consciousness, which isn't always as easy to grasp as the logic and reason of your mind's consciousness. Thus, you may try to talk your way out of whatever it is that you're feeling. You may keep trying to reason with yourself and follow your logical mind.
And it's okay; most of us have done this at some point in our lives. We've been taught to trust logic and reason over intuition and inner knowing. And that's what can make following your intuition feel kind of scary–because it requires you to alter your mindset. It's less about thinking your way forward and more about feeling your way forward.
Here are a few of the ways in which you might experience your intuition:
An unexplainable "knowing"
A feeling of "rightness"
Clarity
Ease
Hunches
A quiet voice within
A recurring thought
Goosebumps
Shivers
Racing heart
An inner ache
Pressure in your chest
Physical discomfort
Emotional discomfort
Your Intuition & Manifestation
So what role does your intuition play in manifestation?
First, let's consider how manifestation works:
You set an intention based on the authentic, deeply felt dreams that have been placed in your heart.
You communicate this intention to the Universe. Your positive vibrations are one way of communicating this intention, as by vibrating at the frequency of your desires, you express that you're ready to receive more of this good-feeling thing.
The Universe works behind the scenes to set everything in motion. It communicates back to you in the form of messages, synchronicities, and most importantly, your own intuition. Being in the vibration of what you desire allows you to receive these signs and inner nudges with clarity. (In contrast, being in a state of stress, worry, and anger will cause you to miss these signs and feelings.)
Then, you take inspired action based on the communication the Universe has given you. This leads you on your path forward.
The art of manifestation is the art of learning how to communicate with the Universe. You communicate every single day through your vibration. The Universe communicates back to you through your own intuition.
So if you've set an intention, that means signs, synchronicities, and inner nudges are going to come. Your job now is to listen and take inspired action. Once you do this, you'll receive your next nudge forward. As you follow this path, you'll be in divine flow with the Universe, and your manifestations will start to come alive.
I know this might sound like a long process, but I promise, it's not. Depending on the specific dream, some things could come in months, weeks, days – even hours.
The key is to not worry when it will come. And in time, you won't. Just keep following your intuition, and you'll come to realize the journey is just as beautiful as the destination.
What If You Don't Like What Your Intuition Is Telling You?
So let's say you're trying to manifest something, but your intuition is telling you to do the very opposite of what you think you should be doing. Often, when you want something, it's because you imagine that outcome will make you feel a certain way.
You may want to manifest a perfect partner, even though your intuition is telling you to take some time to be single, because you imagine the partner will make you feel loved.
You dream of getting a prestigious position for a certain well-known company, even though your inner knowing says it's not as perfect as it seems, because you imagine you'll finally feel successful and worthy of your parents' approval.
Or you want to manifest the money to have that cosmetic surgery, even though you're unsure about it, because you imagine it'll make you feel beautiful and empowered.
There's nothing wrong with wanting these things for yourself. Nothing. It only becomes a potentially negative thing when it goes against your intuition.
This is when I urge you to step back and re-evaluate your overall goal. Take some time to pause. You can meditate, journal, or take a day off to spend time in nature. Set the intention to understand your desires and what you really want. Allow yourself to shift your vision. 
Instead of going after that perfect partner, job, or appearance, set an intention to encompass the feelings of being loved, successful, worthy, beautiful, and empowered (or however you imagine this external thing will make you feel).
Focus on those feelings, and allow your intuition to guide you forward on your path. Trust that your inner knowing always has the right answers, and believe that the Universe will always take you where you want to go. It may mean that your perfect partner isn't supposed to come into your life right now, but you find that you feel so loved anyway, you're okay waiting.
There's a lot more to be said about intuition, but for now, I'll leave you with this: Trust your inner knowing. Even if it doesn't make sense today, it will with time. If you're feeling lost, instead of searching for external answers to guide your path, sit in the quiet of your own mind for a little while, and you will find you already know everything you need to take the next step.
---
What's your relationship with your intuition? How do you most often experience it, and how has it guided you throughout your life journey? Share your experiences and tips for tapping into your intuition in the comment box below!
And for more resources on spirituality, meditation, manifestation, and all things self-love, be sure to connect with me on Instagram and Pinterest, where I'm posting positive affirmations and empowering messages daily.
You May Also Like:
---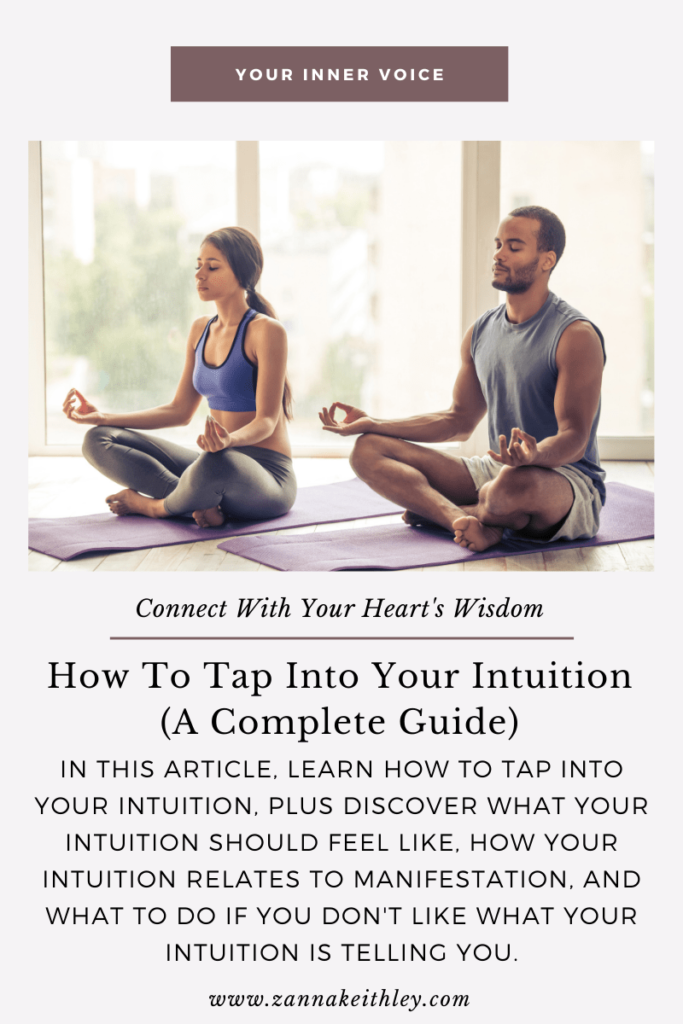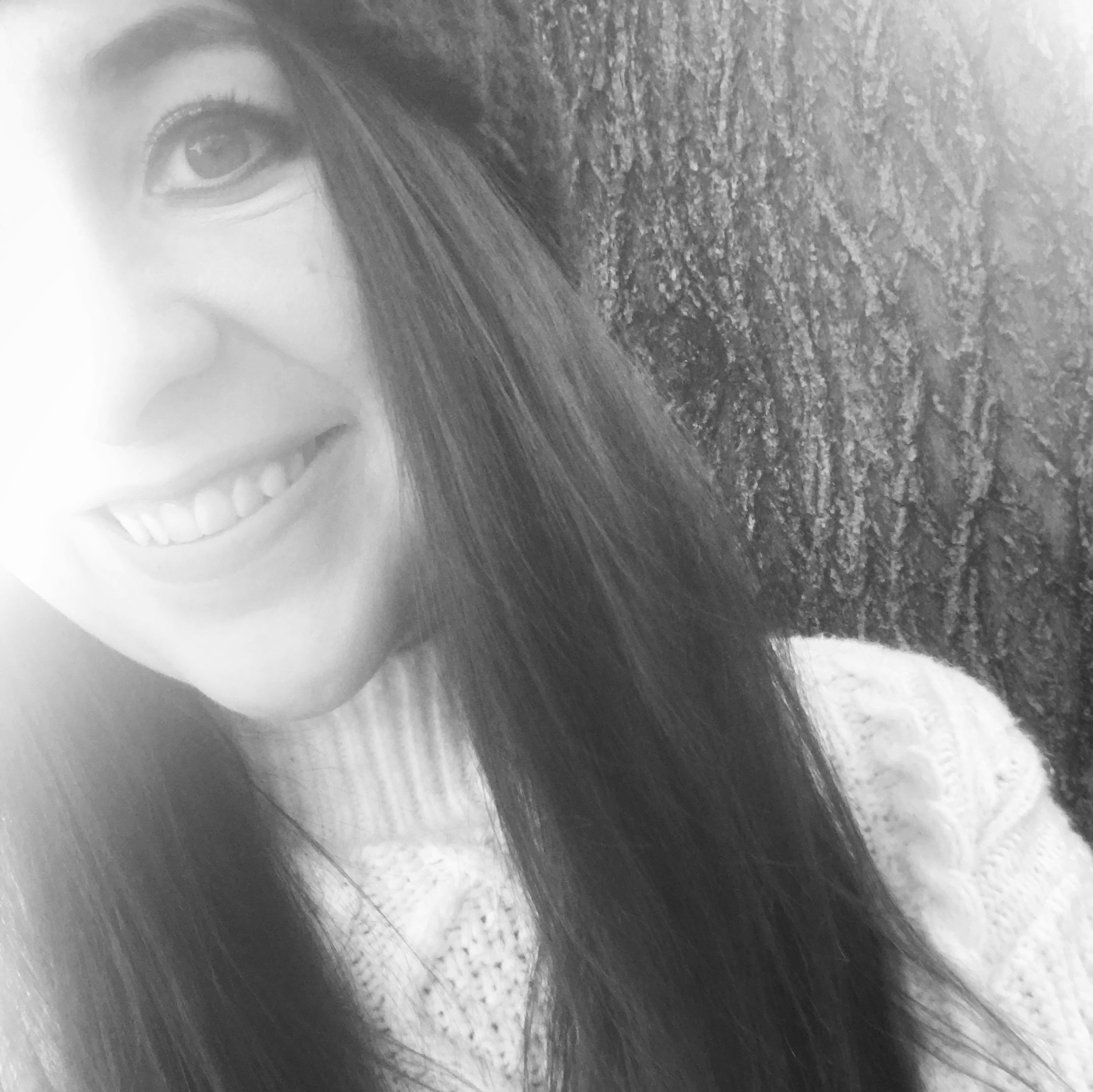 Hi, I'm Zanna! I'm a blogger/freelance writer living in Boise, Idaho. My mission is to help you break through the barriers holding you back from accessing infinite abundance and to inspire you to gather the courage and confidence to follow your dreams.