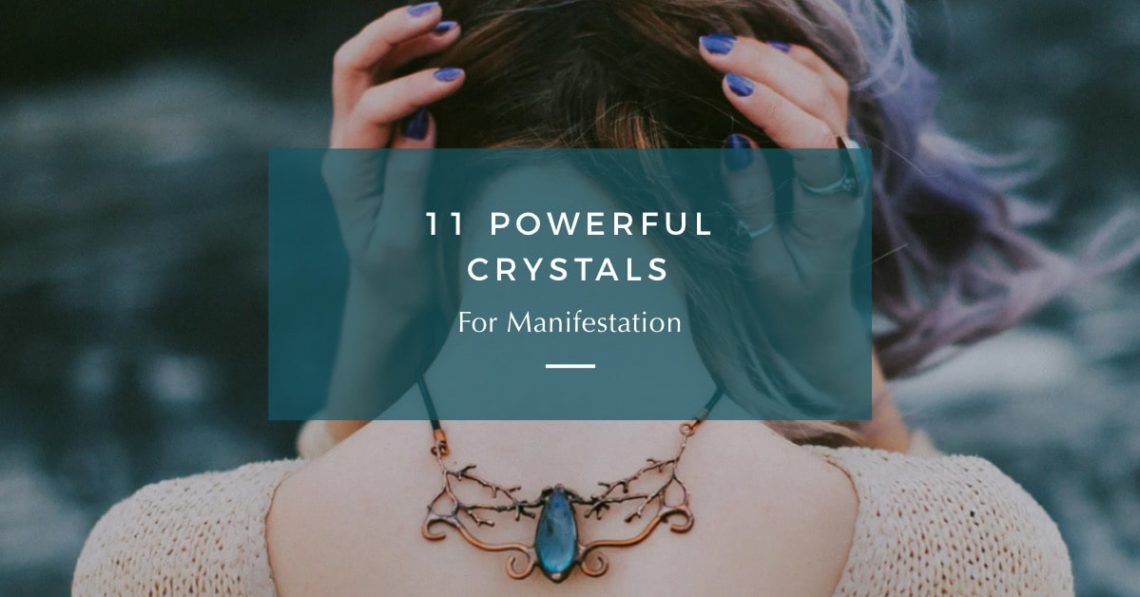 11 Powerful Crystals for Manifestation
From manifesting love and peace to financial prosperity, crystals and gemstones are powerful tools to guide you in manifesting the life of your deepest, most heartfelt dreams. Below, discover 11 beautiful crystals for manifestation, plus learn how to cleanse, program, and use your crystals to manifest your dreams.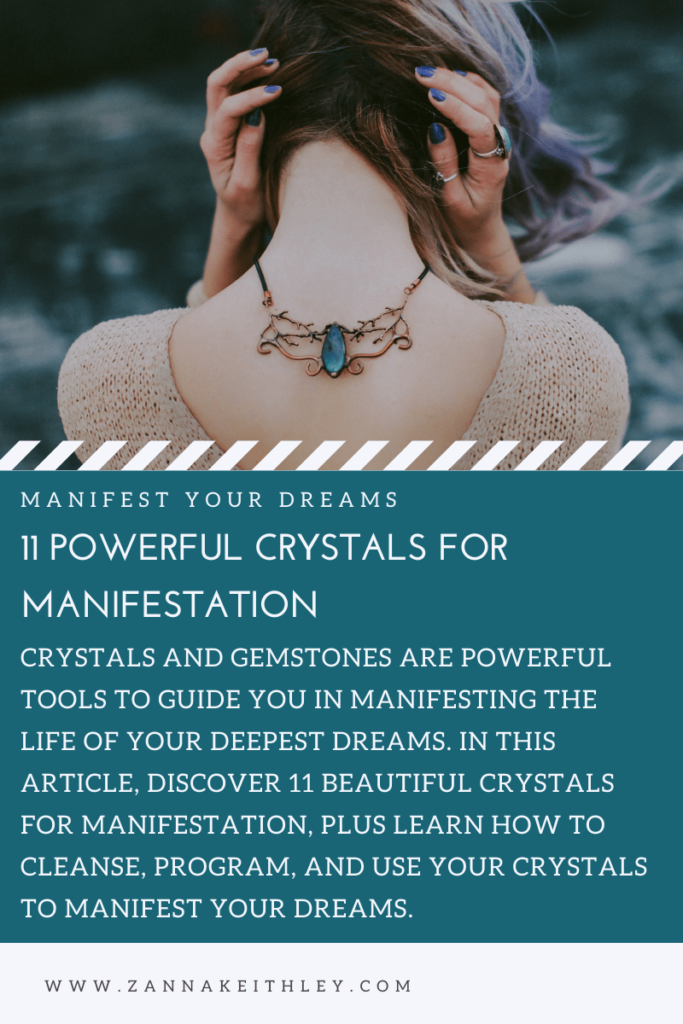 Why You Should Be Using Crystals
You are already a powerful manifestor, whether or not you're consciously aware of it.
Throughout your life, you've been emitting energy out into the world that reflects your inner state.
You might call this your energetic signature, and this can change from day to day – and even from moment to moment.
When you feel peaceful and calm, you radiate an overall aura of deep serenity. This energy doesn't just flow through you; it surrounds your entire being.
If this is hard to imagine, think about the energy you feel when you're around specific people. Do you love to be in the company of certain friends, family, or coworkers because of the positive energy you feel when you're around them?
And on the other side, are there certain people you avoid because they carry a constant energy of negativity?
You, too, carry a specific energy signature throughout your day. Manifestation is the art of tuning your own energy to your desired state of being. When you emit an energy of deep inner peace from within, you invite more experiences of peace and serenity in your outside world.
So while you've been manifesting your entire life, conscious manifestation occurs when you become aware of your limitless ability to create your own outcomes, and you intentionally choose your thoughts and feelings to align with the energy of your desires.
(I won't go too in depth on the process of manifestation in this article, but if you want to learn more, you can click here to learn more about the Law of Attraction, and here you can read about specific manifestation methods you can use to help you manifest what you truly desire.)
So how exactly do crystals help you manifest your dreams and desires?
When you use crystals for manifestation, your chosen stones aren't simply attracting love, financial abundance, health, and other desired outcomes to you; they're helping you to cultivate a deep sense of self so that you discover that these things already exist within you.
You are love. Love is your birthright. So is financial abundance, health, joy, creativity, passion, and all kinds of really good and wonderful things.
Crystals help you to become the energy of what it is that you want to manifest.
They restore harmony and balance within you and empower you to live as your highest and most authentic self.
And when you become the energy you want to manifest, you attract more of this energy to you.
Become unconditional love. Receive unconditional love.
Become abundance. Receive abundance.
By becoming, you're opening yourself up to receiving.
And while it's absolutely possible to walk into a store and feel called toward a certain crystal (always trust the wisdom of your intuition), it helps to have an understanding of the properties and powers that different crystals possess when you're choosing the right crystal for you.
Below, you'll discover 11 powerful crystals that will help you manifest your desires, plus some easy-to-follow practices on how to cleanse, program, and use crystals for manifestation. Feel free to use the links below to skip to the section you want to learn more about!
In This Article
For more details on how to use crystals to protect your energy, manifest your dreams, and help you heal from within, check out my article, How to Use Crystals: Grids, Pendulums & More.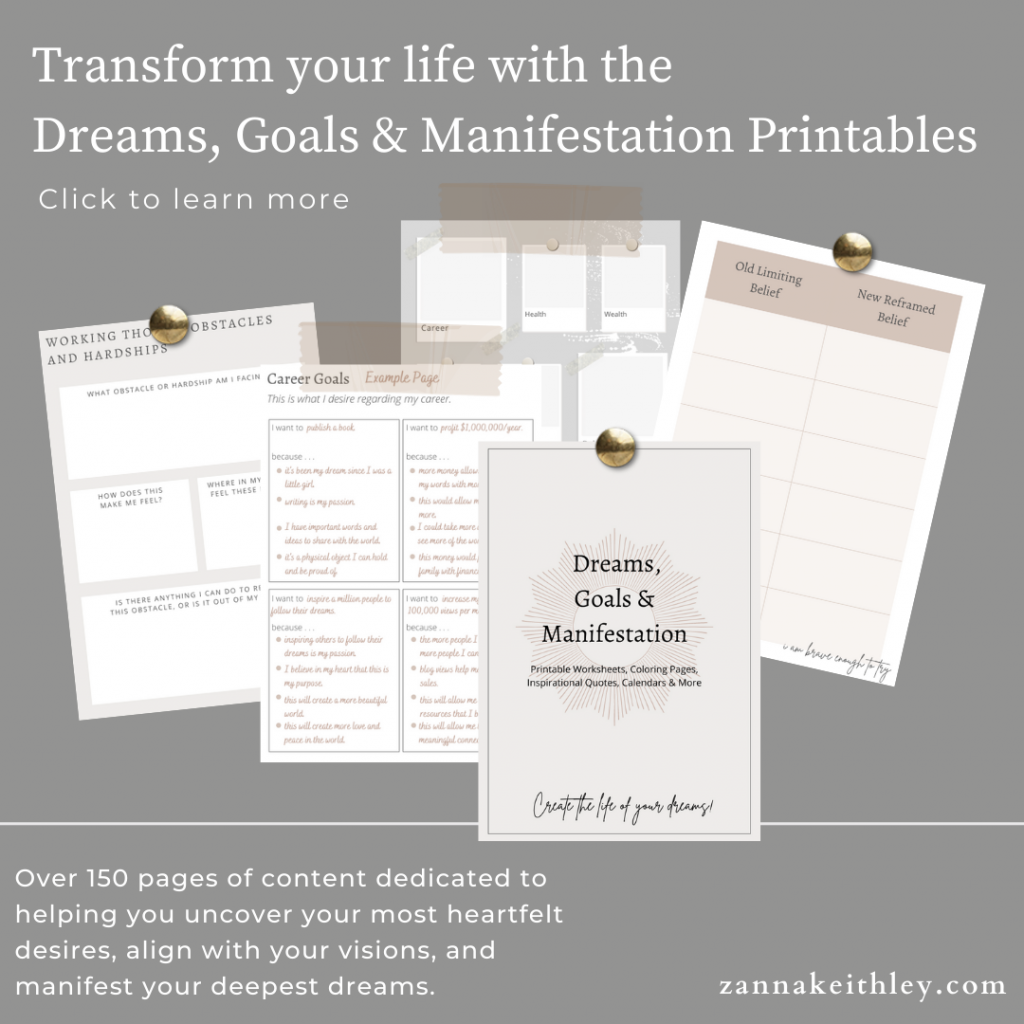 How to Cleanse Your Crystals
Why do we cleanse crystals before using them? Imagine that you're moving into a "new" old house. Even though the house is new to you, you know that the house has been lived in by several families before you. These families made their own memories in the house, and over the years, they've left behind bits and pieces of their energy inside that house.
Just like you want to clear the energy of the past residents so you can start anew in this house, you want to clear any old energy and past intentions still being held in your crystals.
Even if you're the first person to ever own this crystal, it's likely traveled a long way from its source to the seller to you. Because you don't know what kind of energy is currently held in your new crystal(s), it's a best practice to cleanse your crystals before using them.
Methods to Cleanse Crystals:
Sage: Light your sage and immerse the crystal in the smoke for thirty to sixty seconds. Be sure to use a firesafe bowl or abalone shell to catch burning embers and ash. It's best to do this outside or near an open window for two reasons: A) Safety and B) It allows any negative and old energies to rise in the air and disappear from your space.
Water: Rinse your stone under the running water of a creek or stream. If this isn't possible, you can also use a faucet. Just make sure to do a little research first to make sure it's safe for your stone. You don't want to use this method for soft stones like Selenite.
Use Selenite or Clear Quartz: Both of these crystals have the ability to cleanse and purify other crystals. Lay your crystal on a piece of Selenite or Clear Quartz for at least twenty-four hours. If you can't place your crystal on top, it also works to have them side-by-side as long as they're touching.
Nature: When I need to reset and get realigned, I can always restore balance within when I immerse myself in nature. Crystals are the same. Place your crystals outside on the soil, on the branches of a tree, on a potted plant, or anywhere else outdoors where you feel a sense of peace and balance. If possible, try to keep your crystals outside for at least a full day, avoiding dew and prolonged exposure to sunlight.
Sun/Moon: Place your crystals outside in the sun or moon for ten to twelve hours (or overnight). This is especially powerful during the Full Moon when the moonlight is brightest. If you're going to use this method, just make sure it's safe for your stone. For certain stones, like Amethyst, you want to avoid prolonged exposure to sunlight.
How to Program Crystals for Manifestation
The number one most important thing to remember when it comes to programming your crystals for manifestation isn't the method itself; it's your intention. There are several ways to program your crystals, and none are inherently better than the others. What matters is your intention during the process.
It helps to have a powerful sentence or phrase to use when you're getting ready to program your crystals. For instance, if you want to manifest health, your sentence might be, "I am living my healthiest and most fit life in a body I truly love." Or if you're manifesting financial abundance, your intention might be, "I am a successful entrepreneur, and financial prosperity comes easily and effortlessly to me."
The key is, before you sit down to program your crystals, make sure you really know what it is that you want to manifest.
Methods to Program Crystals:
Visualize: Sit in a quiet, safe place where you won't be interrupted. Hold your crystal(s) in your hands. In your mind, speak your intention. Then, visualize what this intention looks like. What does financial abundance look like to you? How do you envision romantic love? What do you see when you imagine yourself living your healthiest and most fit life? Sit in silence for a while and see your intentions manifesting in your mind, feeling the emotions of peace, freedom, joy, love, and/or any other positive emotions that arise when you visualize your dream.
Breathe into the crystal: Again, find a quiet and safe spot where you won't be interrupted. Place your stone(s) in your hands and repeat your intention in your head. Bring your stone(s) up to your mouth and breathe into them, repeating your intention in your head. Continue to do this for five to ten minutes, or as long as it takes to feel like your gemstones are fully activated.
How To Use Crystals To Manifest What You Want
Wear crystals as jewelry: Wearing your stones as rings, necklaces, bracelets, and earrings allows you to easily keep your stone with you at all times. I love rings especially because you can look down at them anytime and be reminded of your limitless power. On top of that, wearing beautiful things helps you to feel good and sparks joy within. And this is not superficial or shallow. Lean into the belief that you are worthy and deserving of wearing beautiful things. If it supports the internal joy that you cultivate within, embrace it.
Keep crystals nearby throughout your day: But be intentional with placement. For instance, if you're using gemstones to manifest financial abundance, place them in your workspace to promote the continual incoming paychecks and flow of money coming in. You can also place them in your wallet or purse to amplify the energy of abundance. Similarly, if you're manifesting creativity, keep your gemstones in your office or studio where you do most of your creative endeavors.
Keep crystals in your pocket: If you don't have jewelry with your chosen gemstone (or don't want to wear jewelry), you can keep your crystals in your pocket so they're still with you throughout the day.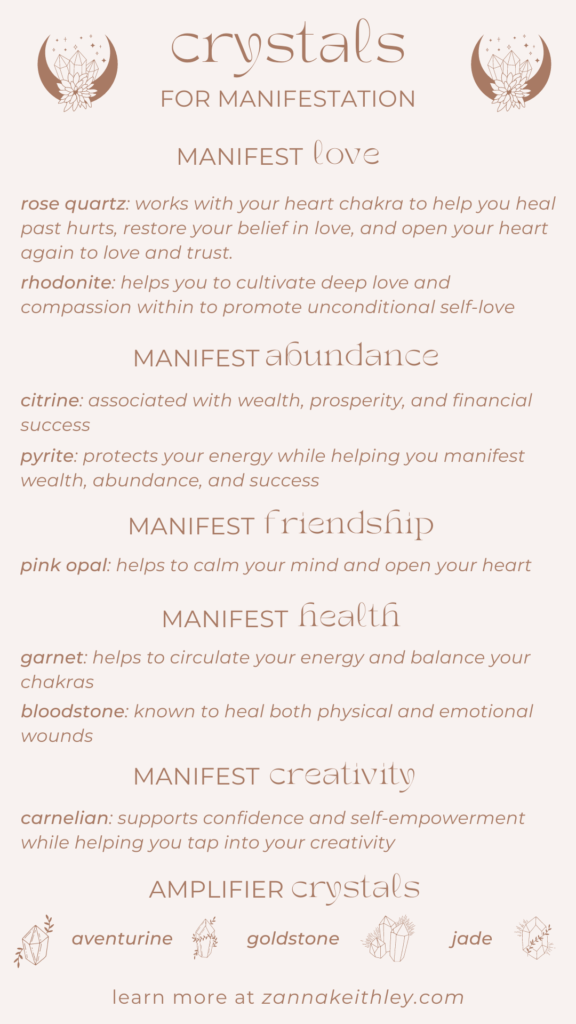 11 Powerful Crystals for Manifestation
Crystals to Manifest Financial Abundance
Citrine: When it comes to manifesting financial abundance, citrine is an absolute powerhouse. Known as the "Merchant Stone" or "Success Stone," citrine is associated with wealth, prosperity, and financial success. Additionally, citrine is associated with your solar plexus chakra, which is your energy center for confidence, empowerment, positivity, and high self-esteem. (Read more about the solar plexus chakra here!) So when you combine these powerful properties, you get a crystal that helps you to manifest financial abundance while feeling optimistic, confident, and joyful. This crystal is definitely a must-have when it comes to manifesting prosperity and financial abundance!
Pyrite: You might also know this one as "Fool's Gold," but there's nothing foolish about the manifesting power of this stone. Pyrite is associated with wealth, abundance, and success. Additionally, this is a protective stone, shielding you from negative energy and bad vibes. This is the perfect stone to keep in your office as it A) protects the energy of your space and B) raises your energy of abundance at work and/or in your business ventures.
Crystals to Manifest Love
Rose Quartz: Rose Quartz is the ultimate crystal for manifesting love. But how exactly does it do this? When you use Rose Quartz with the intention of manifesting love, you do much more than simply attract love. Rose Quartz works with your heart chakra, opening up this important energy center to help you heal past hurts, restore your belief in love, and open your heart again to love and trust. When you vibrate at the energy of pure love, you naturally attract this same powerful energy to you. And if you already have a partner, Rose Quartz is still a powerful stone to have on hand. As the stone of unconditional love, it helps you to deepen your relationship with your partner and with yourself.
Rhodonite: Rhodonite is another beautiful stone that's associated with the heart chakra. Like Rose Quartz, it helps you to cultivate deep love and compassion within to heal old wounds, cultivate compassion, build confidence, and promote unconditional self-love. If you're already in a relationship, this stone will help you to clear blockages between you and your partner and open your heart to forgiveness. By truly becoming the essence of unconditional love, you attract the energy of love into your life.
Crystals to Manifest Friendships
Pink Opal: Like the gemstones mentioned above in the Crystals to Manifest Love section, Pink Opal is associated with the heart chakra. (In fact, Rose Quartz and Rhodonite, mentioned above, can also be used to manifest not only romantic love but love-filled friendships as well.) Pink Opal is special because it helps to calm your mind and open your heart, which is especially helpful if you're shy or withdrawn. Pink Opal will help with healing past pain and cultivating deep inner peace.
*Citrine, mentioned in the Crystals to Manifest Financial Abundance section, is also a powerful stone for manifesting friendships and an active social life as it promotes joy, optimism, and positivity!
Crystals to Manifest Health
Garnet: Garnet is a powerful stone to promote your total health and wellbeing. When your energy centers are blocked or imbalanced, garnet helps to circulate your energy and balance your chakras. It's a total powerhouse for cleansing and rejuvenating your mind, body, and spirit.
Bloodstone: Bloodstone is known to heal both physical and emotional wounds. On top of that, it's known to increase circulation and get the energy moving in your body. When you feel completely tired and defeated, Bloodstone will help to heal your mind and body while rejuvenating your spirit.
Crystals to Manifest Creativity
Carnelian: Carnelian is the perfect stone to manifest more creativity into your life. Now, it's important to remember that you already have access to a limitless abundance of creativity inside of you. However, at times, we may block or obscure that source of creativity, usually by overthinking, worrying, or living it the past or future. And that's okay! We can always reopen ourselves to infinite creativity, and Carnelian is just the stone to help us get there. Carnelian supports confidence and self-empowerment while helping you tap into your creativity. If you find that your creativity has been blocked, you can use this stone in combination with practices to heal your sacral chakra, the energy center in your body associated with creativity and passion. Learn more about healing your sacral chakra here!
Amplifiers/Pairing Crystals
Aventurine: No matter what you want to manifest, Aventurine is an absolute must-have in your manifestation toolkit. Aventurine is the ultimate pairing stone because it's associated with abundance and manifestation. But abundance doesn't just mean financial abundance. Aventurine can help you manifest an abundance of health, love, friendships, creativity, or anything else you desire. It also boosts luck and helps you to stay in a high-vibe, positive state. You can pair Aventurine with Citrine to boost your financial prosperity, or Aventurine with Carnelian to inspire your creativity. There really is no limit to this powerful stone.
Goldstone: Goldstone is a beautiful grounding stone that acts like your best friend and protector all in one. It helps you to remain grounded, fills you with energy and optimism, and strengthens your faith when you're facing obstacles and roadblocks. It will also help you achieve your goals, unlock your potential, and create a beautiful future. Goldstone truly is a unique stone that will serve and guide you as you manifest your future.
Jade: Jade is another powerful stone that's associated with luck and success. It also fills you with courage and reminds you that you are truly limitless. Use Jade with Citrine or Pyrite to attract success, prosperity, and good fortune into your life.
---
And there you have it: eleven powerful crystals for manifestation. Do you have any experience using crystals for manifestation? What crystals have you found to be especially powerful when manifesting your dreams? Share your tips and experiences in the comment box below!
And for more manifesting tips, daily affirmations, and lots of positive vibes, be sure to follow me on Pinterest and Instagram.
More Articles For You
---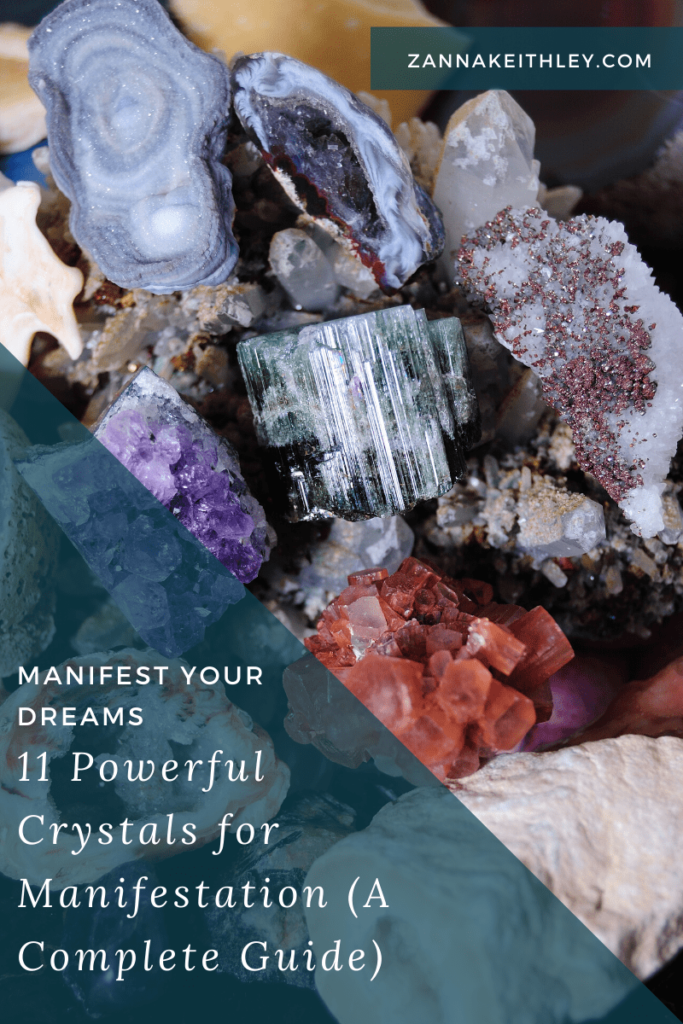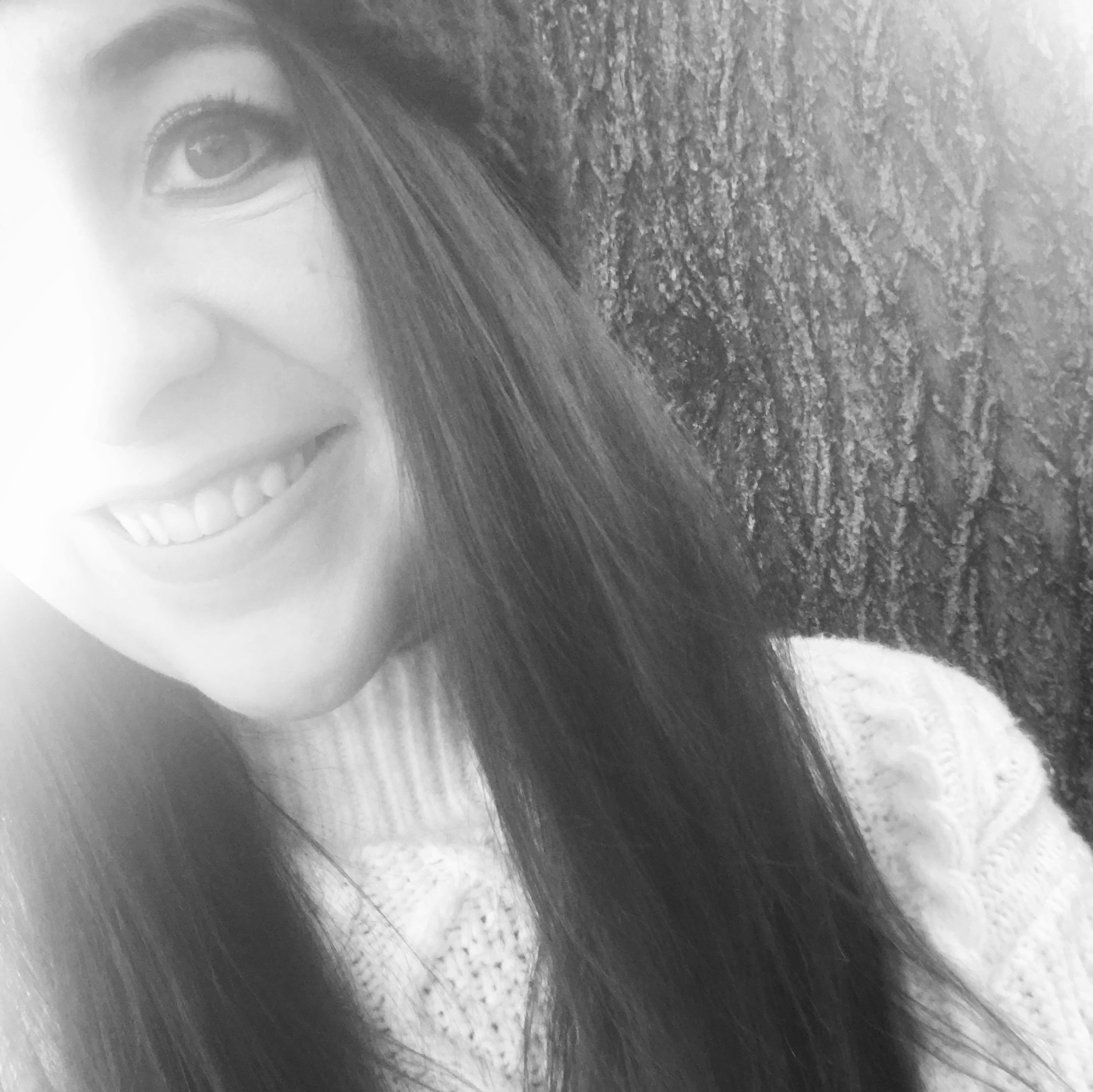 Hi, I'm Zanna! I'm a blogger/freelance writer living in Boise, Idaho. My mission is to help you break through the barriers holding you back from accessing infinite abundance and to inspire you to gather the courage and confidence to follow your dreams.