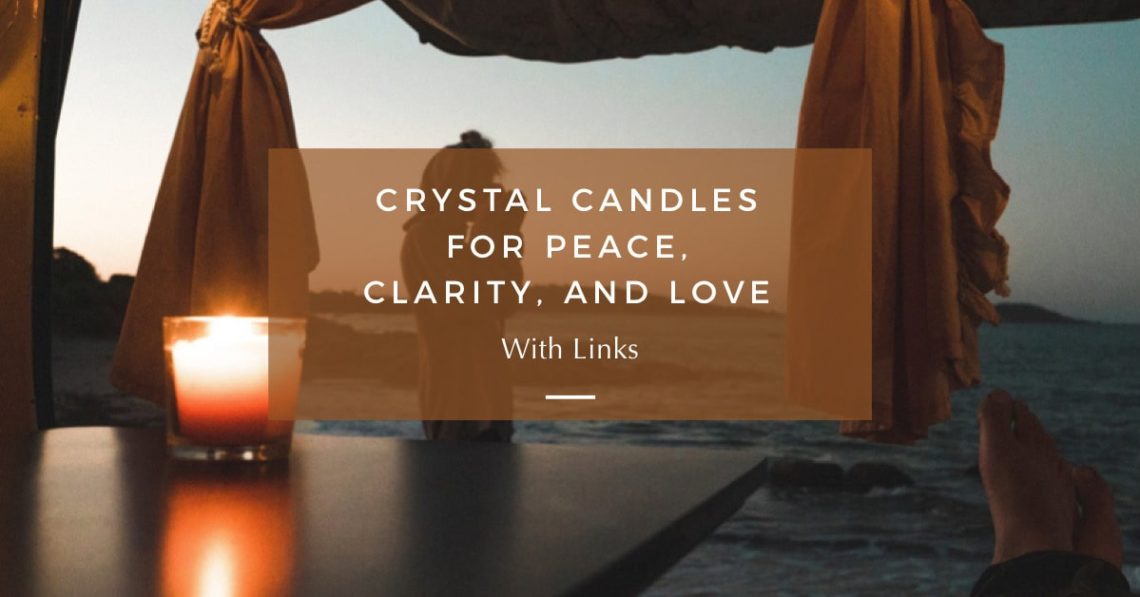 Crystal Candles For Peace, Clarity, And Love (With Links)
In this article, learn what crystal candles are and how to use them, plus get links to eight gorgeous candles (and candle sets) you can purchase today to bring more peace, clarity, and love into your daily life.
Disclaimer: This post contains Amazon links. As an Amazon associate, I earn from qualifying purchases. If you purchase a product using my link, I may receive a small commission at no extra cost to you. You can read my full disclosure policy here.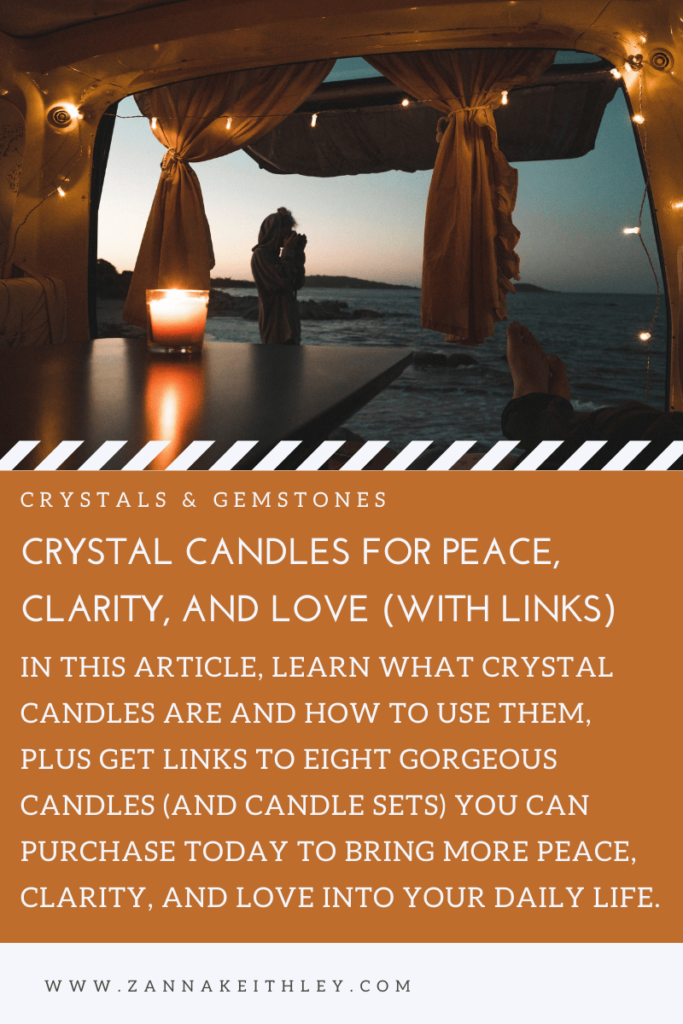 What Is A Crystal Candle?
A crystal candle is a candle that's been infused with crystals and gemstones in order to promote clarity and inner peace as well as to help you manifest your specific desires. Many crystal candles contain multiple smaller gemstones in them, and some will also include a Selenite or Clear Quartz wand for deeper clarity and energy healing.
When selecting a crystal candle, my best advice is to try not to overthink it. The most important attribute in picking one out is to simply find one that calls to you.
If you already have some knowledge of the meanings of different crystals, you can search for one that has a meaning that correlates with your specific desires. For instance, many crystal candles include Citrine, which is tied to joy, abundance, and prosperity. Rose Quartz is another popular choice, as it's connected to your heart chakra and known to help open your heart to let more love into your life.
But if you don't want to worry too much about the specific meanings of the crystals, that's completely okay, too. Let your intuition guide you to the right candle for you. This can be a fun practice, as often, your intuition knows what you need even before your conscious mind does.
One of the best aspects of a crystal candle is that once you've burned the candle completely, you can repurpose the crystals and gemstones and continue to use them around the house or as jewelry. This makes it a meaningful and unique gift option for friends and loved ones. (And it's also a great item to keep in your personal self-care toolkit as well.)
Below, get tips on how to use crystal candles, plus get links to beautiful candles (and gift sets) infused with crystals, essential oils, herbs, and other natural products that you can purchase today.
How To Use Crystal Candles
The simplest way to use crystal candles is to simply light a candle and keep it going in the background while you're at home. You can also use them while you're taking a bath, reading, working – truly, the options are endless.
If you're looking to connect deeper with your innermost self, you can use a crystal candle while journaling. Find a candle that contains crystals that correlate with the part of yourself that you want to connect with or heal. For instance, you can choose Rose Quartz to open your heart chakra or Amethyst for connecting with your inner wisdom and intuition. Set an intention before you journal for what you want to accomplish during this journaling session. Then, light your candle and let the words flow.
Finally, you can also use a crystal candle in a dedicated manifestation ritual.
To begin, find a quiet spot where you can meditate without interruptions or distractions. Light the crystal candle of your choice before you begin meditating. Set an intention for something specific that you want to manifest into your life. Once you begin your meditation, start visualizing every detail of how it will look and feel when your intention becomes real.
For instance, if you want to manifest love, visualize what your life will look like when you meet the love of your life. And even more, allow yourself to feel the positive emotions of having your soulmate in your life today.
For more instructions on using candles in manifestation, click here to check out my full guide on how to choose and use candles for manifesting your desires.
Crystal Candles
Art of the Root Candles
I've been a big fan of the Art of the Root manifesting oils for a long time, and their crystal-infused candles are made with the same care, attention, and high-quality ingredients. Their Manifestation Affirmation Candle is one of my absolute favorites. It's made with ginger, vanilla, orange, and other herbs and oils, and it's infused with Citrine crystals, which is associated with joy, wealth, prosperity, and financial success. To check out the rest of Art of the Root's manifesting and chakra healing candles, click here.
AROMOUNT Crystal Infused Candles
AROMOUNT's line of crystal infused candles are some of my favorites due to their high-quality ingredients and pleasant scents that can fill an entire room. I especially love their lavender and vanilla scented Healing Amethyst Candle, as not only does it smell lovely, but Amethyst is a powerful stone connected to spiritual healing, inner wisdom, and tranquility. For more options, be sure to check out their collection of Clear Quartz, Aquamarine, and Rose Quartz candles here.
The Mindful Collective Healing Crystal Candle
The healing crystal candle by the Mindful Collective gets my vote for one of the prettiest candles on this list. This candle includes Rose Quartz for deeper self-love and compassion, Citrine for joy and prosperity, and Clear Quartz for clarity and energy healing. With its lovely lavender and vanilla notes, this is the perfect candle to use in meditation, during a bath, or while scripting your dream life.
Picki Nicki Crystal Sage Candles
Picki Nicki's line of crystal sage candles are perfect for anyone who prioritizes eco-friendly products, as it's made with eco-friendly soy wax and topped with sustainably harvested white sage. My favorite is the White Sage Candle with Citrine and Clear Quartz crystals, which combine to provide you with the light and energy to manifest your deepest, most heartfelt dreams. And the "You Are Enough" card that comes with each candle makes this the perfect gift to yourself or someone you love.
My Lumina Self-Love Aromatherapy Candle
If you're looking to go deeper within, connect to your innermost self, and cultivate unconditional self-love, My Lumina's Self-Love Aromatherapy Candle is the perfect choice for you. Infused with Rose Quartz, which is connected to your heart chakra, this candle is for anyone who wants to connect deeper to love – both for yourself and for the world around you. And with a lovely sweet pea scent that fills a room, this beautiful candle provides a calming atmosphere for journaling, meditating, or taking a luxurious bubble bath.
ORCHID AURA Healing Crystal Candles
If you're looking for a crystal candle set for yourself or a loved one, ORCHID AURA's Healing Crystal Candle Set is the perfect option. This beautifully packaged set of three candles features three of my favorite crystals: Citrine, Amethyst, and Rose Quartz. Each candle has a unique scent and is made with 100% pure soy wax with a lead-free cotton wick. If you're scent-sensitive, the aroma of these candles is a bit subtler than some of the others, so they're not too overwhelming. (Note that these candles are a bit on the smaller side at 2.75 inches tall.)
Chic & Raw Heart Chakra Crystal Candle
Chic & Raw's beautiful Heart Chakra Crystal Candle contains two genuine Madagascan Rose Quartz gems inside, designed to gently heal and open the heart chakra to bring joy and love into your life. Not only is this one of the prettiest candles on this list, but it's eco-friendly, too. Chic & Raw uses organic soy wax and natural essential oils, and their crystals are from natural and sustainable sources. Made with ginger and white tea essential oils, this is also a great alternative if you're looking for something outside of the standard vanilla or lavender scents.
Hemlock Park Crystal Candles
Want something different than Rose Quartz, Citrine, and Amethyst? Hemlock Park offers beautiful candles that include crystals and gemstones you don't typically see in crystal candles. This Lapis Lazuli Sea Salt Orchid candle is one of my favorites, as Lapis Lazuli is a stone of enlightenment, wisdom, and truth. I also love that Hemlock Park candles are naturally made with organic ingredients, and each candle comes with a pair of bamboo tongs to remove the crystal once the candle has been completely burned. You can find more unique Hemlock Park crystal candles here.
---
Have you ever used crystal candles? Share your tips and experiences in the comment box below!
And for more resources on spirituality, meditation, manifestation, and all things self-love, be sure to connect with me on Instagram and Pinterest, where I'm posting positive affirmations and empowering messages daily.
More Articles For You
---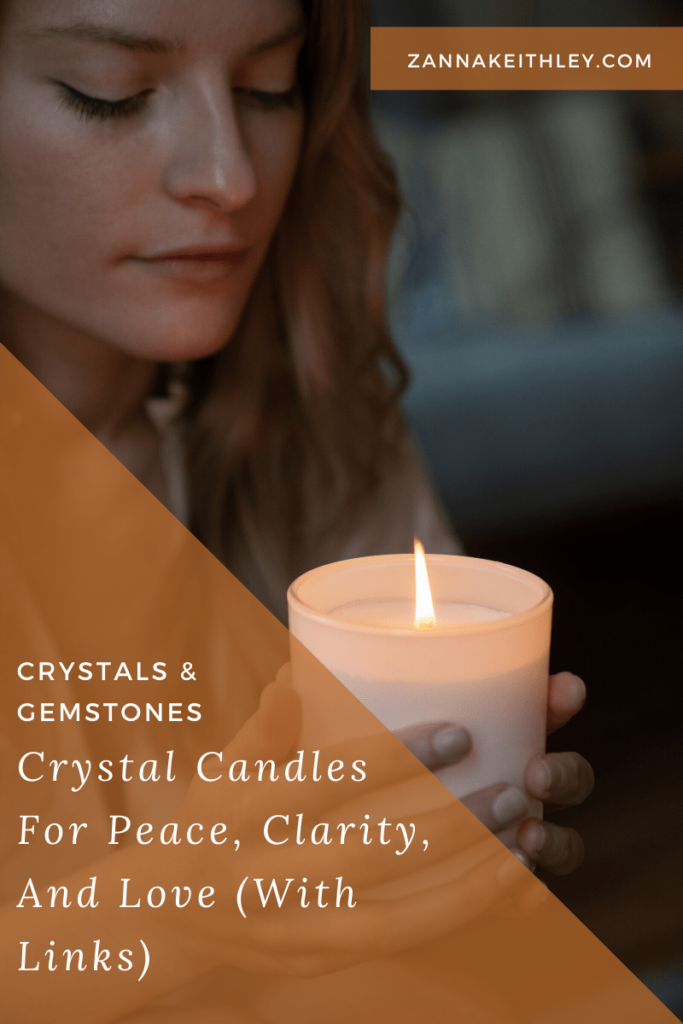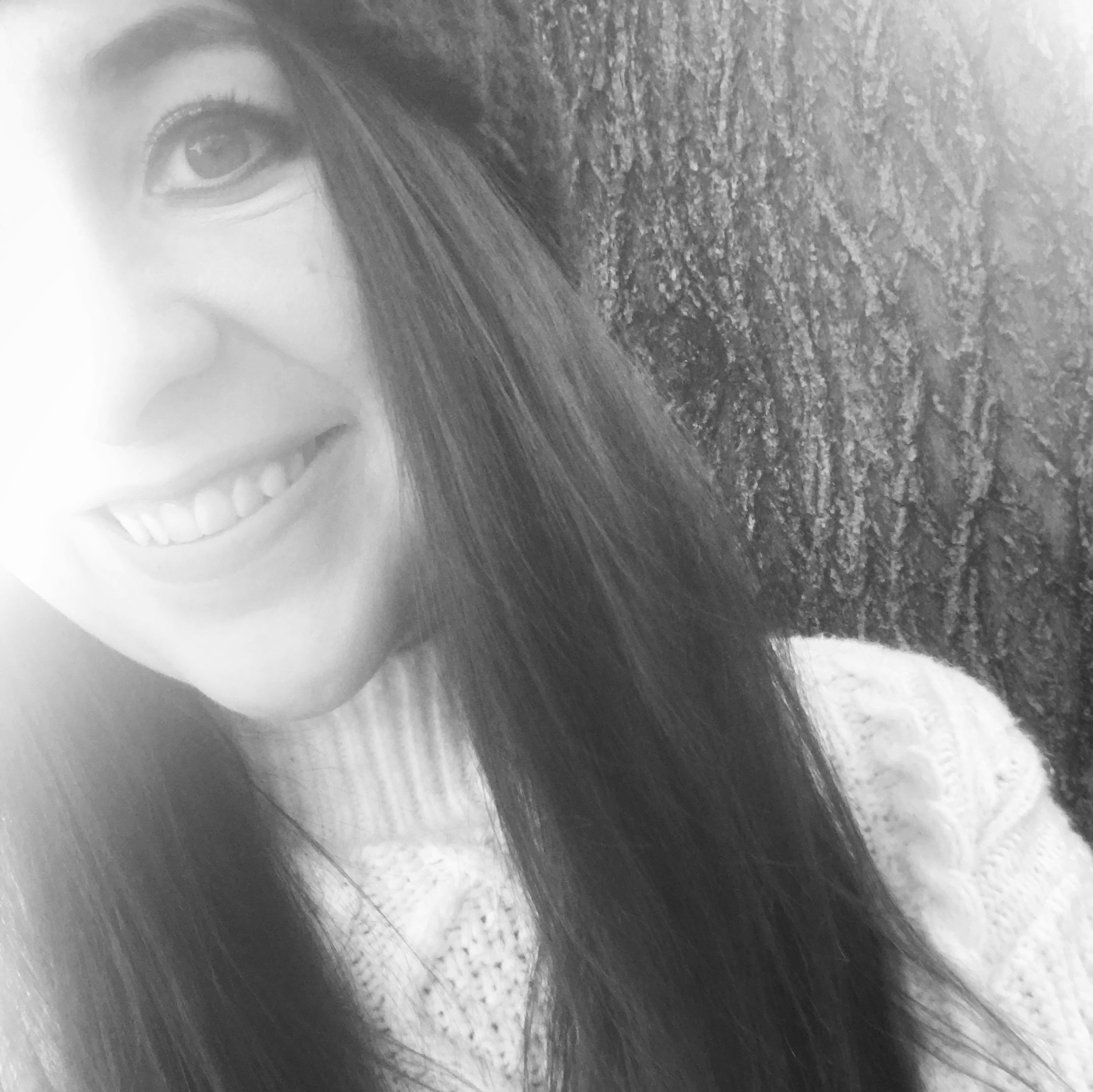 Hi, I'm Zanna! I'm a blogger/freelance writer living in Boise, Idaho. My mission is to help you break through the barriers holding you back from accessing infinite abundance and to inspire you to gather the courage and confidence to follow your dreams.