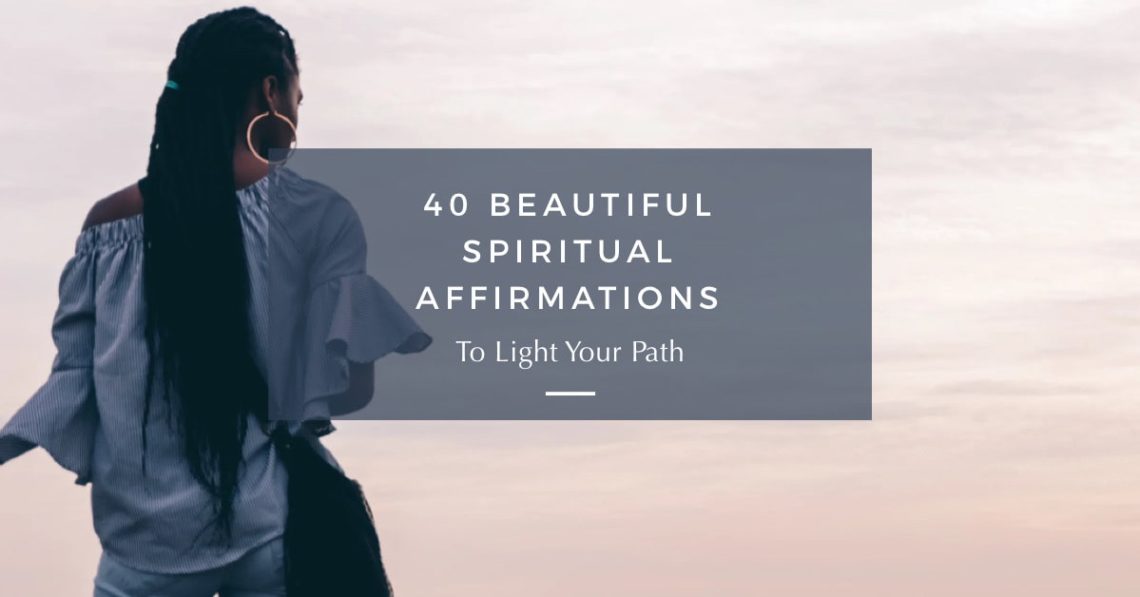 40 Beautiful Spiritual Affirmations To Light Your Path
Below, discover 40 beautiful spiritual affirmations to light your path and help you to connect with your inner divinity as you walk forward on your own sacred journey. Let these healing affirmations help you to release your worries and lean into faith, trust, and unconditional love.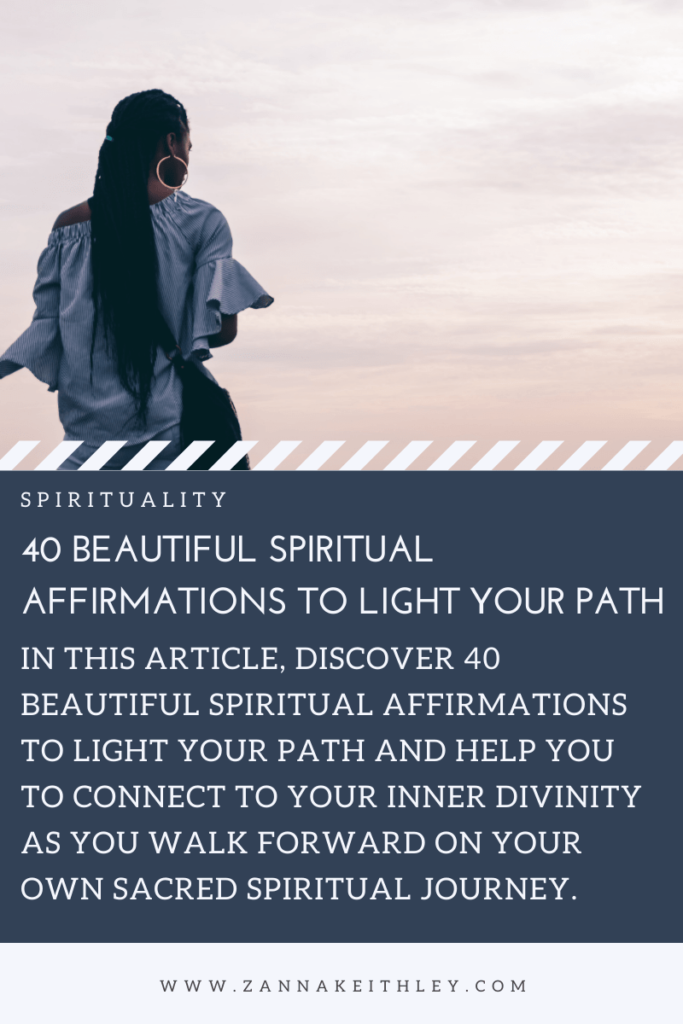 What Are Positive Affirmations?
A positive affirmation is an affirming statement that's designed to boost your self-belief and support your overall well-being: mind, body, and soul.
A really good positive affirmation—the kind that lights up your heart and sparks something powerful deep inside of you—should uplift, encourage, and inspire your highest self.
It should feel like a call to take back your story. To choose your own path. To stand tall in your undeniable worthiness and proclaim that you are everything you want to be.
You are worthy. You are enough. You are powerful and strong and so much more than you've ever given yourself credit for.
This isn't about just reciting a few empty, feel-good words every once in a while.
This is about finding the words that resonate with you deep within and then feeling the emotions of these words in every cell of your being.
You're not just saying you're worthy; you are worthy. Worthiness is who you are at your very core. Worthiness created you, and worthiness is the foundation you've built yourself upon.
You have been dripping in worthiness since the day you were born.
How To Use Spiritual Affirmations
A spiritual affirmation is a little different from your standard positive affirmation.
These are affirmations that focus on helping you to embrace your inner divinity, realign with your true self, and connect to a higher power. They also gently teach you how to surrender, trust, and have faith, even when it feels like nothing is going right. (Especially when it feels like nothing is going right.)
You can use these spiritual affirmations in the morning to help you step into the new day with faith and trust. You might also use them at night to cultivate a sense of calm and peace before bed.
But the best time to use spiritual affirmations?
When you're feeling lost, disconnected, or uncertain about your path ahead.
If you feel like you've lost touch with yourself or are having trouble trusting the unknown future, let these affirmations help you to realign with your highest self and surrender your worries to a higher power.
Below, you'll find 40 beautiful affirmations to light your path and help you connect to your inner divinity. Let these powerful words be a guiding beacon that gently leads you back home to yourself – back to your heart, back to your soul, back to your truth.
Spiritual Affirmations To Light Your Path
I am a spiritual being in a human body.
I honor the sacred divinity that exists within me.
I bravely let go and allow the Universe to reveal its beautiful plan for me.
I trust that the Universe gives me exactly what I need at exactly the right time.
I am eternally connected to the divine source of the Universe.
My body is a beautiful home for my radiant soul.
I am pure, beautiful, radiant light.
I am divinely protected, inspired, and guided by the Universe.
I surrender to the loving will of the Universe.
I am made of stars. The light I seek is always within.
I live every day of my life as my highest self.
I am deeply and unconditionally loved by the Universe.
I am worthy of unconditional love from divine energy.
I am connected to a limitless source of creativity, abundance, health, happiness, and love.
I trust that everything I need comes to me at exactly the right place and time.
Everything is unfolding in perfect timing. I trust. I believe. I receive.
All that I seek I can find within me.
All that I'm seeking is also seeking me.
I am loved, cherished, and and adored by this Universe.
Pure white light flows through me and heals my body, mind, and spirit.
I am aligned with my purpose and truth.
I am aligned with the highest frequency of love.
Even when the world is immersed in darkness, I walk forward in faith, love, and light.
I have unshakeable faith in my divine path.
I'm Source Energy in a human body, and I can do anything.
I am vibrating positive, loving, abundant energy, and I attract this same energy in return.
I am connected to a limitless source of inspired ideas and beautiful creativity.
I honor my inner knowing and trust my path.
Everything is unfolding in perfect timing. I release worry and choose to trust.
I trust and believe that everything is always working out for my highest good.
I am peaceful. I am centered. I am grounded.
I am always gently held and lovingly guided by this Universe.
I release doubt and welcome faith.
I allow miracles and magic to unfold in my life today.
I surrender to the highest good for all.
I surrender control and allow the Universe's loving presence to guide me.
Every day, I feel more connected to my spirit.
I openly accept spiritual guidance from a higher power.
My soul is truly beautiful.
I am love. I am light. I am connected to all.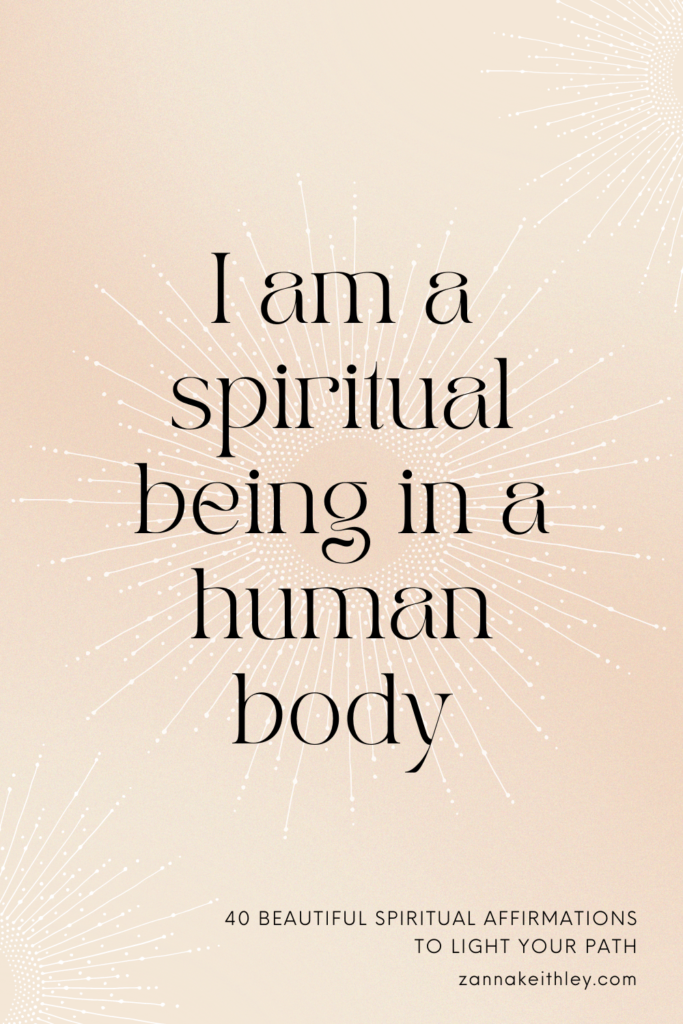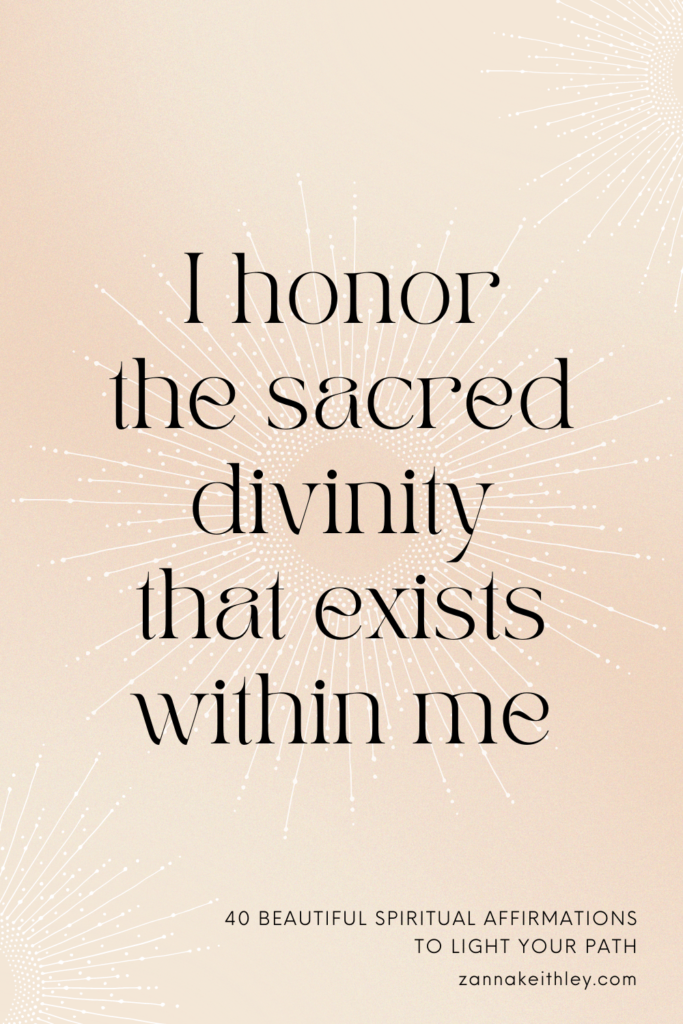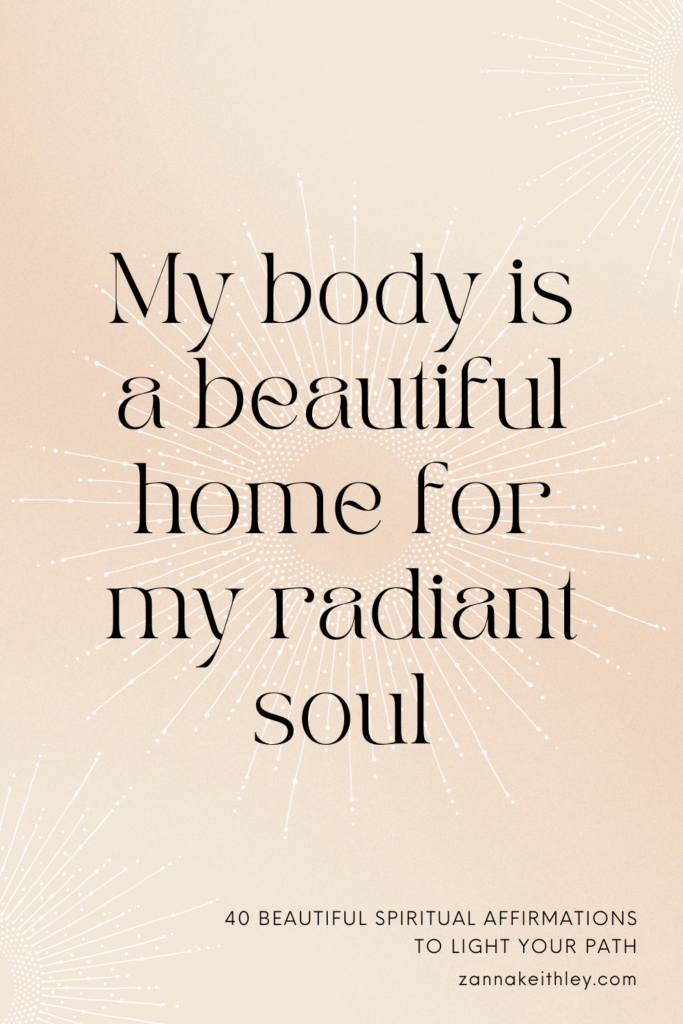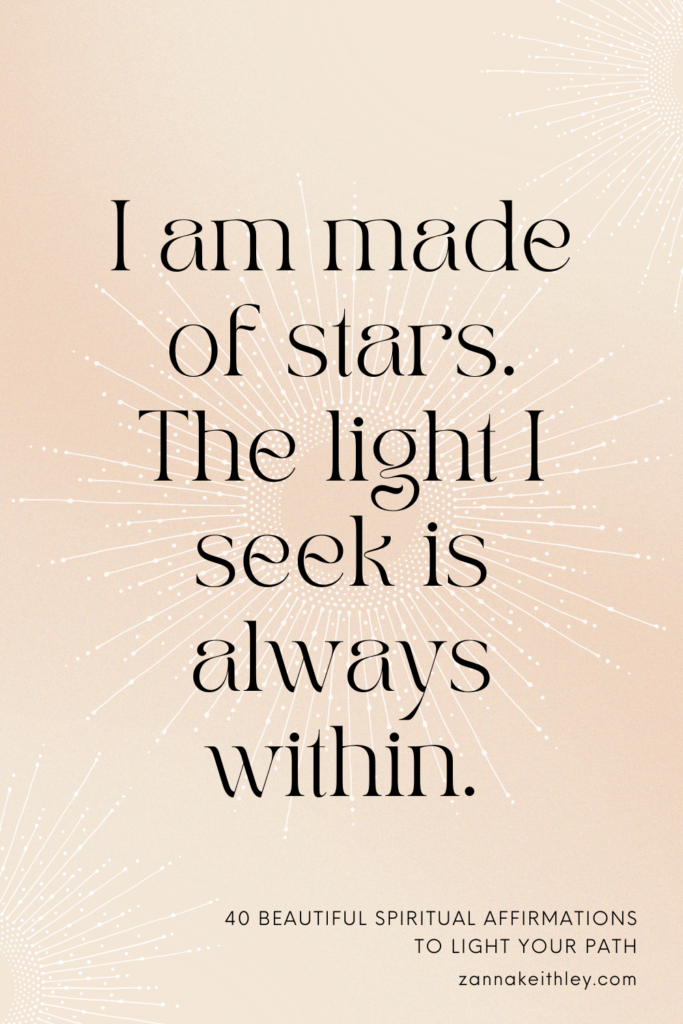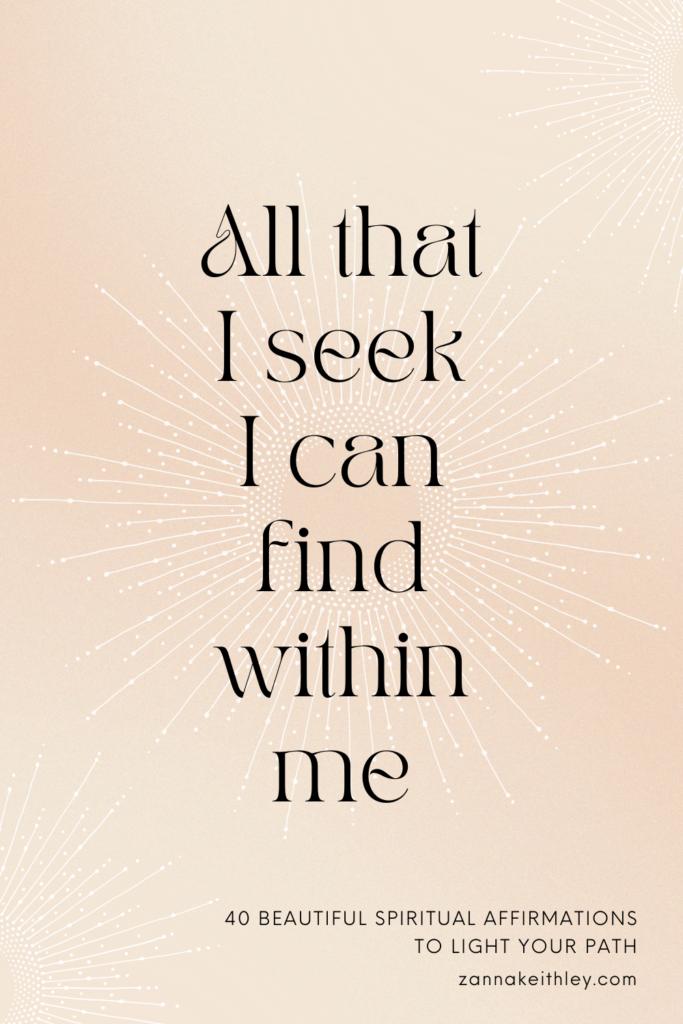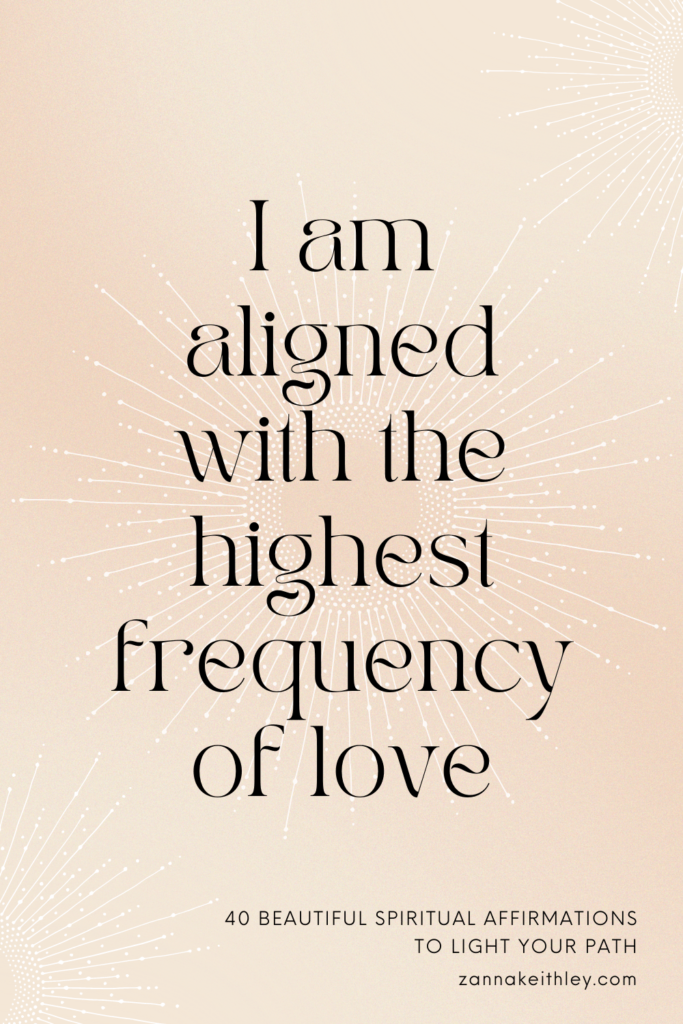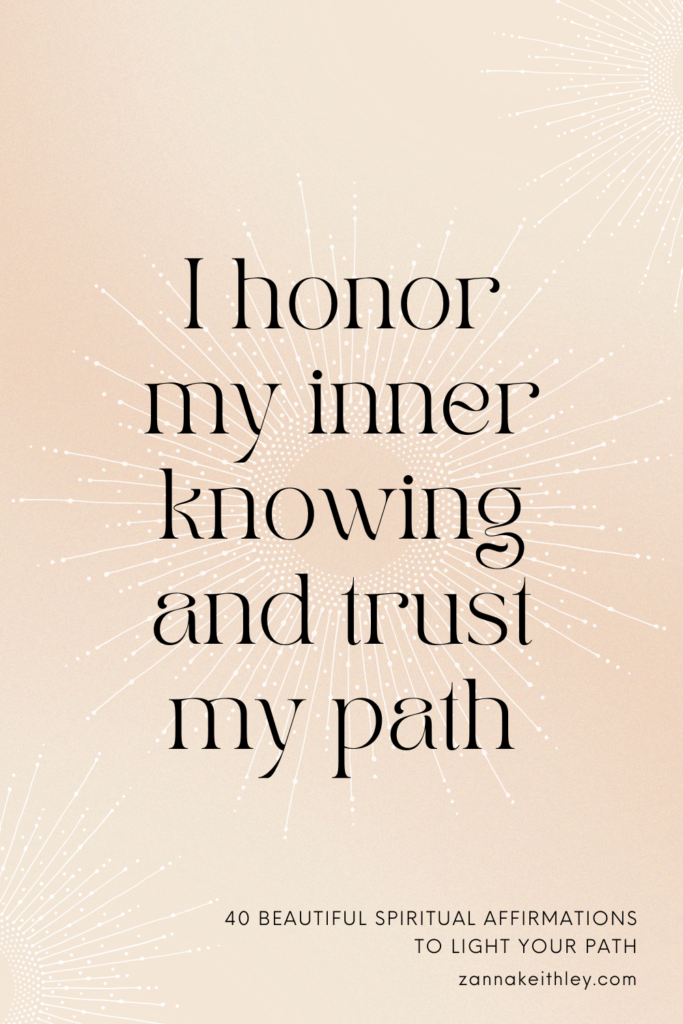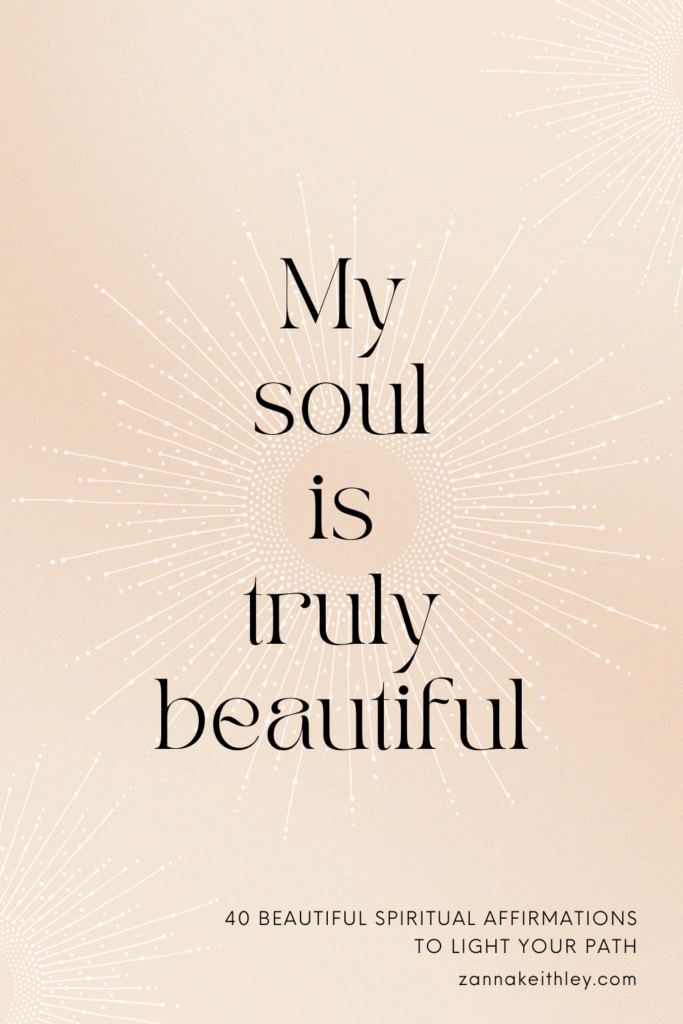 ---
What are your favorite spiritual affirmations? Share your favorites in the comment box below!
And for more resources on spirituality, meditation, manifestation, and all things self-love, be sure to connect with me on Instagram and Pinterest, where I'm posting positive affirmations and empowering messages daily.
More Articles You May Like
---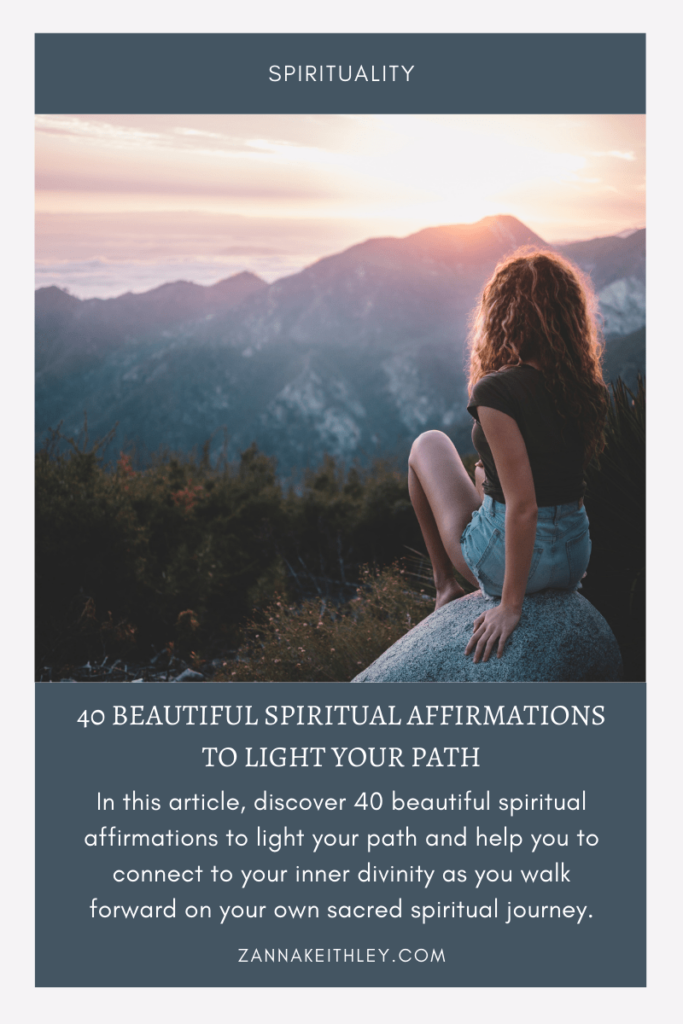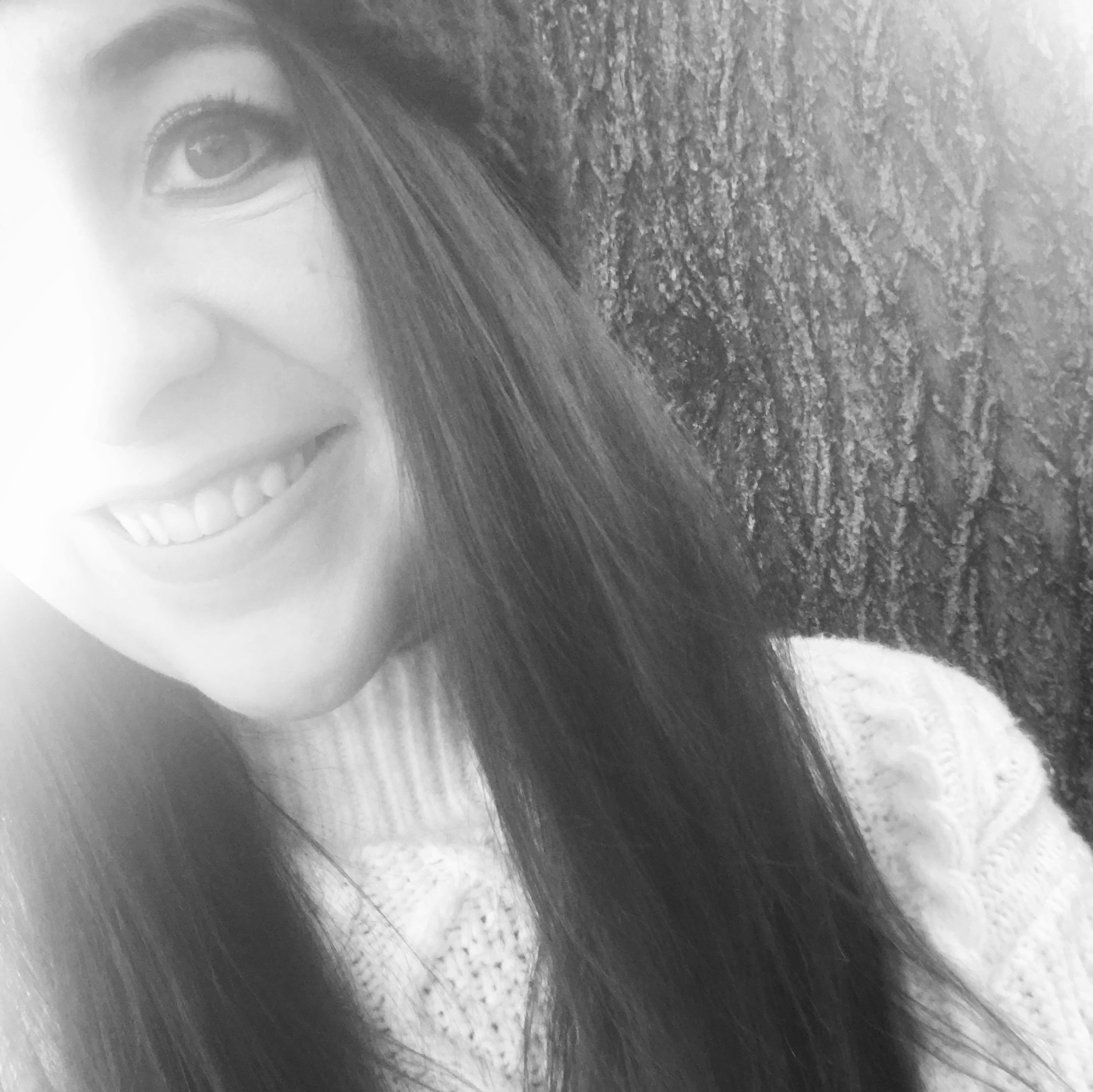 Hi, I'm Zanna! I'm a blogger/freelance writer living in Boise, Idaho. My mission is to help you break through the barriers holding you back from accessing infinite abundance and to inspire you to gather the courage and confidence to follow your dreams.