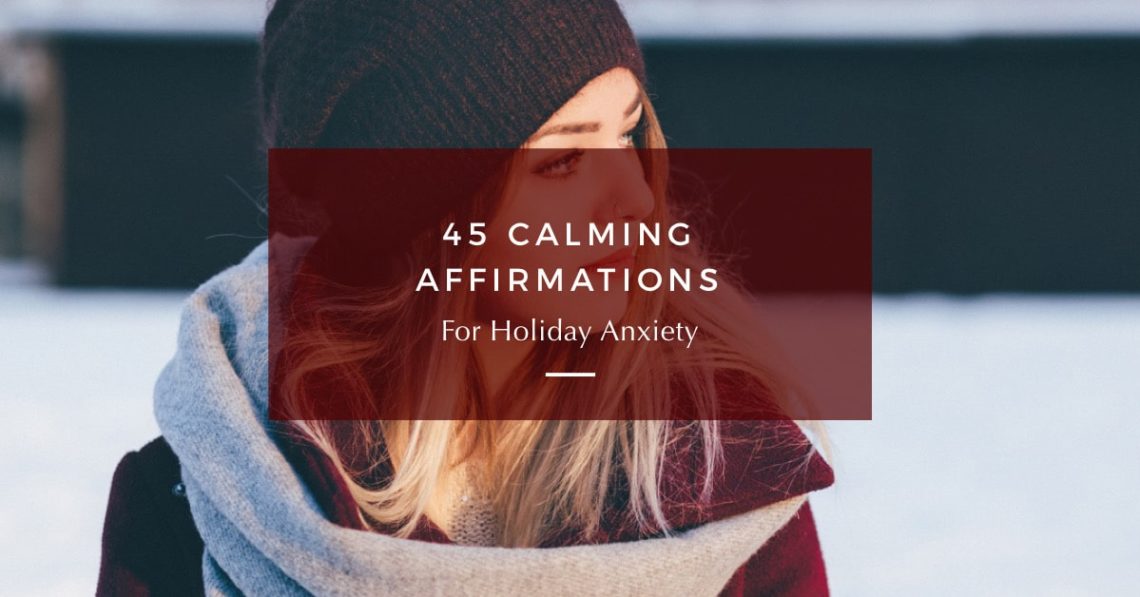 45 Calming Affirmations For Holiday Anxiety
Below, discover 45 gentle and calming affirmations for meeting your holiday anxiety with love, kindness, and compassion.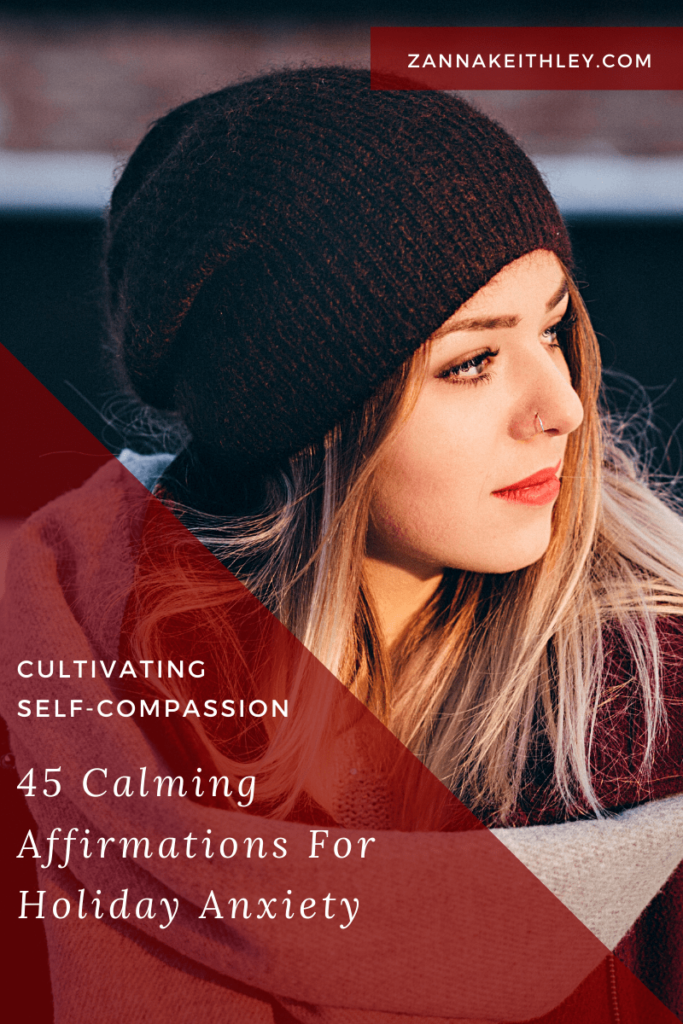 Anxiety During the Holiday Season
While the holidays are usually celebrated as a time for love, gratitude, and community, they can often be a heavy and difficult time for many people.
You may feel anxiety about social gatherings. Or maybe you're experiencing anxiety due to loneliness. The abundance of food may cause you to feel anxious, losing your sense of calm and stability. Gift giving and money worries can also cause anxiety for many. And sometimes, past experiences may cause you to dread the holidays rather than look forward to them.
No matter how you're feeling, I want you to know this: it's okay to feel exactly how you feel. It's okay to make space for all your feelings without trying to cover them up or pretend they don't exist.
So please, don't label these feelings as bad or wrong. Don't try to suppress them for the sake of false positivity.
Tend to your anxiety with gentle love and compassion.
Step outside and take deep breaths when social events begin to feel overwhelming. Give yourself grace when the plethora of food choices causes your chest to tighten and feel heavy. Love yourself a little extra when you're worried about money. Prioritize taking care of your whole self: mind, body, and soul.
If you are to give yourself one gift this year, then please–give yourself the gift of self-compassion.
Below, you'll find 45 calming affirmations for holiday anxiety. Use these affirmations throughout the holiday season to help you feel grounded, calm, and centered. Remember that you are the only one in control of your emotions. You are in charge of your thoughts, feelings, and beliefs.
So take care of yourself. Breathe deeply. And remember that you are worthy of your own love, kindness, and compassion – always.
Affirmations For Holiday Anxiety
I will be gentle with myself today.
When I'm feeling overwhelmed, I give myself permission to step away and breathe.
I give myself permission to do what is best for me.
I choose to be kind to myself and love myself unconditionally.
I listen to what my soul needs in each and every moment.
I honor my past experiences, but I do not allow them to take away from my current joy.
I make space for all of my feelings, but I have the power to rise above anything that doesn't serve my highest good.
In the face of worry and anxiety, I choose gratitude and faith.
I choose peace over worry.
I am safe and supported, rooted in this present moment.
I am grounded, centered, and stable.
I will not worry about things I cannot control.
I allow myself to take things one moment at a time.
I am equipped with all the tools I need to face today with courage and compassion.
It's okay for me to feel anxious. I respond to my anxiety with love and compassion.
I am not my thoughts.
I am not my fears.
I am not my anxiety.
I am welcome here.
My presence is delightful to others.
I bring light to those around me.
It is safe for me to be my authentic self.
I am so much stronger than I realize.
I feel calm, centered, and grounded.
I have the power to overcome my doubts, worries, and fears.
I own my power and recognize the strength inside me.
I breathe love into my worries and fears.
I have the courage to step forward, even when I'm afraid.
I am equipped with all the tools I need to walk through this experience with dignity and grace.
I am in charge of my own energy. I'm the only one who chooses how I feel.
I choose to feel calm, grounded, peaceful, and secure.
I rise above my insecurities.
I have the power to control my emotions.
I choose to think positive thoughts.
I am aligned with the energy of love.
I am so grateful for my courageous heart for stepping outside my comfort zone.
All experiences shape me to be a stronger and braver version of myself.
Every single part of me is worthy of being loved and accepted.
I choose courage over fear and peace over perfection.
I am my true self, and there's nobody else I'd rather be.
I am capable, strong, worthy, and always enough.
I am safe. I am protected. I am loved.
I cultivate deep courage and compassion within my mind, body, and soul.
My peace is more important.
I am willing to view this experience through the eyes of love.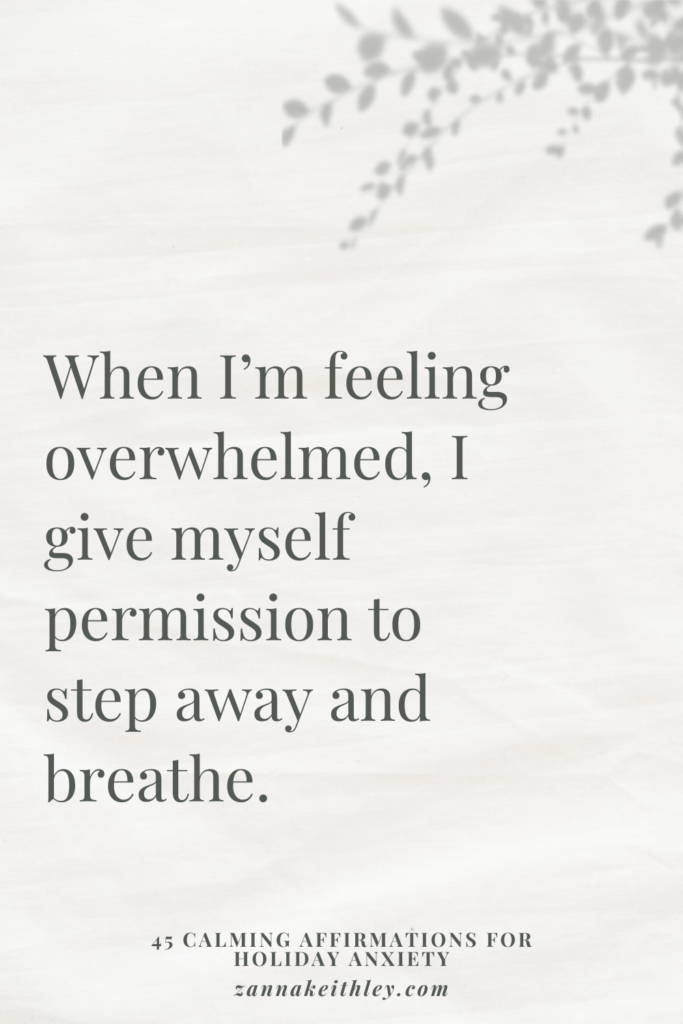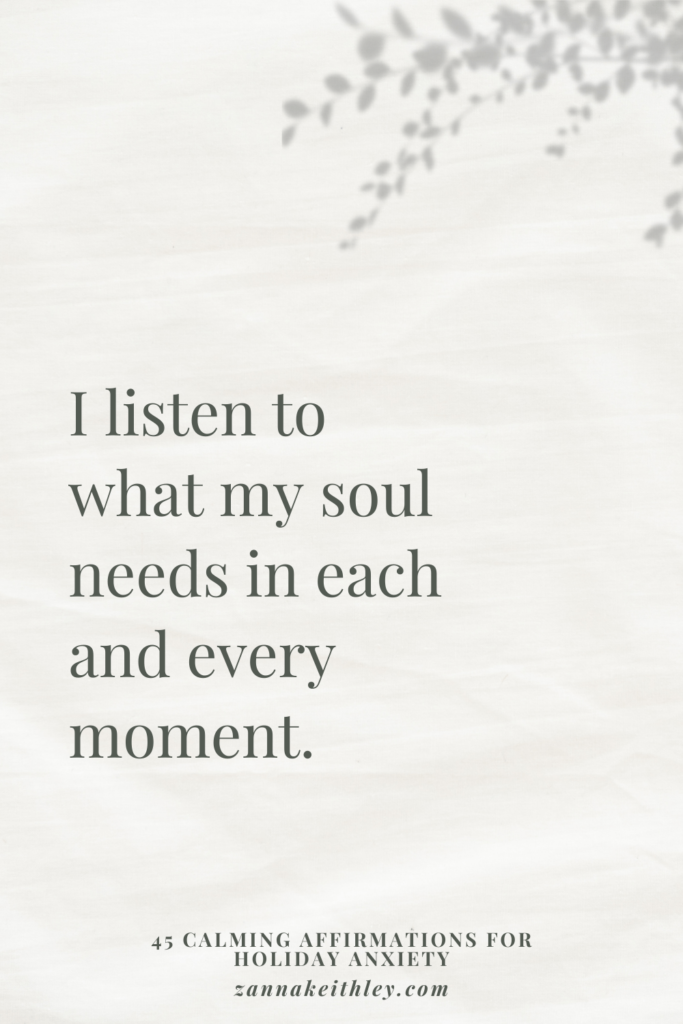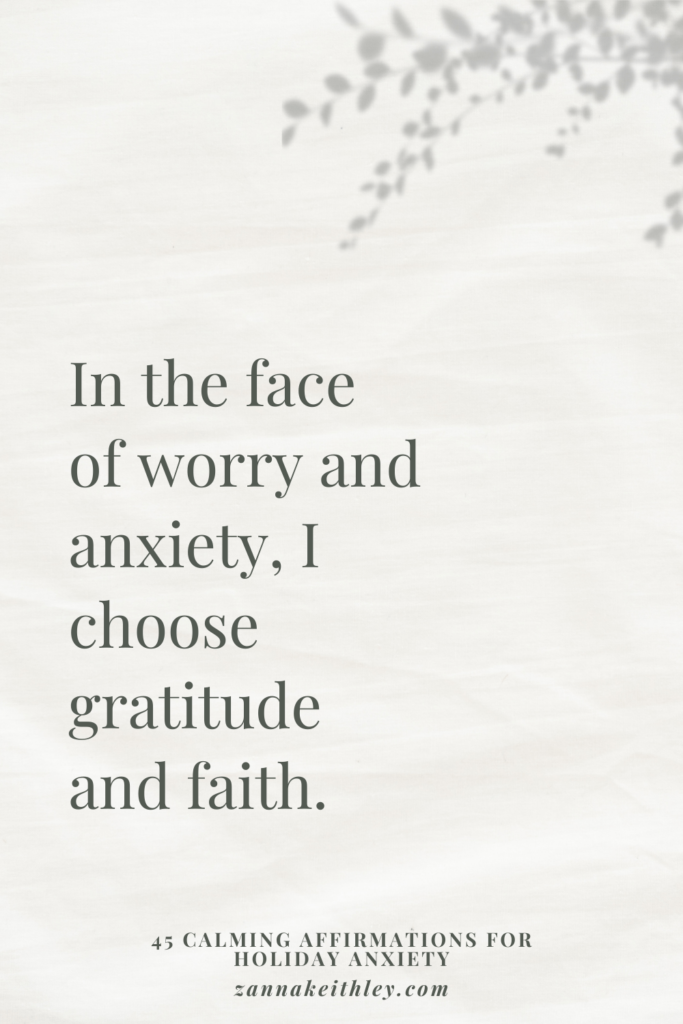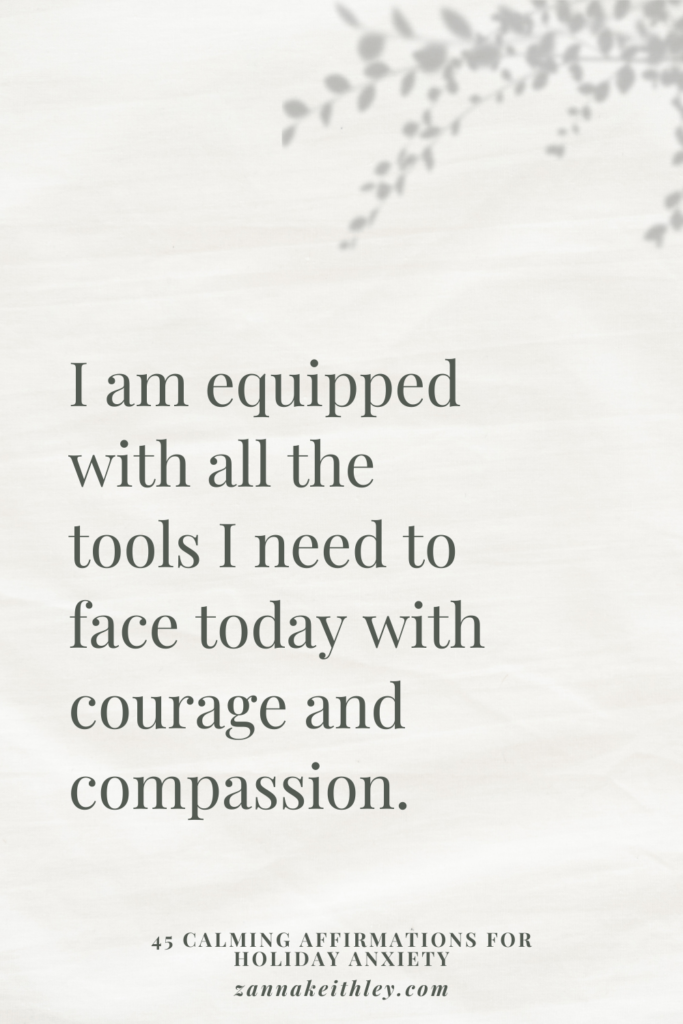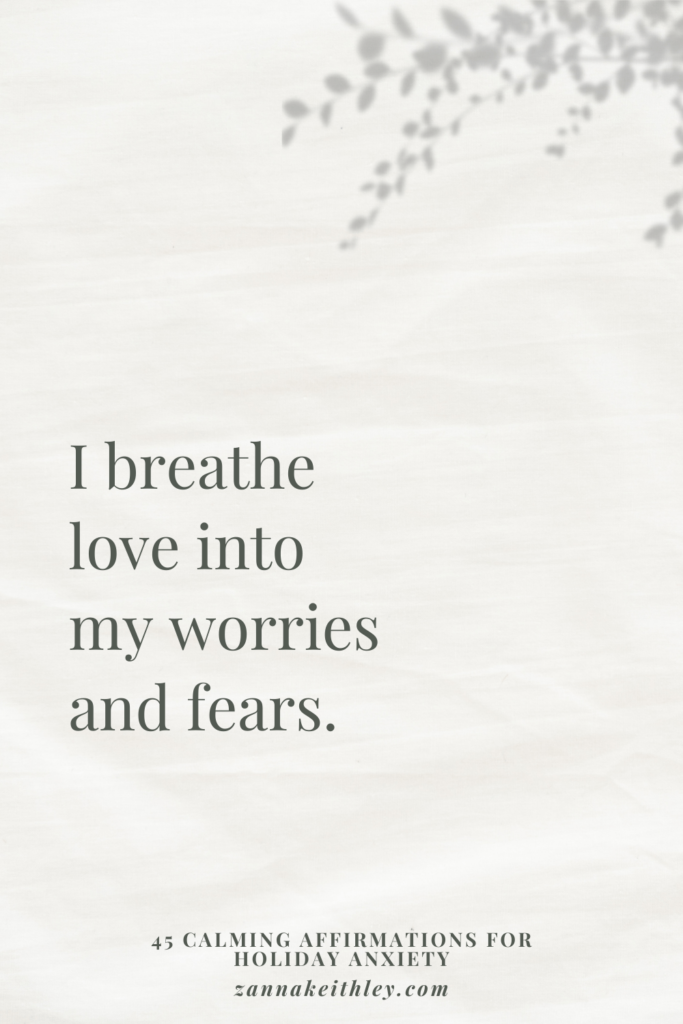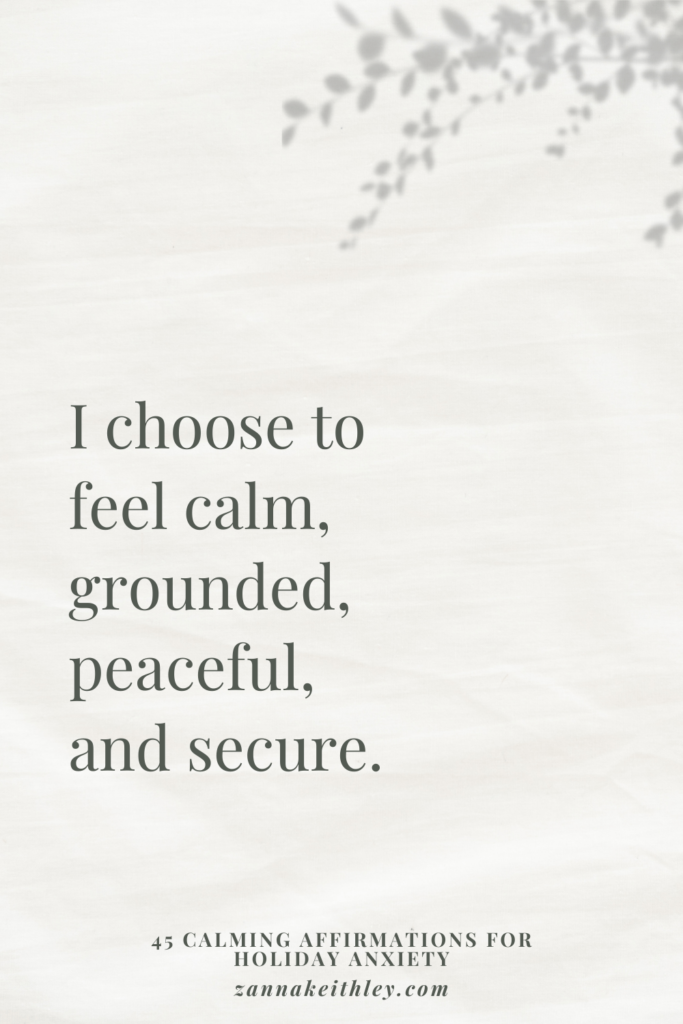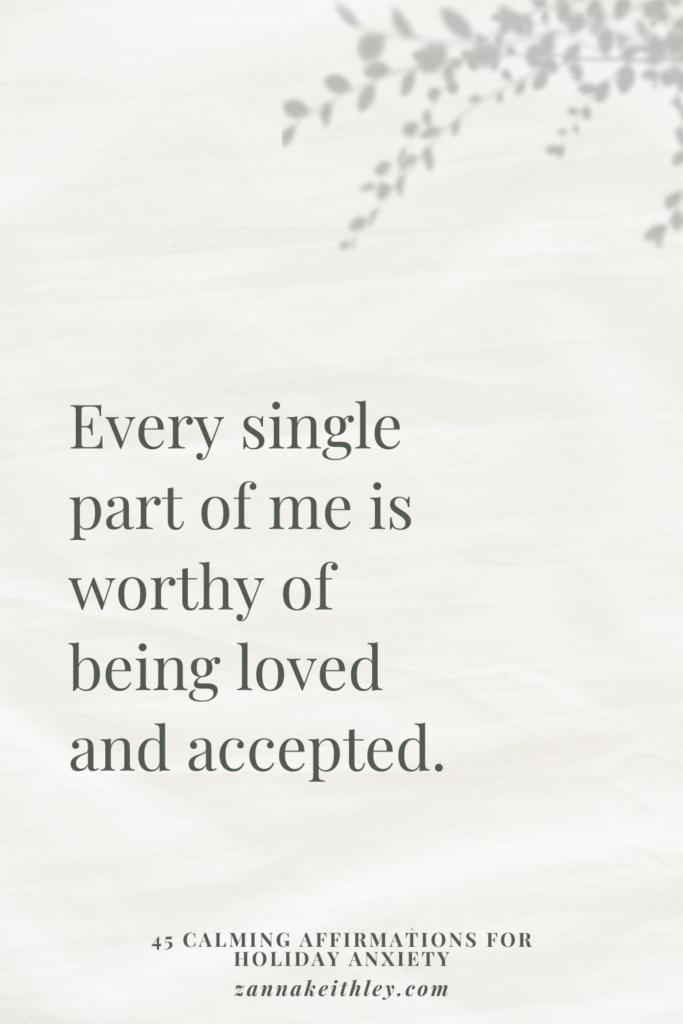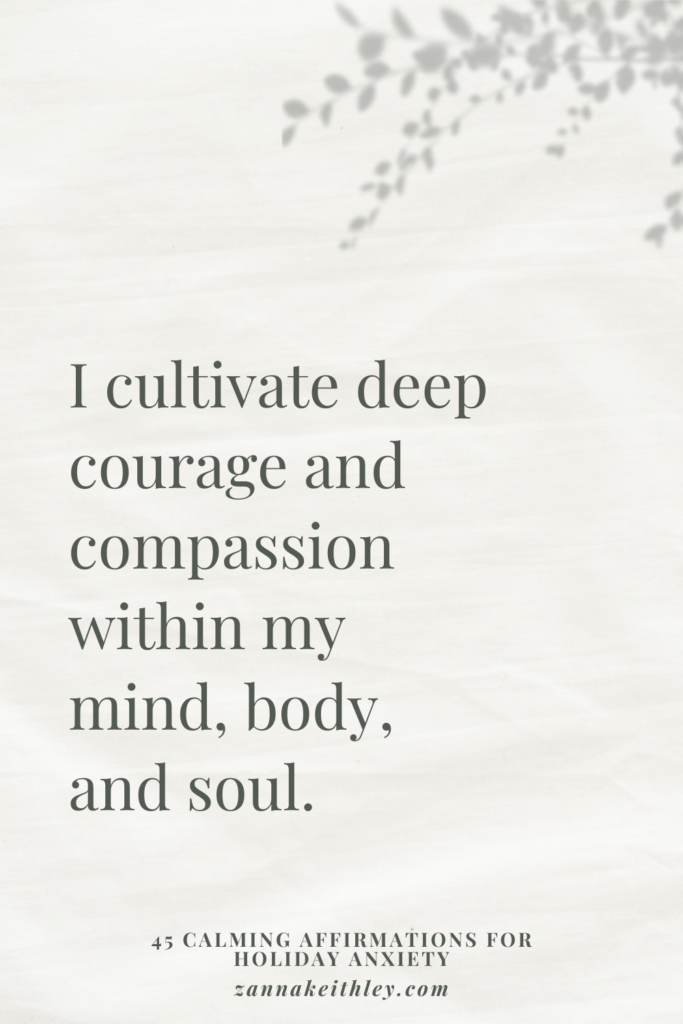 ---
What affirmations help you when you're experiencing holiday anxiety? Share your favorites in the comment box below.
And for more resources on spirituality, meditation, manifestation, and all things self-love, be sure to connect with me on Instagram and Pinterest, where I'm posting positive affirmations and empowering messages daily.
More Articles For You
---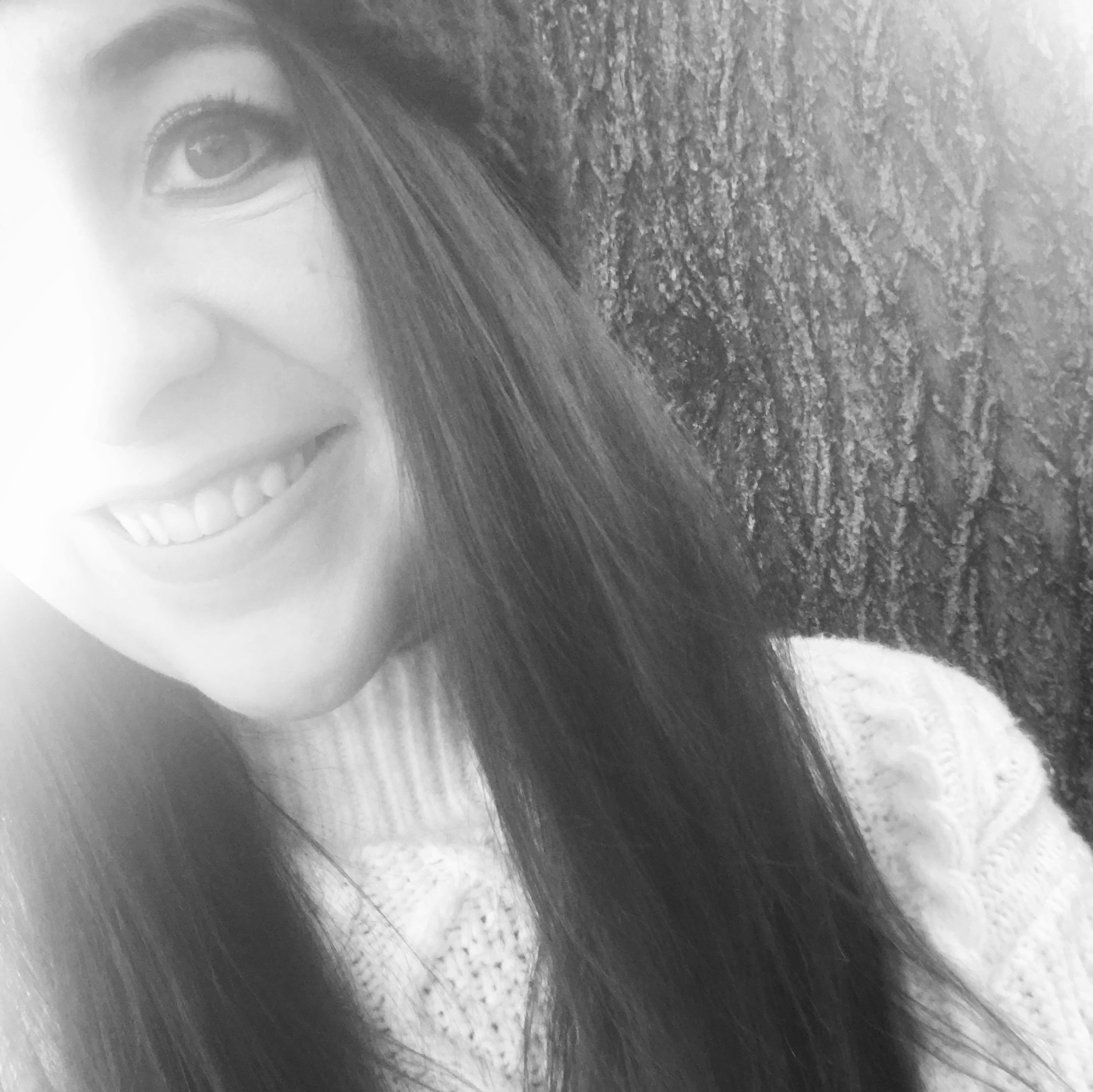 Hi, I'm Zanna! I'm a blogger/freelance writer living in Boise, Idaho. My mission is to help you break through the barriers holding you back from accessing infinite abundance and to inspire you to gather the courage and confidence to follow your dreams.