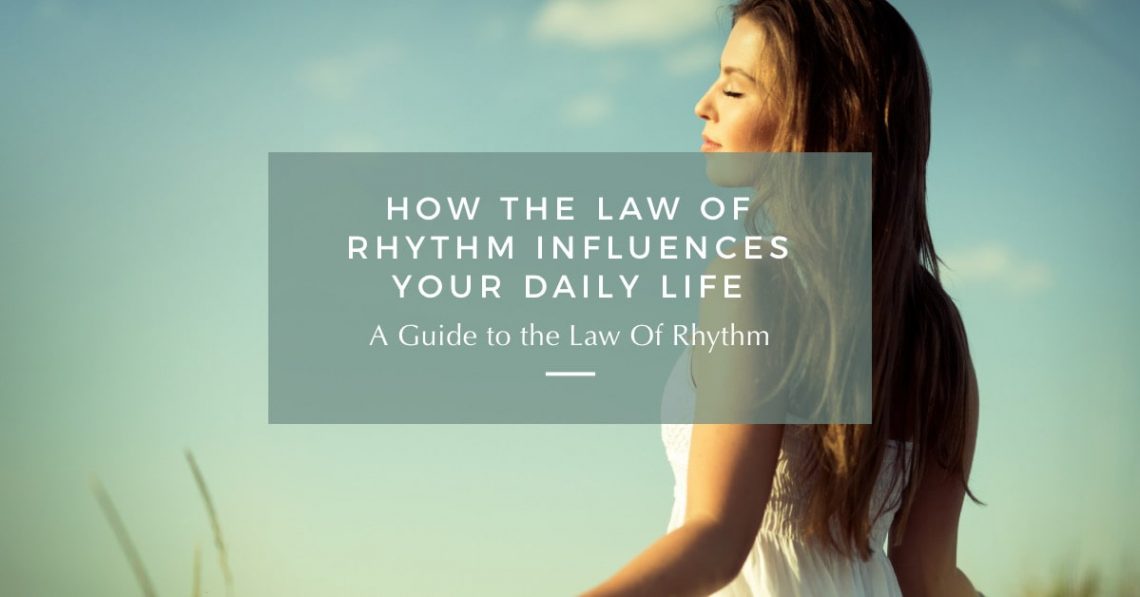 How the Law of Rhythm Influences Your Daily Life
The Law of Rhythm is all about cycles and perpetual movement. By understanding the Law of Rhythm, you can see how cycles play out in your daily life and release resistance to changes that unfold in your world. In this post, dive deeper into the Law of Rhythm and how it can affect your life when experiencing stress, hardships, and other difficulties. Plus, get journal prompts to help you gain a deeper insight into the cycles that play out in your own life.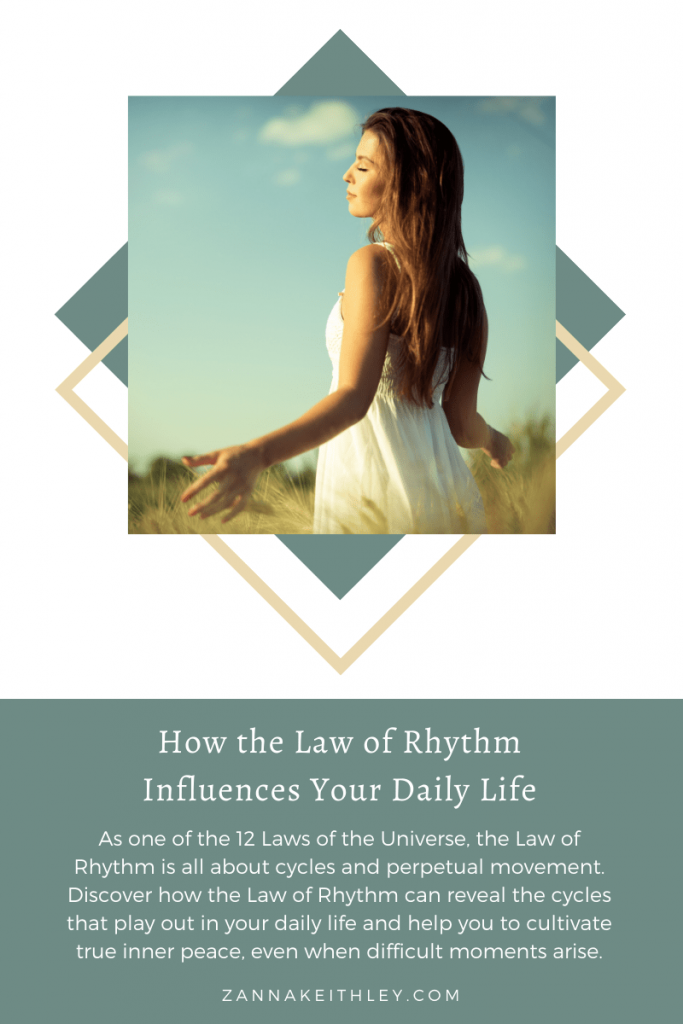 The Law of Rhythm
Everything in the universe is a cycle. The seasons. The moon. Your breath. You.
Nothing stays in one state forever.
These are the words I write in my journal in the early hours of a spring morning as the sun begins to rise, painting hints of pink across the sleepy blue sky. This, too, is a cycle, I think. The sun rising and setting, making space for the moon.
From morning to night, dawn to dusk, and sunrise to sunset, each day's cycle is perfect, measurable, and consistent.
I've been thinking about the 12 Laws of the Universe a lot lately, but this one has been at the forefront of my mind for some time: the Law of Rhythm, which states that everything comes in cycles, and nothing stays in one state forever. 
As I walk through my day, I search for cycles in places where I hadn't noticed them before.
For instance, the squirrels that visit the backyard are never there in the morning, but I can always count on them to make an appearance around noon, when they decide to search through the grass for hidden treats.
And every month, I experience a burst of energy for several days in a row that has me doing, creating, building, and writing for hours at a time.
Just yesterday, I was in the shower when a scene for the fiction story I've been working on started playing in my head. I saw every detail, and I heard the characters speaking like I'd unknowingly hit "play" on the remote control in my mind. The movie unfolded from behind my eyelids in dazzling color.
And it didn't stop there; a second scene started playing, too.
I rushed out of the shower and pulled up a blank Google Doc to frantically type it all up before I forgot. Several pages of single-spaced lines quickly filled the white screen.
Afterwards, I worked on a 3,000+ word blog article, then did some more creative writing in the evening. I woke up this morning and continued writing. And now, I'm here at my laptop, writing again. I am currently in an energized flow state. It feels exciting and invigorating, like the cells beneath my skin are all dancing in exuberance.
But I know that it won't last forever. This isn't pessimism; this is part of the cycle. And the cycle, I've learned, is a good thing.
In a few days, I'll reach a point when the inspired ideas pause. I used to think there was something inherently wrong about this – like I had done something wrong to bring this state upon myself.
But there is nothing wrong in surrendering to the pause. In fact, this is exactly right.
So I'll step back, let go, and allow myself to take a break until the inspired ideas return once more – which, they always do.
This is my personal cycle: energized creating and restful pauses. Neither is better or worse than the other. Both are important. Both are needed.
So I've learned to no longer cling on tightly to the energy or to the pause. I've discovered that instead of fighting it, I can become one with this flow. And when I do this, I find peace.
This is only one of the many cycles I've watched unfold in my life.
What cycles are unfolding in your own life? How can you embrace these cycles instead of trying to control the narrative? Below, we'll explore the Law of Rhythm a little deeper and how it may play a part in your own everyday world.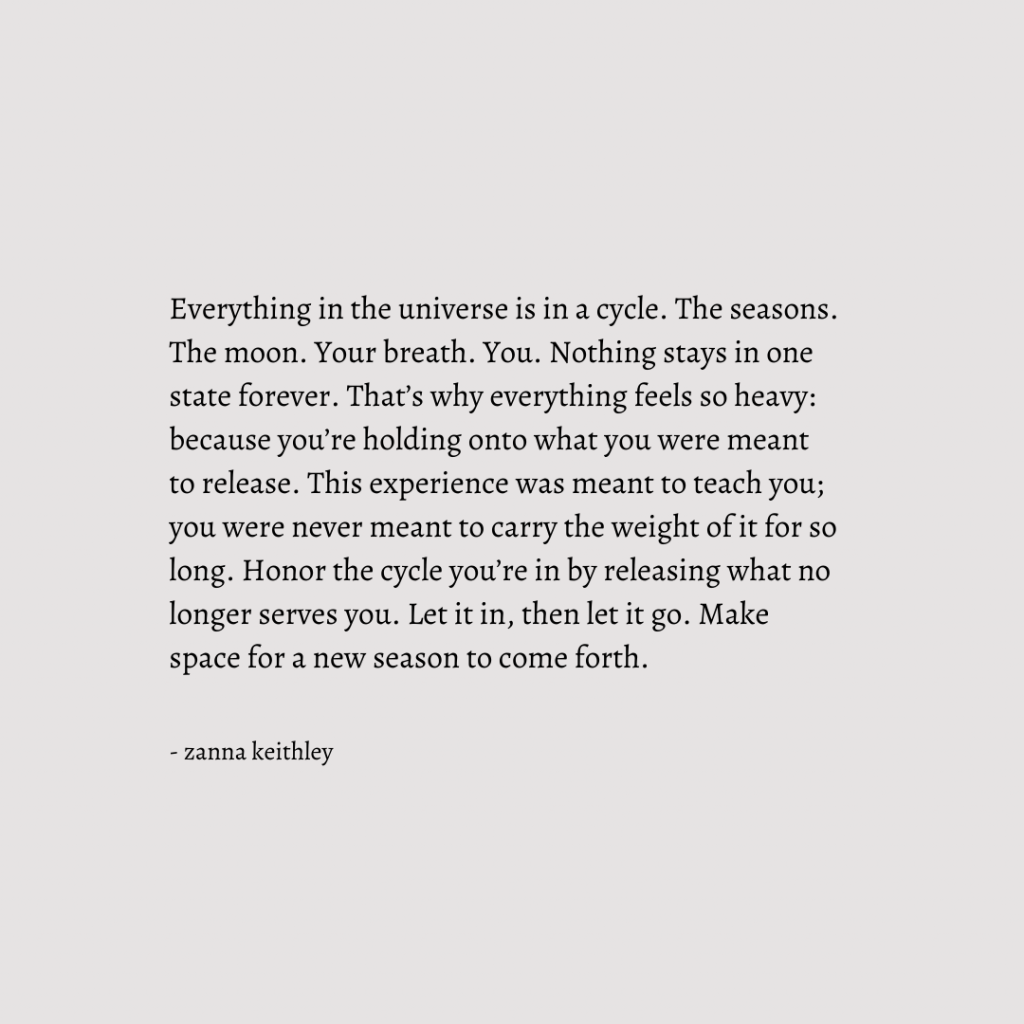 The Law of Rhythm and Hardships vs. Ease
What hardships are you currently experiencing in your life?
And when difficulties arise, how do you respond? Are you able to remain grounded and at peace no matter how rocky and unstable things become? Or do you get overwhelmed by the stress of it all and worry that these hard times will last forever?
If your answer is the latter, don't judge or criticize yourself. I think most of us tend to get lost in the murky waters of hardships and difficulties. When you're experiencing hard times, it's hard to believe that brighter days will ever come again.
But know this: it is a universal law that the difficult moments and hard times will not last.
According to the Law of Rhythm, no hardship lasts forever. When you're experiencing difficulties in your personal or professional life, know that it will pass.
By understanding that this is just part of the cycle you're in, you can relax and feel at peace knowing that the hardship will turn into ease just as summer turns into fall.
And when things are going well, you become less likely to take this time for granted. You know that this period of ease may not last forever, and that's okay. You're able to honor the cycle and feel gratitude for all that you have in this moment.
The only way a hardship can last any longer than it's meant to is if you're somehow holding onto it. There may even be times when the hardship has already passed, but you're allowing it to still exist in your mind.
For instance, if you've experienced difficulties in your relationship, you may have already talked them through with your partner, and things may be better now, but you're still holding onto the emotions of the experience within.
When you do this, it may feel like the hardship will never pass. This is when you must go within and uncover what you're still holding onto, then allow yourself to let go of thoughts and emotions that no longer serve you.
The Law of Rhythm and Doing vs. Being
As I discussed above, I've learned that I experience energetic surges every month, and during this period, it feels like I can create forever.
In general, I'm not someone who "relaxes" a lot. Writing is both my career and my hobby, so my brain is constantly churning, searching for the right ideas, words, and sentences to convey what's in my head.
But sometimes, I just need a break. I used to fight this because I believed the need for a break was a failure on my part. It took me a while to understand that this was part of the cycle. And when I surrendered to the cycle and stepped back from creating, eventually, when I did return to creating, my work would be even better because I gave myself that time.
Sometimes, I do. Other times, I just am.
This is all in accordance with the Law Of Rhythm.
According to the Law of Rhythm, you will experience times of productivity and times of rest. You might also call these periods "times of doing" and "times of being."
Neither time is better or worse than the other, and both are needed in order for you to live your most authentic life.
You might be able to see how this plays out in your own life. How do you feel when you work non-stop day after day without a moment to rest? Or conversely, how do you feel when you lay around on the couch for days or weeks at a time without actually doing anything productive?
Some cultures may prioritize one thing or the other, but the truth is, both doing and being are needed in order for you to thrive. When you resist one or the other, you resist the laws of the universe and detract from your own highest good.
Because I think many of us tend to uphold the "virtues" of productivity and doing at the expense of rest, I want to end this section with this: the next time you need to cancel plans, take a rest day, or spend time nurturing your soul, don't feel guilty or try to resist.
This is how you honor your own inner rhythm and cycle, and it is often the very best thing you can do not just for yourself but for all.
The Law of Rhythm Journal Prompts
As you've been reading through these sections, you may have already started thinking about how the Law of Rhythm plays a role in your own life. Below are a list of journal prompts you can use for deeper insight into the cycles that you experience and how you approach and react to each cycle.
What cycles do I see play out in my own life?
Are there any cycles I tend to resist, or that I've allowed myself to believe are inherently "wrong"?
How does it feel internally when I try to resist the cycles that unfold in my life?
What's one example of a cycle of hardship vs. ease that I experience in my life? (This can be in regards to work, relationships, finances, creativity, or any other personal or professional area of your life.)
Considering what I know about the Law of Rhythm and cycles, how can I approach hardships and difficulties that appear in my life?
How do I see the cycle of doing vs. being unfold in my life? Do I experience resistance to either one?
How do I feel when I try to resist my own inner rhythm and cycles?
What mindset/attitude do I want to cultivate moving forward in regards to the Law of Rhythm and the cycles I experience in my world?
---
What are some of the cycles that you've experienced in your own life? How does understanding the Law of Rhythm influence your mindset when experiencing hardships? Leave your questions and comments in the comment box below!
And for more resources on spirituality, meditation, manifestation, and all things self-love, be sure to connect with me on Instagram and Pinterest, where I'm posting positive affirmations and empowering messages daily.
You May Also Like:
---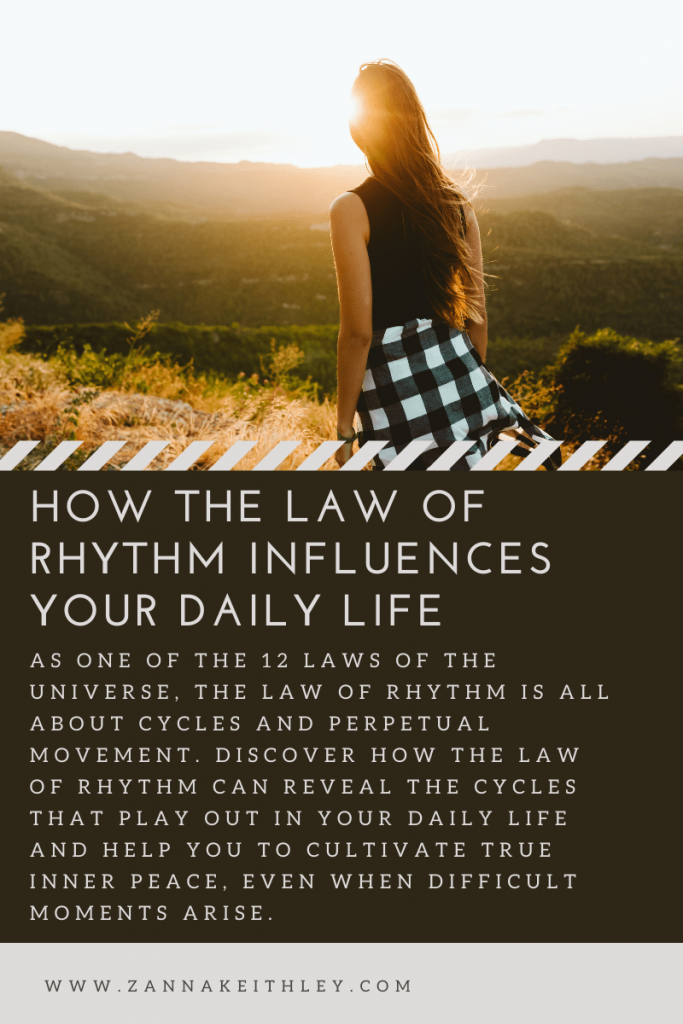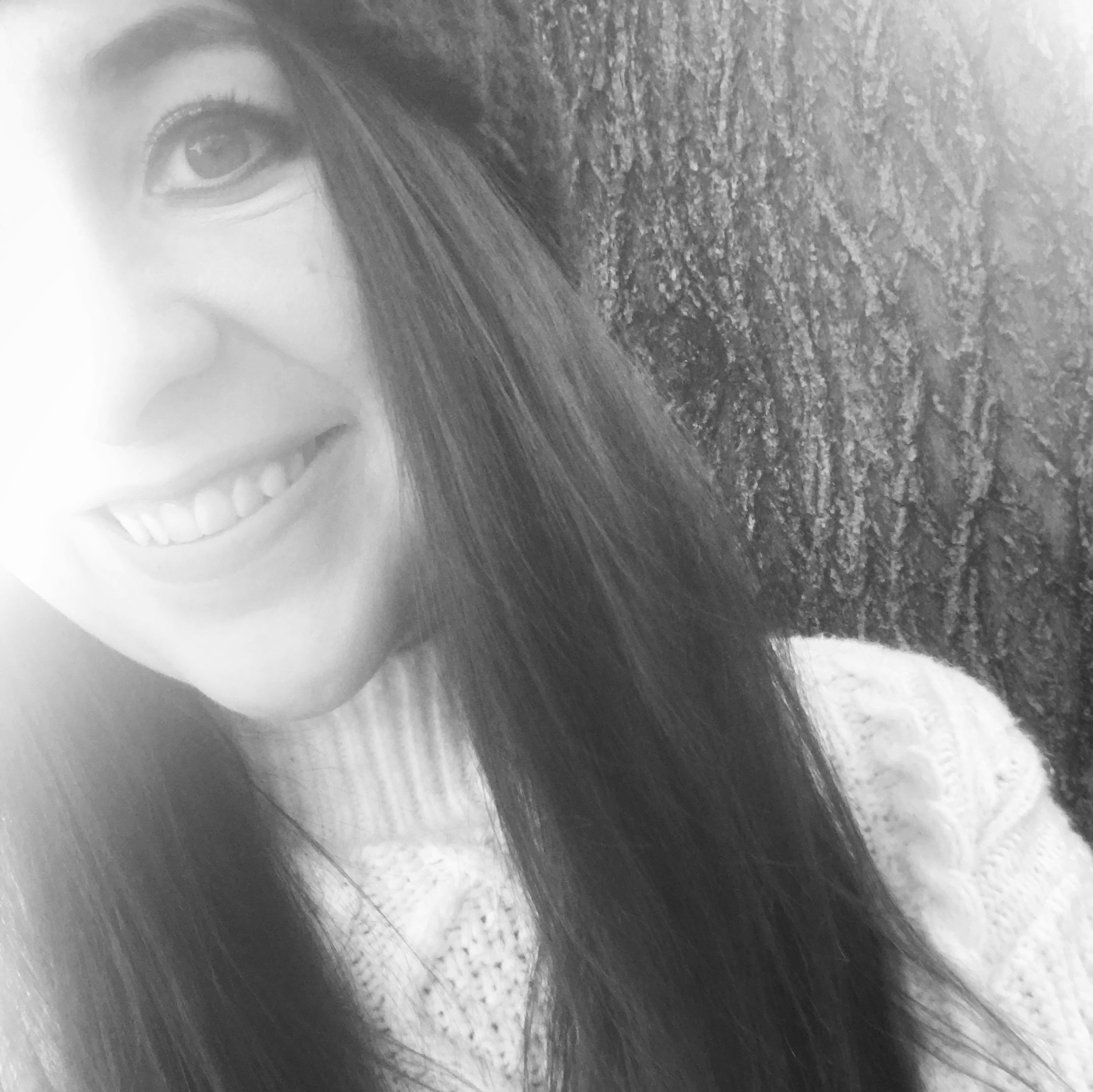 Hi, I'm Zanna! I'm a blogger/freelance writer living in Boise, Idaho. My mission is to help you break through the barriers holding you back from accessing infinite abundance and to inspire you to gather the courage and confidence to follow your dreams.