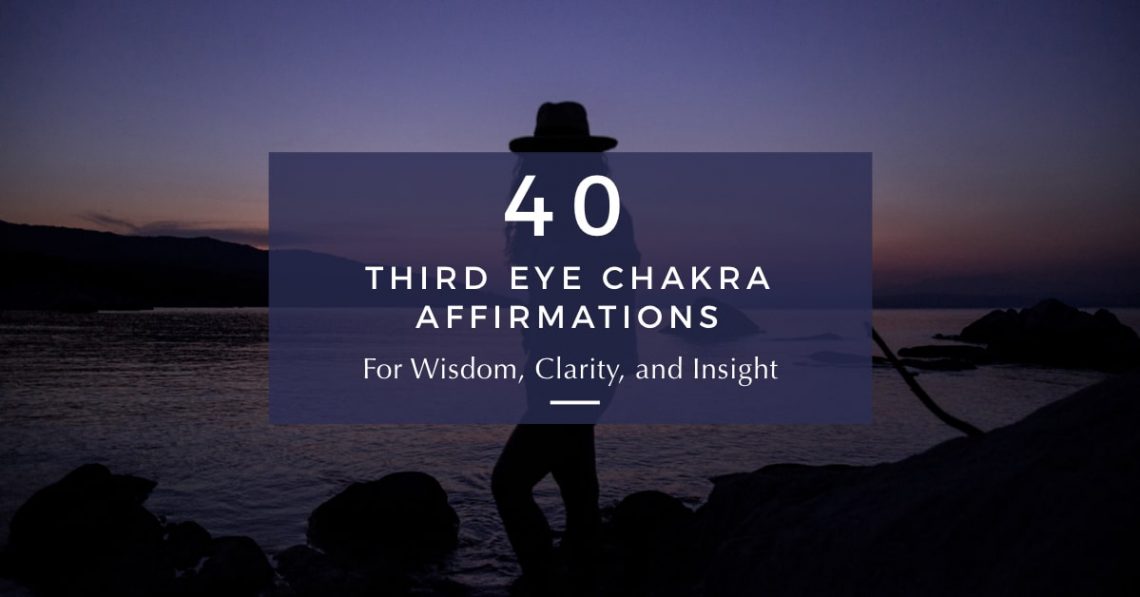 40 Third Eye Chakra Affirmations for Clarity and Insight
Discover 40 powerful third eye chakra affirmations to open and heal your body's energy center for intuition, insight, imagination, and inner wisdom. And be sure to check out the links to my chakra series below, where I go in-depth on how to open, activate, balance, and heal your body's seven main energy centers. Plus, don't forget to scroll to the bottom of this post for your free printable third eye chakra affirmations and journal prompts!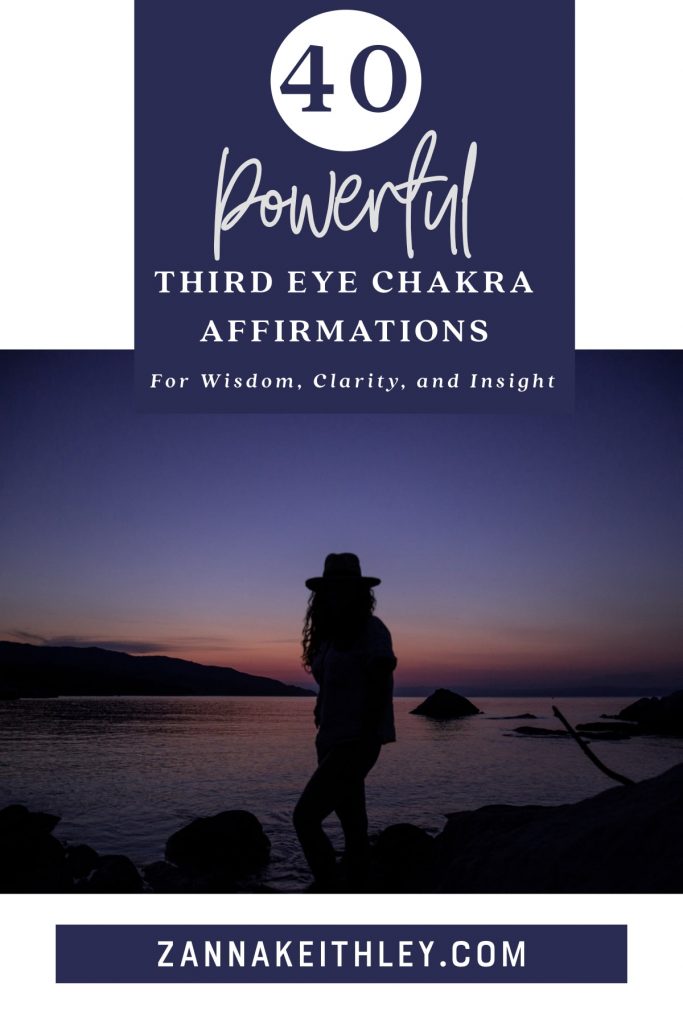 What is the Third Eye Chakra?
Located in the center of your forehead between your eyebrows, your third eye chakra is your body's energy center for intuition, insight, clarity, and vision. When your third eye chakra is open and balanced, you feel connected to your intuition and inner knowing. You trust the path in front of you and know that it's taking you to exactly where you're meant to be. You also know that appearances aren't everything, and you're able to see beyond the surface and unveil the truth of your inner and outer world.
While intuition is most commonly tied to the third eye chakra, this energy center is also tied to imagination, open-mindedness, truth, creativity, and mental strength. When energy is flowing freely in and out of this chakra, all aspects of your mind effortlessly work together in perfect alignment.
When the energy of this chakra is imbalanced, however, you're likely to experience symptoms that prevent this effortless alignment. When your third eye chakra is underactive, you may feel disconnected to your intution. You may also feel scattered and have a hard time focusing. On the other hand, if your third eye chakra is overactive, you may feel paranoid, experience hallucinations, and believe that every little thing you see is a sign from the universe.
In order to possess a clear vision of the path in front of you, it's essential that your third eye chakra is open, activated, and balanced. Know that this doesn't necessarily mean you can see your entire life's path laid out in front of you; rather, it means your inner knowing guides you toward the next right step, and you have the faith and trust in your inner guidance system to lead you in the right direction.
Below are 40 powerful third eye chakra affirmations for embracing your intuition and cultivating inner wisdom, clarity, and insight. These affirmations are designed to help you gain the clarity and confidence to follow your inner knowing and trust the path ahead of you. They'll also help you release any blockages that may be preventing energy from flowing freely in and out of this energy center.
To learn more about how to open, activate, and heal your third eye chakra, as well as the rest of your body's main spiritual energy centers, check out the links below! And for more tips on how to use affirmations to get the most out of them, be sure to check out my post, How to Use Affirmations (So They Actually Work). I hope these affirmations soothe your spirit, uplift your soul, and support your journey as you walk forward on your path.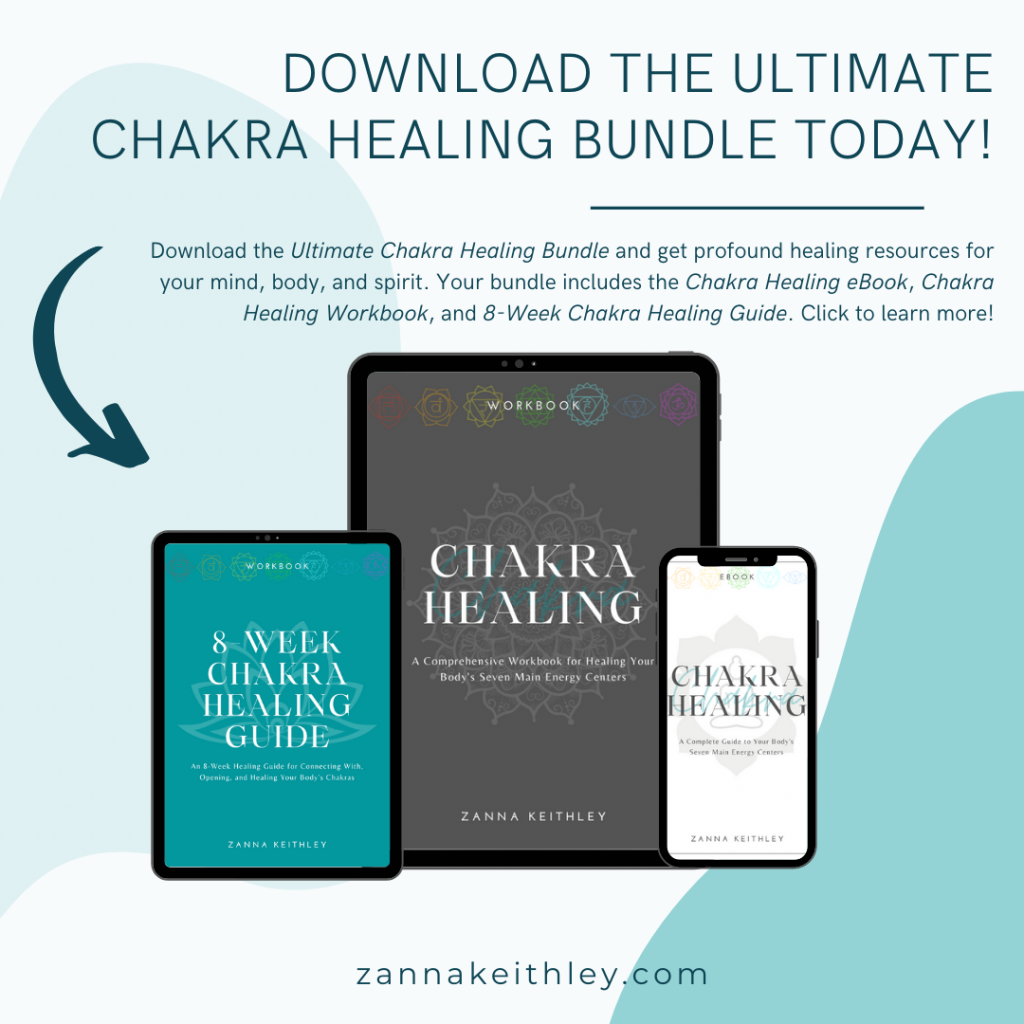 Discover More About Chakras
Discover more about chakras using the links below, plus get journal prompts and affirmations for each of your body's main energy centers! And for deeper insight into chakras as well as guidance on profound chakra healing, check out my Ultimate Chakra Healing Bundle, which includes a Chakra Healing eBook, Chakra Healing Workbook, and 8-Week Chakra Healing Guide. You can also discover more in my online shop.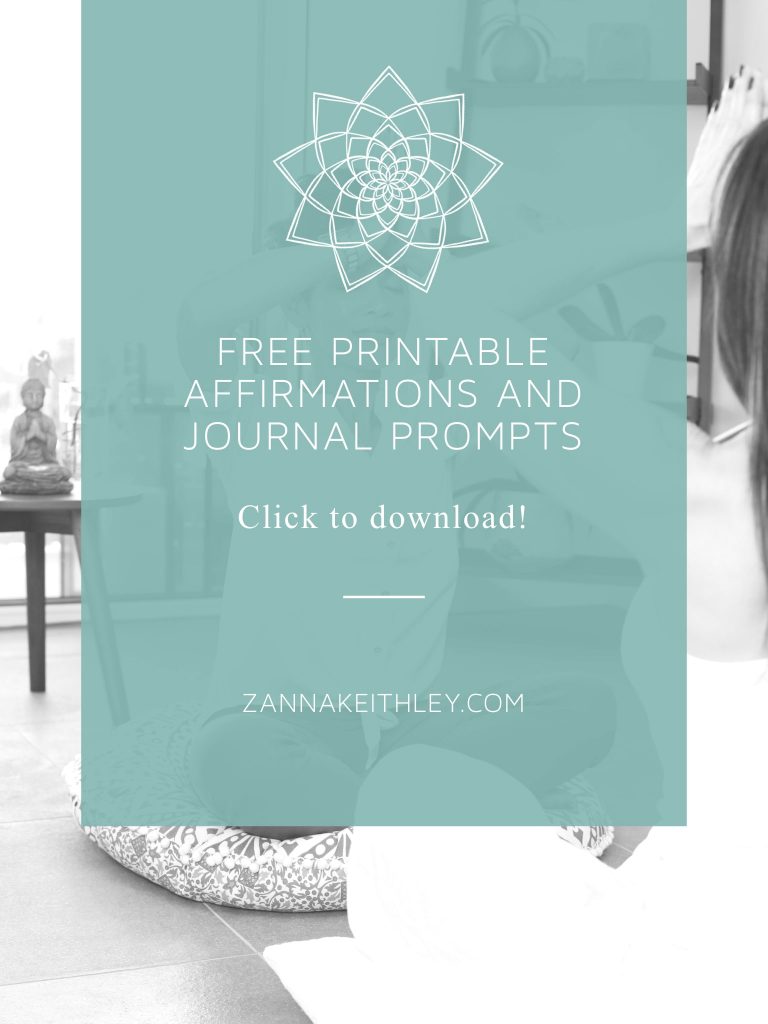 Third Eye Chakra Affirmations
I listen to my inner knowing in the face of uncertainty.
I see and think clearly.
My mind is strong, open, and clear.
I am mentally strong, healthy, and resilient.
I trust my intuition to guide me in making good decisions.
My inner knowing always knows the way.
My inner knowing sees past appearances and always knows the truth.
I know more than I even realize in this moment.
I release all blockages that obscure my inner guidance system.
My mind is free of resistance and open to all possibilities.
I am open-minded and always seek the truth.
In every situation, I choose truth and authenticity.
I follow my intuition and know that nothing is put before me that I can't handle.
All that I seek I can find within me.
I am insightful, intuitive, and imaginative.
I am observant, thoughtful, and perceptive.
I possess a brilliant, bold, and creative mind.
My imagination is vast, expansive, and endless.
My limitless imagination excites me.
I embrace creative and imaginative thinking.
I allow myself to dream beyond the confines of my physical reality.
I release doubt and welcome faith.
I am aligned with my highest and most authentic self.
I am in alignment with my purpose.
I am adaptable to change, especially when I know that it serves my highest good.
I trust that all changes in my inner and outer worlds are for my highest good.
I embrace my own beautiful transformation.
I trust the signs and synchronicities that show up in my daily life.
I honor my inner knowing and trust my path.
I have unobscured access to my inner guidance system.
My inner wisdom is deep and immeasurable.
I have the vision and clarity to see my path and the trust and confidence to walk forward in my journey.
I consciously choose to trust my path, even when it doesn't make sense to others.
Every time I trust my inner knowing, magic happens.
My intuition never fails.
My intuition drives me to take inspired action with faith and trust.
I know the next right step because I hear the words echoing in my heart.
The answers I seek are always within.
I surrender to the highest good for all.
I surrender control and allow the Universe's loving presence to guide me.
Bonus! Third Eye Chakra Affirmation Cards to Save & Share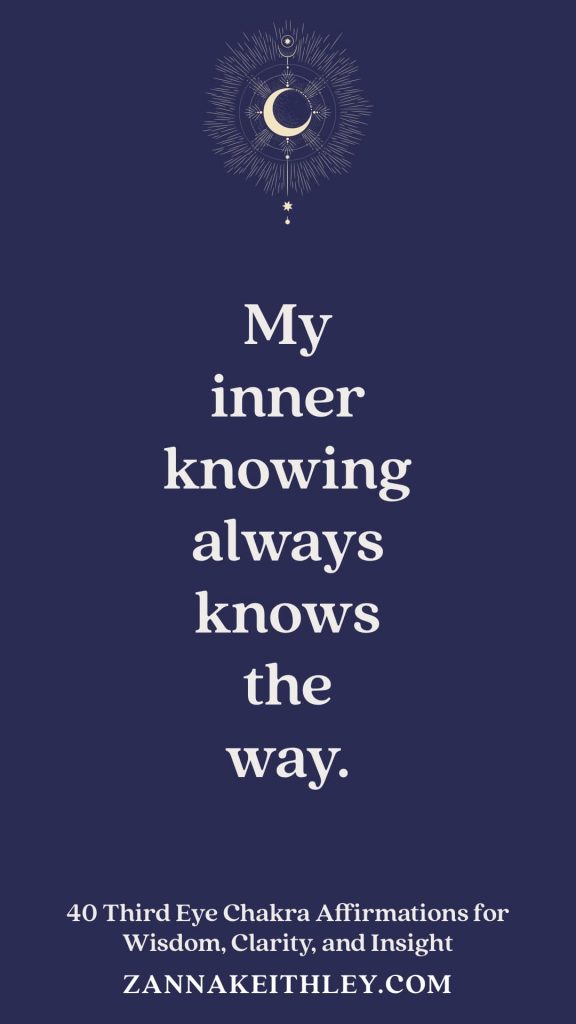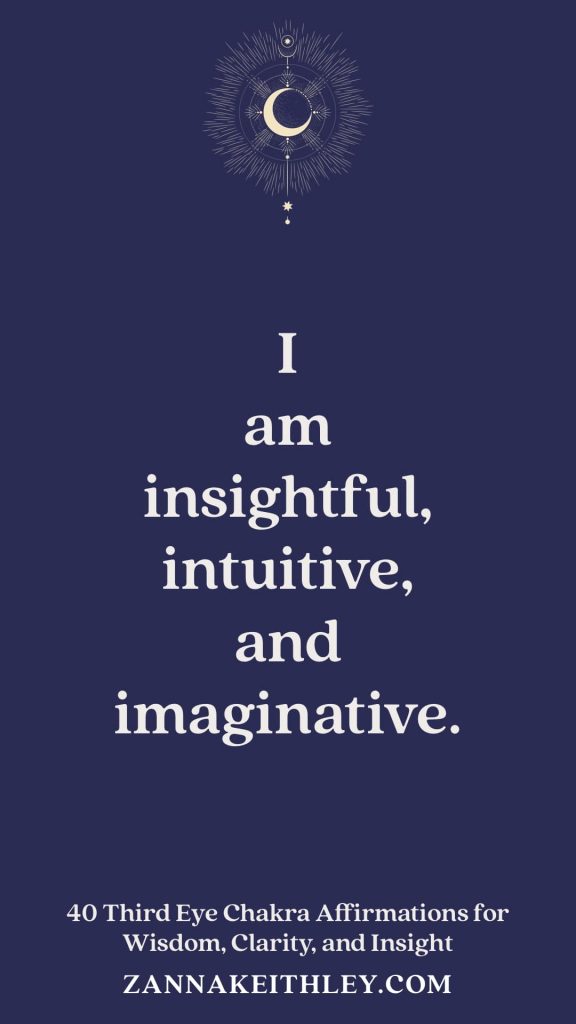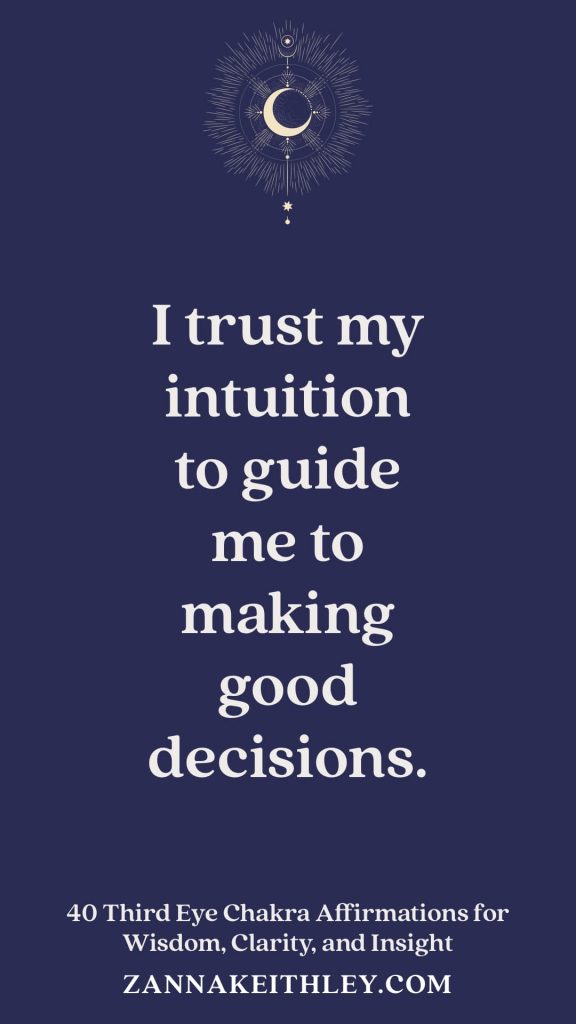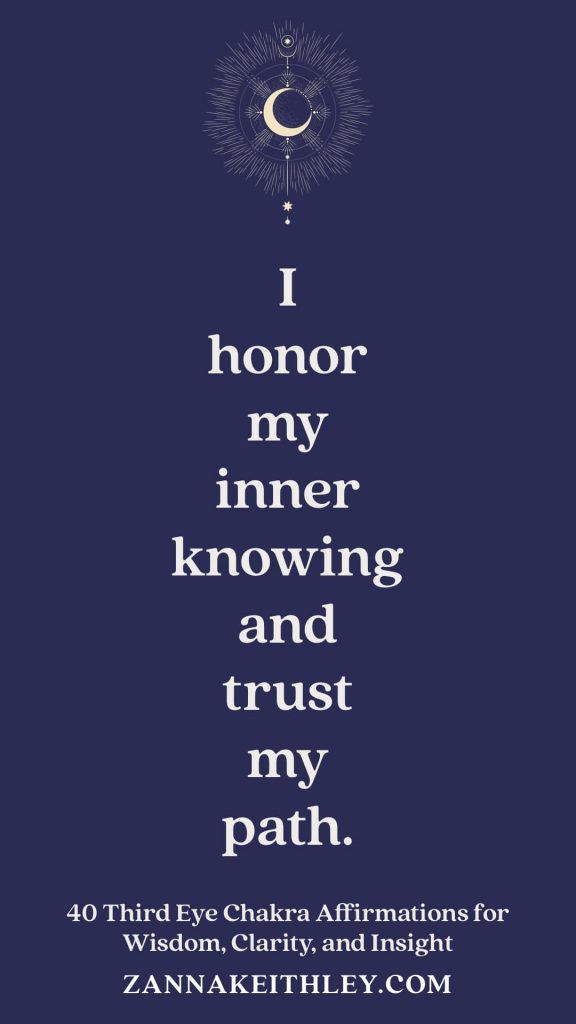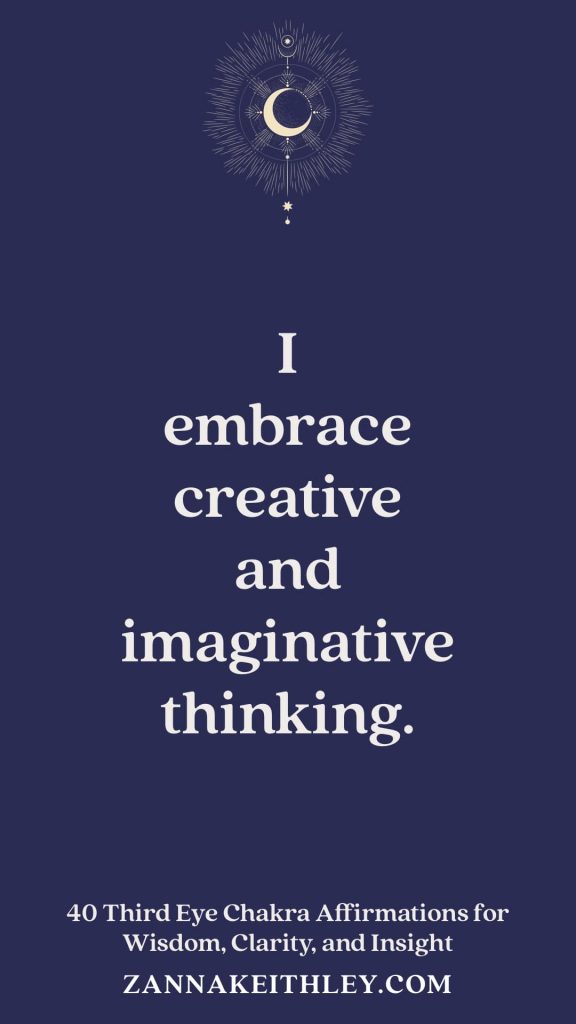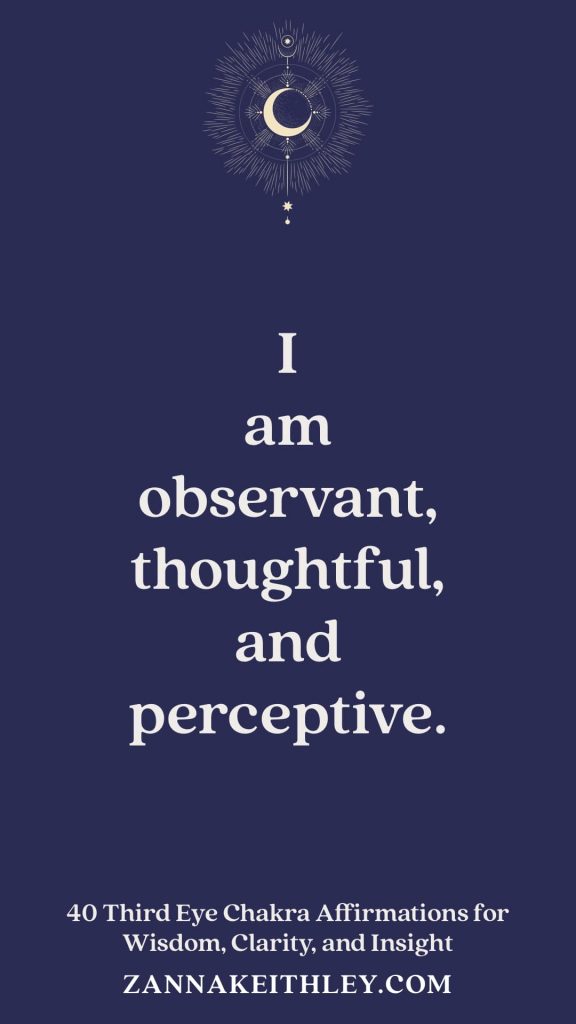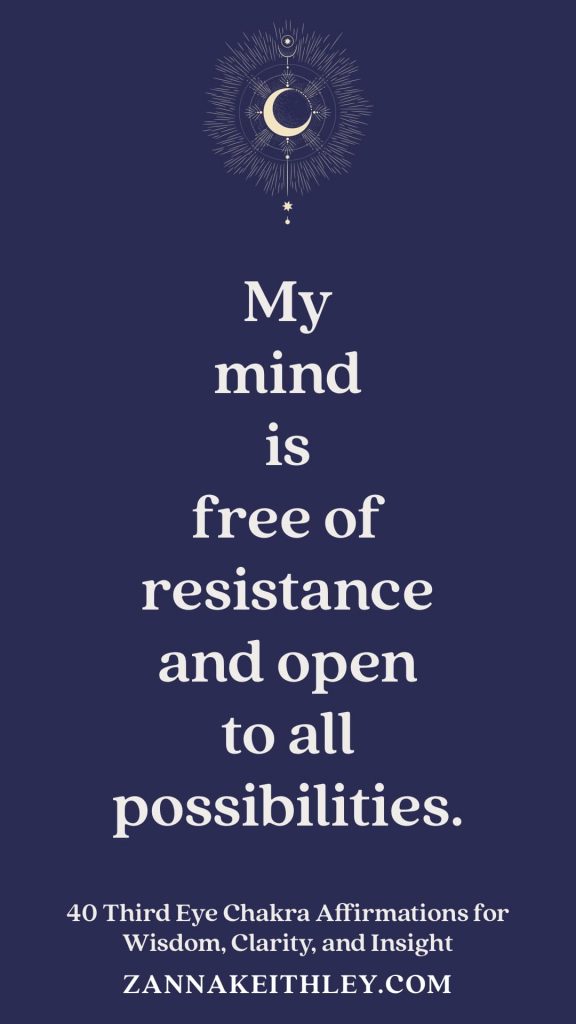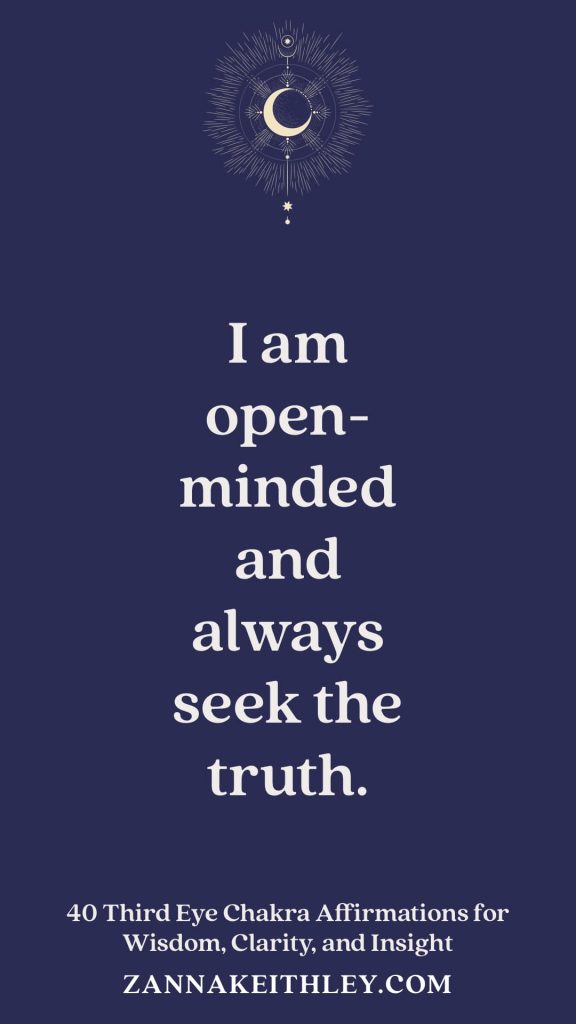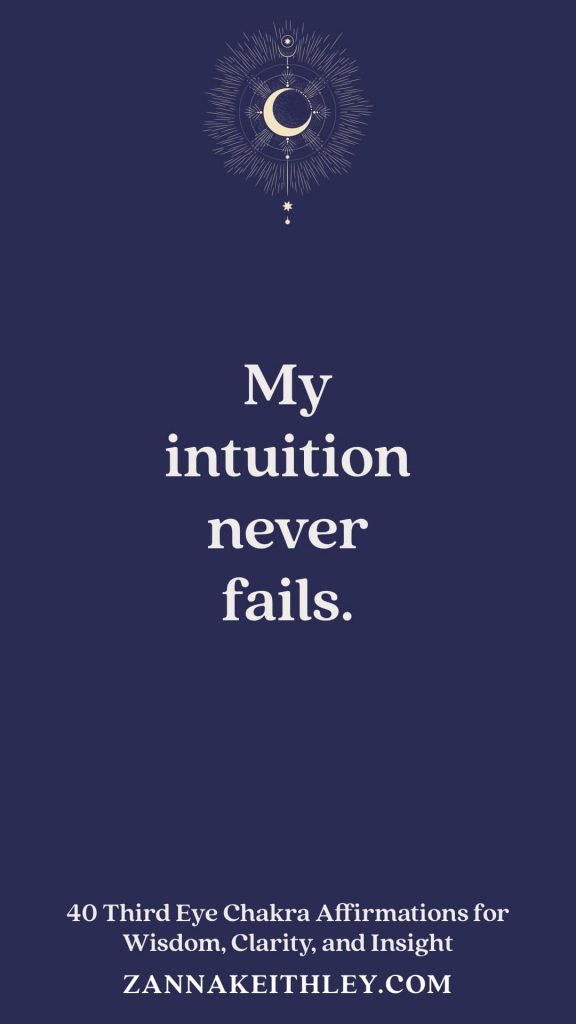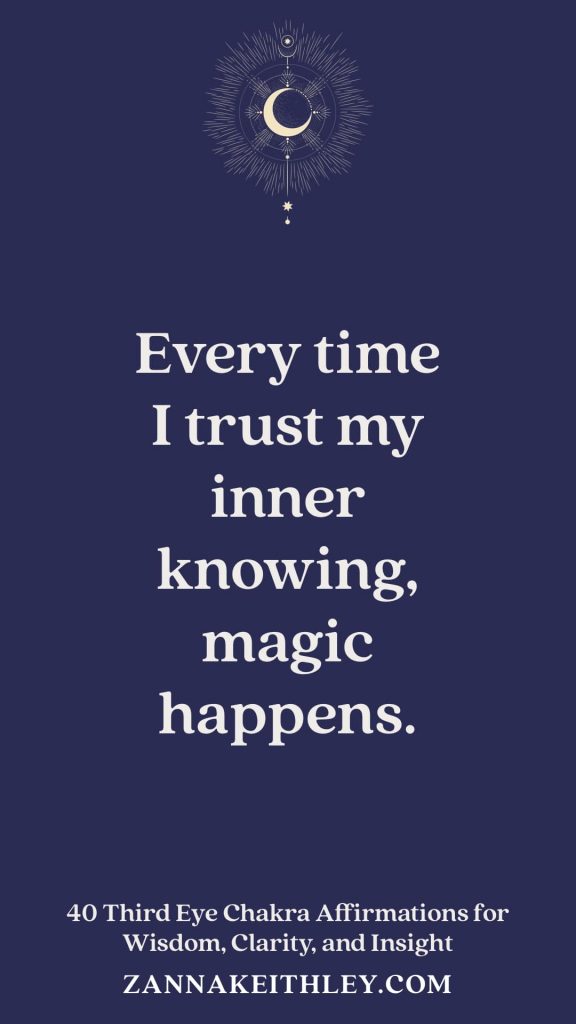 ---
For chakra resources, positive affirmations, self-love tools, and more, be sure to follow me on Pinterest and Instagram!
---
Are you ready for your freebies? Enter your name and email address below for your free printables! (Note that it may take an hour or two for the email to come through.) Plus, receive a weekly newsletter with resources, affirmations, and new blog post updates straight to your inbox. (Don't worry, I hate spam, too! I only send one email a week, never share your personal info, and you can unsubscribe anytime.)
---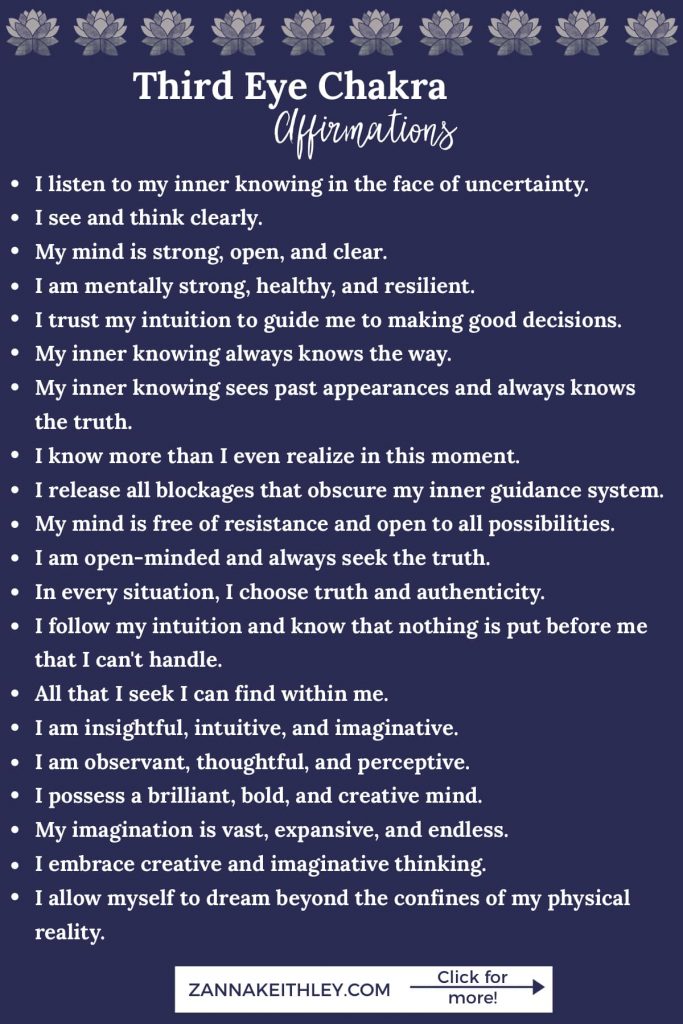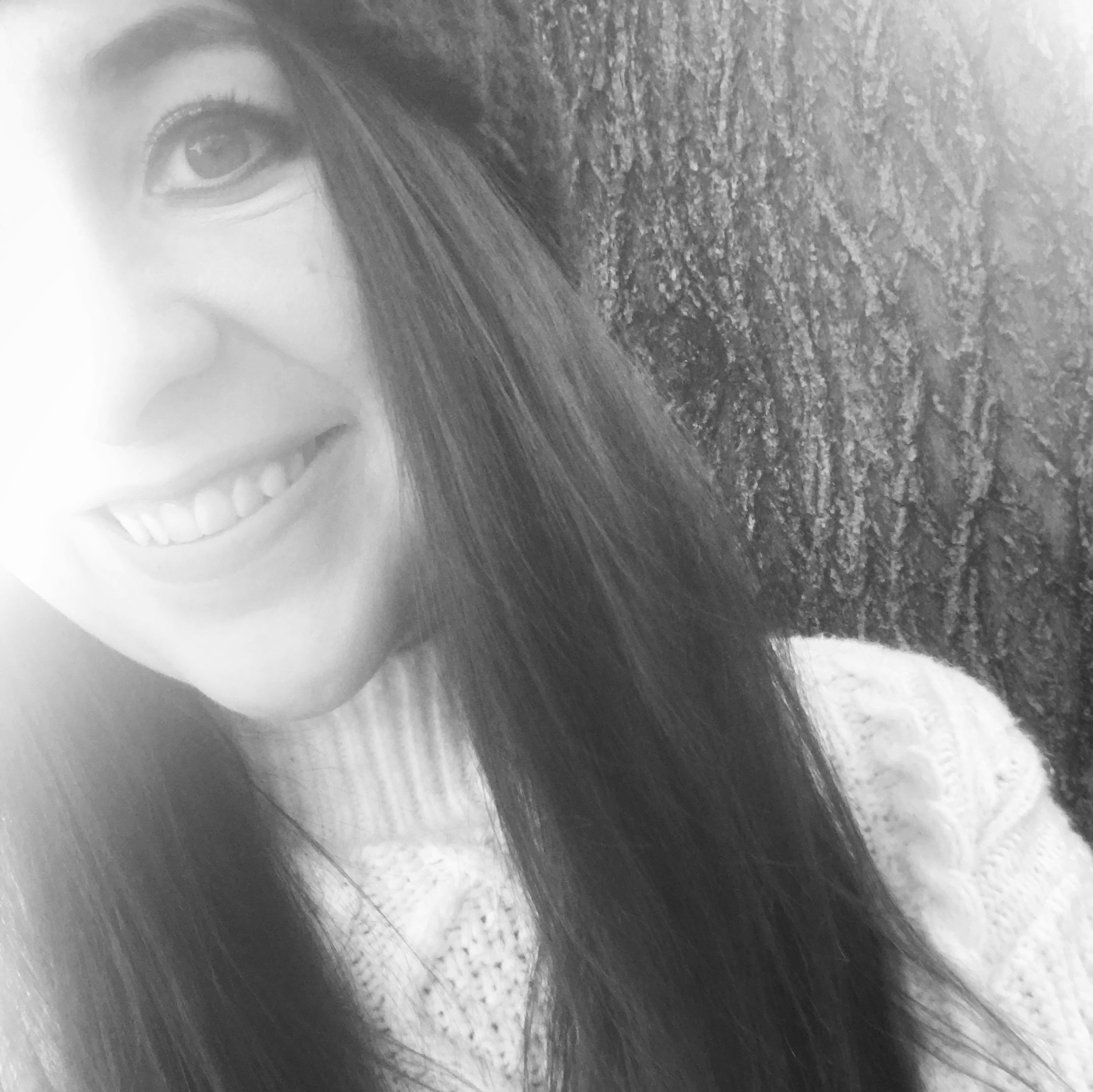 Hi, I'm Zanna! I'm a blogger/freelance writer living in Boise, Idaho. My mission is to help you break through the barriers holding you back from accessing infinite abundance and to inspire you to gather the courage and confidence to follow your dreams.