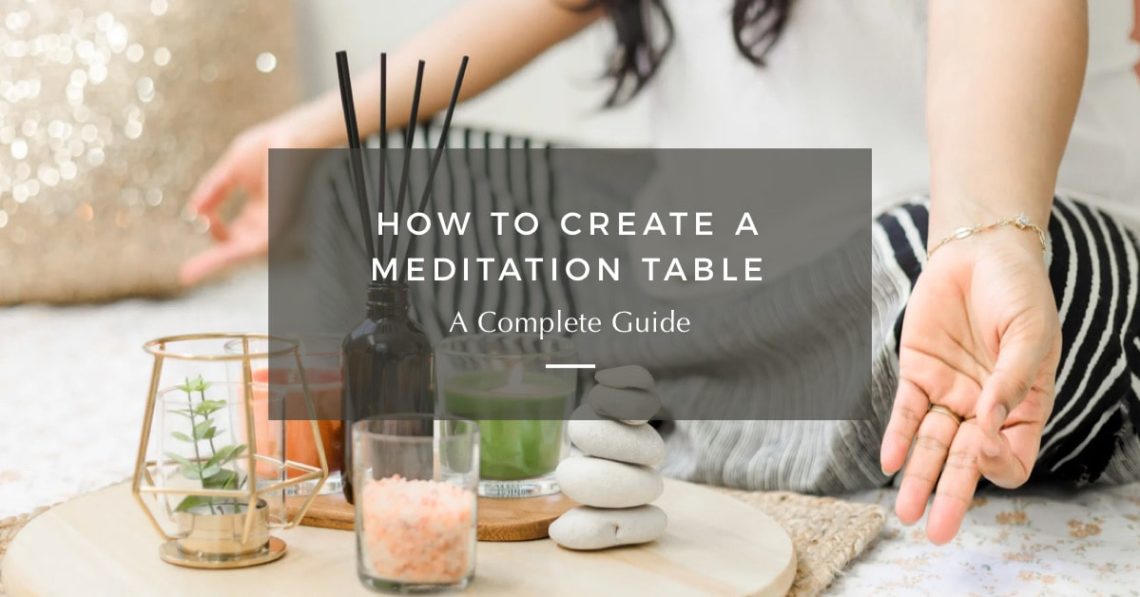 How to Create a Meditation Table (A Complete Guide)
Are you looking to create a sacred space of your own that promotes feelings of tranquility and supports your total well-being? Discover everything you need to create your own meditation table, with over 50 links to tables and decor so you can start creating your perfect meditation table today.
Disclaimer: This post contains Amazon links. As an Amazon associate, I earn from qualifying purchases. If you purchase a product using my link, I may receive a small commission at no extra cost to you. You can read my full disclosure policy here.
How To Create A Meditation Table
A meditation table is a dedicated sacred space that promotes feelings of peace, calm, and tranquility within. The table itself is usually a small flat surface (i.e. a table, desk, or bench) with space around it for you to sit, meditate, and connect to the deepest parts of yourself.
But the physical surface you choose is only half of what makes a meditation table such a profound tool for your spiritual growth.
Equally as important are the objects you choose to set on and around the table. While these objects can vary in nature, ultimately, they should possess significant meaning to you.
The overall space you create with your meditation table should serve and support your total well-being: mind, body, and spirit.
This is a place that nourishes your soul, feeds your spirit, and helps you to connect with your highest, most authentic self.
And most importantly, this is a safe place where you can come home to yourself.
You might call your meditation table your altar, sacred space, shrine, or another term that feels right to you. And despite its name, you don't have to solely use your meditation table for the practice of meditating.
You might choose to sit at your meditation table in the morning to set daily intentions, pull affirmation cards, or write in your gratitude journal.
You might also choose to come to this space anytime you seek serenity and solitude.
Below, I've linked to items you can use to create your sacred space. I've also included answers to frequently asked questions regarding setting up and using meditation tables. You can use the links below to jump to the section you want to learn more about.
In This Article
Meditation Table FAQ
Does my meditation table have to be a certain size or shape?
Absolutely not. Your meditation table can be as big or as small as you choose. Remember, bigger doesn't always mean better. If you have only a small corner to dedicate to your sacred space, that's more than enough. Choose a meditation table that fits your needs; dimensions and aesthetics are completely up to you.
What do I put on my meditation table?
Choose items that resonate with you. This meditation table belongs solely to you, and all that matters is the feeling the items bring when you look at and/or touch them.
You can put as much or as little on your table as you'd like; in fact, you don't have to put anything on it at all if your soul desires a clean, empty space.
The most important thing is to choose items that help you to connect with your inner self and that bring a sense of peace, calm, security, groundedness, love, and connection with yourself and the world around you.
How do I set up my meditation table?
Set up your table in a way that feels calming to you. If you like everything neat and organized, then you might set it up so it looks balanced and orderly. If you think a little messiness is kind of beautiful, then you might let your inner creative take the reins and place items wherever your heart wants them to go. You might also test out a few different setups and pay attention to how each setup makes you feel. You'll know you've found the right placement when you feel a deep sense of rightness within.
How do I use my meditation table?
When you create your meditation table, take some time to set a purpose and intention for how you want to use this space. You can, of course, meditate in front of your table. As I mentioned above, you might also choose to come here in the morning to set intentions, recite affirmations, and express gratitude. When you're seeking answers, this might be a place to look for them within. You might also like to sit at your meditation table after work to release the day and invite a sense of calm and peace into your evening.
Meditation Tables
To create your serene meditation table, you first want to start with the foundation on which you'll be building upon: the table itself.
You may already have a piece of furniture in your home that would work perfectly for this function. If you're a DIYer, this is a great opportunity to get creative as you check out local yard sales and thrift stores for the inspiring piece that speaks to you. Sand, stain, paint, or leave it perfectly imperfect: whatever feels right to you. (You can use sage to cleanse the energy of the table if you'd like.)
If you're looking for something beautiful and new, the links below offer an array of styles to fit every price range. Just make sure to double check the dimensions to ensure the table fits your space!
Items For Your Meditation Table
Books
There's something special about being surrounded by books filled with beautiful words that soothe your spirit or delight your imagination. Even just setting a few books on your meditation table can fill you with serenity, inspiration, and creativity. Choose books that reach deep into your soul and speak to you. Below are a few options to get you started. For more inspiration, check out my article on the 11 best mindfulness books and journals to support your journey.
Candles
If you're a candle lover like me, then the concept of "too many candles" doesn't exist. Candles bring a deep sense of calm, tranquility, and peace within. It's also a powerful meditation practice to stare into the dancing flame of a candle and let it wash over your being. Here are some beautiful candles you can include on your meditation table. For more options, check out this article on crystal candles for peace, clarity, and love.
Crystals and Stones
Another thing I'm pretty sure you can never have too many of? Beautiful crystals and healing stones. When choosing crystals and gemstones, you can either pick ones that have specific meanings, or you can simply choose ones that speak to you. If you see a crystal and feel pulled to it, trust your gut. To help you get started, check out these guides on crystals for new beginnings and crystals for manifestation.
Affirmation Cards
Affirmation cards are a truly powerful addition to your meditation table or sacred space. One profound practice is to sit at your table every morning, surrounded by quiet and stillness, and pick one card from your affirmation card deck. Read the affirmation, and feel the positive words in every cell of your body. You can also spend a few minutes reflecting on what the words mean to you. I love that this is a practice you can do in five minutes or less that will have a meaningful impact on your entire day.
Below are a few of my favorite affirmation card decks to help you get started. And for more ideas on how to use affirmation cards, check out my guide here.
Moon Decor
This is for anyone who feels a deep connection with the moon. If you'd like, you can print out or purchase a moon calendar for the year and incorporate rituals into your routine that correlate with the moon's phases. (For instance, setting new intentions during the New Moon.) To help you get started, you can check out this moon phase calendar from moonconnection.com.
Meditation Materials & Decor
Everyone's meditation and spirituality practice looks different, so there isn't a one-size-fits-all product here that will suit everyone. Once again, choose what calls to you. Is there a statue or figurine that represents peace and serenity to you? Have you been curious about trying Tibetan singing bowls but haven't yet made the leap? The possibilities here are endless. Choose items that will enhance your practice, even if that means they seemingly have no functional purpose to an outsider. If it brings you inner tranquility, that's more than enough of a reason to incorporate it on your meditation table.
Spiritual Decor
Everything I wrote under the Meditation Materials & Decor section? It all applies here as well. Everyone's spiritual practice looks different. So once again, choose items that feel right to you. Whether that's a Buddha figurine or a Mother Gaia statue, or something else completely, open your heart to what resonates most to you.
Cushions, Rugs, and Textiles
Finally, this last category is all about what's surrounding your meditation table: meditation cushions and benches, rugs, tapestries, canopies, and anything else you fill your space with. You can turn your meditation table into a loving sacred space where you nurture your mind, body, and spirit. And for anyone who might be skeptical of meditation cushions: So. Was. I. And then I tried one, and within five seconds of sitting on it, I was a believer. (I own the exact Florensi meditation cushion I link to below and use it every single day.)
---
Have you created your own meditation table? What items do you like to place on and around it? Share your tips for how to use a meditation table to support your mind, body, and soul in the comment box below!
And for uplifting affirmations, chakra resources, meditation tools, self-love encouragement, and more, be sure to follow me on Pinterest and Instagram!
More Articles You May Like
---