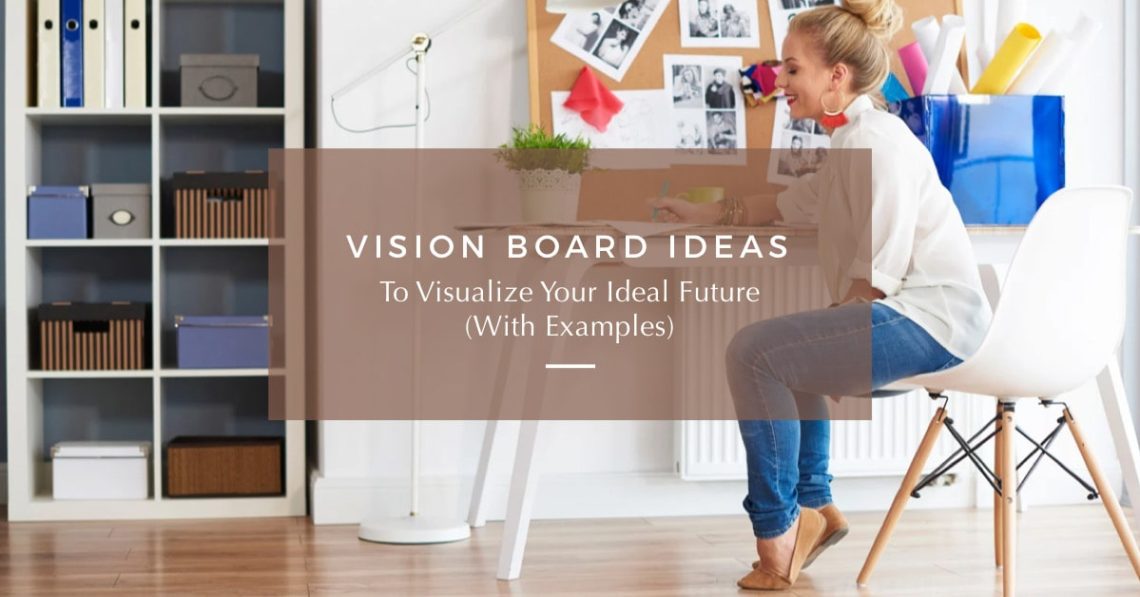 Vision Board Ideas To Visualize Your Ideal Future (With Examples)
In this article, discover the purpose of a vision board, plus get unique vision board ideas to help you start visualizing your ideal future today. (With images and examples below!)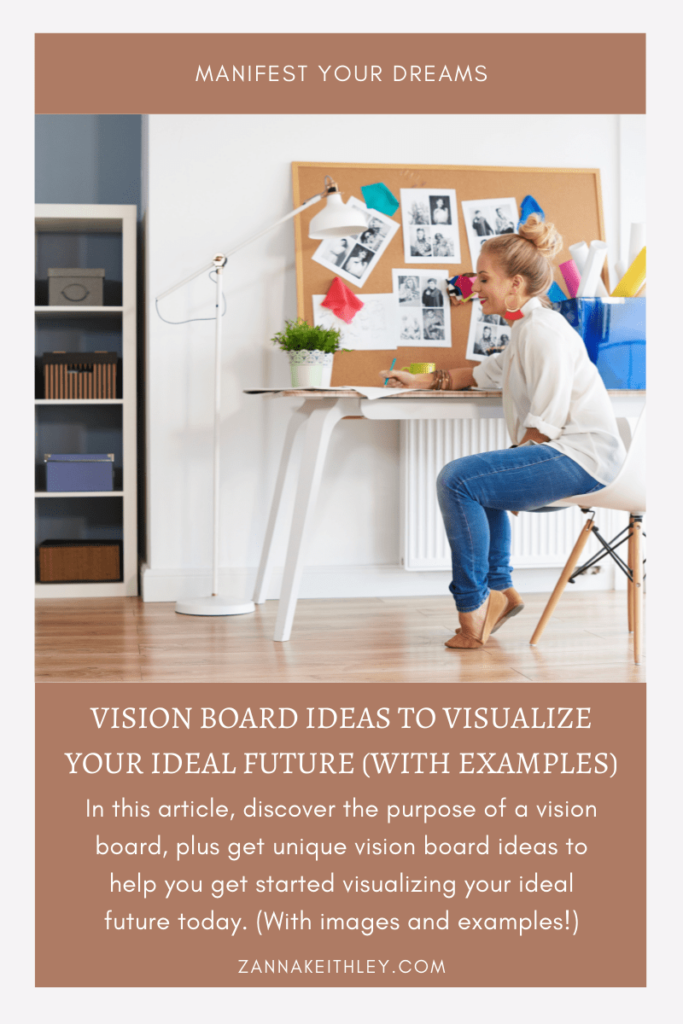 What Is A Vision Board?
A vision board is a collection of images and/or words that represent your goals and dreams. In essence, it's a visual representation of all your goals located in one spot where you can easily access it every day.
When you include images on your vision board, you can choose to include images that represent exactly what you want, or you can choose pictures that present an overall feeling of what it is you desire. (You can also include a mixture of both.)
For instance, let's say you want to own a house by the ocean one day. So you find an image of the perfect beachfront property and add it to your vision board. In this example, the house is a tangible thing that you desire.
But it may not always be a concrete thing that you want. Maybe instead, your biggest goal in life is to feel a deep sense of freedom. In that scenario, you might choose to include an image that represents the feeling of freedom to you–like an open road, a field of wildflowers, or a person standing on top of a mountain with their arms stretched out wide.
While images are typically the focal point of a vision board, you can also include words on your board that have special meaning to you. For instance, you might use words to caption your images, or you can include empowering quotes and affirmations that capture the feeling of your ideal life. You can also include written bucket lists on your vision board for extra motivation. (You'll find examples of all of these below.)
Finally, while it's not common, you can choose to include just word descriptions on your vision board instead of images. One way to do this is to draw boxes on a piece of paper. (Of course, you can get more creative with it, too.) Label each box with a category, like Career, Family, and Health/Fitness. For each category, write a few sentences describing your goals.
For example, in the Career box, you might write, "I am a successful health coach who makes a positive difference in the lives of all my clients. I coach people on how to create a healthy and sustainable lifestyle that goes beyond just fad diets; the positive changes they make last for their entire lives. I love what I do and am grateful every single day that I get to work in a job that feels fun and fulfilling."
In the end, there's no wrong way to create a vision board as long as it feels right to you. The best vision boards will spark your inspiration and make you feel truly excited about the limitless possibilities for the life you're creating for yourself.
In This Article:
What Is The Purpose Of A Vision Board?
A vision board is used as a goal-setting tool to help you set and visualize your goals. It can also be used as a means of self-reflection.
In your day-to-day life, it can be easy to lose yourself in deadlines, schedules, errands, and to-do lists. A vision board allows you a chance to step back and really see the big picture. It's an opportunity to ask yourself what really matters to you and how you want your future to look.
A vision board is also a commonly used tool in manifestation, which is the practice of consciously creating your future through the power of your own vibration. (You might know it as the Law of Attraction.) You can use your vision board as a tool to align your vibration with your desired outcome.
For instance, let's say that financial freedom is one of your life goals. On your vision board, you can include images that represent what it means to you to be financially free. Then, each day, you can take time to look at your vision board and immerse yourself in those images of financial freedom. When you do this, allow yourself to truly feel the positive emotions of having this financial freedom in your current reality. Feel this positive vibration in every cell of your body.
So essentially, instead of waiting for the future to start feeling financially free, you're letting yourself feel financially free today. By vibrating at the frequency of freedom and abundance today, you attract to you more of these experiences in your physical world.
The same scenario would apply if you want to manifest a loving and committed partner. Instead of waiting for that person to appear in your life before you start feeling truly loved, start showing yourself the love you're seeking. When you look at your vision board and see a picture of a couple holding hands, imagine what it will feel like to hold your future partner's hand. Immerse yourself in this positive vibration.
The more you practice feeling the positive emotions associated with the images on your vision board, the deeper this vibration becomes ingrained within you. You'll begin carrying these positive emotions with you as you walk through your day and interact with the world around you.
And this, in essence, is how you manifest: by becoming the thing that you desire today.
This is one of my favorite ways to describe how manifestation works in just a few words:
"What you think, you create. What you feel, you attract. What you imagine, you become."
If you're interested in learning more about manifestation, I have lots of articles on manifesting throughout this site. You can find them all here. And for more manifestation tools, you can also check out the digital manifestation workbook, journal, and printables in my online shop.
Vision Board Categories
When you create your vision board, there are likely some obvious categories you'll want to include, such as your ideal home or your dream job. But you're not limited to solely these categories–and in fact, there are many other categories that might hold even more meaning to you.
For instance, you might include an image that represents your spirituality and any practices that contribute to your spiritual self, such as meditation or religious services. You can also include images that represent your ideal self-care routine or how you'd like to approach your own personal growth and self-development.
Here are some categories you can include in your vision board:
Career
Romance
Family
Health
Financial Wealth
Home
Vehicle
Lifestyle
Vacations
Fun
Self-Care
Personal Growth
Volunteer
Creativity
Physical
Emotional
Spiritual
Mental
Social
Things To Have
Things To Try
Vision Board Mediums
So how do you begin creating a vision board? Here are some ways you can get started:
You can go with the classic: a poster board, magazine cutouts, and some tape or glue. If you can't find all your preferred images in magazines, you can also print images you find online.
You can also do the same as above but instead glue or tape your images to notebook or bullet journal pages.
And if you're artistic, you might instead decide to draw your images instead.
For a portable vision board, you can create an album on your phone titled Vision Board or My Future. Save images to your album that represent your ideal life, and make it a point to regularly scroll through your album. You can also continue to add images whenever you find a photo that resonates with you.
There are also apps such as VisuApp that allow you to create your own personal digital vision board.
Vision Board Ideas (With Examples & Images)
Vision Board With Pictures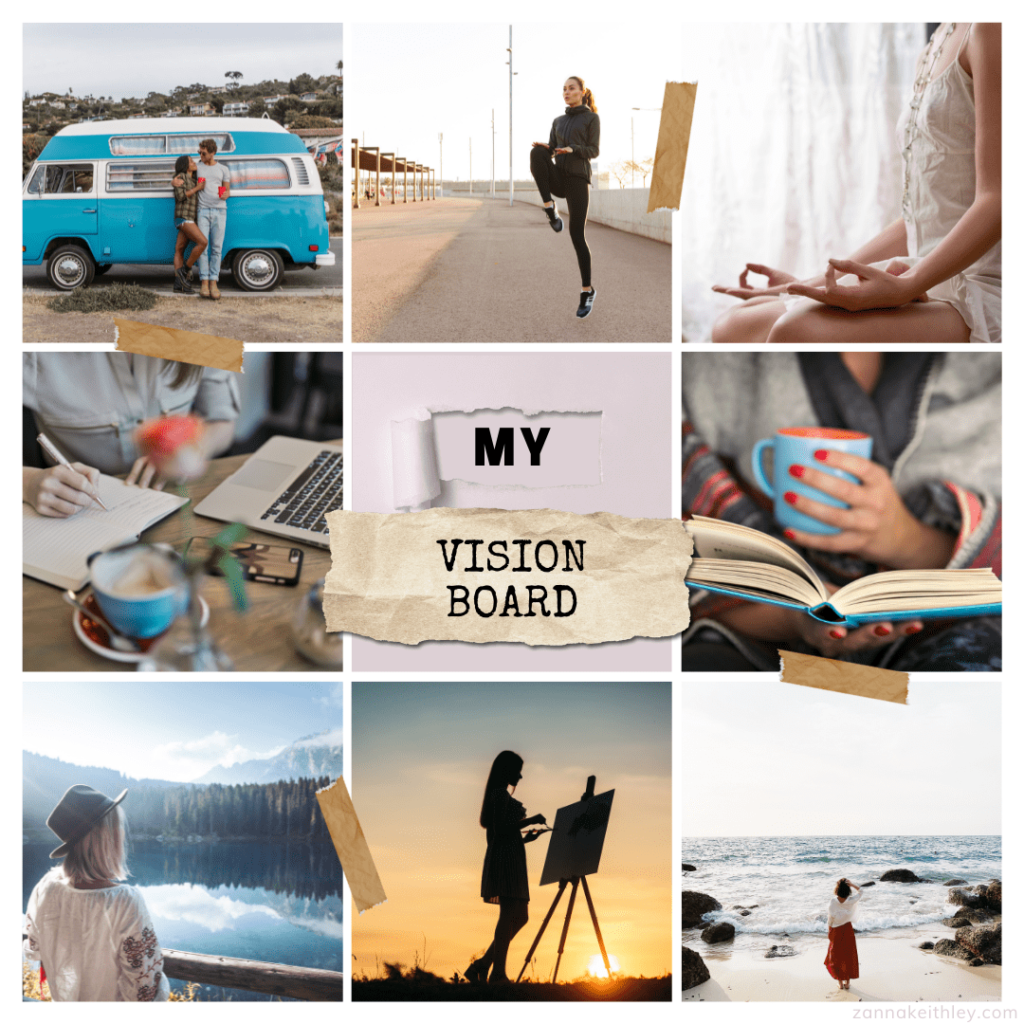 One of the simplest yet most effective ways to create your vision board is to fill it with photos that represent your ideal life. In the vision board above, you quickly get a sense of the vibe the creator of this board wants to represent: vanlife, travel, health and fitness, meditation, reading, creating, and an overall sense of joy and freedom. Fill your board with photos that speak to you and resonate with your whole self: mind, body, and soul.
Vision Board With Captions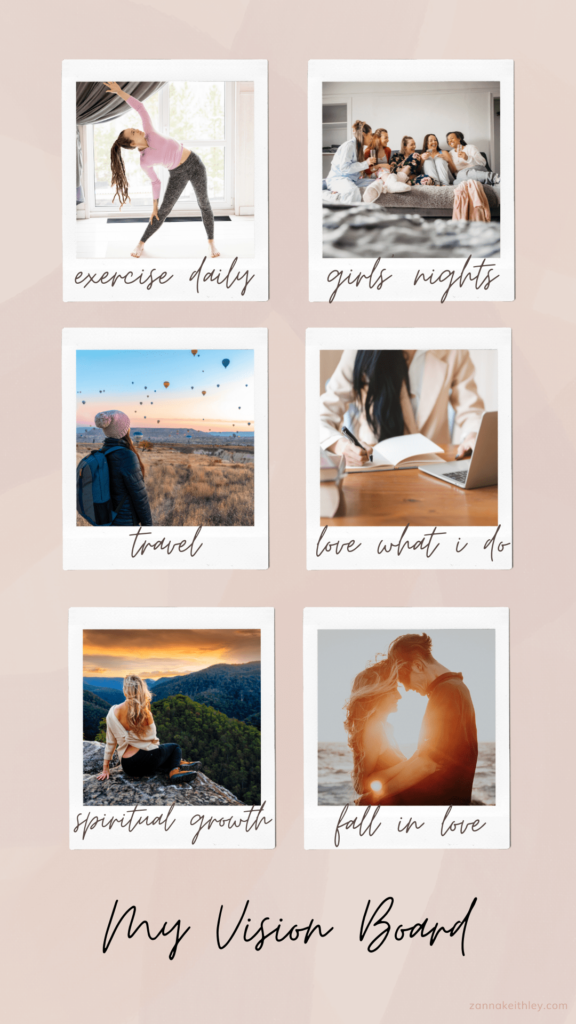 The vision board above includes not only pictures but also captions for each photo that sum up the essence of each image and what the owner of the board hopes to create in the year ahead. The addition of captions can add a little something special to a vision board, turning an abstract image into something a little more concrete.
Vision Board With Affirmations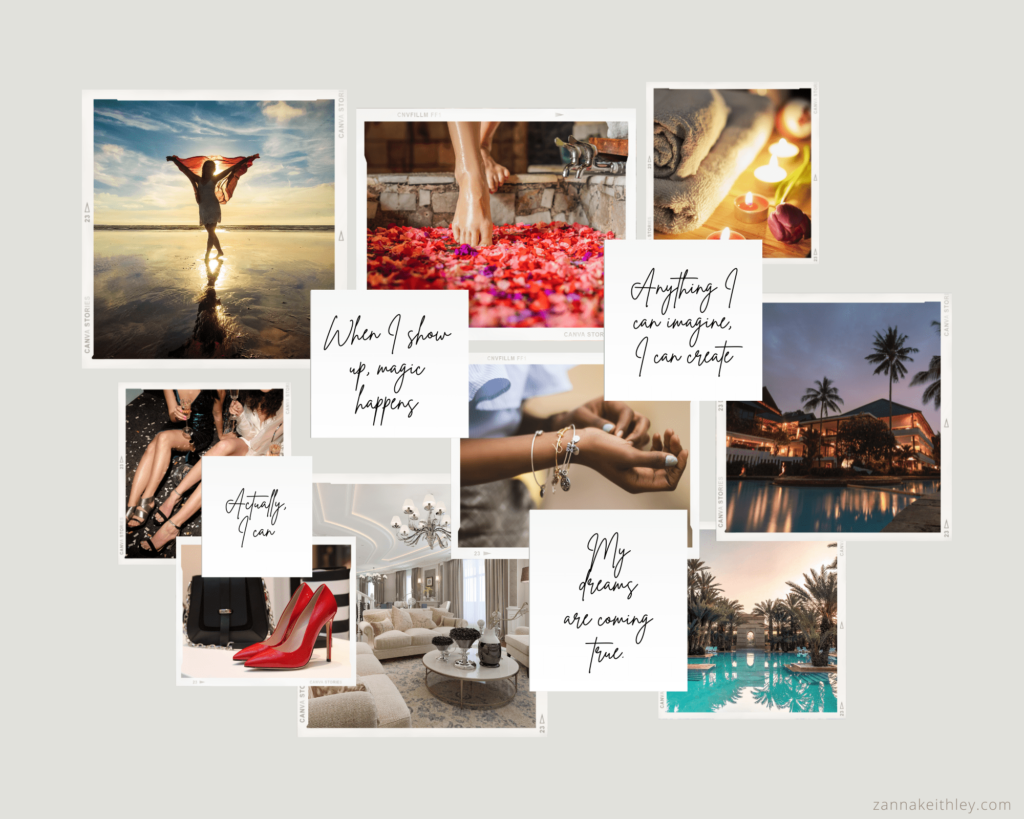 Another fun and empowering way to make your vision board is to pair photos that speak to your soul with high-vibe affirmations that leave you feeling confident, empowered, and inspired. Every time you look at your vision board, repeat these affirmations and truly feel the positive vibrations connected to the words. This is the path to manifesting your dreams: knowing that everything you desire is already yours.
Vision Board With Quotes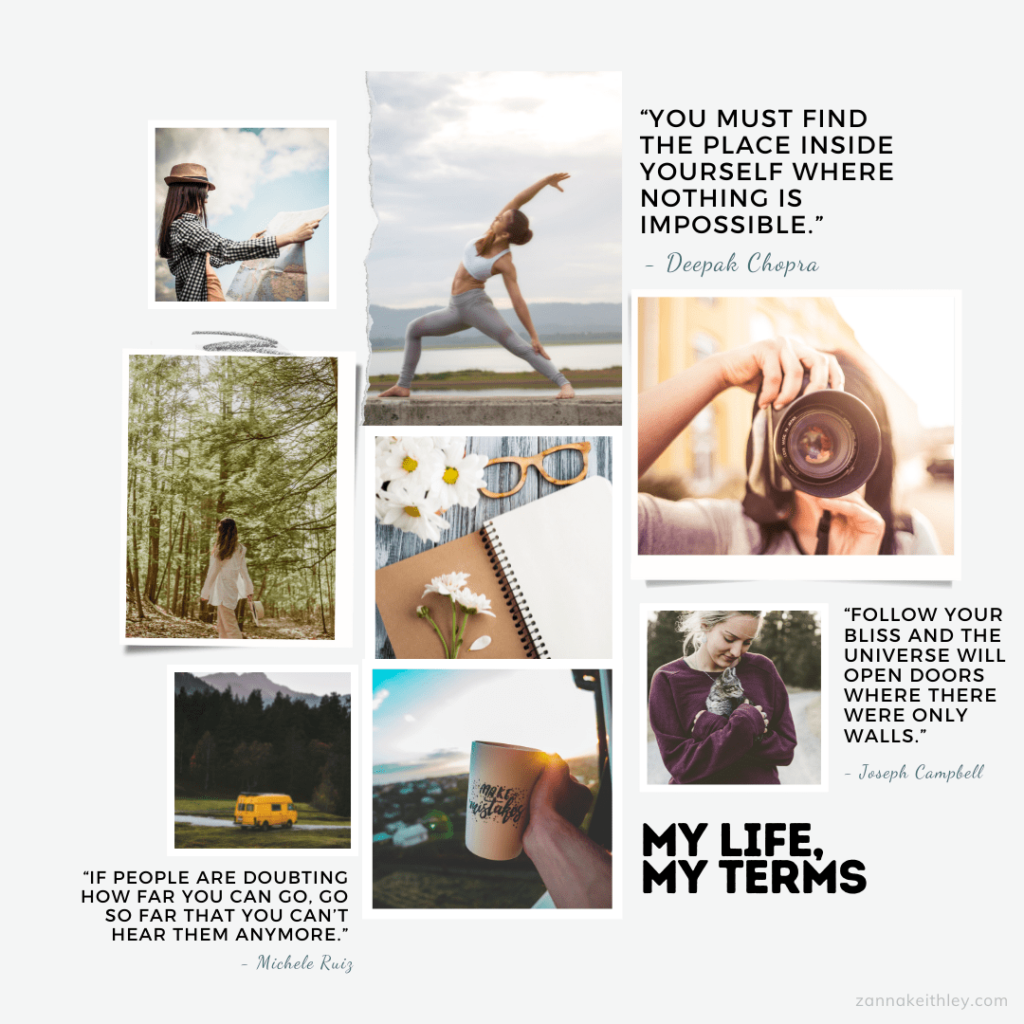 One of my favorite ways to create a vision board is to pair photos with uplifting quotes that give me a little extra burst of confidence and self-belief. If you'd like some help getting started, you can find 26 inspirational quotes for following your dreams here.
Vision Board With Goal List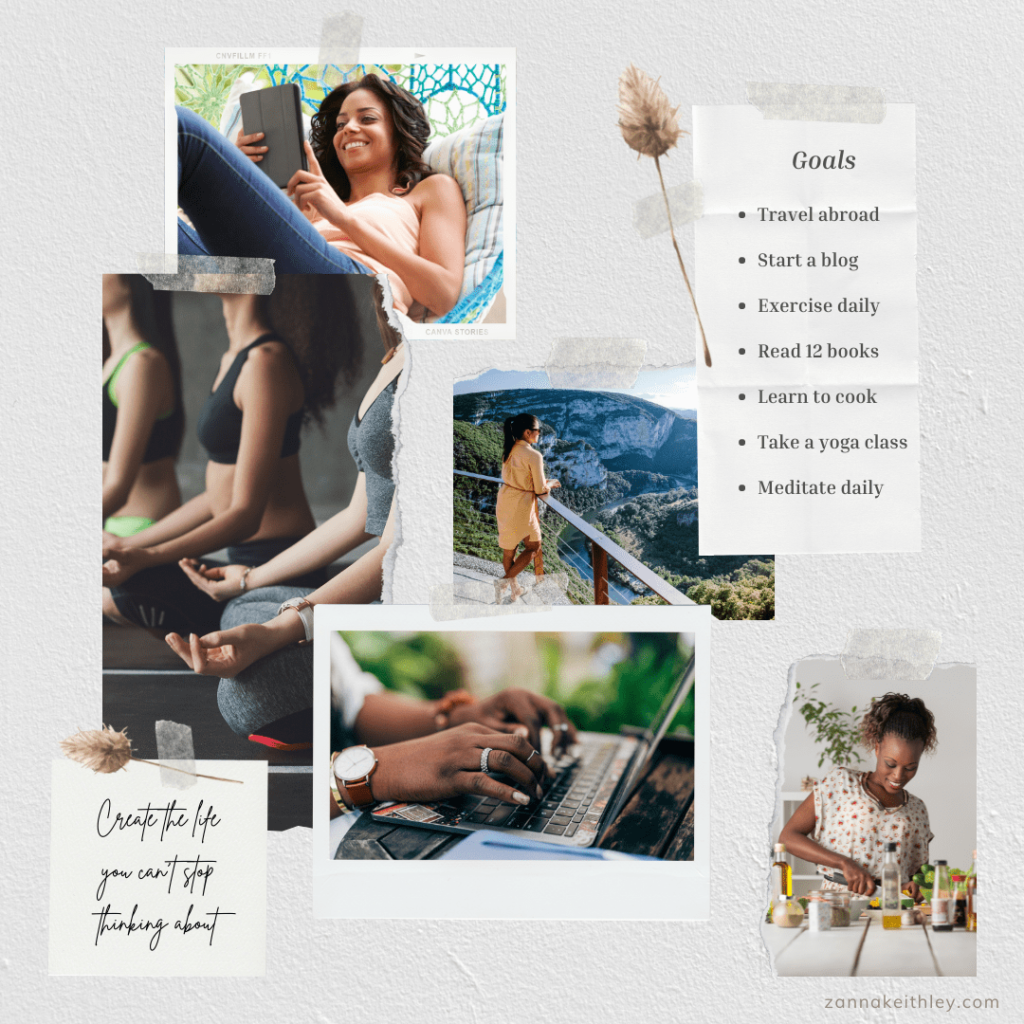 Another unique approach you can take with your vision board is to include a list of goals on your board. In the image above, the owner of the board has included a list of goals for the year ahead. You might also choose to include a list of overall life goals or bucket list items.
Digital Vision Board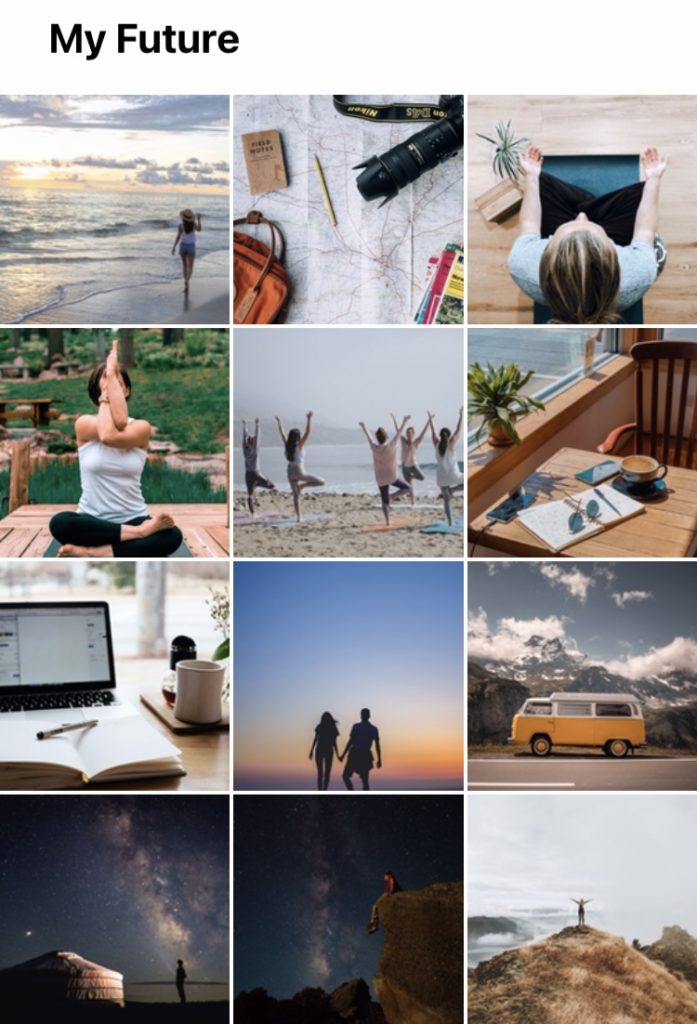 One of the easiest ways to make a vision board is to create a Vision Board album on your phone. Save images to this album that align with the vision you have of your ideal future, and continue to add photos whenever you see something that resonates with you. You can also include uplifting quotes and affirmations here, too. (And the best part? It's portable, so you always have your vision board within reach, no matter where you are.)
---
Have you used any of these vision board ideas? Be sure to post your boards and tag me on social media!
And for more manifesting tips, daily affirmations, and lots of positive vibrations, be sure to follow me on Pinterest and Instagram.
More Manifestation Resources
---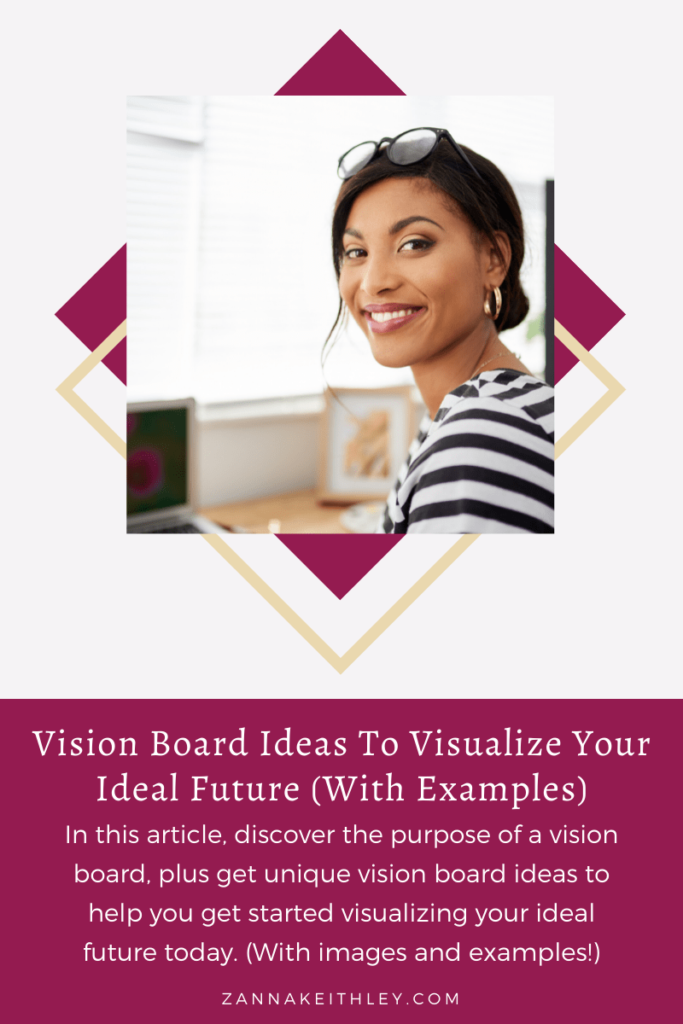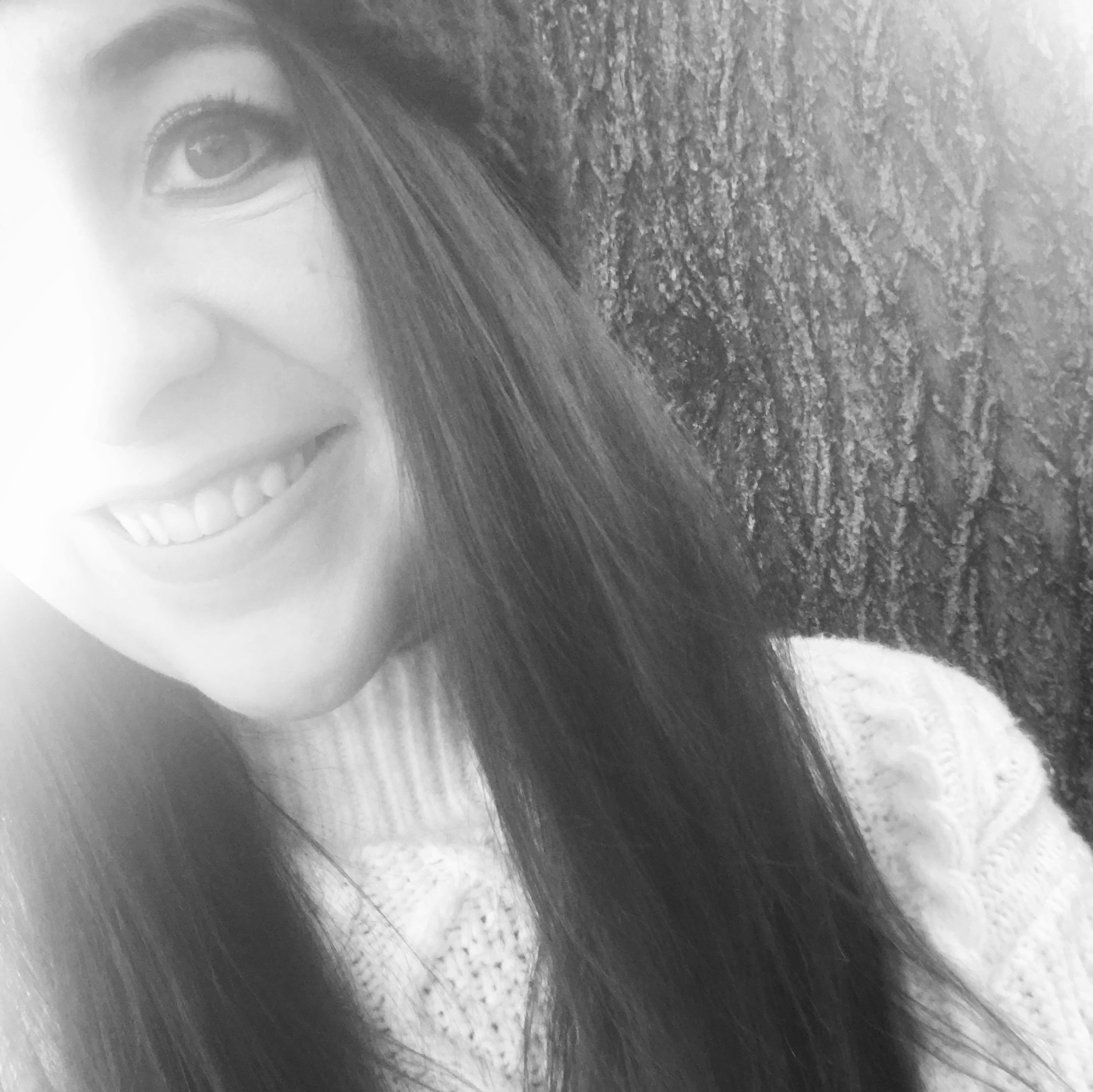 Hi, I'm Zanna! I'm a blogger/freelance writer living in Boise, Idaho. My mission is to help you break through the barriers holding you back from accessing infinite abundance and to inspire you to gather the courage and confidence to follow your dreams.