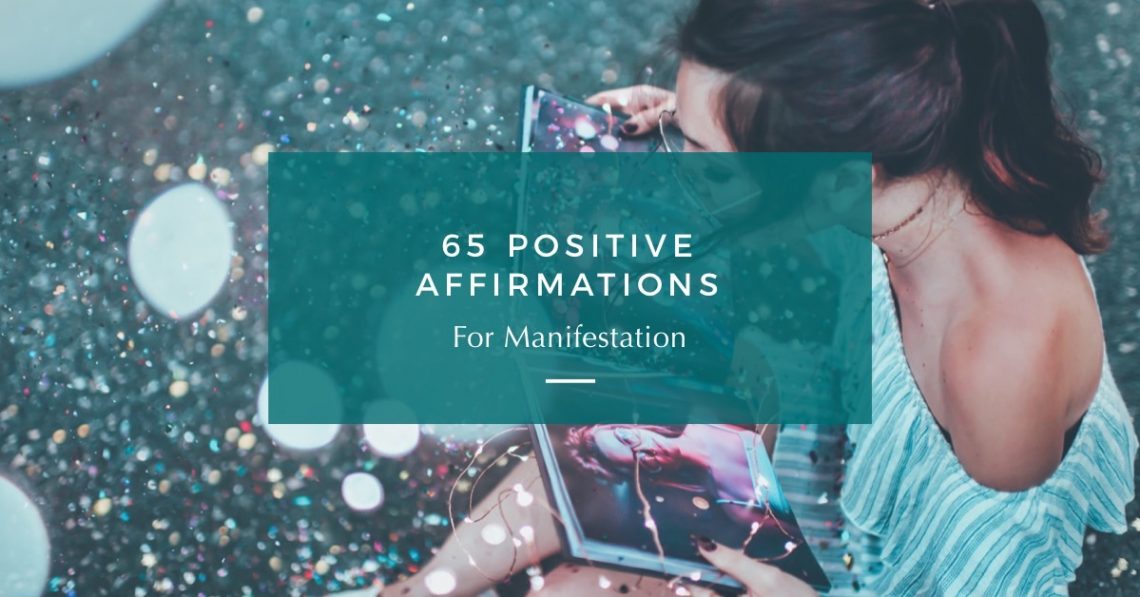 65 Positive Affirmations for Manifestation
When I first started incorporating positive affirmations into my daily life, I thought they were mostly just a way to boost my self-esteem and make me feel good in the moment. And while they absolutely do those things, I quickly learned that affirmations are so much more than just positive words: they're powerful statements that have helped me produce near-instant manifestations. Below, I give you 65 positive affirmations for manifestation so you, too, can start manifesting your dream life today. And for even more manifestation affirmations, check out 35 Law of Attraction Affirmations to Manifest Your Dreams.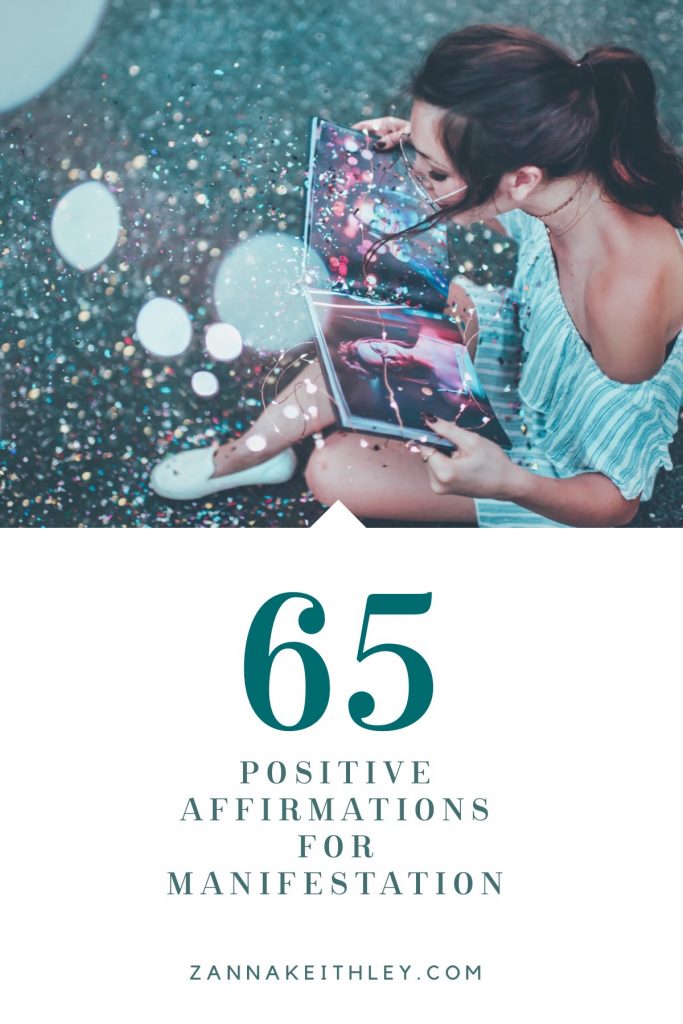 Manifesting Using Affirmations
One of my first powerful manifesting experiences came when I manifested $20 within a couple of hours of reciting powerful abundance affirmations while working out on my indoor bike trainer.
If you live somewhere with cold winters, you know the necessity of finding indoor workout ideas when it's icy, snowing, or just way too cold to go outside.
Luckily for me, my boyfriend had bought an indoor bike trainer, so when winter hit, I was easily able to transition from running sneakers to clipless biking shoes.
But the one downside?
Staring at four white walls while you're doing cardio is pretty boring.
Luckily, I had plenty of music and podcasts at my disposal. On the day I manifested the $20, though, I remember not really liking any of my listening options. So sometime during the ride, I began letting loose and reciting some positive affirmations during my workout.
Yes, I looked ridiculous, but since nobody could see me, I decided to just embrace the silliness and have fun with it.
I am a money magnet. Money comes easily and effortlessly to me. Financial prosperity flows within me. I am abundance.
When the workout finished, I hopped off the bike, feeling upbeat and filled with positive endorphins. I showered and ate, then drove to the local co-op to pick up some groceries.
That's when it happened.
I stepped out the car and started walking inside. And there it was: a crisp $20 bill laying on the ground and not a single person in sight.
That was the moment I realized that affirmations are more than just feel-good sentences; they're a powerful practice to create your future and manifest the life of your dreams.
Manifestation Workbook & Printables
Looking for help to get you started with manifesting your dreams? I've created several resources that incorporate powerful exercises and practices to manifest the life your heart truly desires.
The Dreams, Goals & Manifestation Printables are a PDF file filled with 153 content pages that are completely dedicated to helping you manifest your dream life. While you can use this as a workbook, it's more of a combination between a workbook and a yearly planner in which you get to control the order of the pages and how you want it to look. With these printables, you'll find multiple calendars, worksheet pages, and goal-setting tools that you can use over and over again, not just month after month but year after year.
For a smaller version of these printables in workbook format, check out The Ultimate Manifestation Workbook.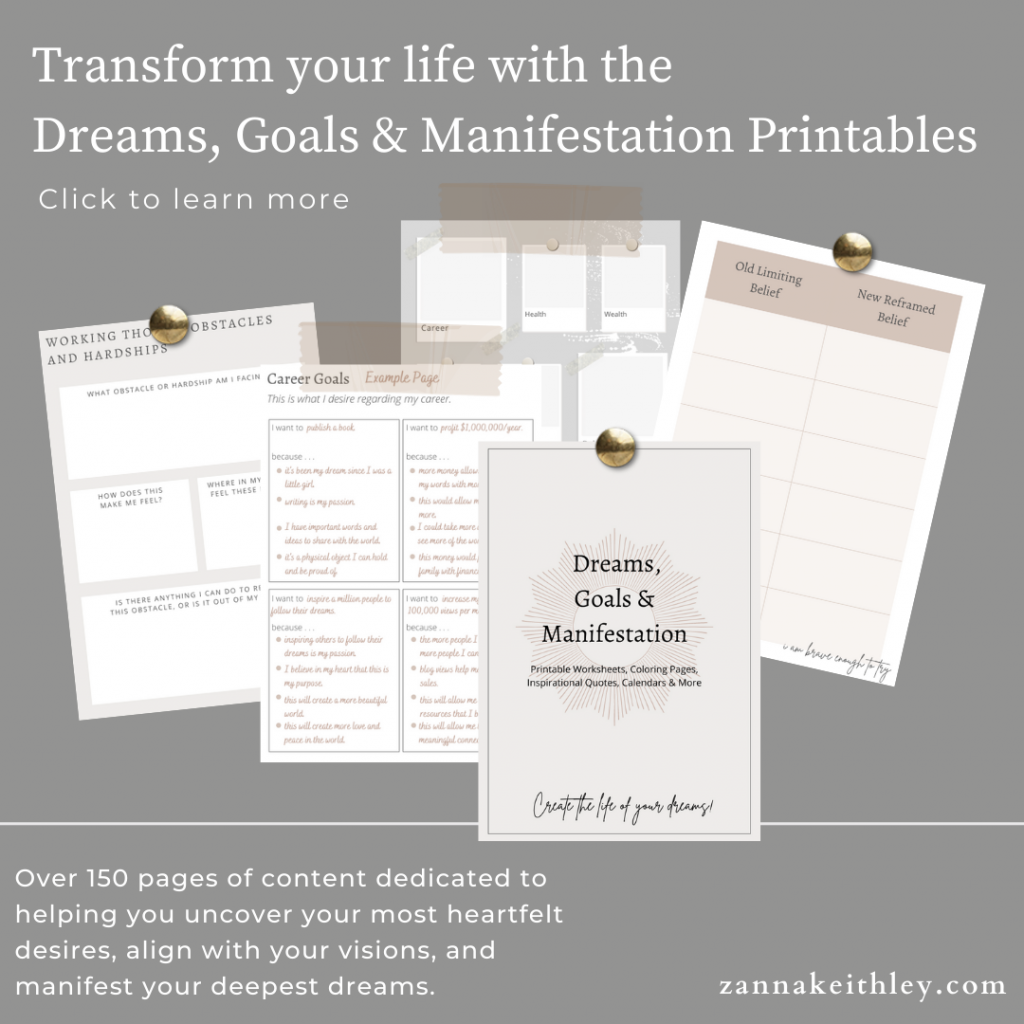 How to Use Affirmations for Manifestation
If you're looking for a guide on how to use affirmations for manifestation, I definitely encourage you to read my post, How to Use Affirmations (So They Actually Work). In this post, I break down how to structure your affirmations and provide you with some actionable tips and tricks so you can start using affirmations to uplift, inspire, and feel empowered today.
One thing that I touch upon in the post that I really want to emphasize here is that affirmations are so much more than just words.
In fact, affirmations don't actually start on your lips, tongue, or even in your brain.
Affirmations begin in your body.
An affirmation such as, "I am worthy," isn't just about stating your worthiness. It's about feeling worthy.
The quickest way to manifest anything into your life is to feel the emotions of your desired manifestation right now.
So if you want to manifest love, then feel deep, unconditional love within. If you want to manifest success, feel successful. If you want to manifest abundance, feel abundant today.
Because at their foundation, that's what these are affirmations are truly about.
Feel the positive emotions of these affirmations within, and you will begin to see this positivity reflected in your external world.
To learn about the 55×5 Manifestation Method, check out my post, 55×5 Manifestation Affirmations: Examples & How-To.
Future Pacing Affirmations
Before we get into the actual affirmations, let's first talk about Future Pacing Affirmations and how they can help you in manifestation.
Future Pacing Affirmations are a little different than the standard mindset affirmations you might see on your social media feeds. Future Pacing Affirmations are affirmations in which you assert that your desired manifestation has already come true.
For instance, if you want to manifest ten new clients in your coaching business, you might affirm, "I am a successful coach consistently bringing in new clients who are all so excited to work for me. I've surpassed all my expectations and am exceeding my financial goals. I feel so grateful that I get to positively impact other people's lives while doing a job I truly love."
It may feel a little weird at first, but I encourage you to keep an open mind. Visualization is a key component in manifestation, and through Future Pacing Affirmations, you're essentially speaking your visualization aloud.
A few tips: Be specific. In the example above, I could've gotten even more specific by saying, "I'm signing five new clients a week and have exceeded my financial goals by $5,000 this month." And also remember to keep gratitude at the forefront of your mind. Gratitude is truly the key in making Future Pacing Affirmations work. Express your gratitude in your affirmation and make sure to feel that gratitude throughout your body.
Here are a few ways you might start your Future Pacing Affirmations:
I am so happy and grateful now that I . . .
Every day, I am becoming more . . .
I receive so much . . .
My life is the best it's ever been because . . .
And here are a few sentences you might include in your Future Pacing Affirmations:
I am receiving more and more every day.
My life just keeps getting better.
I have surpassed all my goals and have exceeded my expectations.
I am so grateful for this life.
Miracles and magic are unfolding around me all the time.
I am in awe of how beautifully everything worked out for me.
Looking back, I can see how every experience led me to this beautiful moment right now.
I am so grateful for how everything worked out for my highest good.
Jack Canfield offers some great insight on how to use these types of affirmations here.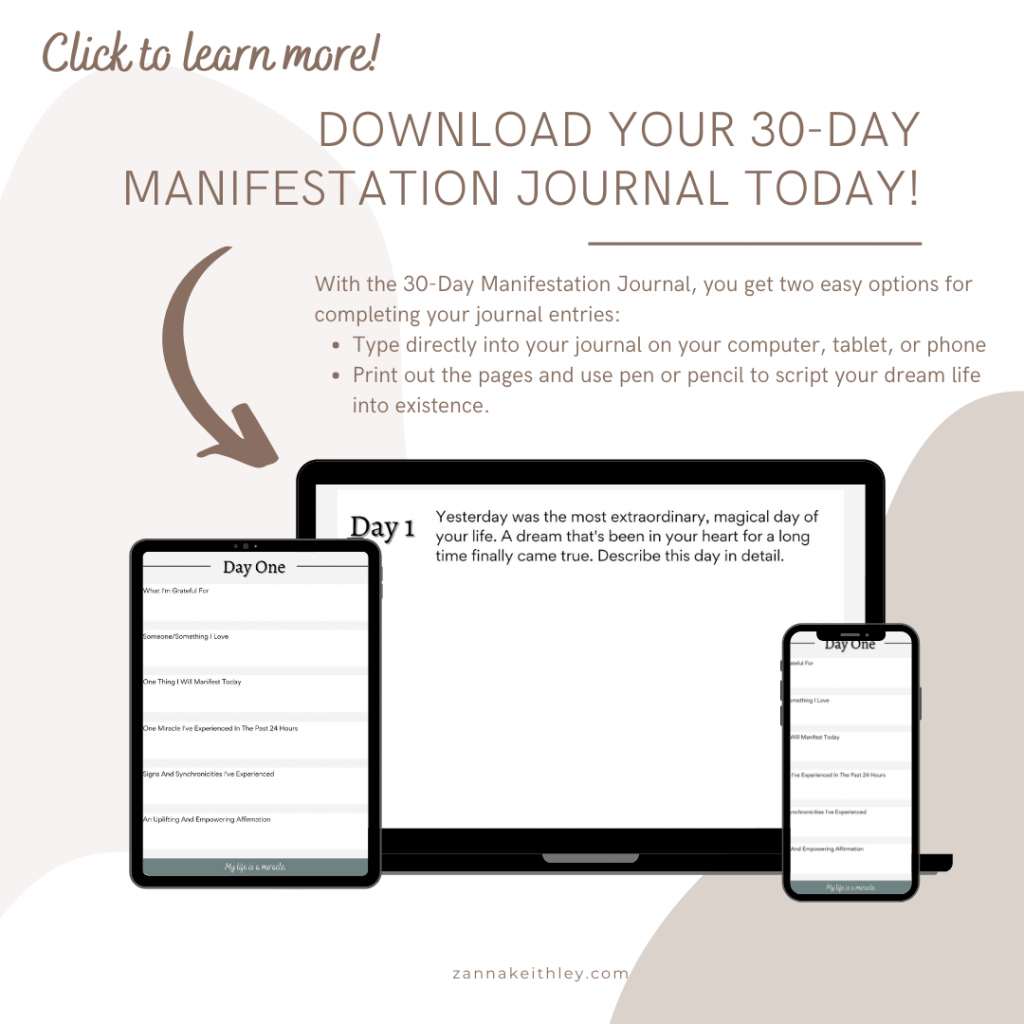 Affirmations for Manifestation
The affirmations below are all mindset affirmations that will help you get into a positive state of mind for manifesting your dreams. (Note that some may read more like Future Pacing Affirmations, depending on where you are you in your journey. An example of this is, "My bank account keeps growing constantly," under the Money section.)
I've broken these affirmations into 4 categories: Goals & Dreams, Money, Love, and Body/Health. Note that many of these affirmations can easily be used under other categories, especially the ones under Goals & Dreams.
As you repeat these affirmations, find the ones that resonate most with you. You can write these down, save them to your phone, jot them on post-it notes to stick around your house, or even type them up as notifications on your phone to pop up during your day.
Keep an open mind, and remember to have fun with these. In my experience, the fastest route to a near instant manifestation (like when I was on that bike trainer) has been when I stopped taking myself so seriously and simply allowed myself to be happy.
To learn more about creating a life of true abundance, be sure to check out my review of Mindvalley's Unlimited Abundance program here. In this review, I cover what you can expect in this online course, plus I give you my authentic experiences, outcomes, and recommendations. I definitely recommend checking this one out!
Goals & Dreams
I am the author of my life story.
I am the designer of my universe.
I have the freedom to create any future I want.
I choose what I become.
I am in charge of my life and the only one who can dictate my path.
I am worthy and deserving of my dreams.
I have the power to create the life I desire.
I have the power to create change.
I possess unlimited power.
All that I need to live the life of my dreams is inside of me.
Everything I'm looking for I can find within me.
I am connected to a limitless source of ideas and creativity.
I am in alignment with my purpose.
The more I feel grateful, the more wonderful things flow into my life to feel grateful for.
All of the good I put out into the world always comes back to me.
I listen to my intuition and trust my inner guide.
I attract the people and resources to support my journey.
I feel so grateful for my beautiful life.
I am creating the life I love.
Money
Wealth is my birthright. Wealth exists within me.
I am worthy of increasing my income.
My talents are worthy of being paid abundantly.
Prosperity flows to and through me.
My inspired actions create prosperity.
I am a money magnet.
Money comes easily and effortlessly to me.
It is easy for me to make money.
Money flows freely to me.
I am abundance.
My bank account keeps growing constantly.
I am open to inspired and ideas and opportunities for creating new streams of income.
I am able to accept beautiful abundance into my life.
I am deserving of all the wonderful abundance coming my way.
Looking for more? Check out 50 Empowering Money Affirmations to Manifest Limitless Abundance. Plus, click here for a comprehensive guide on how to manifest money.
Love
I am full of positive loving energy.
Love is my birthright.
I radiate limitless, unconditional love.
I am aligned with the highest vibration of love.
The more love I give, the more I receive.
I open my heart to receiving unconditional love.
Love comes to me easily and effortlessly.
I am worthy of being treasured, cherished, and adored.
I deserve endless love and affection.
I confidently and wholeheartedly accept love into my life.
My partner shows me respect, adoration, and affection.
Every day, my partner shows me deep and passionate love.
My partner loves me exactly as I am.
I am magnetic. I attract my soulmate by radiating my inner light.
I am love.
Get more affirmations to manifest love here. And if you want to learn more about how to manifest love, check out How to Manifest Someone in 6 Simple Steps.
Body/Health
I am healthy, well, and vibrant.
I am happy, healthy, and strong.
I am strong in mind, body, and spirit.
I am radiant and beautiful.
I am healthy and full of energy.
I feel healthier every day.
Every time I exercise, I feel my muscles getting stronger.
Healthy eating is easy for me.
Every cell in my body is absolutely perfect.
I am so grateful for this body and all that it is capable of.
My body is filled with healthy, vibrant energy.
My body, mind, and spirit feel stronger every day.
I inhale love for myself. I exhale criticism and all that does not serve my highest good.
I love the strong, powerful, divine human staring back at me in the mirror.
I release doubts, insecurity, and negative self-talk.
I am so grateful to have good health.
I am grateful to have this body, and I pledge to take care of it for the rest of my life.
You May Also Like: 42 Body-Positive Affirmations for Total Self-Acceptance
---
Have you ever manifested anything almost instantly through using affirmations? What are some of your favorite affirmations for manifestation? Share your experiences in the comments below!
And for more manifesting tips, daily affirmations, and lots of positive vibes, be sure to follow me on Pinterest and Instagram! And don't forget to check out the Dreams, Goals & Manifestation Printables and The Ultimate Manifestation Workbook, available now in my online shop!
More Manifestation Resources
---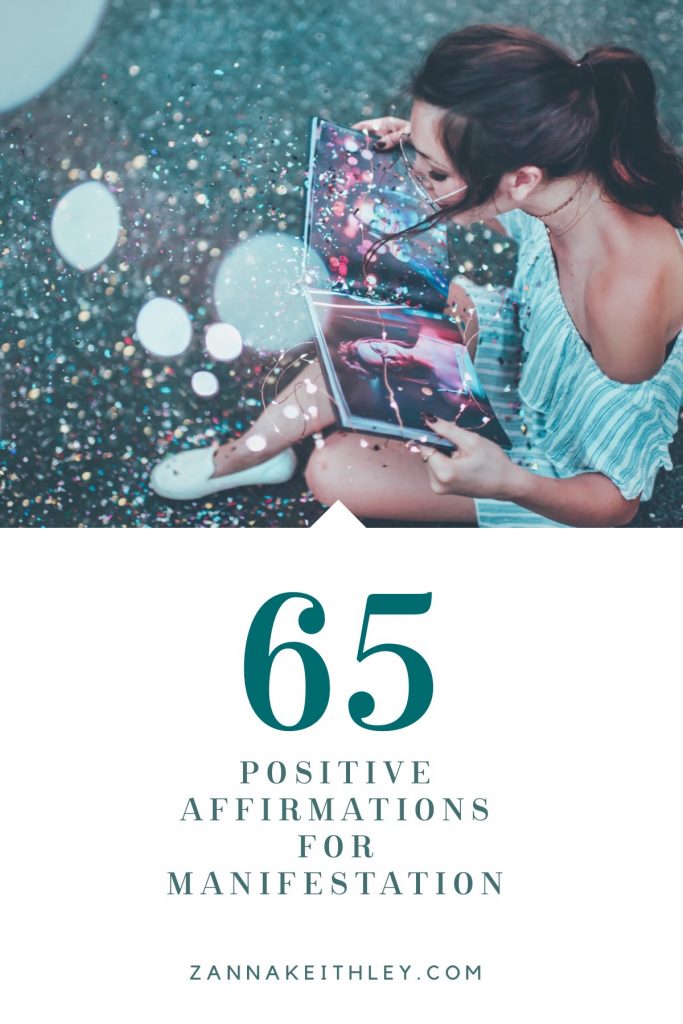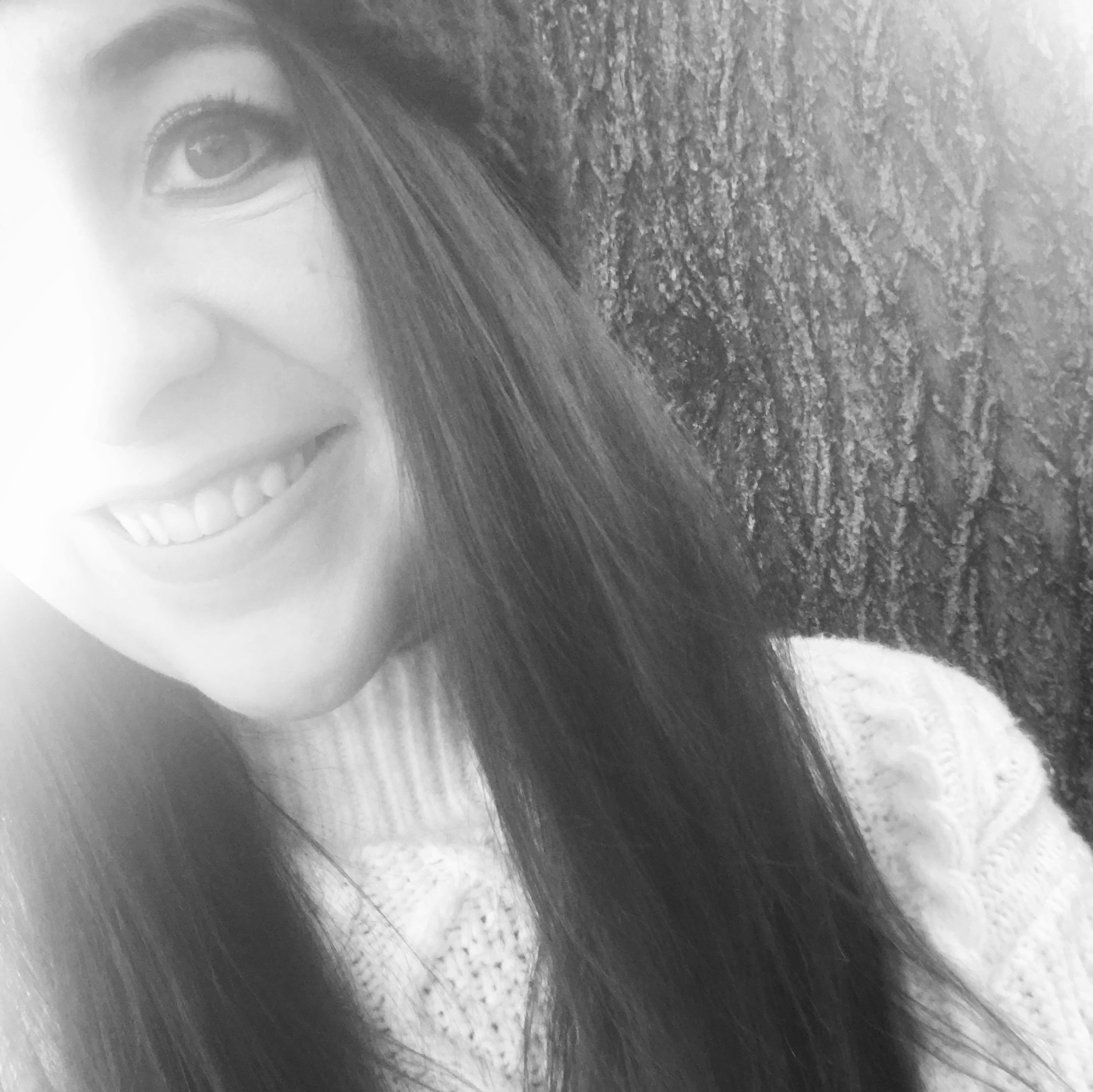 Hi, I'm Zanna! I'm a blogger/freelance writer living in Boise, Idaho. My mission is to help you break through the barriers holding you back from accessing infinite abundance and to inspire you to gather the courage and confidence to follow your dreams.