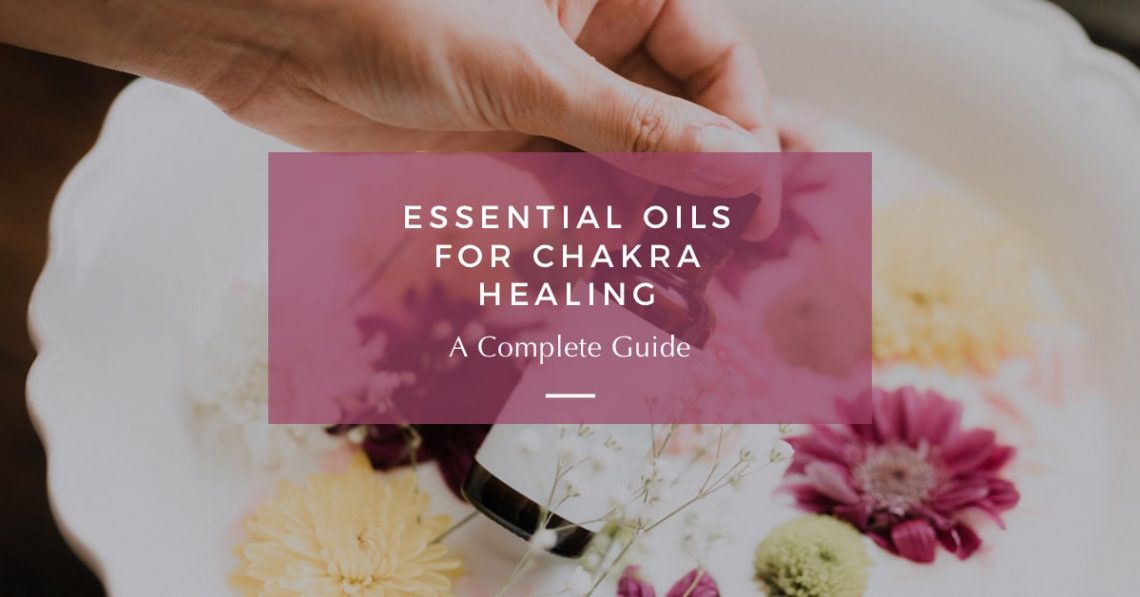 A Guide To Essential Oils For Chakras
Aromatherapy is a powerful practice for balancing and healing your life force energy. Below, learn how to use essential oils for chakras, and discover which essential oils can help open, activate, and balance your body's energy centers.
Disclaimer: This post contains affiliate links. If you purchase a product using my link, I may receive a small commission at no extra cost to you. As an Amazon associate, I earn from qualifying purchases.You can read my full disclosure policy here.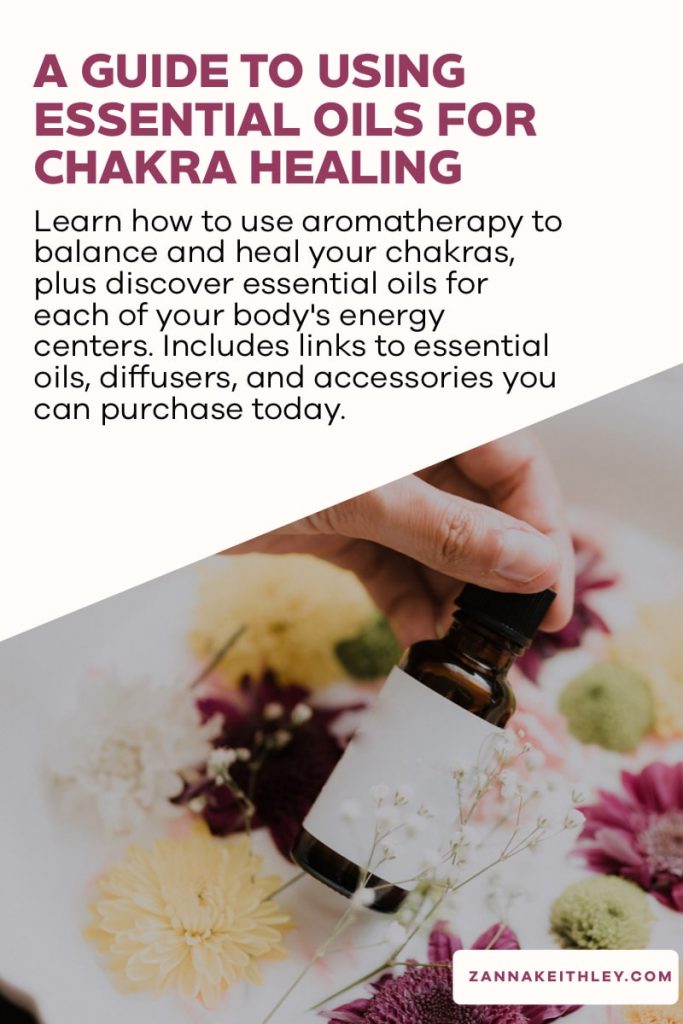 Aromatherapy
When it comes to chakra healing, aromatherapy doesn't get nearly as much hype as sound healing, color therapy, and other popular chakra healing practices. However, you shouldn't underestimate this powerful practice. If used correctly, aromatherapy can be a profound resource for revitalizing your energy, soothing the spirit, and bringing harmony and tranquility to your body's energy centers.
And even better–you may be able to start today with items you already have at home.
So what exactly is aromatherapy? Aromatherapy is the practice of using natural plant extracts for therapeutic healing. It's a holistic healing treatment that promotes the total well-being of your mind, body, and spirit.
When we think of aromatherapy, we most often think of essential oils, especially as they've become more and more popular over the past decade. Essential oils are natural products extracted from the flower, bark, leaves, or fruit of a plant.
So how do you begin? The key to unlocking the power of aromatherapy–and any chakra healing practice–is intention.
Whenever you focus on healing your body's energy centers, it's important to have a clear and specific intention. For me, this means that before I begin, I'll take a deep breath and state my intention either internally or aloud.
Here are a couple examples of intentions:
I am opening and healing my heart chakra.
I am activating my third eye chakra.
I am promoting the free flow of energy within my body.
I am showing love and compassion to my mind, body, and spirit.
Know that there is no wrong intention as long as it feels true to you. Keep your chosen intention in mind as you begin your practice, and hold onto it as you continue through your day.
If you want to learn more about opening, activating, and healing your body's energy centers, be sure to check out my Ultimate Chakra Healing Bundle. The bundle comes with a Chakra Healing eBook, Chakra Healing Workbook, and 8-Week Chakra Healing Guide. (All items can be purchased individually as well!)
Below, you'll find essential oils for each of the chakras and as well as links to essential oils and accessories that you can purchase today. I also provide you with some different methods you can try out for using aromatherapy to open, activate, and heal your body's energy centers.
When using essential oils, please read labels and packaging instructions. Dilute as instructed. Practice safe storage. And choose brands that are free of synthetic chemicals. If you have any questions or concerns, please talk to your healthcare professional.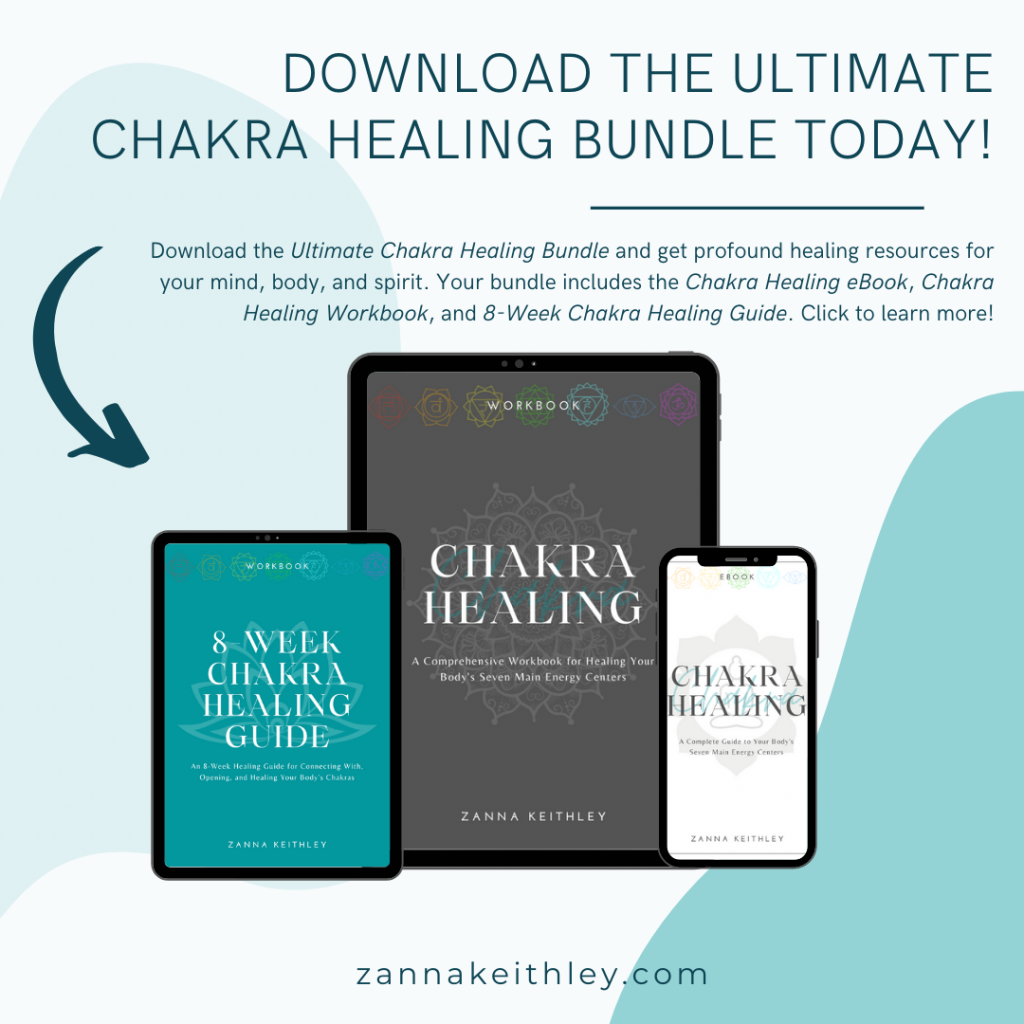 How to Use Essential Oils for Chakras
In a Diffuser
Choose a location for your diffuser where it'll be near you throughout the day. Use an essential oil or a blend of oils associated with the chakra you want to heal. What I love most about using a diffuser for chakra healing is that I can combine this with other chakra healing practices. For instance, I can journal, meditate, do a creative activity, or work with crystals while my diffuser is going.
Using an essential oil diffuser can be an especially powerful practice for the sacral chakra, which is associated with the element water, and the heart chakra, which is associated with the element air. However, all chakras can benefit from this practice, and using an essential oil diffuser can be a powerful way to bring peace and serenity to your energy within.
Personal Fragrance
If you're out and about during the day, you may choose to use your essential oil as a personal fragrance in order to experience the healing aroma throughout the day.
First, choose an essential oil associated with the chakra you want to work with. Make sure that the essential oil you choose is safe to apply to the skin. (Some essential oils, such as "hot" oils, should not be applied to skin. Different people may have different reactions to essential oils depending on skin sensitivity and allergies. Always follow usage directions, and consult your healthcare professional if you have any questions.)
Once you've chosen an oil, you can apply it to your forehead, temples, neck, or chest. One option I love for this is using essential oil roll-on bottles, especially since most come pre-diluted (often with coconut oil) for safety. I've linked to some of my favorites at the bottom of this post!
Add a Drop to Chakra's Associated Physical Location
If you want to heal your throat chakra, you might apply an essential oil to the throat and chest area. To open your third eye chakra, you can apply to your temple and forehead. And as your root chakra represents your foundation and connection to the earth, you could apply an essential oil for the root chakra to the soles of your feet. Just note that the same safety guidelines I wrote above apply here as well!
Add a Drop to Your Water
I know I'm starting to sound like a broken record here, but again, please follow all usage and safety instructions, and check to make sure your chosen essential oil is safe for internal use. When following proper safety precautions, ingesting a drop of your chosen essential oil (diluted in water or tea) can be a powerful way to transport the healing energy of the oil throughout the body.
To learn more about how to activate, balance, and heal your chakras, be sure to check out the links below!
Essential Oils for Chakras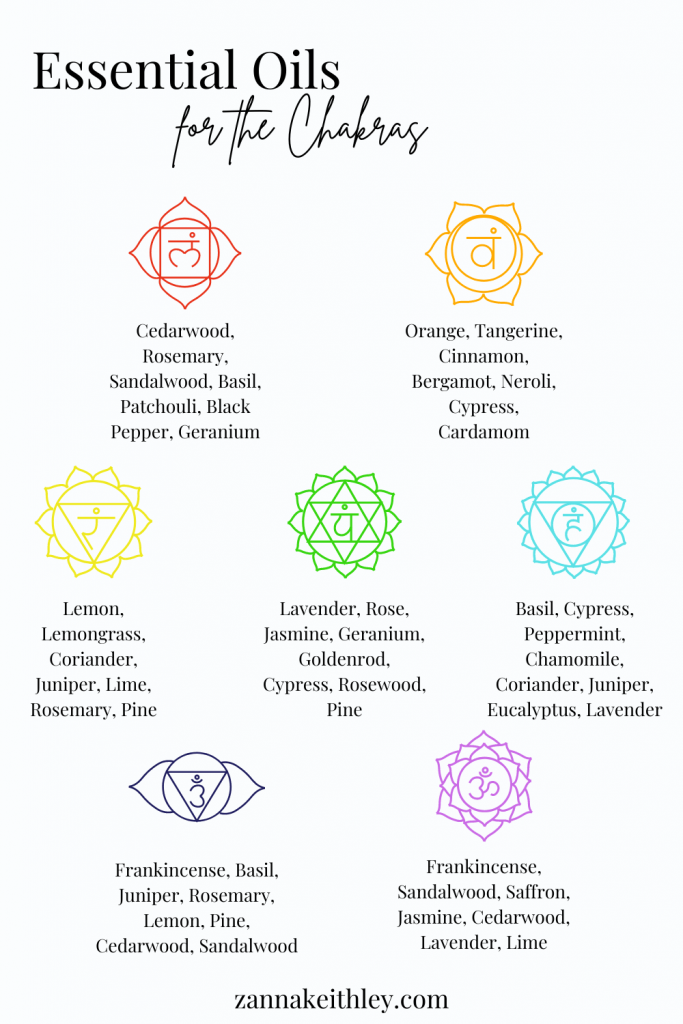 Root Chakra
Cedarwood
Rosemary
Sandalwood
Basil
Patchouli
Black Pepper
Geranium
Sacral Chakra
Orange
Tangerine
Cinnamon
Bergamot
Neroli
Cypress
Cardamom
Solar Plexus Chakra
Lemon
Lemongrass
Coriander
Juniper
Lime
Rosemary
Pine
Heart Chakra
Lavender
Rose
Jasmine
Geranium
Goldenrod
Cypress
Rosewood
Pine
Throat Chakra
Basil
Cypress
Peppermint
Chamomile
Coriander
Juniper
Eucalyptus
Lavender
Third Eye Chakra
Frankincense
Basil
Juniper
Rosemary
Lemon
Pine
Cedarwood
Sandalwood
Crown Chakra
Frankincense
Sandalwood
Saffron
Jasmine
Cedarwood
Lavender
Lime
Essential Oils and Accessories
If you're looking for essential oils, diffusers, books, and/or accessories, here are some of my top picks! Click on any of the items below to learn more about it. (A second window will open up to take you to Amazon.) The bracelets and necklace are specifically for using with essential oils so you can carry the healing aroma with you throughout the day. The Cliganic USDA Organic Aromatherapy Essential Oils Set isn't specifically marketed toward chakra healing, but I added it because it's one of my favorites!
---
Have you used essential oils for chakra healing? What are some of your favorite chakra healing practices? Share your tips and experiences in the comment box below!
And for more resources on spirituality, meditation, manifestation, and all things self-love, connect with me on Instagram and Pinterest, where I'm posting positive affirmations and empowering messages daily.
More Articles For You
---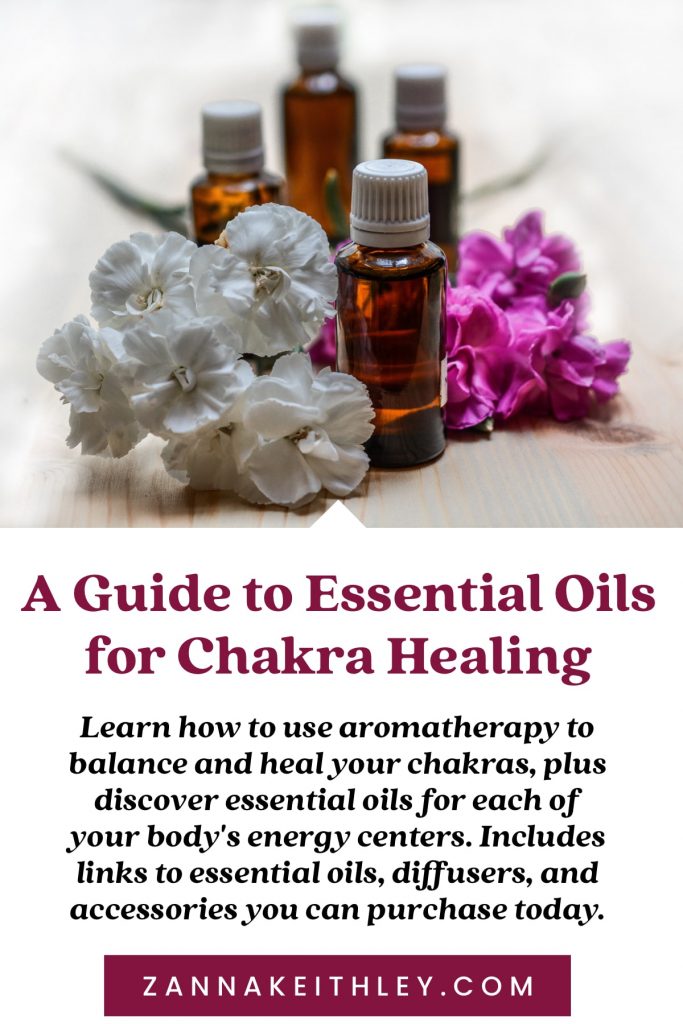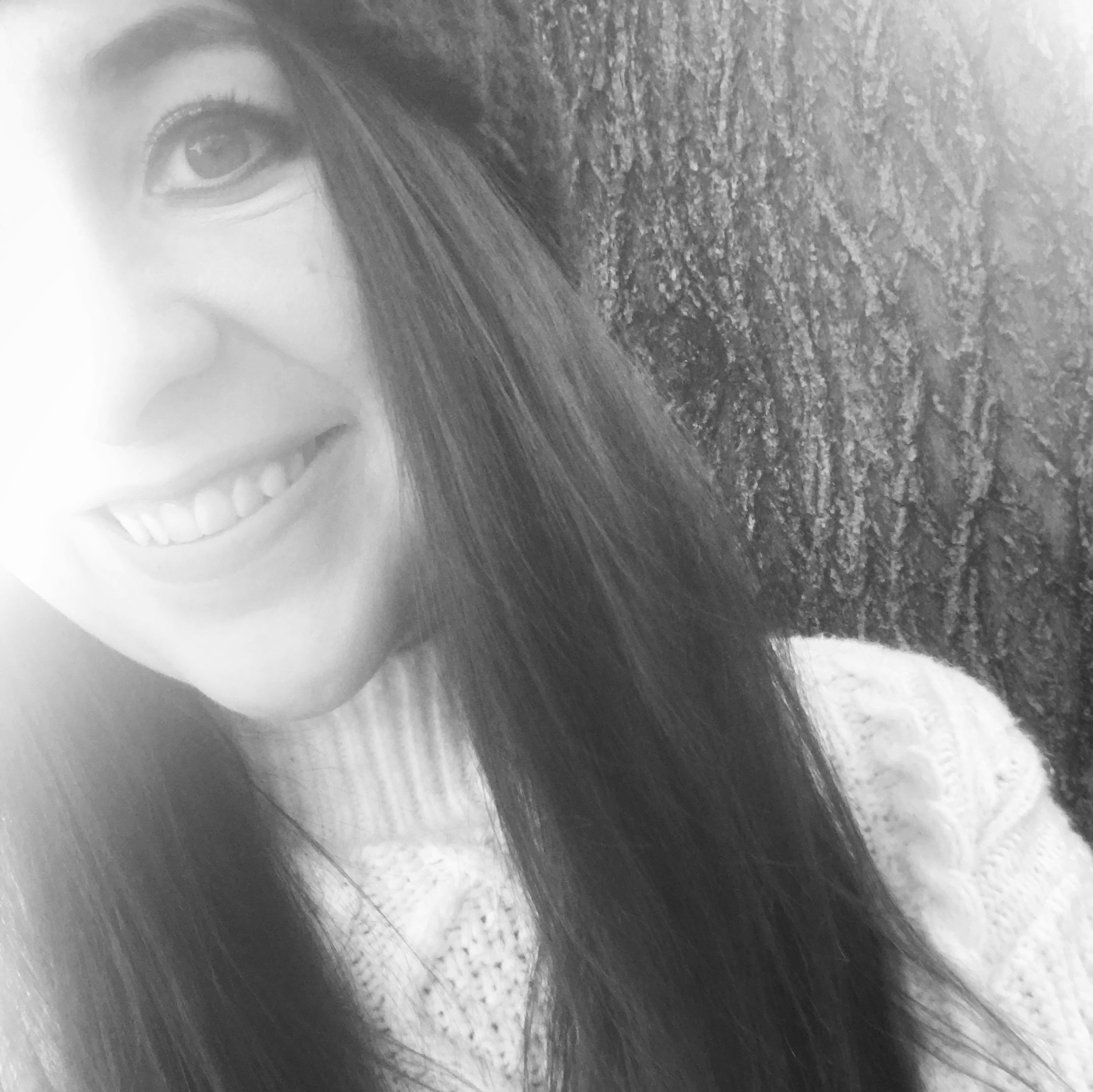 Hi, I'm Zanna! I'm a blogger/freelance writer living in Boise, Idaho. My mission is to help you break through the barriers holding you back from accessing infinite abundance and to inspire you to gather the courage and confidence to follow your dreams.