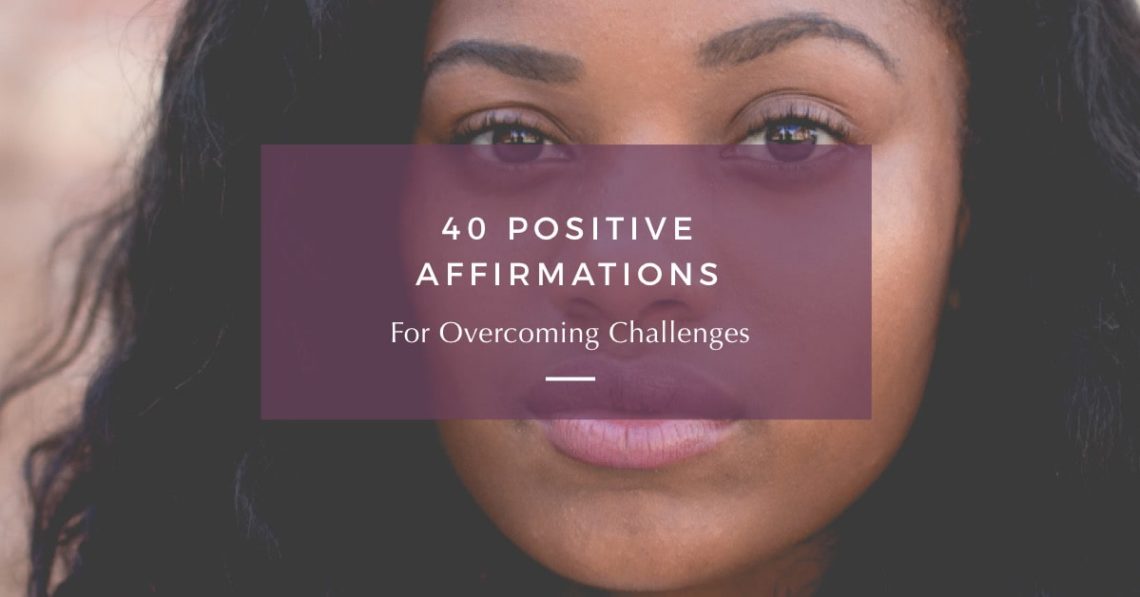 40 Positive Affirmations for Overcoming Challenges
In this post, discover 40 positive affirmations for overcoming challenges, facing adversity, and getting through hard times with dignity and grace. Use these affirmations to guide you in your journey and help you to find your inner courage during all seasons of your life.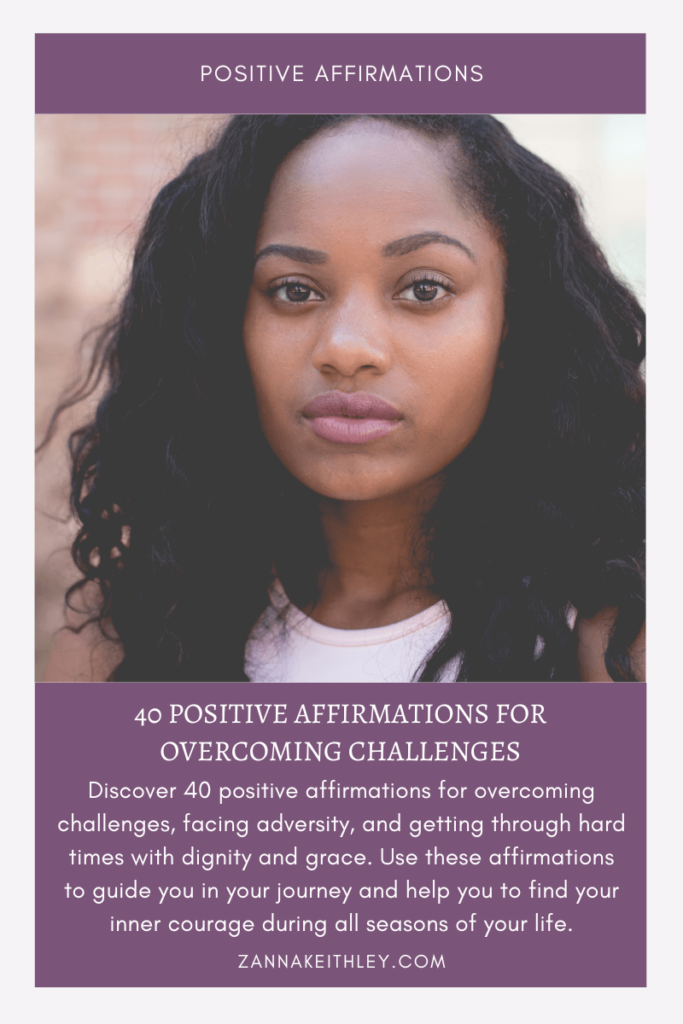 Facing Challenges and Adversity
I use positive affirmations often throughout my day, but I've found that the times I need them the most is when I'm facing a challenge or difficult situation. However, in order for a positive affirmation to truly help me with the challenge I'm facing, I can't just say something positive; I have to truly feel it in my bones.
What does this mean?
Let's say you wake up knowing that today's going to be a particularly difficult day. You look at yourself in the mirror, take a deep breath, and say, "I have all the tools I need to handle anything that comes my way today."
These words alone won't help you – not if you don't truly believe them.
And beyond that, you have to live them as well.
That means that when you're dealing with obstacles and challenges, instead of giving in to the negative feelings that weigh down on you, you have to go back to your empowering words. Repeat them. Feel them. Live them.
I have all the tools I need to handle anything that comes my way today.
I am strong, capable, and competent.
I've got this.
But it doesn't stop here.
Because it isn't really just about "handling" or "getting through" obstacles and roadblocks.
It's about knowing in your heart that these hard times are serving some kind of purpose. It's about being willing to receive the lessons that the difficult moments can teach you. It's about discovering the beauty that can be found in life's messy moments.
And it's also about trusting that if things aren't working out the way you want them to, it's often because something better is coming.
To be clear, this doesn't mean you should engage in toxic positivity. You don't have to force yourself to pretend that the hardships don't hurt.
One of the most profound experiences I've encountered over the last several years was when I was going through a rough patch, and I found myself crying daily, feeling sad and lost and uncertain about my future.
I allowed myself to feel all of that pain, but even in the sadness, I still had deep trust that everything would work out for me. I knew in my heart that I would become stronger for this experience. I gave myself permission to explore the depths of my emotions fully while still knowing that the universe would support me and have my back no matter what.
After walking through that experience with faith and trust, I became a little less afraid of future challenges and roadblocks. I knew that in some way, every experience I encountered was a gift, no matter how heavy the world often felt.
I believe we're all capable of handling so much more than we realize. You are so much stronger and braver and more powerful than you know. You have the ability to face any obstacle, and you also have the ability to step back and discover how your greatest challenges can often be your greatest gifts.
Below are 40 positive affirmations for overcoming challenges, facing adversity, and walking through hard times with dignity and grace. I hope these affirmations remind you that you are strong, capable, and resilient, and that you are capable of meeting all challenges with faith, courage, and undeniable resilience.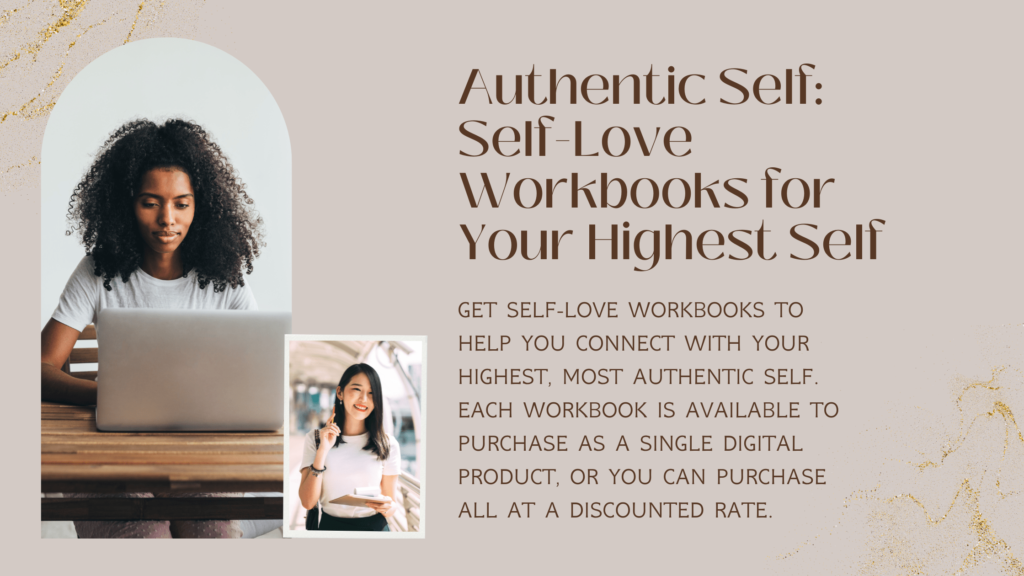 Affirmations for Overcoming Challenges
I am grateful for adversity because it allows me to grow.
There is a benefit and an opportunity in every experience I have.
My strength is greater than any struggle.
All experiences I encounter shape me to be the highest version of myself.
I am equipped with all the tools I need to walk through this experience with dignity and grace.
I trust and believe that everything is always working out for my highest good.
I cultivate deep courage and compassion within my mind, body, and spirit.
Everything is unfolding in perfect timing. I release worry and choose to trust.
I trust that the universe gives me exactly what I need at exactly the right time.
I am trusting. What's meant for me is already mine. I am exactly where I'm meant to be.
My energy is not reserved for worrying. I use my energy to trust, believe, and have faith.
Even when something doesn't happen how I wanted, I know I'm on the right path.
I surrender my resistance and allow the universe to give me what I need.
I choose to find hopeful and optimistic ways to look at obstacles and roadblocks.
I make the best and most out of everything that comes my way.
When I'm feeling overwhelmed, I give myself space to stop and breathe.
I have the strength and resourcefulness to handle anything that comes my way.
My ability to conquer my challenges is limitless. My potential to succeed is infinite.
I am unafraid to try and fail. I welcome the growth that comes from these experiences.
I am able to release negative thoughts and feelings that do not serve me.
I am willing to believe that things will always work out, even when they don't feel like it.
I cannot always control my external world, but I can control my reactions to it.
I let go of worries that drain my energy.
Instead of focusing on what's going wrong, I focus my energy on what's going right.
External forces cannot dampen my resilient spirit.
I trust my inner knowing in the face of uncertainty.
I may stumble, but I never stay on the ground.
I may make mistakes, but I don't quit.
I am kind and compassionate toward myself when I make a mistake.
Mistakes do not equal failure.
Mistakes do not define me. I am allowed the grace of imperfection.
I am able to find lessons in my losses.
I use failure as a stepping stone to success.
All of my problems have solutions.
Obstacles are the foundation of my success.
I rise in the face of adversity.
No matter what happens, I remain aligned with faith, trust, and love.
The universe always has my back.
I can do hard things.
I am resilient.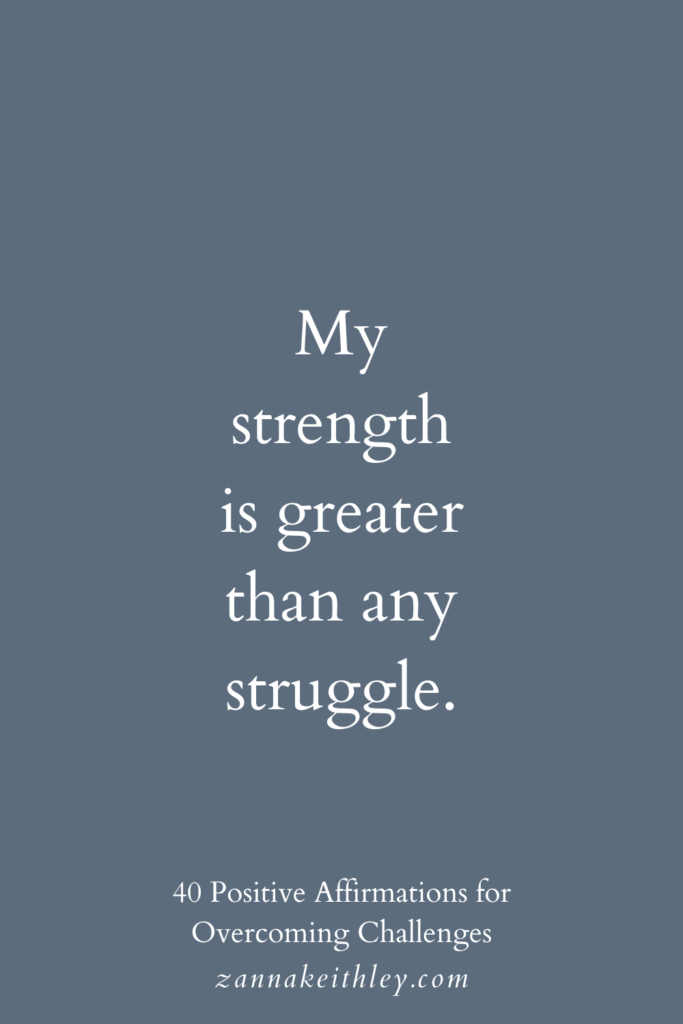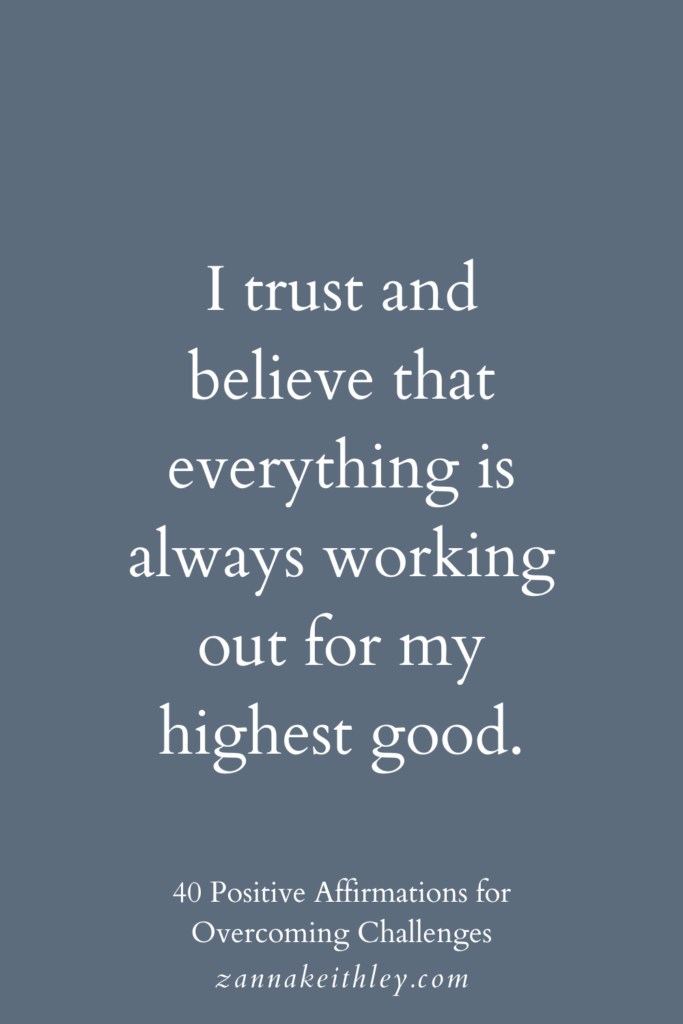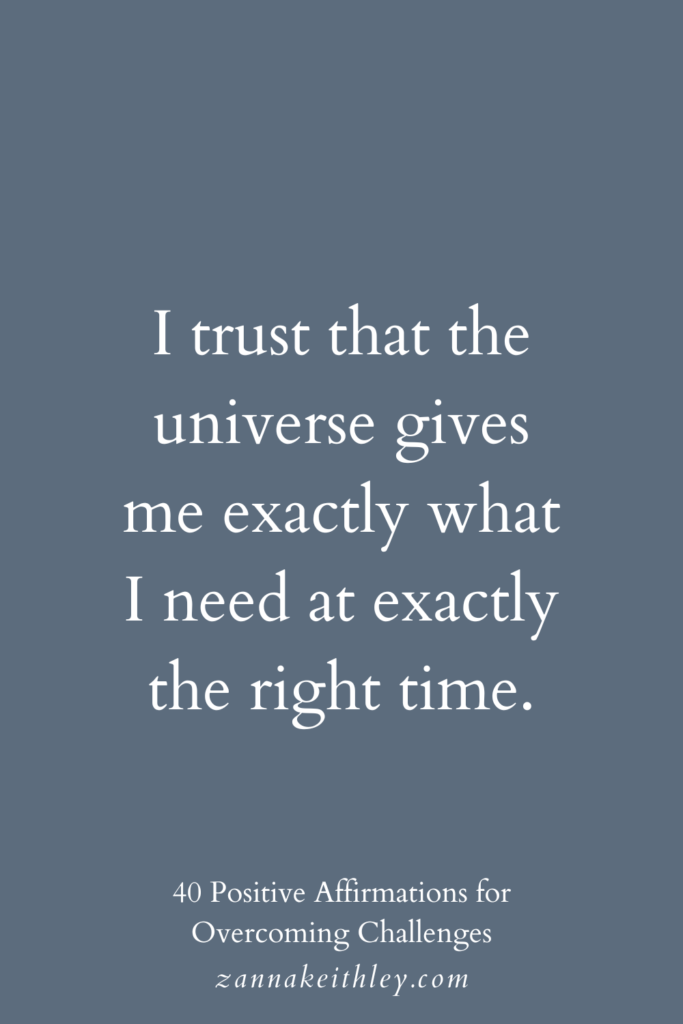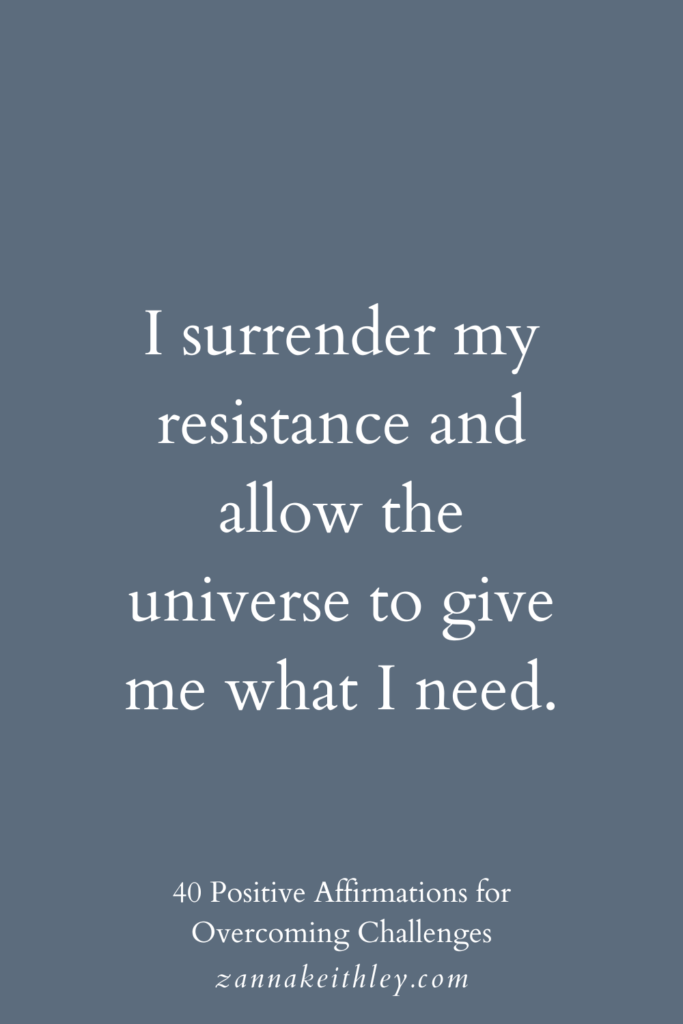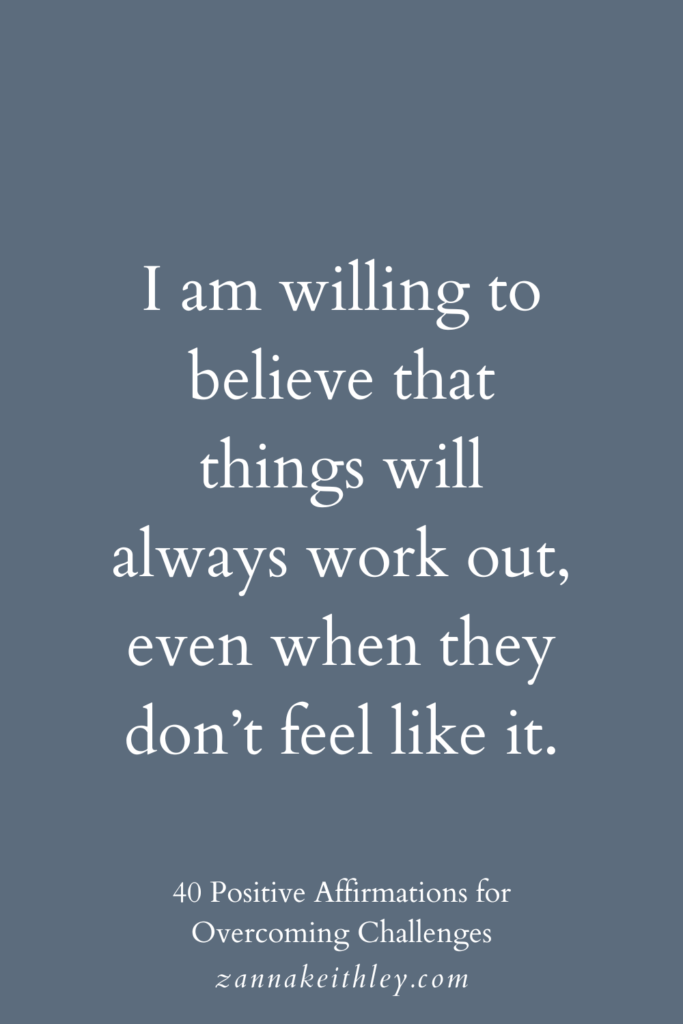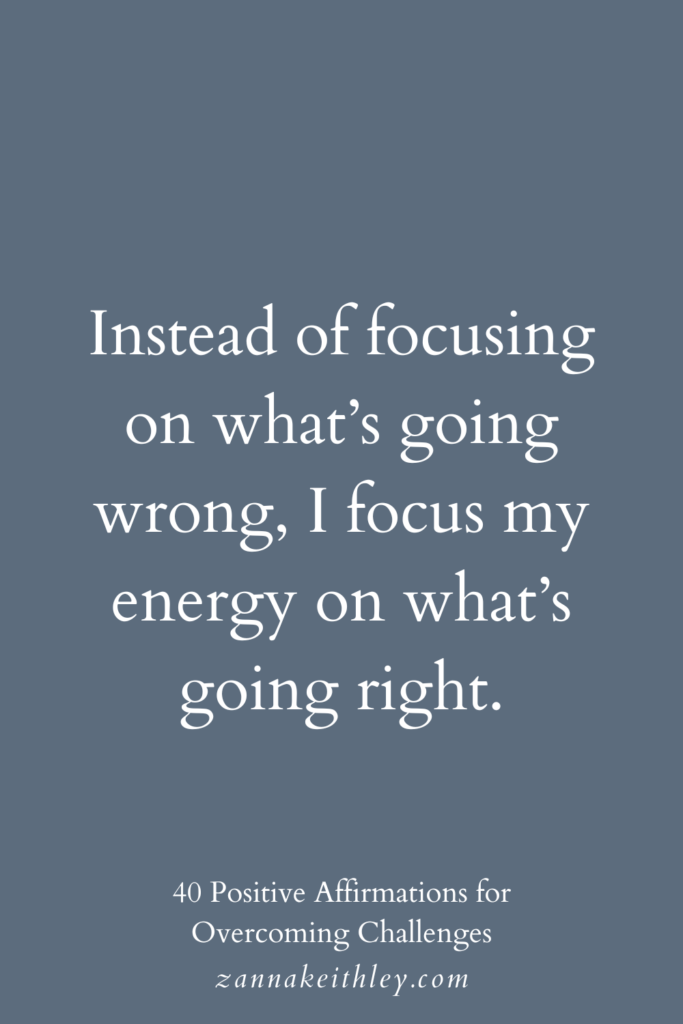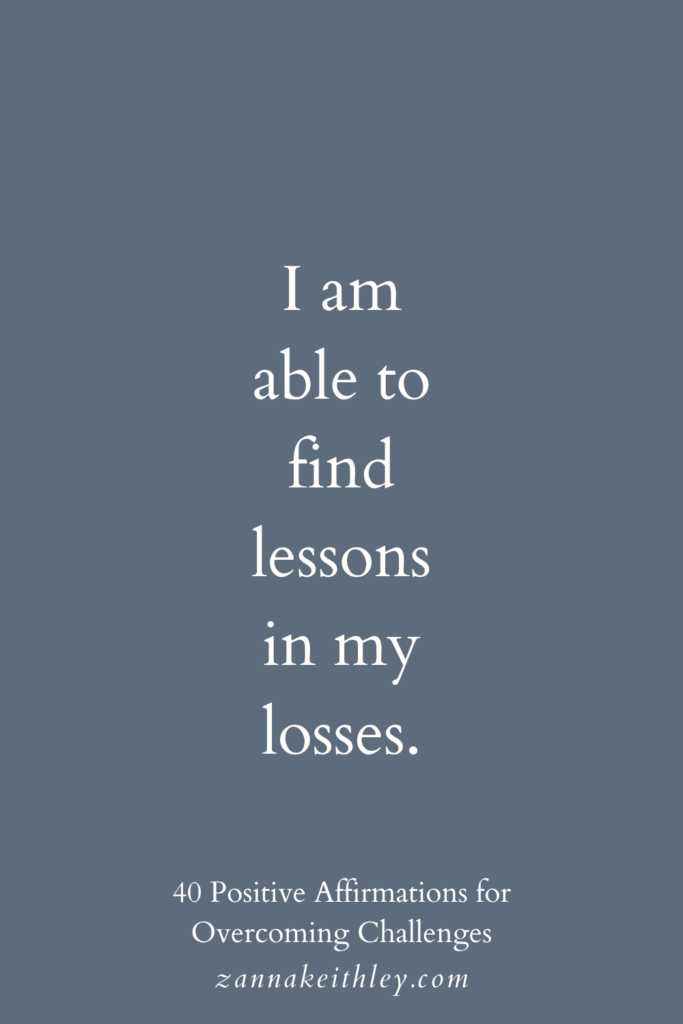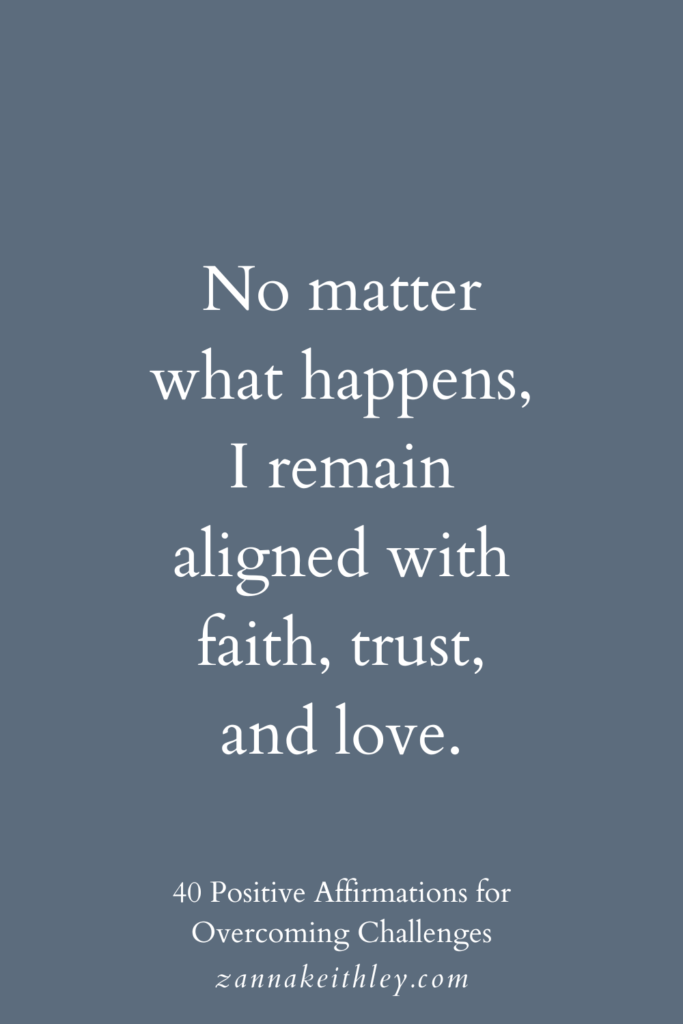 ---
What practices help you to overcome obstacles and challenges? Share your best tips and favorite practices in the comment box below!
And if you want to add uplifting affirmations to your daily routine, be sure to connect with me on Instagram, where I post daily affirmation stories every morning! And don't forget to follow me on Pinterest, where I'm pinning positive affirmations and inspiring quotes every single day.
More Articles You May Like
---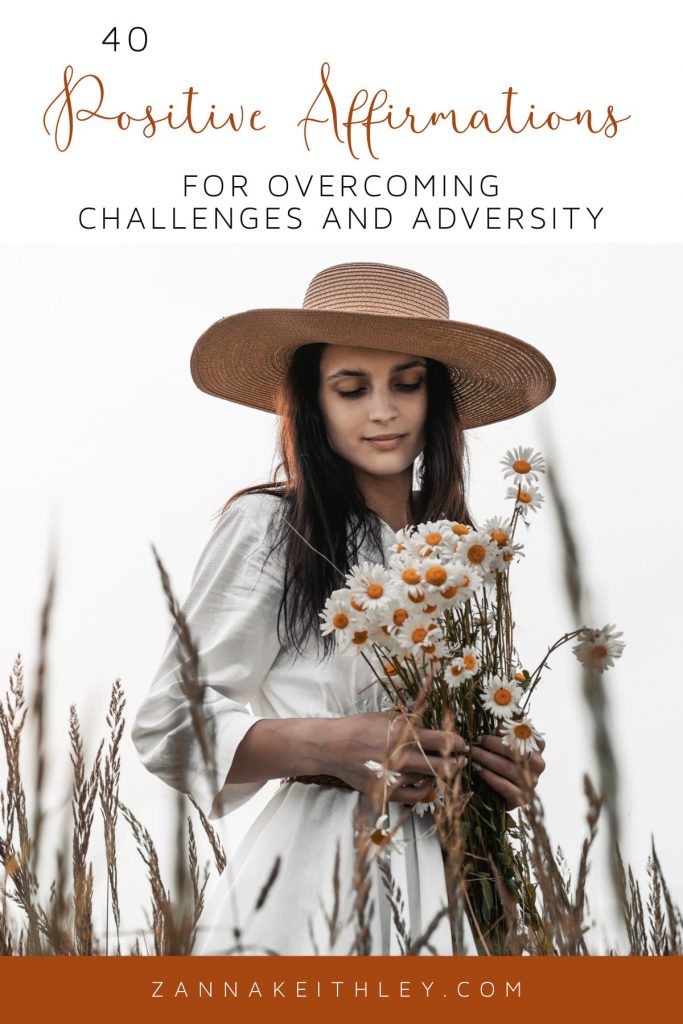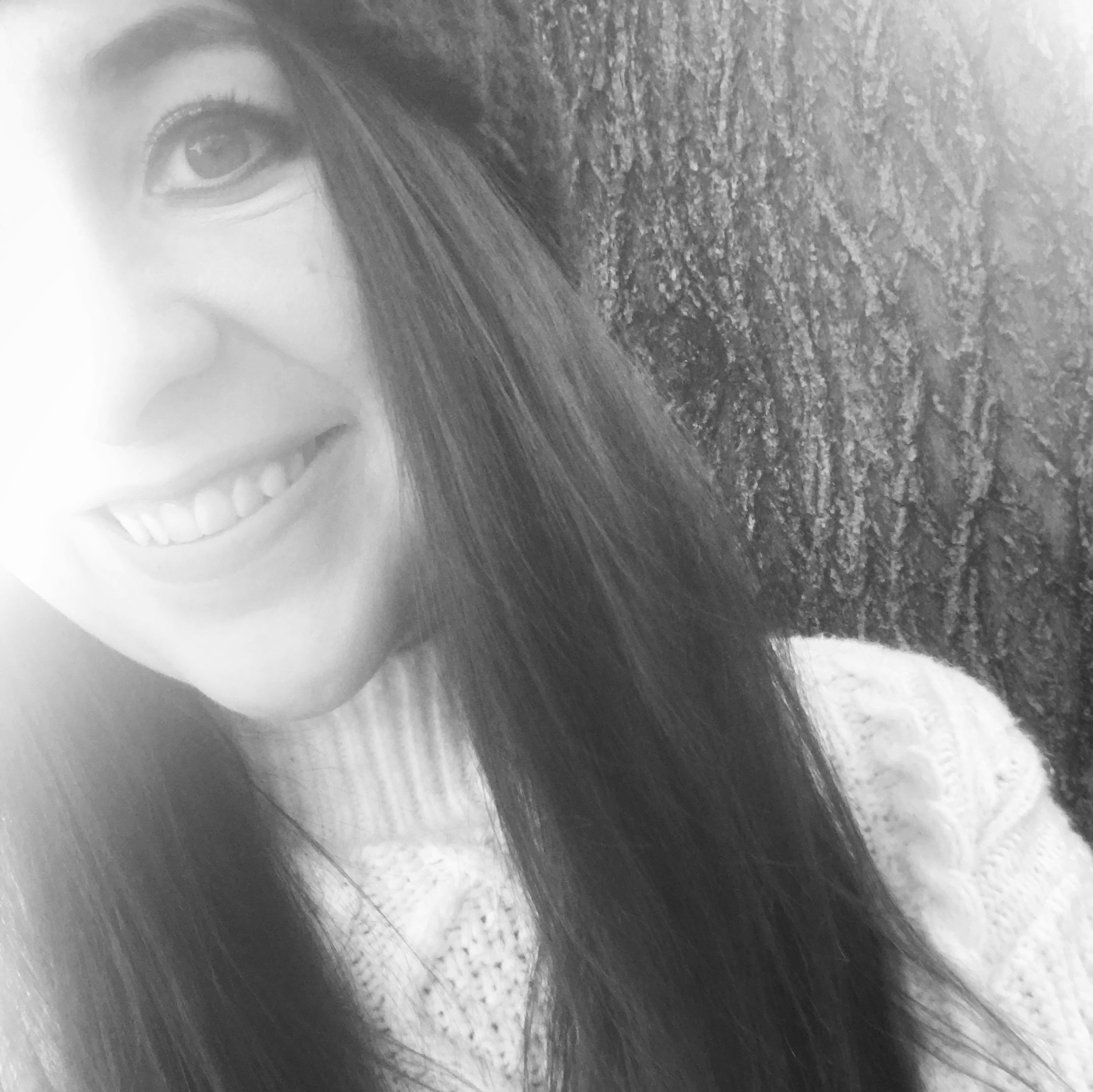 Hi, I'm Zanna! I'm a blogger/freelance writer living in Boise, Idaho. My mission is to help you break through the barriers holding you back from accessing infinite abundance and to inspire you to gather the courage and confidence to follow your dreams.