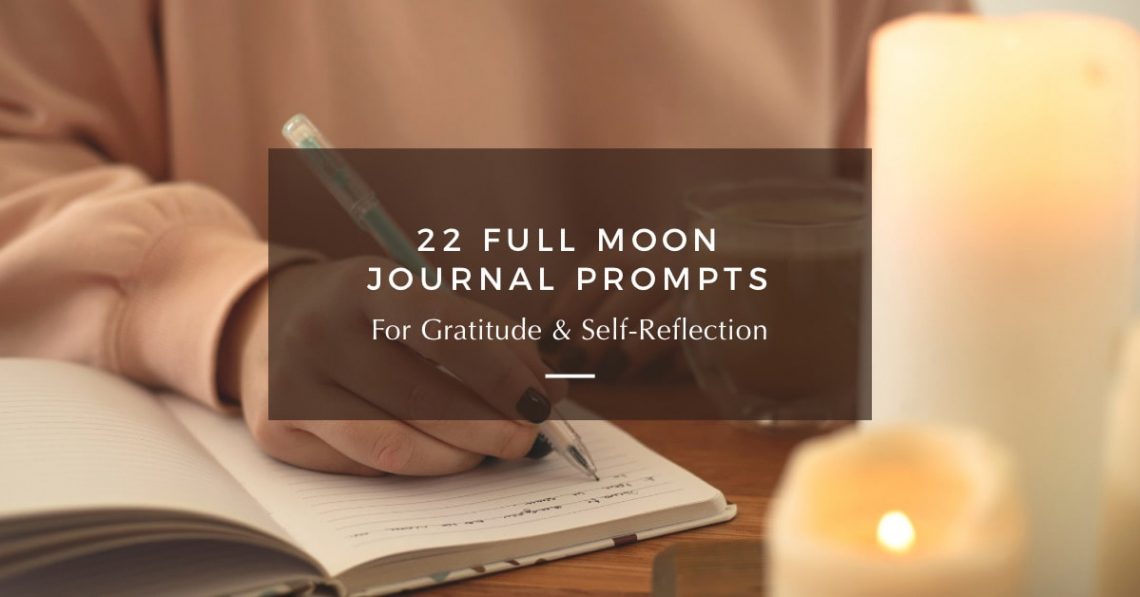 22 Full Moon Journal Prompts For Self-Reflection
In this article, discover 22 profound full moon journal prompts to help you reflect on your life's experiences, express sincere gratitude, and embrace the energy of joy, love, creativity, and inner peace. Plus download your free printable PDF with these 22 journal prompts that you can continue to use every full moon!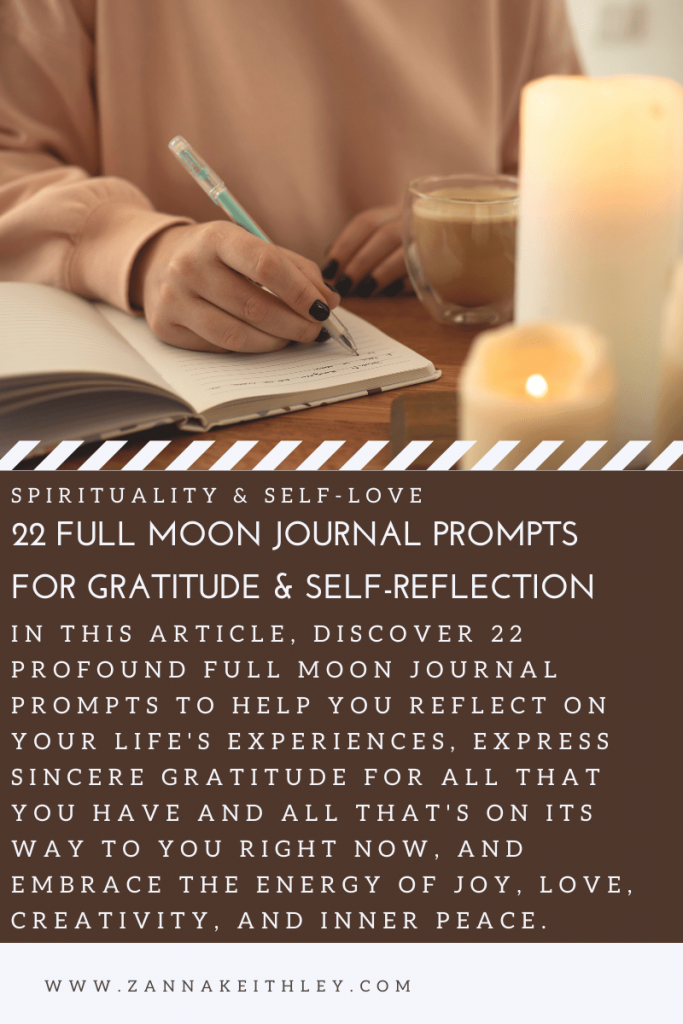 Spiritual Meaning Of The Full Moon
While the new moon offers you the opportunity to set intentions and connect to your deepest desires, the full moon allows you the chance to step back and reflect on all that you've manifested and created during this past lunar cycle.
It's likely that you often find yourself in creation mode: working towards your dreams, setting intentions, following your intuition, and taking the next step to manifest your desires. Creation is beautiful and exhilarating, but it's important to also take time to pause, reflect, and just be for a little while.
The full moon is the perfect time to embrace the pause as you sink into silence and reflect on all that you've done and accomplished over the past month.
More than anything, the full moon is all about embracing gratitude. Even if you're not where you ultimately want to be, you are exactly where you're meant to be in this moment.
Have gratitude for your journey and how far you've come. Appreciate your own resilience and strength as you've continued on this journey, even when it would've been easier to turn back. Express sincere thankfulness for all that you have and all that's coming.
During the full moon, your emotions will likely be amplified. While you're not actively trying to manifest anything new during this time, your heightened feelings can contribute to your overall manifestations in a powerful way.
Gratitude and love are the highest vibrations, so as you choose to focus on gratitude, allow the feelings of true appreciation light up every cell of your being. Use positive affirmations rooted in love, joy, peace, and abundance to keep your vibration high.
During this time, you may feel called to embrace your inner creativity. Take some time away from work and your never-ending to-do list. Give yourself permission to create simply for the sake of creating: not to be productive, not to accomplish anything, and certainly not because your creations have to be good. Create through the energy of joy, love, and passion. Paint, write, draw, mold, build – whatever you do, do it because it feels good to you. Allow yourself to remember what it feels like to create something just because.
The full moon is a profound time to do the following:
Express gratitude
Reflect on all that you've created and manifested during this past lunar cycle
Use positive affirmations to keep your vibration high
Express your creativity in a fun way
Take a night off from your to-do list to do something that brings you joy
Embrace positive feelings and emotions
Surrender, allow, and just be.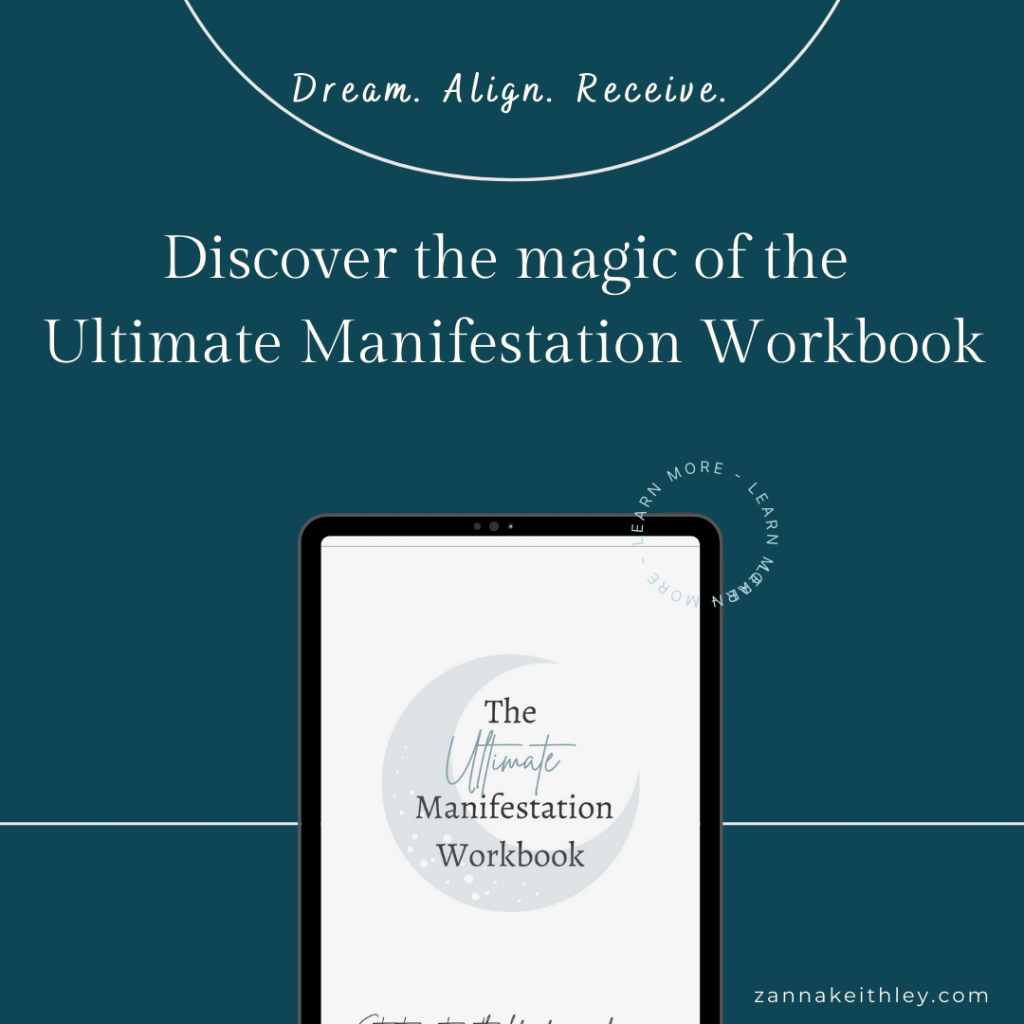 Full Moon Journal Prompts
Below, you'll find full moon journal prompts for expressing gratitude, reflecting on your life's experiences, and embracing uplifting and creative energy. During the full moon, give yourself time to focus solely on your own inner world. You might journal under the full moon, or create a safe, sacred space using candles, essential oils, crystals, and anything else that feels good to you.
Take a break from the hustle of daily life. Go within and discover the beauty of your own inner world.
Journal Prompts
What about my life am I grateful for right now?
What has happened in the past month that I feel most grateful for?
What obstacles and challenges have taught me meaningful life lessons recently?
What do I appreciate about my own mind, body, and spirit?
What positive qualities do I possess that I especially love about myself?
What about this time of year makes me feel most grateful?
What's one of my favorite memories from the past month? What do I appreciate most about that moment in time?
How does abundance show up in my daily life?
Even if I'm not where I ultimately want to end up, in what ways am I exactly where I'm meant to be in this moment?
What have I manifested recently?
What big miracles have shown up for me in the past month?
What tiny miracles show up in my world every single day?
What signs and synchronicities have shown up in my outer world?
In what ways does the Universe speak to me?
What evidence do I see in my life of the Universe always looking out for me? What are some visible and non-visible signs of the Universe's love?
What are 10 positive affirmations that my soul most needs to hear in this moment?
What does it mean to me to pause and surrender?
Why is it important for me to take time to simply pause and just be?
What are my favorite creative practices?
How can I express my creative energy in a fun and soul-nourishing way?
What do I love most about my life right now, exactly as it is?
What do I love most about myself right now, exactly as I am?
---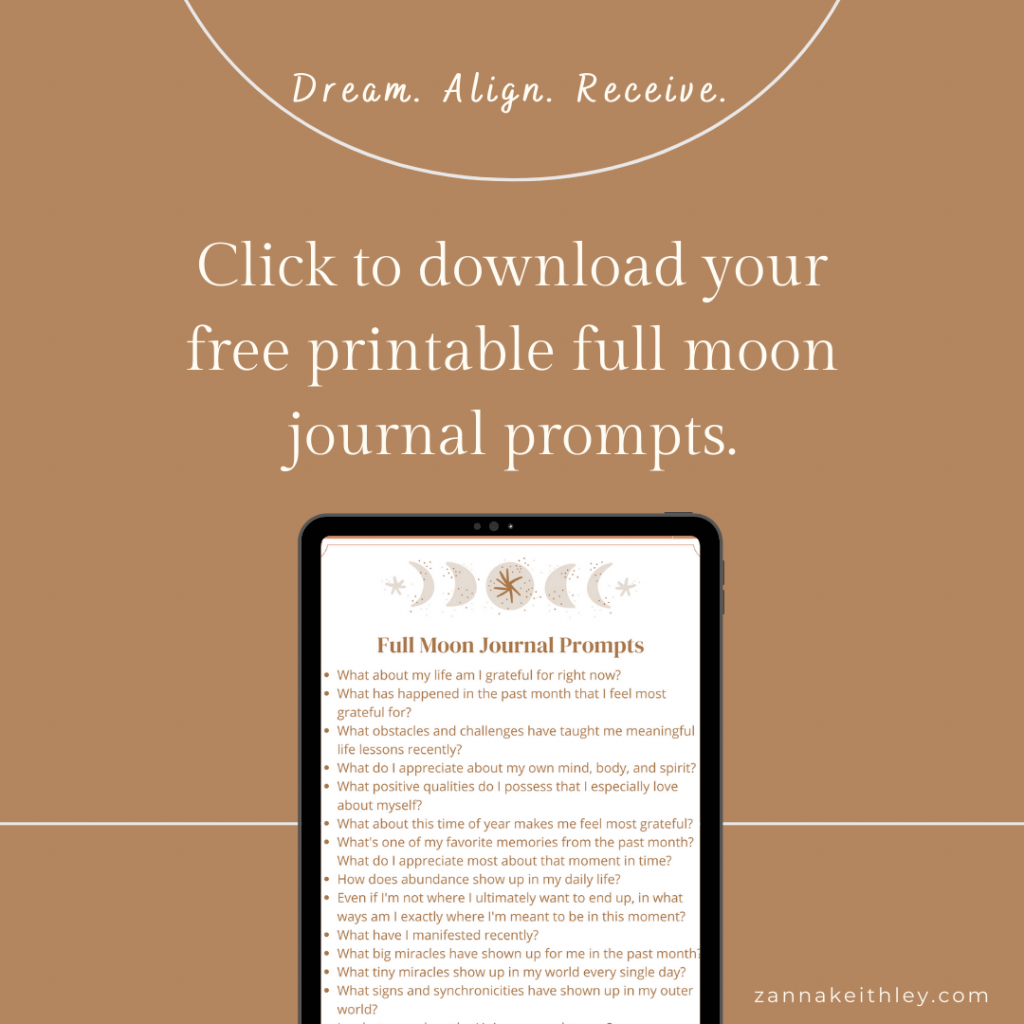 ---
What are your favorite full moon practices? Share your tips and experiences in the comment box below!
And for more resources on spirituality, meditation, manifestation, and all things self-love, be sure to connect with me on Instagram and Pinterest, where I'm posting positive affirmations and empowering messages daily.
---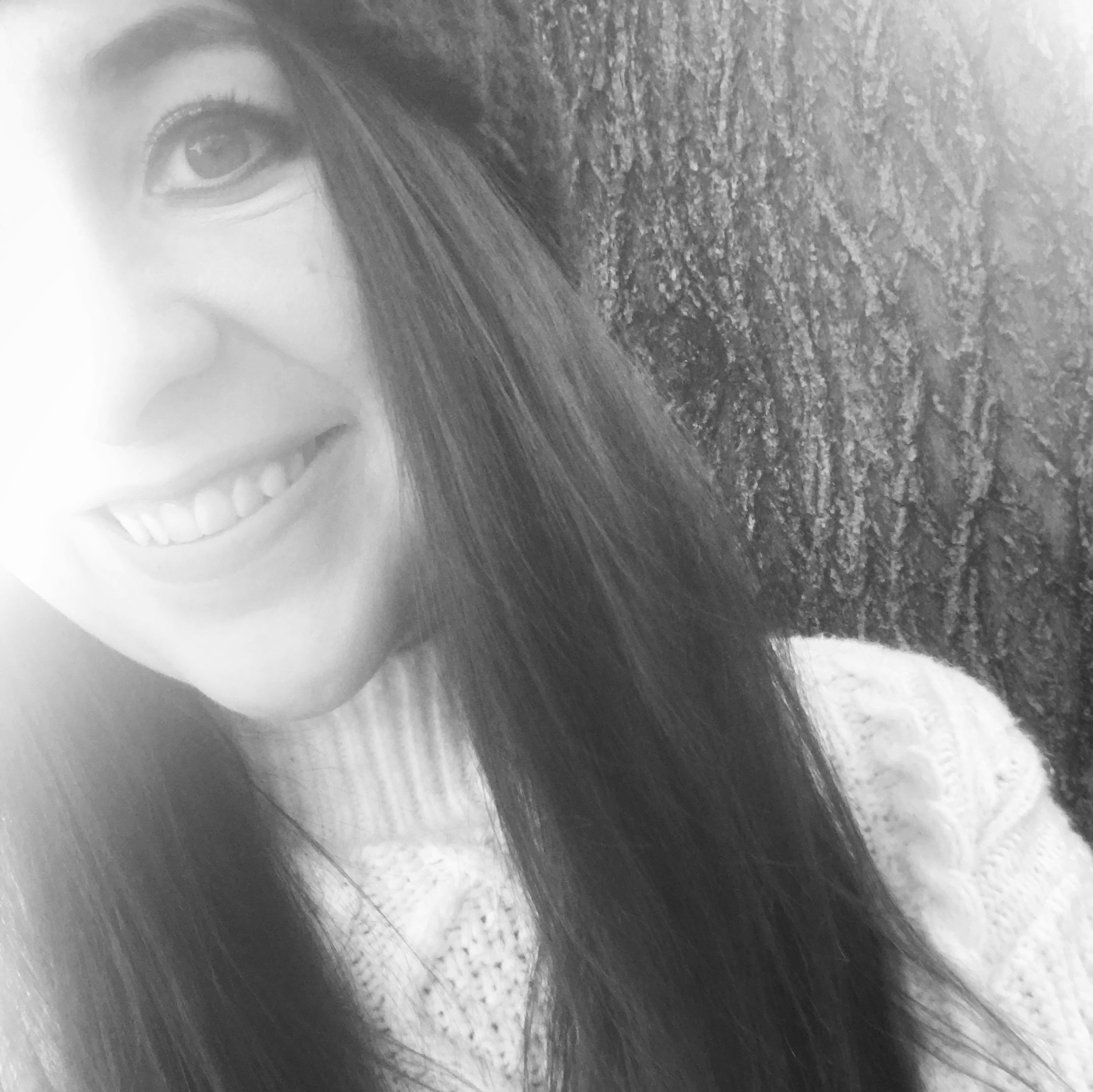 Hi, I'm Zanna! I'm a blogger/freelance writer living in Boise, Idaho. My mission is to help you break through the barriers holding you back from accessing infinite abundance and to inspire you to gather the courage and confidence to follow your dreams.