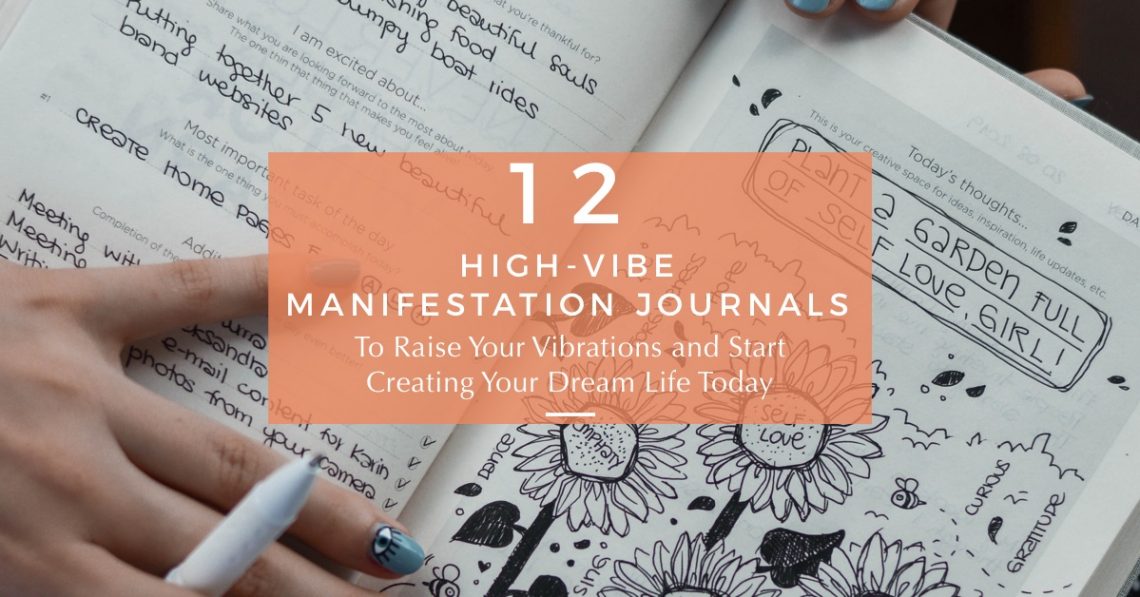 12 Manifestation Journals to Raise Your Vibrations
Are you looking for that perfect manifestation journal to raise your vibrations and create the life of your dreams? Whether you're just starting out or an experienced manifestor, there's something for everyone below! Short on time? No worries there; some of these journals you can complete your entry in as little as five minutes a day.
Disclaimer: This post contains Amazon links. As an Amazon associate I earn from qualifying purchases. If you purchase a product using my link, I may receive a small commission at no extra cost to you. You can read my full disclosure policy here.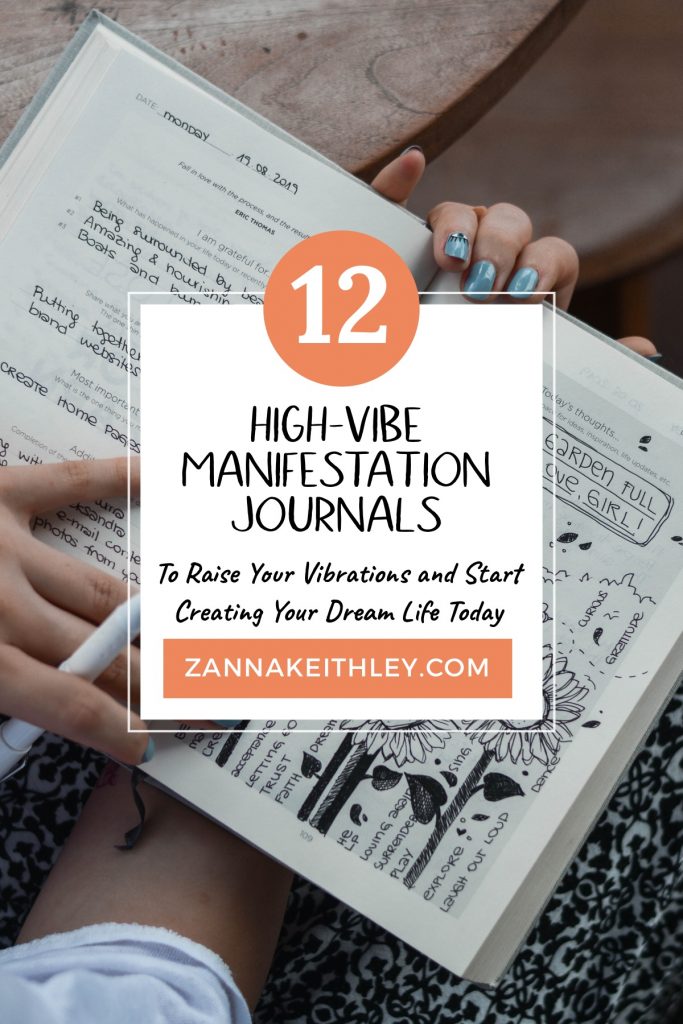 The Search for the Perfect Manifestation Journal
When I decided to go on the hunt for the perfect manifestation journal, I thought I might create a post in which I ranked the journals from best to worst.
Quickly, though, I realized that wasn't going to be helpful for you or a worthwhile investment of either your time or mine.
Why?
Because there is no such thing as a one-size-fits-all, perfect manifestation journal. We all have different needs based on our manifestation level, our time, and maybe most importantly, our preferences.
So instead, I decided to round up the best of different types of manifestation journals to give you options according to what best fits your needs. There are no losers here – just different types of journals that focus on various manifestation methods, ranging from 5 to 30+ minutes a day.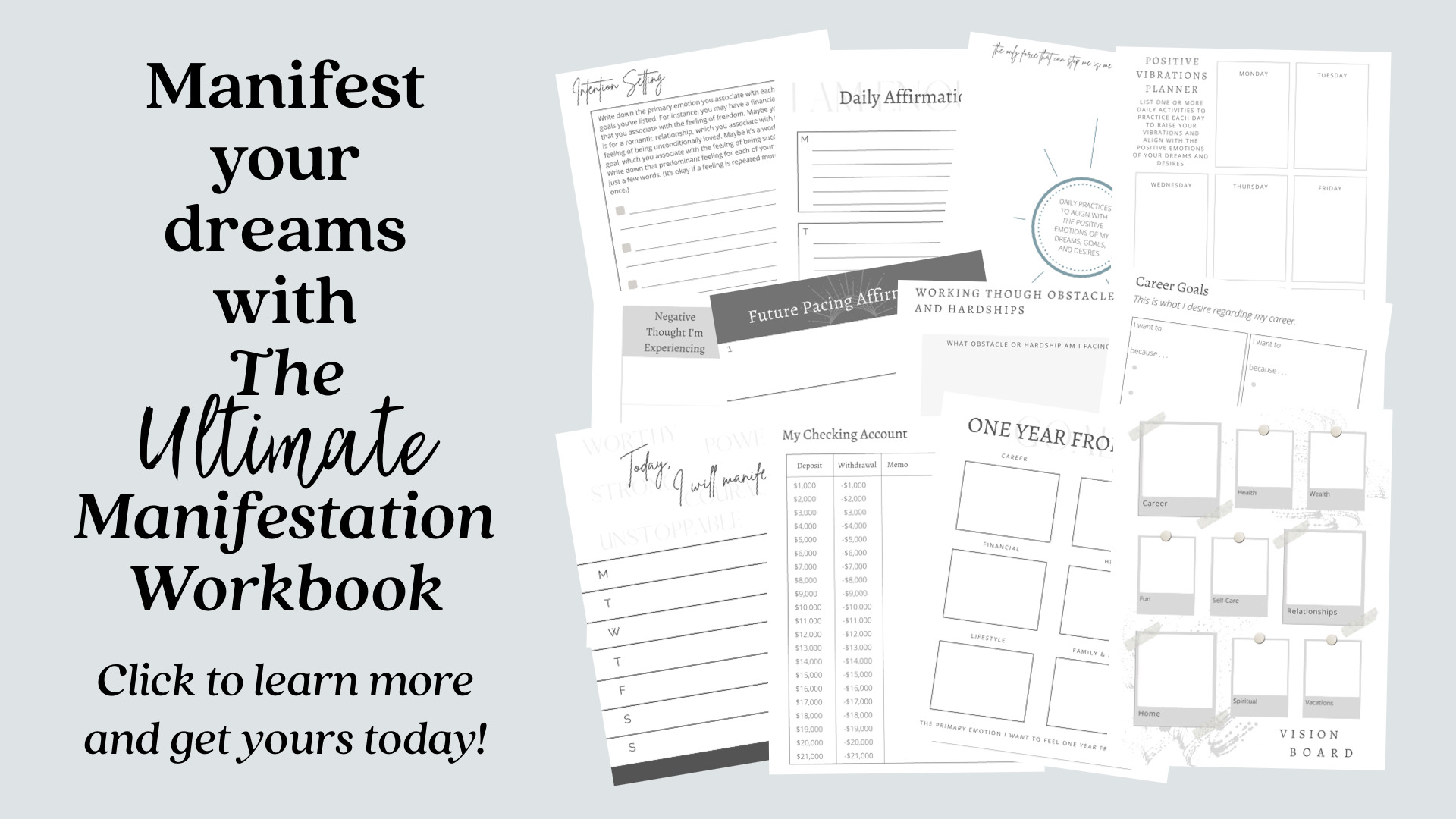 Below, check out 12 of my favorite manifestation journals to raise your vibrations and start creating the life of your dreams!
Law of Attraction Planner
Okay, this one cheats just a tiny bit because it's technically called a planner, but I promise, it's a cheat in the best way possible.
This Law of Attraction Planner has it all: journal pages, a success road map, productivity stickers, and so much more. Like a normal planner, there's space to write your appointments, meetings, and other scheduled activities in the weekly calendar pages. I love that these pages also have a Positive Habit Maker where you can track habits such as gratitude, meditation, and anything else you want to make a positive habit in your life. There'a also monthly calendars in which you can write feel-good intentions, desired goals, and action steps, plus space to create a mind map.
I think my favorite pages, though, are the monthly reflections. This space includes lines to write down your achievements, what you learned, people who inspired you, and so much more. It also has some incredible reflection questions, such as, "Did I fully enjoy whatever I was doing this month? Was I really 'here' or was I just showing up? How can I be more present?"
And did I also mention that there's a foldable vision board?
I wholeheartedly recommend this planner/journal for both the beginner and experienced manifestor who wants to start creating the life of their dreams today.
Money Manifesting Workbook
Unleash Your Inner Money Babe: A Money Manifesting Workbook is an awesome option if you're looking to manifest financial abundance in your life. The book guides you through 21 days of exercises all centering around your money mindset. Before you begin the exercises, you set a goal for the amount of money you want to manifest. (The book recommends $1,000.) By the end of the 21 days, you'll have completely restructured your money mindset for the better, and you'll have manifested some serious cash.
Note that this one isn't purely a journal. For instance, on Day 1, you clear out your wallet (and other spaces in your home/workplace) of junk/receipts, straighten out your dollar bills, and organize your money. This shows respect for your money while promoting the flow of financial prosperity. At the end of each exercise, there are questions to reflect on that you can journal about.
If you go all-in and release your doubts and hesitations, you'll be truly amazed by the pure magic that manifests in your life when you start doing these exercises. To increase the high vibes, I recommend pairing it with a notebook that has some glitter and gold on it, like this gorgeous Do More of What Makes You Sparkle golden polka dot notebook.
The Universe Has Your Back Journal
First thing's first: this one is not a guided journal. But I wanted to include it on this list for a few reasons. Gabrielle Bernstein is a major name in the manifestation space, and she consistently produces incredible books, affirmation cards, and more to support others in their manifestation journeys.
The Universe Has Your Back Journal is absolutely beautiful and includes some high-vibe quotes and affirmations to support you in your manifestation journey. I love this option for the manifestor who wants to freely journal without strict guidance. You can also find some awesome manifestation guided journal prompts on Pinterest, so be sure to check there! Furthermore, you can use this journal for the 3-6-9 method or the 5 x 55 manifestation method, both of which I talk about below.
I'd also highly recommend checking out Gabrielle Bernstein's book, The Universe Has Your Back, and her beautiful The Universe Has Your Back Affirmation Cards to lovingly guide you through your manifestations.
Want some journal prompt inspiration? Check out these posts!
The 5-Minute Gratitude Journal
Don't underestimate the power of a gratitude journal to jump start your manifestations. Especially not one like The 5-Minute Gratitude Journal, which packs an immense amount of power in just a few minutes a day.
Every day, you're given uplifting gratitude prompts like, "One reason my life is already great," and "One beautiful reason to be happy right now." Each prompt only requires you to write a sentence or two, making this something you can do anytime in just a few minutes. Additionally, you also get an inspirational quote and a positive affirmation each day that truly helps you to cultivate feelings of joy, gratitude, peace, and trust.
The fastest and easiest way to manifest the life of your dreams is to feel grateful for what you have right now. This journal gives you the perfect foundation for allowing beautiful abundance into your life.
Gratitude: A Day and Night Reflection Journal
This is one of my favorite overall journals on this list. Gratitude: A Day and Night Reflection Journal is so much more than just a gratitude journal (though that, in itself, would be enough).
This journal gives you space to set daily intentions, write uplifting affirmations, and write about what you're grateful for and excited for every morning. Every night, it allows you to reflect on good things that happened, things you did to make a positive difference, and a positive thought to carry you to sleep.
Setting intentions, affirming your worthiness, gratitude, and positivity are the very foundation of manifestation. This journal is perfect for anyone who wants to kickstart their manifestation journey while cultivating true gratitude and joy in their daily lives.
The Book of Dreams Come True
The Book of Dreams Come True is the manifestation journal for the person who is willing to put in a little extra time to truly sit with their thoughts and write what's in their heart. It's filled with incredible journal prompts to help you release negativity and embrace joy, positivity, love, and light.
I love this journal because it truly empowers you to embrace your own creativity and imagination. This is a journal that will lead you through a journey of beautiful self-discovery, helping you to understand your goals and desires, feel gratitude for all that you have, and create the brilliant and magical life you desire.
Three Six Nine Affirmation Journal
The Three Six Nine Affirmation Journal utilizes a manifestation method in which you write your desire in affirmation form three times in the morning, six times in the afternoon, and nine times in the evening. Doing this for 33 days straight amplifies your affirmations and intentions. There's enough space in this journal to do this for two 33-day cycles.
As a huge believer in the power of affirmations, I love that this method is so simple yet profound. Each time you repeat these affirmations, you're rewiring your brain to truly believe what you're affirming. This also raises your vibrations, which is the foundation of manifestation. The journal itself is simple yet beautiful, and for less than $10, it provides you with everything you need to start manifesting the life of your dreams.
Are you looking to learn more about manifestation? Check out the posts below!
The Five Minute Journal
This one is more on par with the gratitude journals I listed above. Why am I including it? Because everything in this journal is dedicated to increasing your vibrations, which is the gateway to manifestation.
The Five Minute Journal allows you to write three things you're grateful for, three positive affirmations, and three things that would make today great. At the end of the day, you can reflect on three amazing things that happened and three things that would've made the day even better.
This journal is a great resource for providing inspiration and motivation and helping you to cultivate an outlook of positivity and optimism.
5 x 55 Journal
The 5 x 55 manifestation method is a practice in which you write your chosen affirmation 55 times in a row (in one sitting) for five days straight. The affirmation you choose should correspond with your intended manifestation. For example, "I am so happy and grateful that I received an extra $1,000 this week!"
Now, if you're side-eyeing me right now, I totally get it. It sounds almost too stupidly simple. But it's one of those things that's so simple, it actually works. The key here is to release your doubts and embrace the practice. Also, make sure to be in a high-vibrational state when you sit down to write your affirmations, and hold onto those good feelings even after you complete the practice.
You definitely don't need a special manifestation journal to complete this practice. But what I like about the 555 Manifestation Method Journal and I'm a Badass Woman and I Get What I Manifest Journal is that they cleanly divide the 55 lines so you don't have to count them. For less than $10, it's an inexpensive time saver that will carry you through your manifesting journey.
Daily Rituals: Positive Affirmations to Attract Love, Happiness, and Peace
I'll admit, this one surprised me. At first glance, I thought it was just a book on affirmations, which is great – just not what I wanted when looking for manifestation journals.
But I was wrong.
The Daily Rituals workbook is all about lifting your vibrations so you can attract similiar high-vibrational objects, people, and experiences into your life. Each chapter has a powerful affirmation with an explanation/definition of that affirmation. After the affirmation, there's a powerful exercise to complete and a profound journal prompt that will help you to cultivate joy, gratitude, and unconditional self-love.
To increase the high vibes, I like to pair this workbook with this beautifully crafted The Universe Journal.
This Year I Will: A 52-Week Guided Journal to Achieve Your Goals
Do not sleep on this book. It is an absolute powerhouse.
The prompts in the This Year I Will Guided Journal read as a step-by-step guide to manifestation. You start by identifying your goals and your why. Then there are visualizations for how you'll feel when you achieve these goals and what a day in your life will look like once you have what you desire. And this is just the beginning. Once you get to the weekly reflections, you truly dive deep into a treasure chest of uplifting thoughts and good vibrations. There is so much goodness in this book, I can't rave about it enough.
The one key difference between this journal and the others on this list is that it's more of a weekly journal than a daily journal. Depending on your preferences, this might be a positive or a negative. Even if you're looking for more of a daily journal, I'd definitely recommend using this journal in addition to one of the daily journals on this list. Trust me; it's worth it.
100-Day Guided Manifestation Journal
If you're looking for a pure manifestation journal, it'd be hard to beat this one. The Law of Attraction 100-Day Guided Journal has everything you need in a manifestation journal. It's a guided journal filled with powerful prompts and daily affirmations, plus directions and words of wisdom. Even on your toughest days, this journal will guide you to living as your highest and most authentic self.
And did I mention it's also really, really pretty? This is one of those journals that's almost too pretty to write in. (But do it anyway, because it's so worth it.)
---
Want some incredibly powerful affirmations to help guide you in your manifestation journey? Be sure to check out my free ebook, 400 Powerful Affirmations Designed to Uplift, Inspire, and Empower Your Highest Self.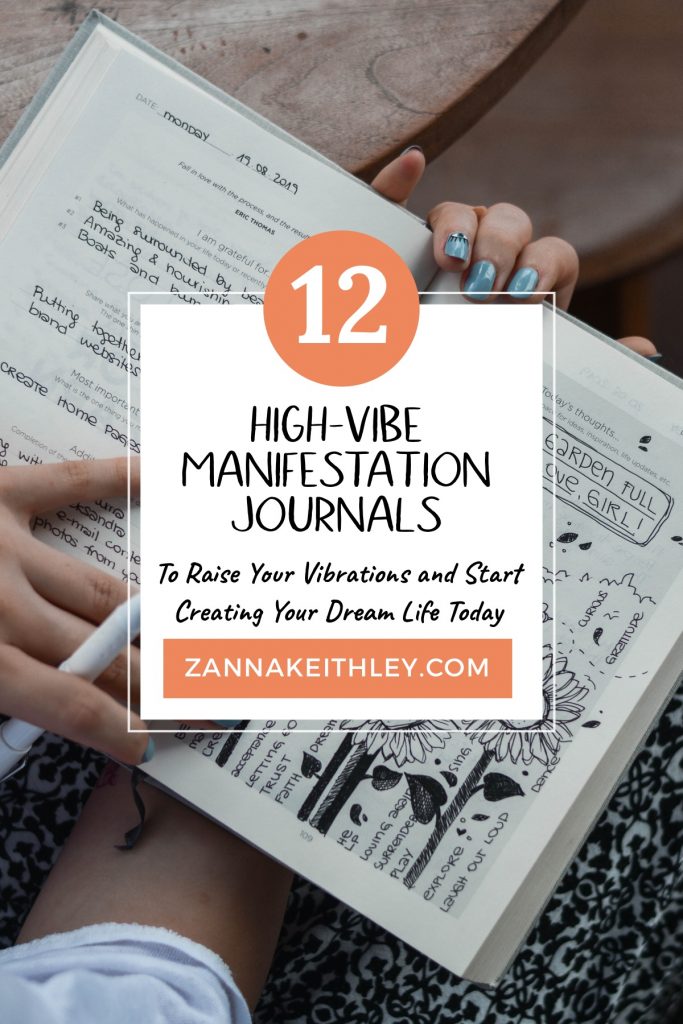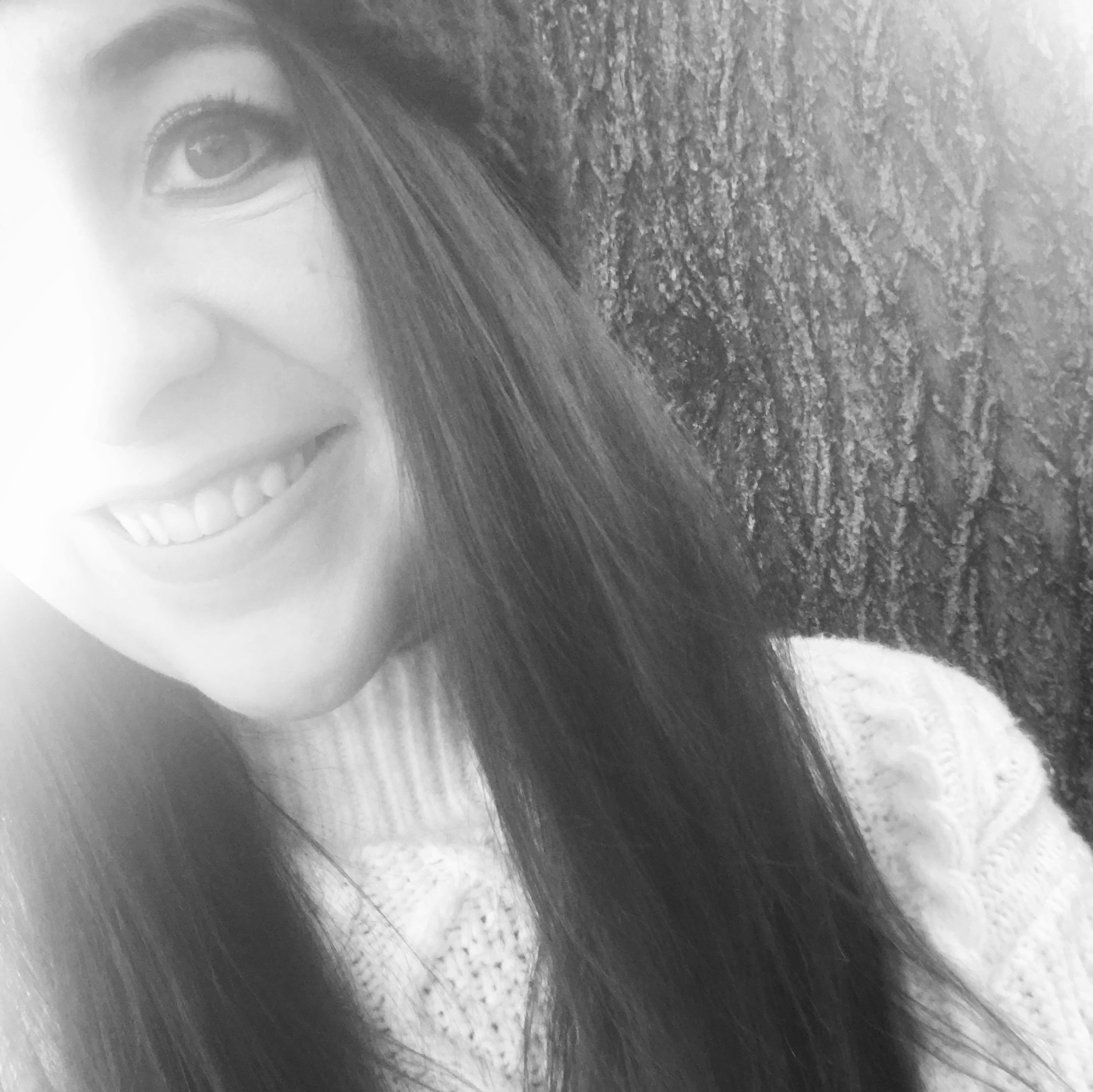 Hi, I'm Zanna! I'm a blogger/freelance writer living in Boise, Idaho. My mission is to help you break through the barriers holding you back from accessing infinite abundance and to inspire you to gather the courage and confidence to follow your dreams.