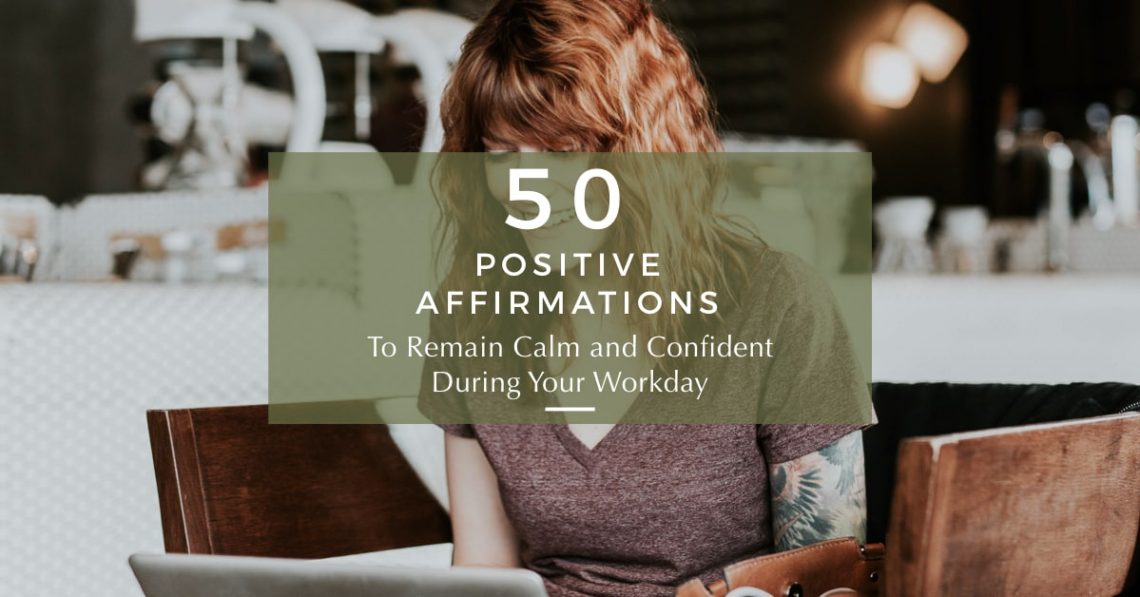 50 Positive Affirmations for Work Confidence and Success
Do you find yourself approaching your workday with a pessimistic attitude and negative thoughts? Do you often feel stressed and agitated while you're working? Below, discover 50 positive affirmations for work that will help you to remain calm, confident, and centered no matter what's happening in your external world.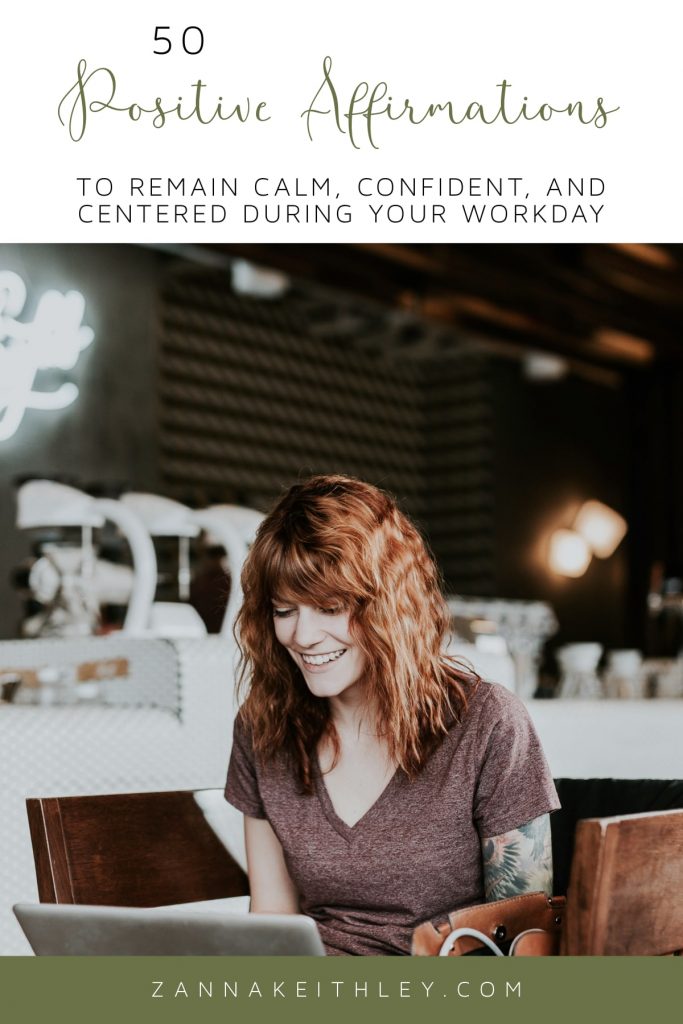 Creating a Positive Work Mindset
I used to spend every morning as I got ready for work drowning in nonstop negativity.
At the time, I wasn't doing work that I felt passionate about. Every morning, I'd show up to the office as early as possible, one of the first ones there, just so I could get the day over with and get out of there as soon as I could.
Deep within, I felt empty and lost. I knew this job wasn't for me, but I had no idea how to get out of it. It paid me decently, plus offered good benefits. That should've been enough, right? It felt selfish to desire anything more.
Maybe this is just how life is supposed to be, I thought. Maybe nobody is supposed to be happy in their jobs. You just show up for forty years and put in your time until you finally get to retire.
On top of that, I really, really didn't like my boss. In the morning, as I got ready for work, I'd run through all of the things he'd done recently that made me unhappy. Then, I'd play stories of made-up scenarios in my head where I'd picture him saying and doing even more frustrating things to make me angry.
So it's not a stretch to say I'd spend a good one to two hours every morning swimming in a sea of pessimism, gloom, and negativity.
And that was all before I even walked out my front door.
Looking back, I can see just how much I allowed external factors to influence my mindset.
Because the truth is, even if I didn't like my job, the job itself had no inherent power over my emotions. And even if my boss wasn't my favorite person, he didn't have power over my energy, either.
I am the only one in charge of my energy.
Every single day, I choose how I feel.
Not my boss. Not my coworkers. Not customers or clients.
Only I can choose what energy comes in and what goes out.
It wasn't until I dedicated myself to a consistent morning routine that included meditation, journaling, and positive affirmations that I started to notice shifts in my mindset. More than anything, these practices showed me just how much I was letting negativity control my life.
And it was then that I decided to make a change: to take back my story and not let anything outside of me dictate how I feel.
Do you work in a job you love? Or is it one that pays the bills but doesn't feel like it's where you're meant to be? Are you miserable in your job, only showing up for a consistent paycheck?
No matter your circumstances, you are the only one who can determine what energy you let in, and you're also the only one who can decide what energy you put back out in the world.
Know this:
You deserve to work in a career you absolutely love.
You deserve to be excited every single morning about the day ahead.
You deserve to fall more and more in love with what you do every single day.
And if you're not there yet, that's okay. Choose to view your current position as an opportunity for growth. Find little things every day to be grateful for.
Instead of falling into the trap of stress and anxiety, take deep breaths and allow a wave of calm to wash over your body.
Trust that you are exactly where you're meant to be right now, and this is leading you to somewhere greater.
How to Use These Affirmations
The 50 positive affirmations for work below are designed to instill positivity, confidence, and peace within. These affirmations are meant to remind you of your inner power and give you the courage and strength to face anything that comes up during your workday.
Some of the affirmations are written to help you cultivate a positive mindset as you get ready for work, and others are midday pick-me-ups that you can use while you're at work.
Here are some easy yet effective ways to use positive affirmations:
Write down 3 to 5 positive affirmations every morning.
Repeat positive affirmations while showering, getting ready for the day, and on your morning commute.
Set up phone notifications that will pop up intermittently throughout the day with uplifting affirmations written on them.
Stick post-it notes around your workspace filled with empowering affirmations.
Make a pact with a friend that you'll text uplifting messages to each other throughout the day.
Create a Daily Affirmations board on Pinterest that you can scroll through every time you need a quick pick-me-up.
Say three positive affirmations every night before going to bed.
(I also post daily affirmations on my Instagram stories every morning, so be sure to connect with me there, too!)
Additionally, start paying attention to your thoughts. Whenever you realize you're having a negative thought that doesn't serve or support your total well-being, take control of your thoughts and choose to recite empowering affirmations to yourself instead. You'll be amazed at how quickly and profoundly your whole world shifts once you start cultivating a more positive mindset.
Positive Affirmations for Work
I wake up today feeling calm, centered, and grounded.
I am strong, confident, and empowered.
I am capable and equipped to handle anything that comes my way today.
I am equipped with all the tools I need to succeed.
I inhale positive energy and exhale my worries.
No matter what happens, I will offer my best self today.
I make the best and most out of everything that comes my way.
I am in charge of my own energy. I'm the only one who chooses how I feel.
Today, I choose to feel calm, grounded, peaceful, and secure.
When I'm feeling overwhelmed, I give myself space to stop and breathe.
I can accomplish anything I focus on.
I am committed, focused, and persistent.
I am worthy of being praised and rewarded for my efforts.
I am worthy of unconditional respect and acceptance.
My presence is welcomed and appreciated by others.
I choose to give my smile freely and spread joy to others.
I am surrounded by uplifting, supportive people who believe in me.
I lovingly lift up my coworkers and never put them down.
I am able to ask for and accept help when I need it.
My contributions are meaningful, valued, and rewarded.
I am courageous and stand up for myself.
I am superior to negative thoughts and low actions.
I am able to release negative thoughts and feelings that do not serve me.
I let go of worries that drain my energy.
Instead of focusing on what's going wrong, I focus my energy on what's going right.
External forces cannot dampen my resilient spirit.
I am kind and compassionate toward myself when I make a mistake.
Mistakes do not equal failure.
Mistakes do not define me. I am allowed the grace of imperfection.
I choose to view adversity as an opportunity for growth.
There is a benefit and opportunity in every experience I have.
I am willing to believe that things will always work out, even when they don't feel like it.
I cannot always control my external world, but I can control my reactions to it.
I am equipped with all the tools I need to walk through this day with dignity and grace.
I am willing to learn, grow, and continuously evolve.
My ability to conquer challenges is limitless. My ability to succeed is infinite.
Everything I do today is enough. (And so am I.)
I am allowed to take breaks.
I am worthy of being paid highly for my time, skills, and effort.
My talents are worthy of being paid abundantly.
I am grateful for a job that provides me with a consistent income.
I am grateful for a job that provides me with opportunities to learn and grow.
I am proud of my efforts.
I am confident I can reach any goal.
I can do hard things.
I rise in the face of new challenges.
All experiences I encounter shape me to be the highest version of myself.
I can succeed. I will succeed.
All I can do is offer my best self. That is always enough.
No matter what happens today, I choose to remain aligned with my highest self.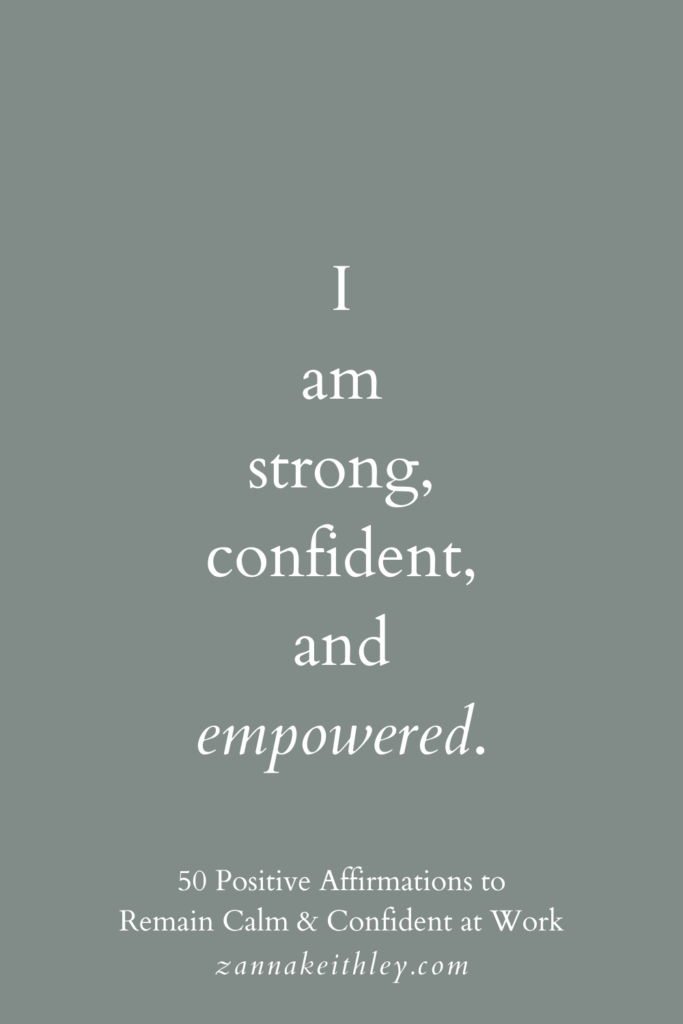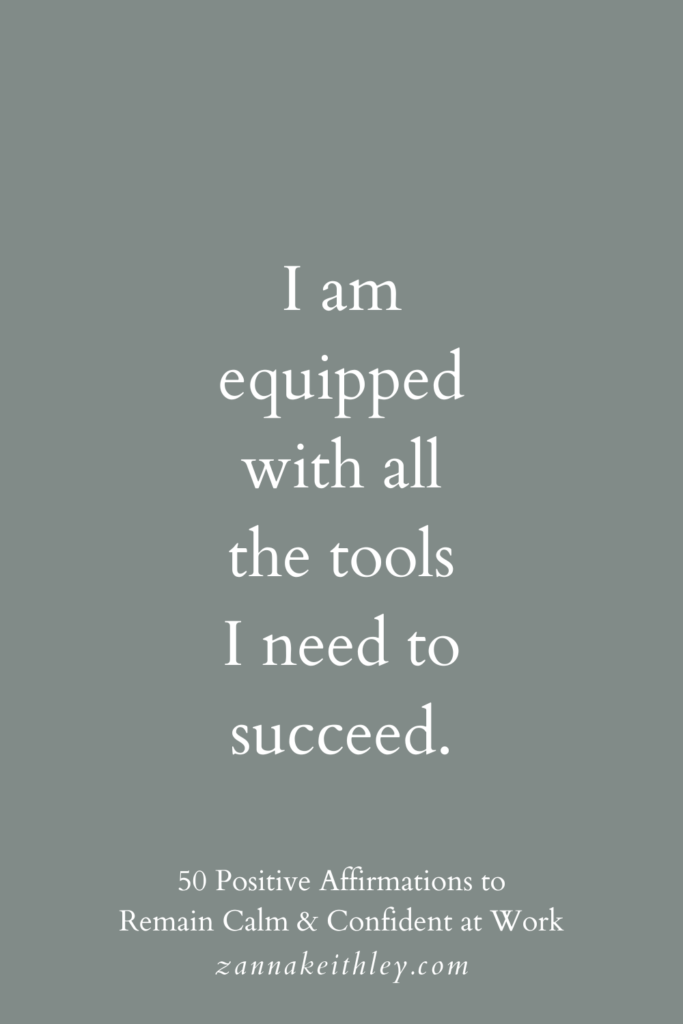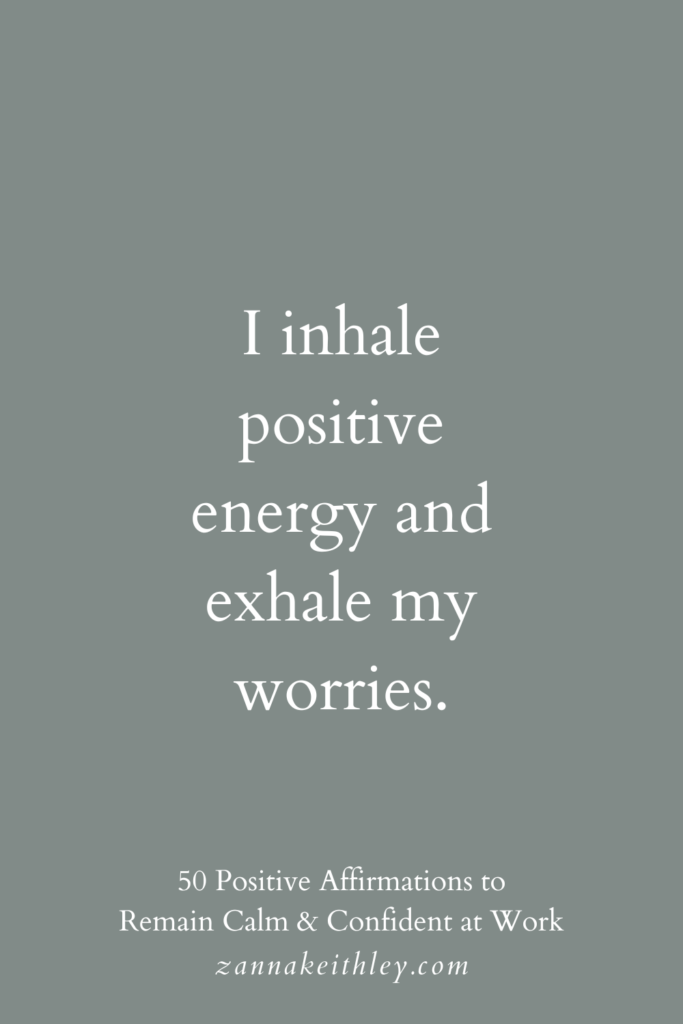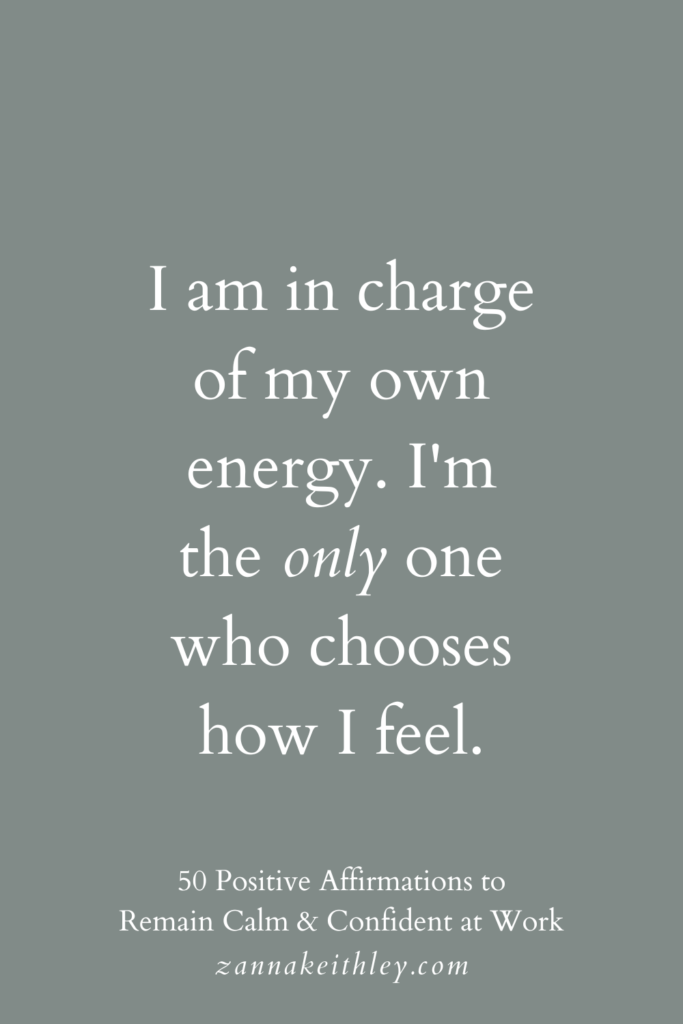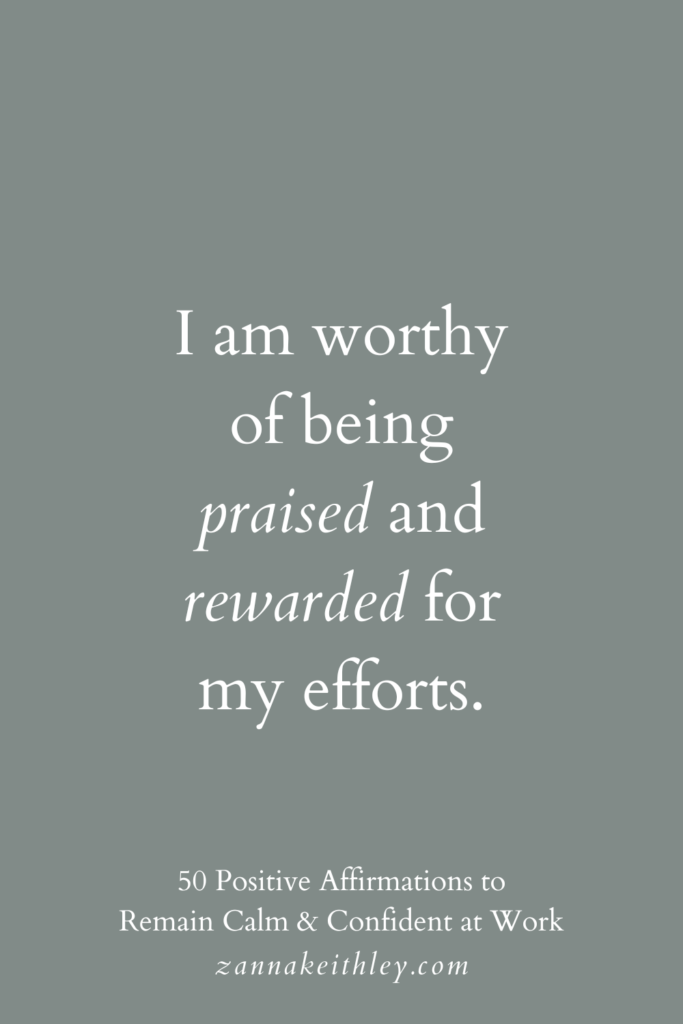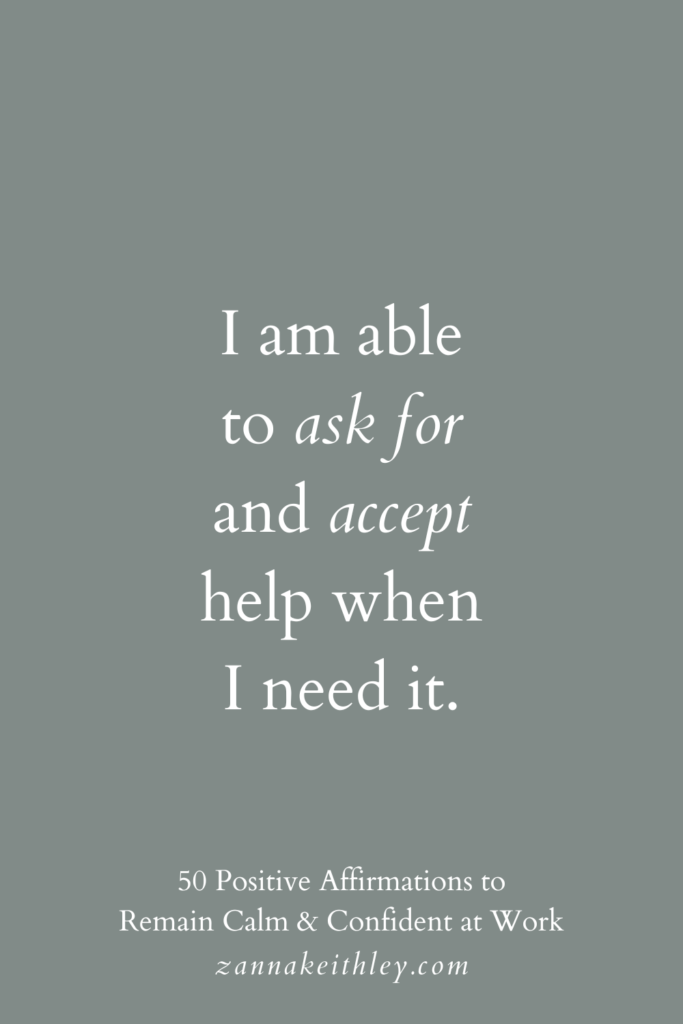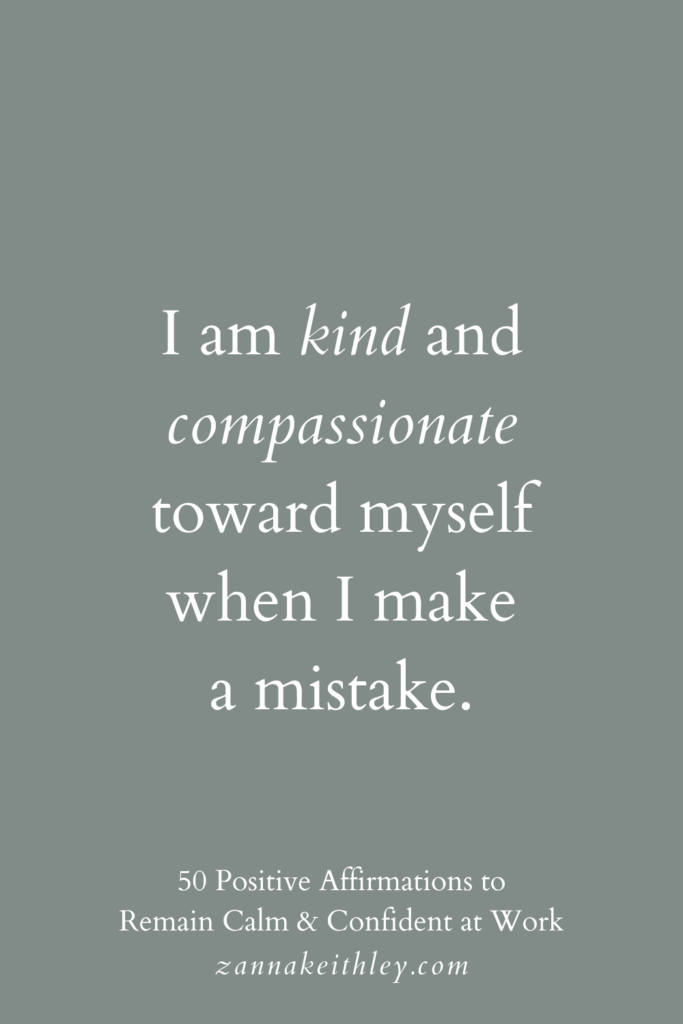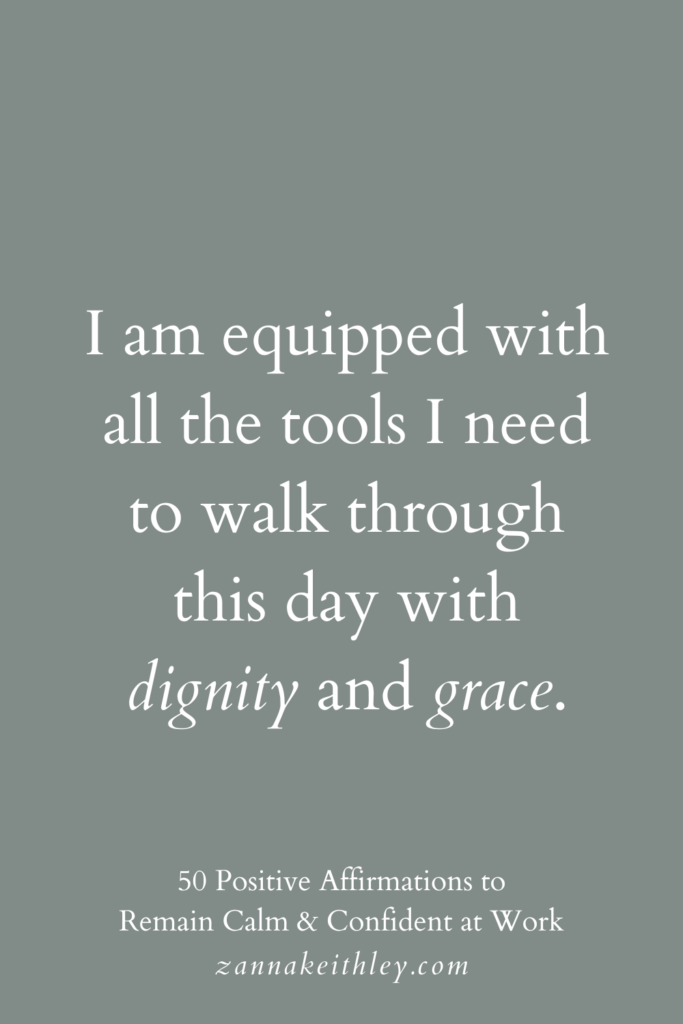 ---
How do you cultivate a positive mindset before, during, and after your workday? Share your best tips and favorite practices in the comment box below!
And if you want to add uplifting affirmations to your daily routine, be sure to connect with me on Instagram, where I post daily affirmation stories every morning! And don't forget to follow me on Pinterest, where I'm pinning positive affirmations and inspiring quotes every single day.
More Articles You May Like
---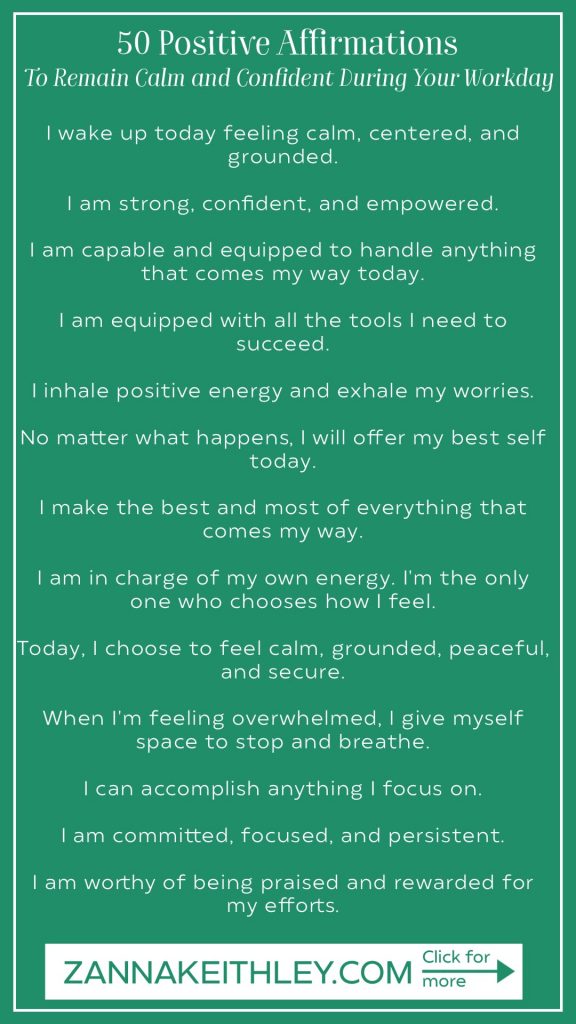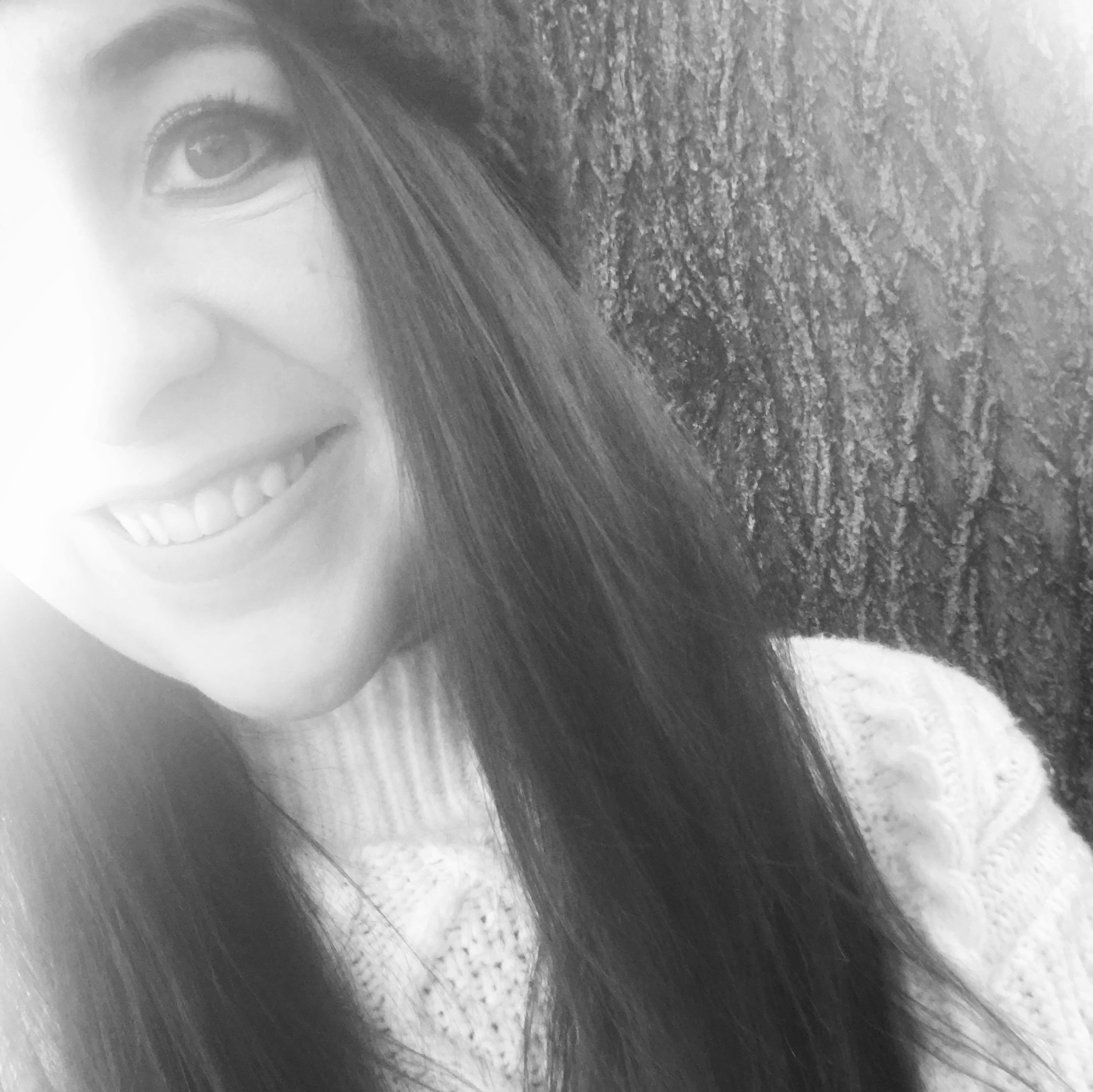 Hi, I'm Zanna! I'm a blogger/freelance writer living in Boise, Idaho. My mission is to help you break through the barriers holding you back from accessing infinite abundance and to inspire you to gather the courage and confidence to follow your dreams.