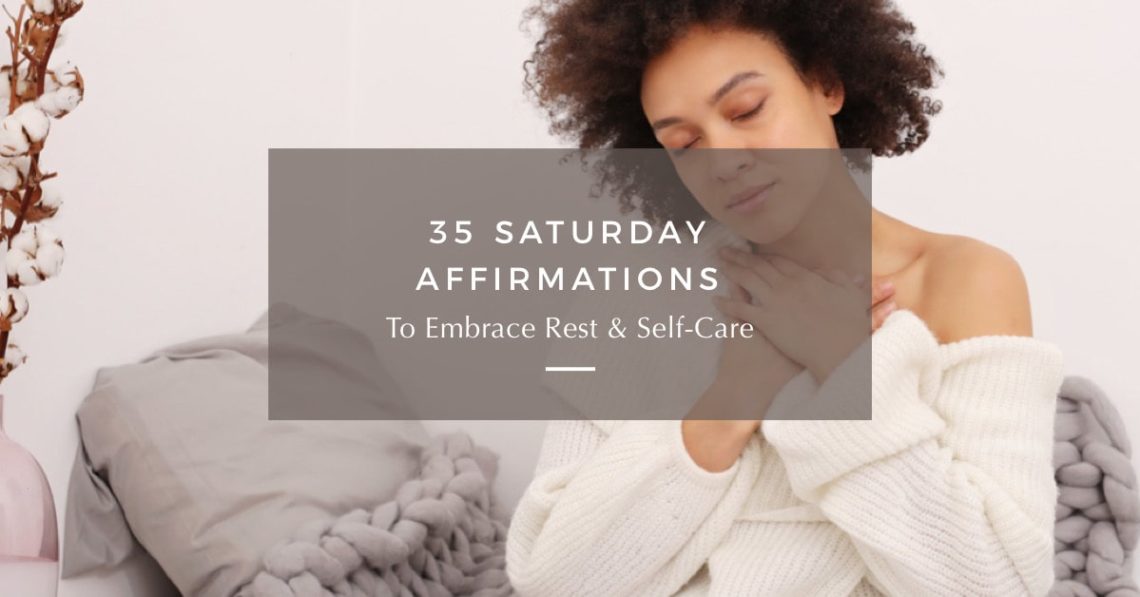 35 Saturday Affirmations To Embrace Rest & Self-Care
In this article, discover 35 Saturday affirmations to embrace rest, relaxation, and self-care. Let these gentle and loving affirmations support your journey and remind you that you are infinitely worthy of the time you spend taking care of your mind, body, and soul.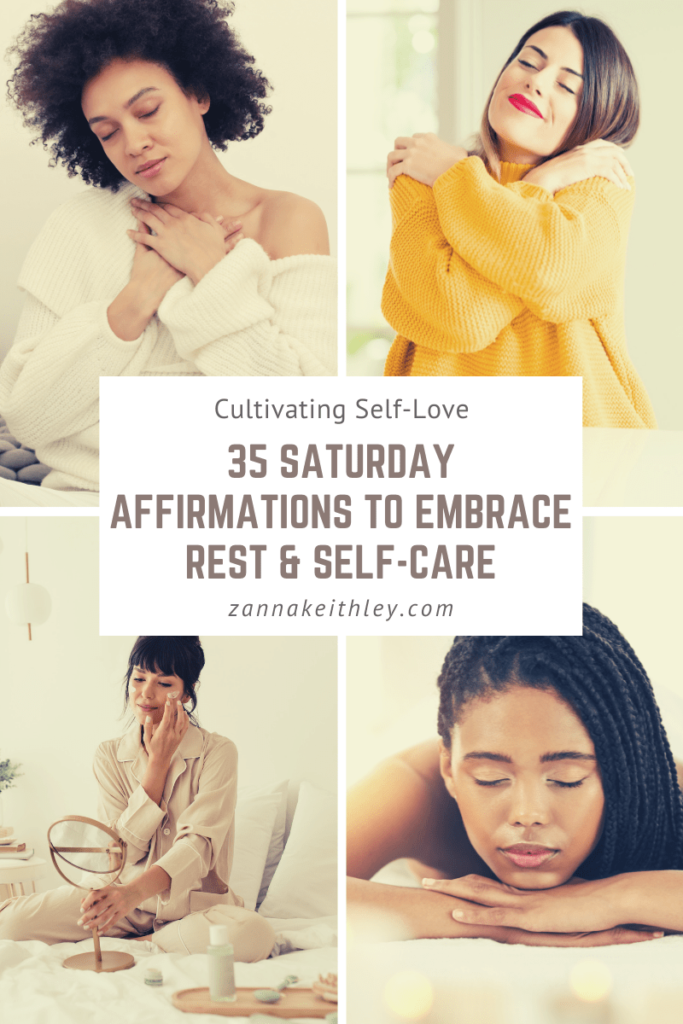 Self-Care Saturdays
You are allowed to slow down.
You work hard all week to run errands, meet deadlines, and finish all your tasks. You pour your energy into taking care of others. You give so much of yourself to the outer world every single day.
Now, it's time to let your inner being take a soulful sigh of relief.
Maybe you don't automatically get a break just because it's the weekend. You may still have chores to complete, people to take care of, and errands to run. But it's still important to remember that you, yourself, deserve your own time, care, and attention.
You deserve to be put at the top of your priority list every once in a while.
You deserve to be seen, heard, and acknowledged.
So even if it's just for an hour or two, I hope you pencil in time for yourself to practice self-care. This may look different week-to-week. One week, self-care might look like a nice bubble bath and a good book. The next week, self-care might look like going out to dinner with good friends.
To know what type of self-care would best serve you, ask yourself, "What does my soul need today?"
Maybe it's time to yourself. Maybe it's time with others. Maybe it's laughter. Maybe it's a little extra gentle self-love and self-compassion.
Whatever it may be, find the thing you need most and give it to yourself.
And always remember, self-care isn't selfish. This is a kindness for yourself and others. Because you take care of others when you take care of yourself.
And when you nurture your own inner being, you also set a shining example of what it means to cultivate true self-love.
Below, you'll find 35 Saturday affirmations for rest, relaxation, and self-care. Let these affirmations remind you that you are always, always worthy of the time and attention you so willingly offer to others.
You are worthy of joy.
You are worthy of peace.
You are worthy of love.
You are worthy of kindness.
Today. Tomorrow. Always.
Saturday Affirmations
Today, I make space for myself and honor my needs.
I wake up today with a grateful heart and peaceful mind.
I am grateful for my strong heart, healthy mind, and radiant spirit.
I give myself permission to do what is right for me.
My mind, body, and soul are my top priorities.
I am allowed to put myself first.
I am allowed to say no to anything that doesn't serve my highest good.
I let go of worries that drain my energy.
I make space in my life for silence.
Practicing self-care is the kindest thing I can do for myself and my loved ones.
When I serve myself first, I am better equipped to serve others.
Self-care is not selfish; it is a kindness for myself and others.
I give myself permission to rest.
I lovingly nurture my mind, body, and spirit.
I succeed and thrive when I feel rested and fulfilled.
Today's rest is tomorrow's success.
I embrace rest, relaxation, fun, and play.
I create positive habits that support my mind, body, and soul.
Every choice I make is based in self-care and self-love.
I am fueled by hope, optimism, and positivity.
I relax, let go, and know that everything is working out in my favor.
I am worthy of living a joyful, vibrant, passionate life.
I choose happiness, and happiness chooses me.
I surrender all heaviness within and allow the universe to give me what I need.
I deserve the same love and attention that I so willingly offer to others.
I take care of the future by taking care of the present moment.
I have the power to create profound positive change in my life.
I am choosing to show up for myself, today and every day.
All the positive energy I put out into the world, I get back tenfold.
I deserve to live the truest, most beautiful life I can imagine for myself.
I deserve true happiness each and every day.
I create everflowing abundance through joy, gratitude, and self-love.
I am allowing myself to live in the moment and release any worries about the past or future.
In this moment, I am exactly where I am meant to be.
I have everything I need to create a beautiful day today.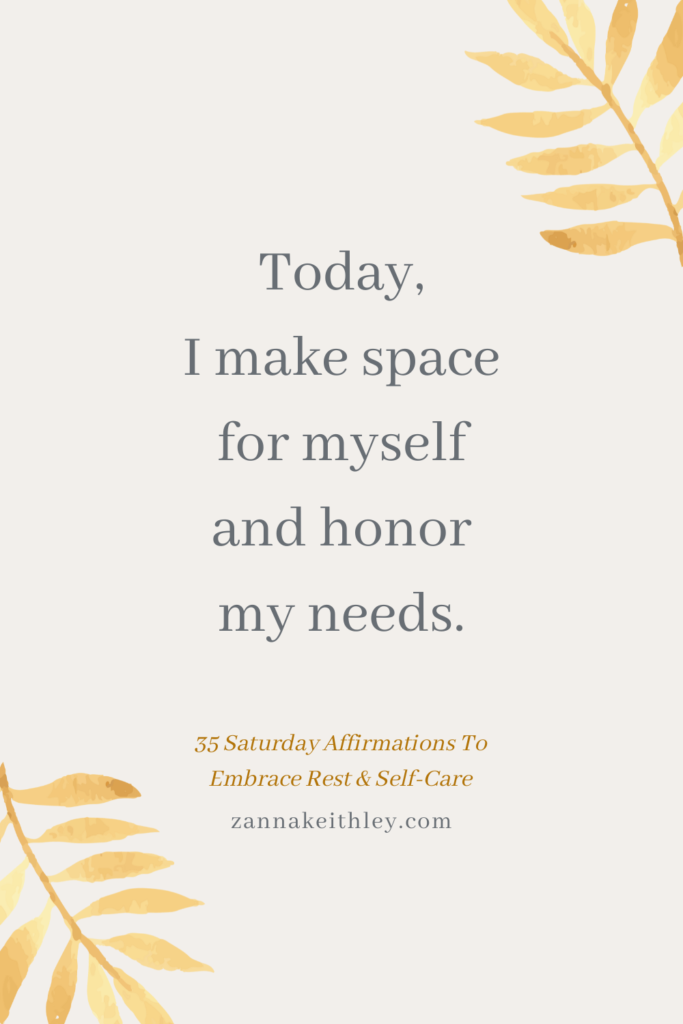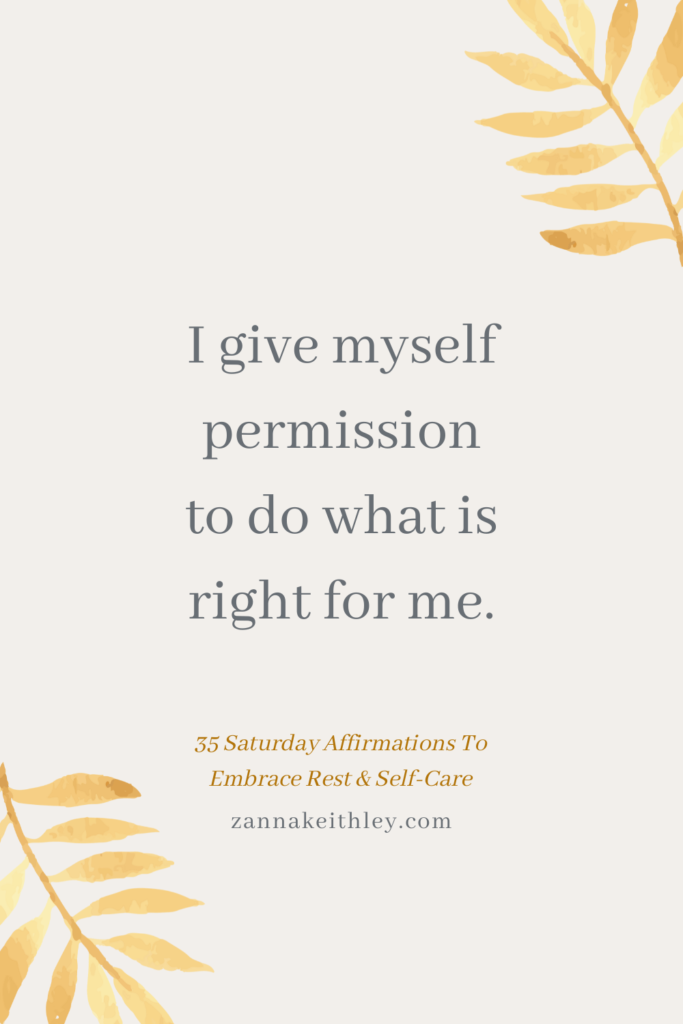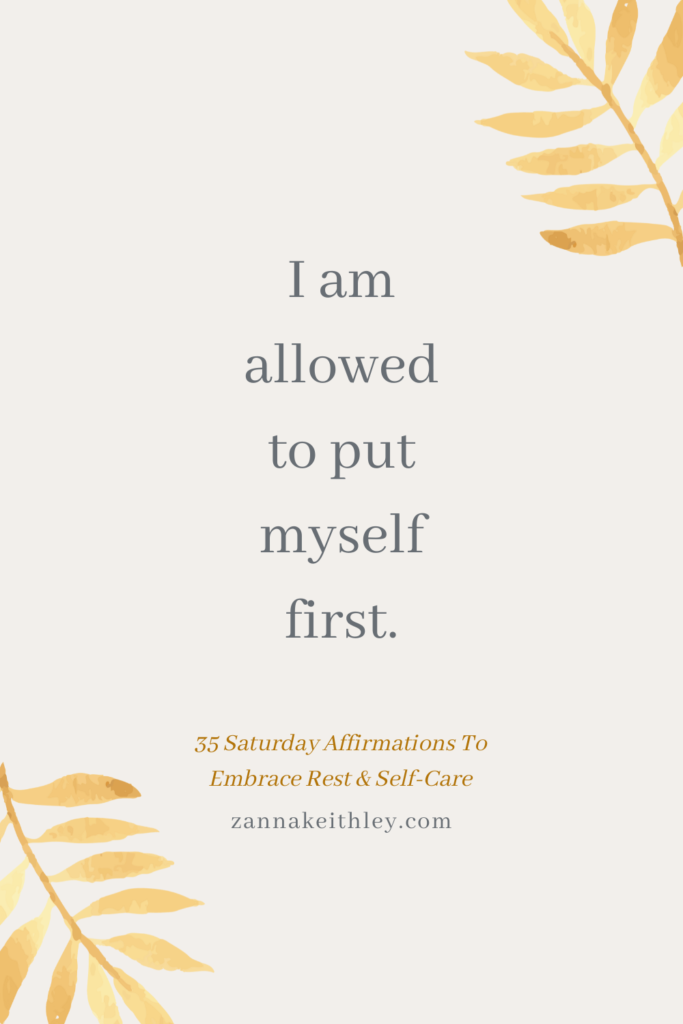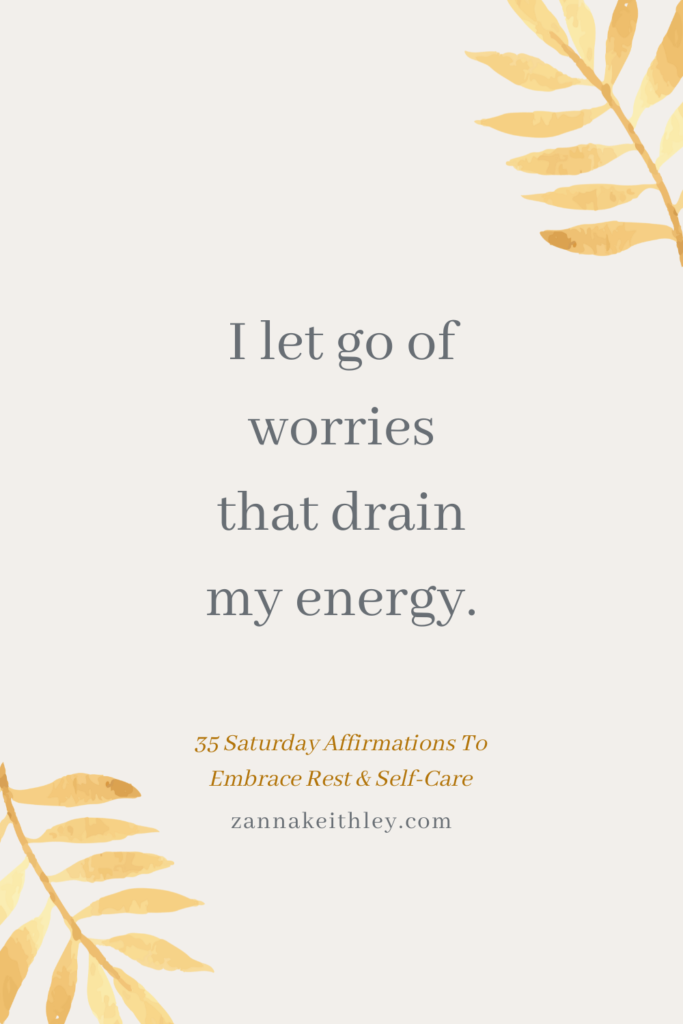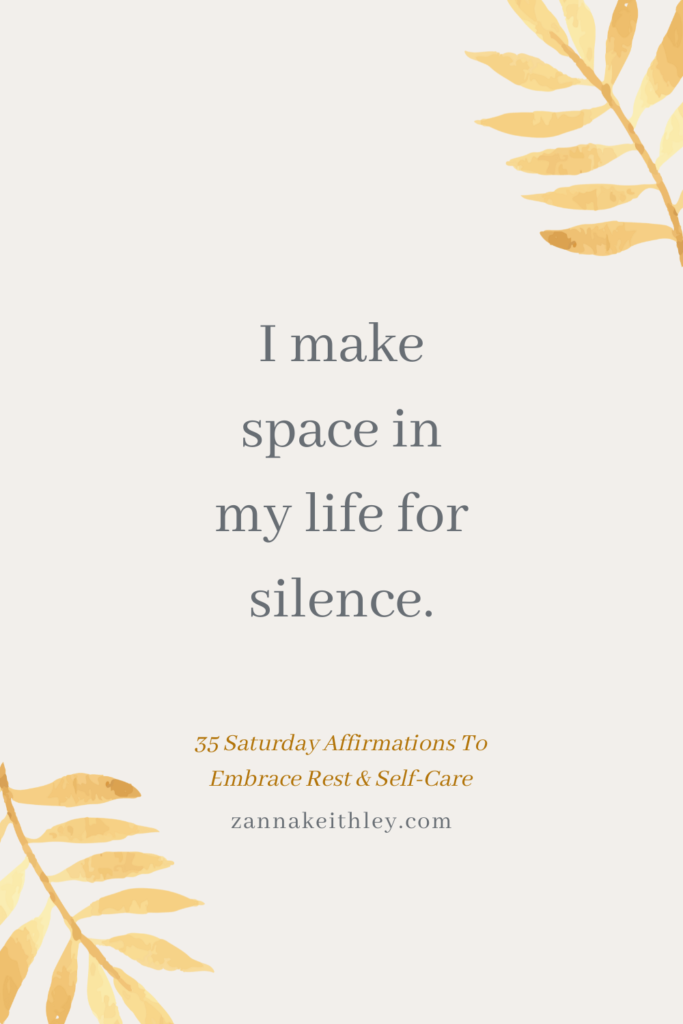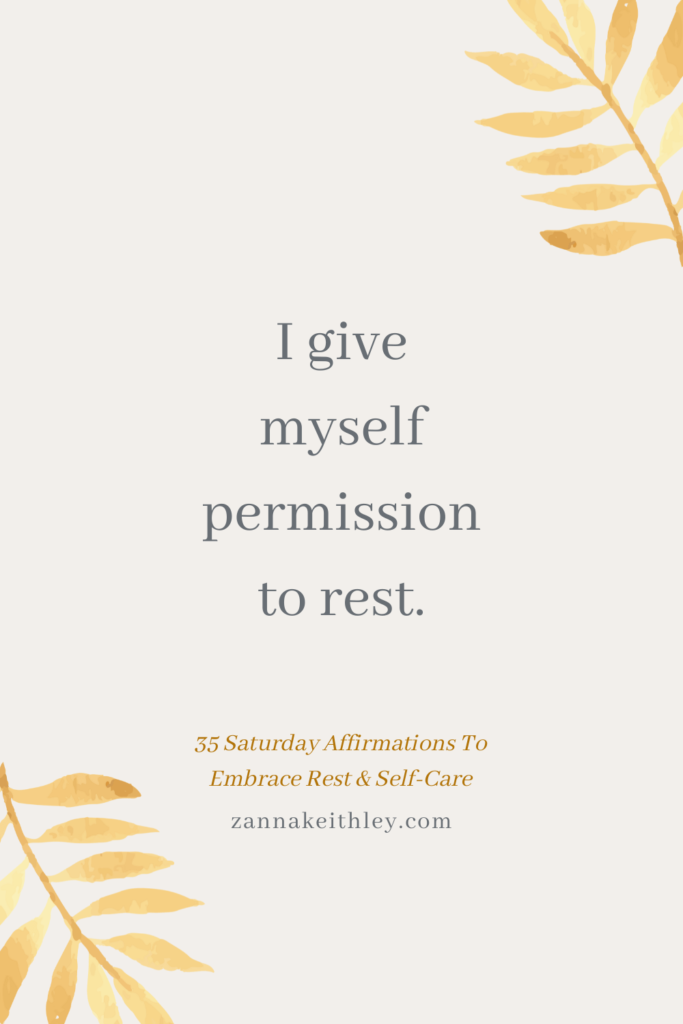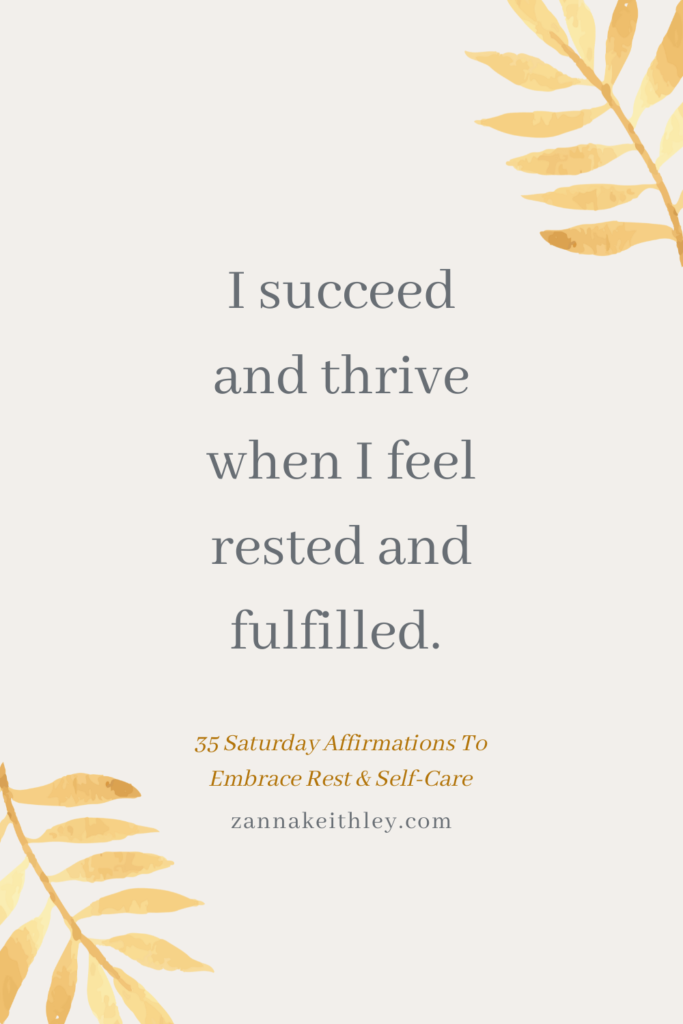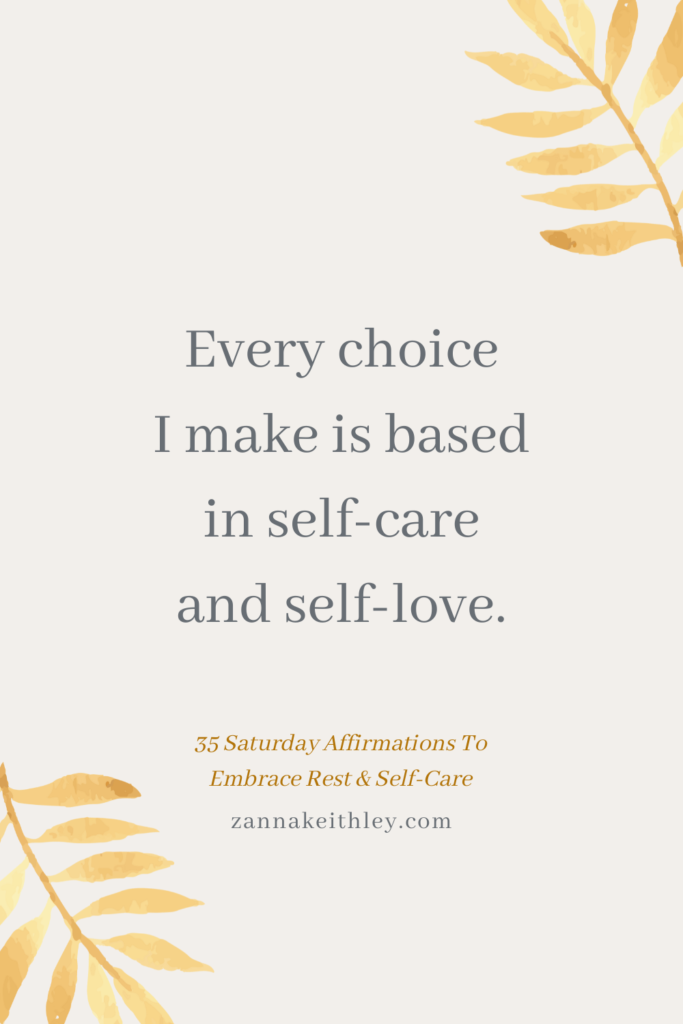 ---
What are your favorite Saturday practices for embracing rest, relaxation, and self-care? Share your favorite empowering tips in the comment box below!
And for more resources on spirituality, meditation, manifestation, and all things self-love, be sure to connect with me on Instagram and Pinterest, where I'm posting positive affirmations and empowering messages daily.
More Articles You May Like
---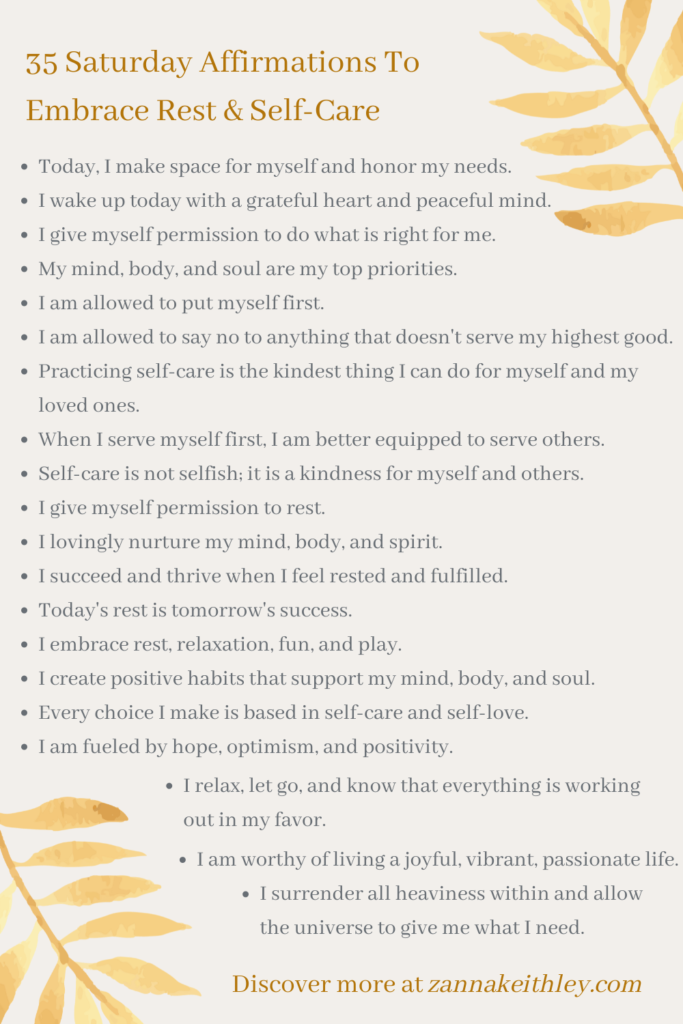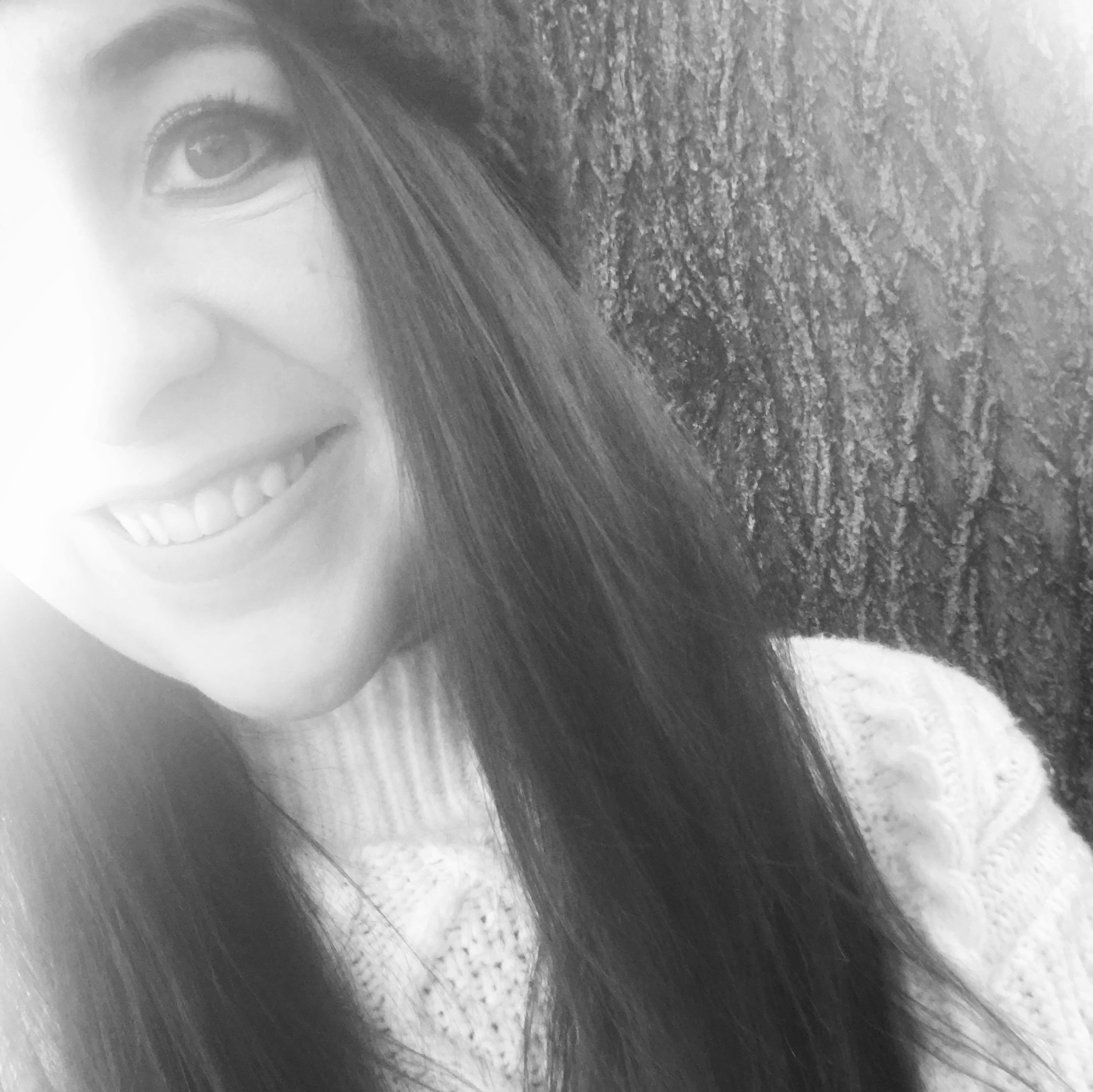 Hi, I'm Zanna! I'm a blogger/freelance writer living in Boise, Idaho. My mission is to help you break through the barriers holding you back from accessing infinite abundance and to inspire you to gather the courage and confidence to follow your dreams.