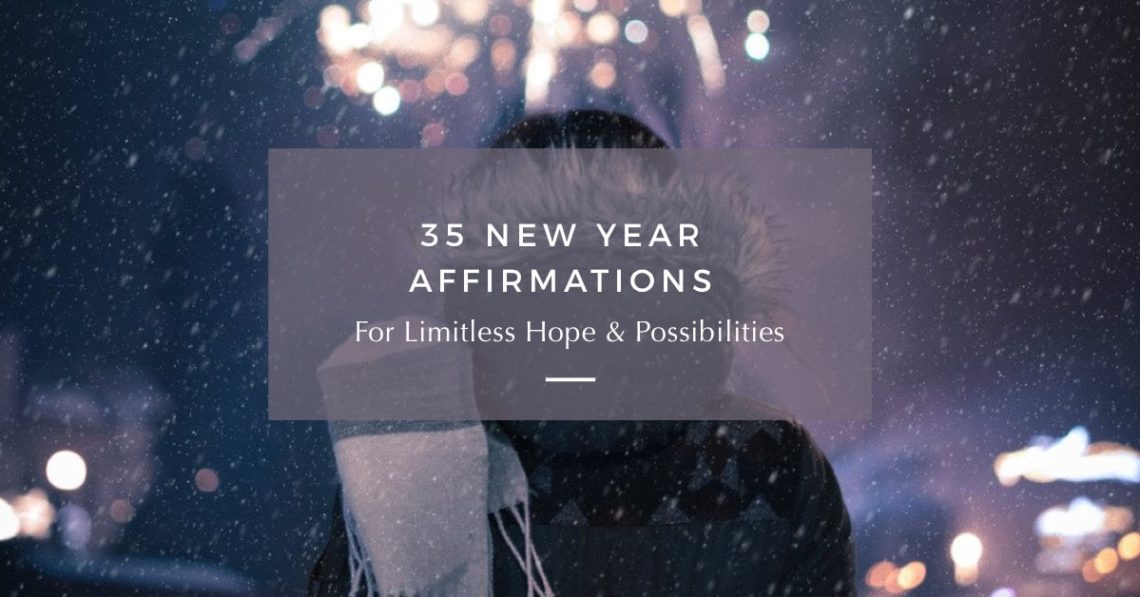 35 New Year Affirmations For Hope & Possibilities
In this article, discover 35 empowering new year affirmations to help you cultivate a positive mindset as you step into a new year filled with limitless hope and infinite possibilities.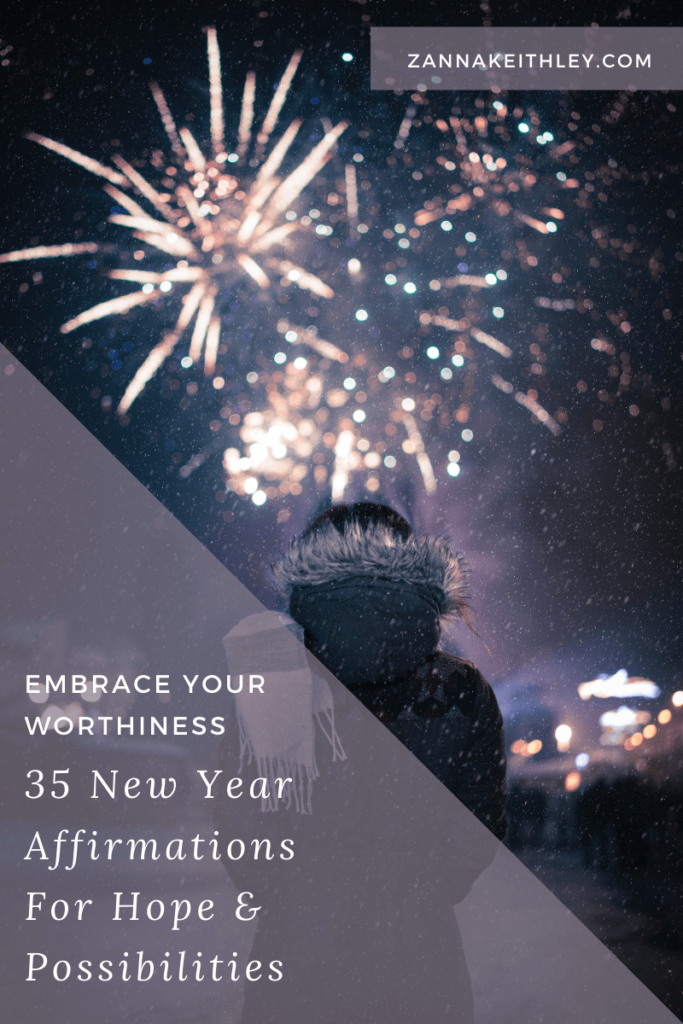 Embracing The New Year
A new year is a perfect time to get clear about your overall life vision and decide how you want to show up in the world. What limiting beliefs are still holding you back from achieving the goals you've set for yourself? What's stopping you from stepping into your purpose and passion? And how can you align with the true, authentic you each and every day?
Sure, it's true that you can ask yourself these questions at any point during the year.
But why not embrace the magic of a new year and all that it represents?
Here are some helpful practices for stepping into the new year with clarity and confidence:
Update your vision board! You can create a physical vision board and place it in a spot where you can see it prominently each day. You can also create a mobile vision board on your phone. Just save images and empowering quotes that represent your dream life to an album in your photos labelled My Life, My Future, or simply, Vision Board.
Purchase some personal growth books that you've been wanting to read and commit to reading one chapter a day. (You can find some of my favorite manifestation books here.)
Make a list of empowering new year affirmations that represent how you want to show up for yourself and others over the next year. (And commit to reading them each day!)
Take an online course that will help you to grow, teach you a new skill, or help you align with your higher self.
Below, you'll find 35 empowering new year affirmations to help you step into this new year embracing new beginnings and limitless possibilities. These affirmations will help you embrace a positive mindset and remind you of your infinite power to create the life you envision for yourself.
New Year Affirmations
As I step into this new year, I see limitless hope, love, and possibilities.
Where focus goes, energy flows, so I focus on peace, success, and positivity.
I commit to beginning and ending this year with a grateful heart.
I commit to listening to what my soul needs in each and every moment.
I commit to loving myself completely as I continue to learn and grow.
I am so incredibly grateful for the fresh start and new beginning this year offers.
The best time to follow my heart and start something new is right now.
I have everything I need within to create a beautiful life.
I walk forward in faith and trust my journey.
My story is unfolding beautifully.
I believe in myself, my talents, and my abilities.
I have the power to change my story.
This year, I give myself permission to focus on the people, things, and experiences that light up my soul.
I choose to create a life that feels good to me.
I am ready and willing to receive all of the miracles and magic coming my way.
I'm proud of the journey that's brought me here today, and I'm excited to move forward into a new chapter.
I am grateful for all that I have and all that's on its way to me right now.
I remain committed, consisted, and courageous, no matter what.
This year, I am choosing faith over doubt and courage over fear.
I only put my energy into things that truly matter to me.
I embrace each moment with love and gratitude.
I explore the treasures this new year offers with a curious mind and open heart.
No matter what happens, I remain aligned with faith, trust, and love.
As I move forward, I become braver, stronger, and more resilient.
I fearlessly shine my light to illuminate the path for others.
I am creating a life of passion, prosperity, and purpose.
I free myself from fear of the unknown.
I believe in myself. I can accomplish incredible things. There's no limit to what I can achieve.
I believe I can be all that I want to be; I believe in me.
I trust myself completely. The strength I need is within me.
I will make the best and most out of everything that comes my way this year.
I don't need permission to step out into the world. I am worthy right now, just as I am.
I am aligned with my true self and stepping into my power to create anything I want in this life.
I did not come this far only to come this far. I will keep going. I will keep rising.
My greatness exists here and now.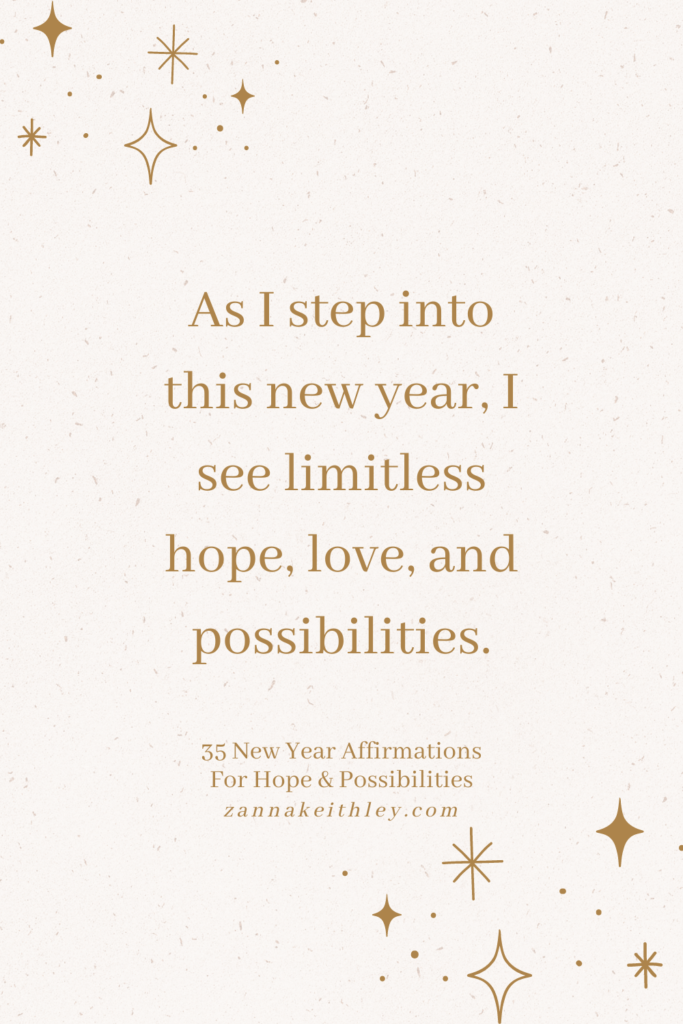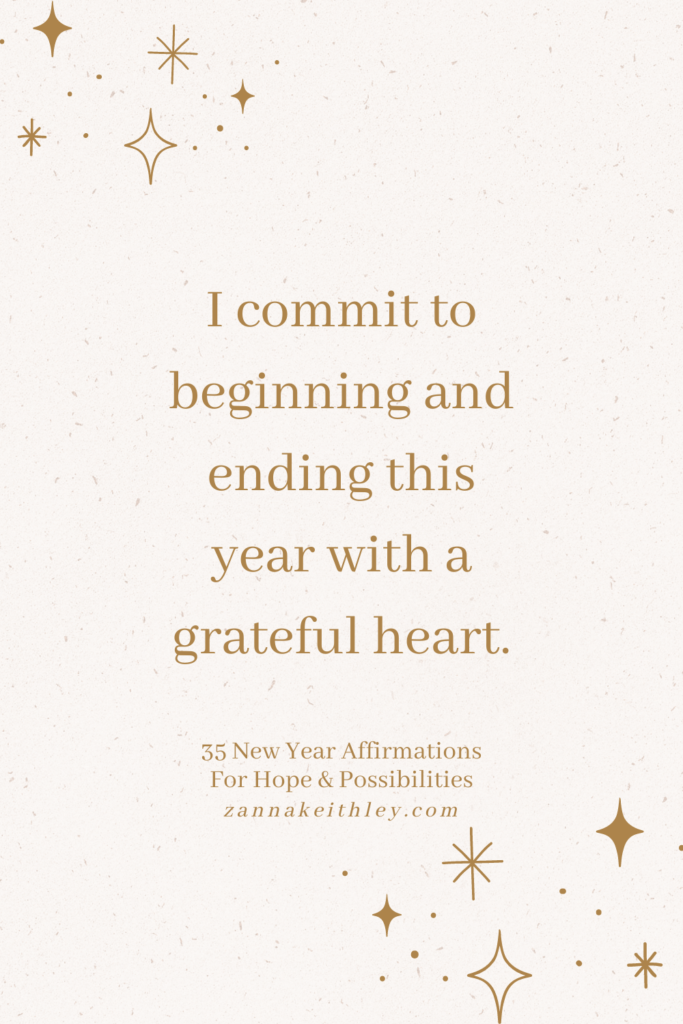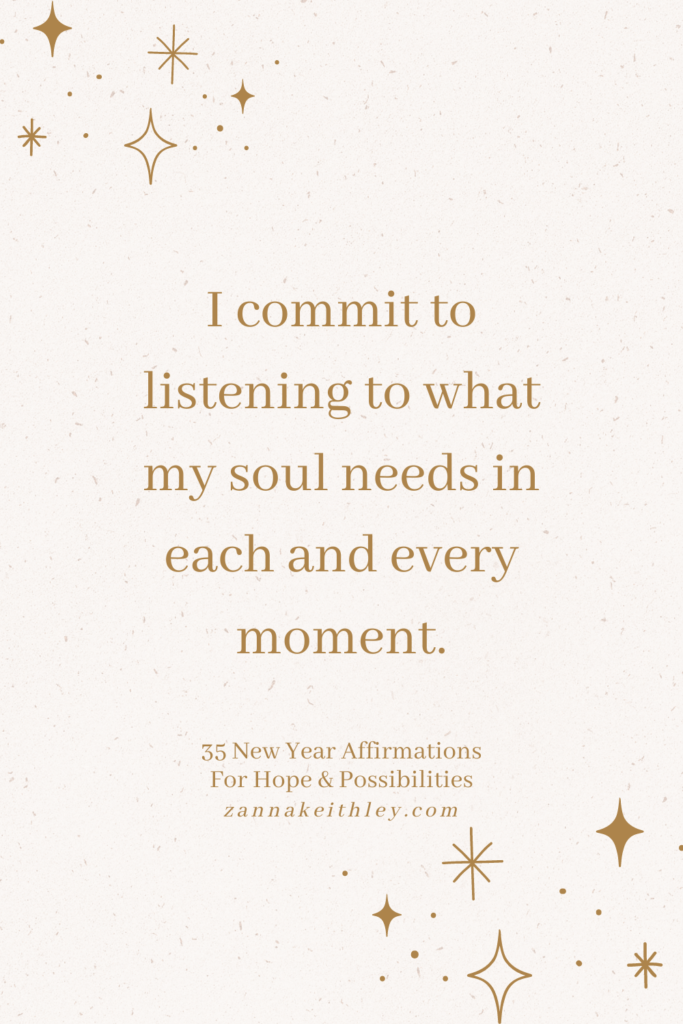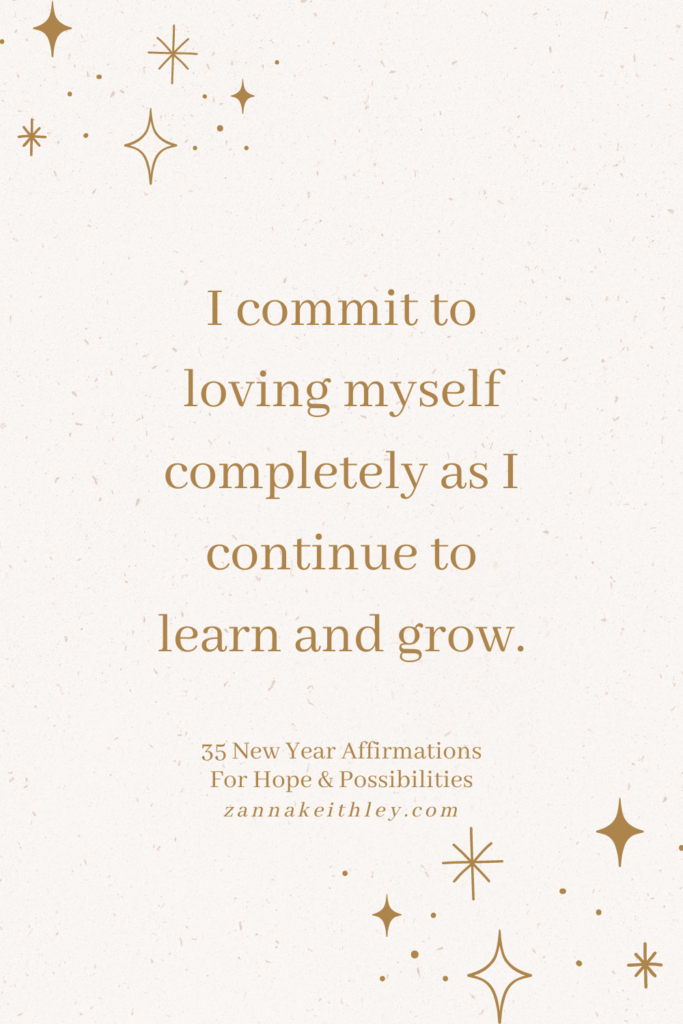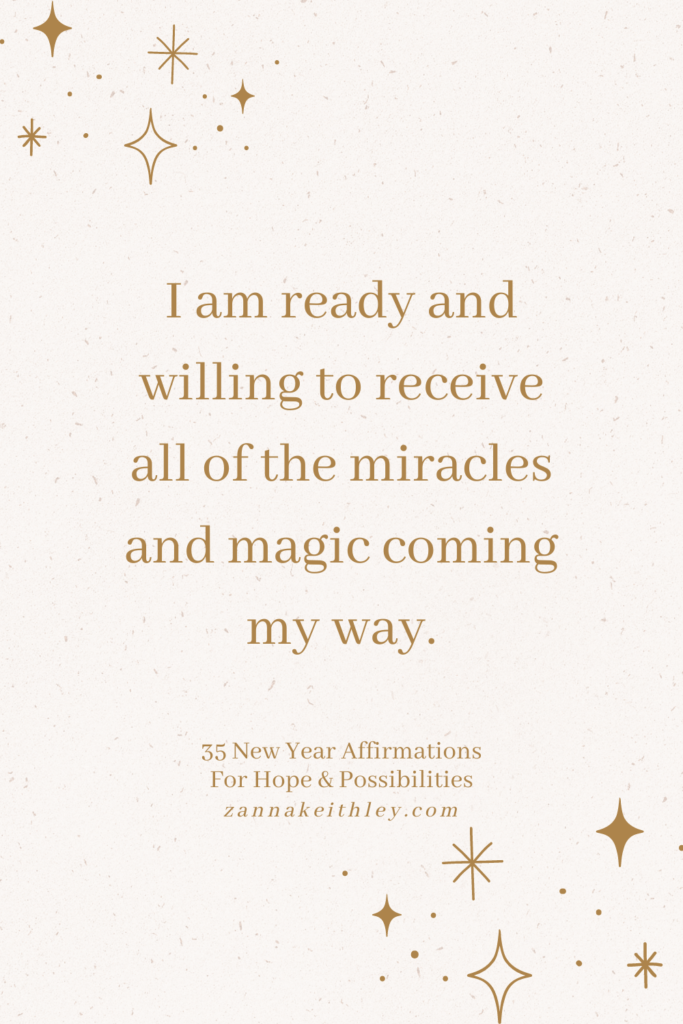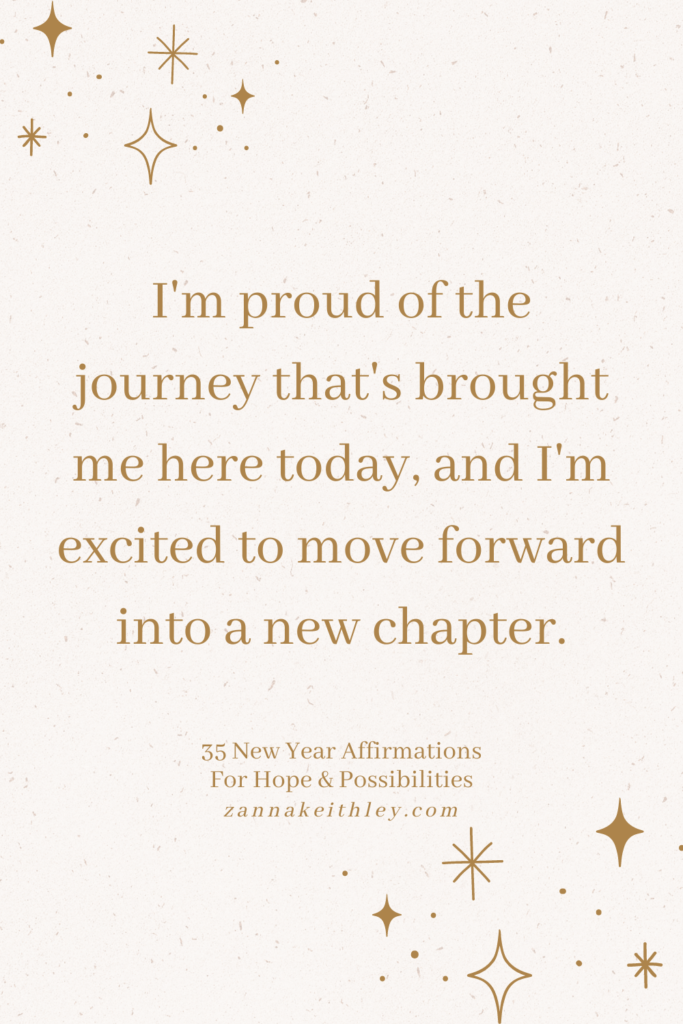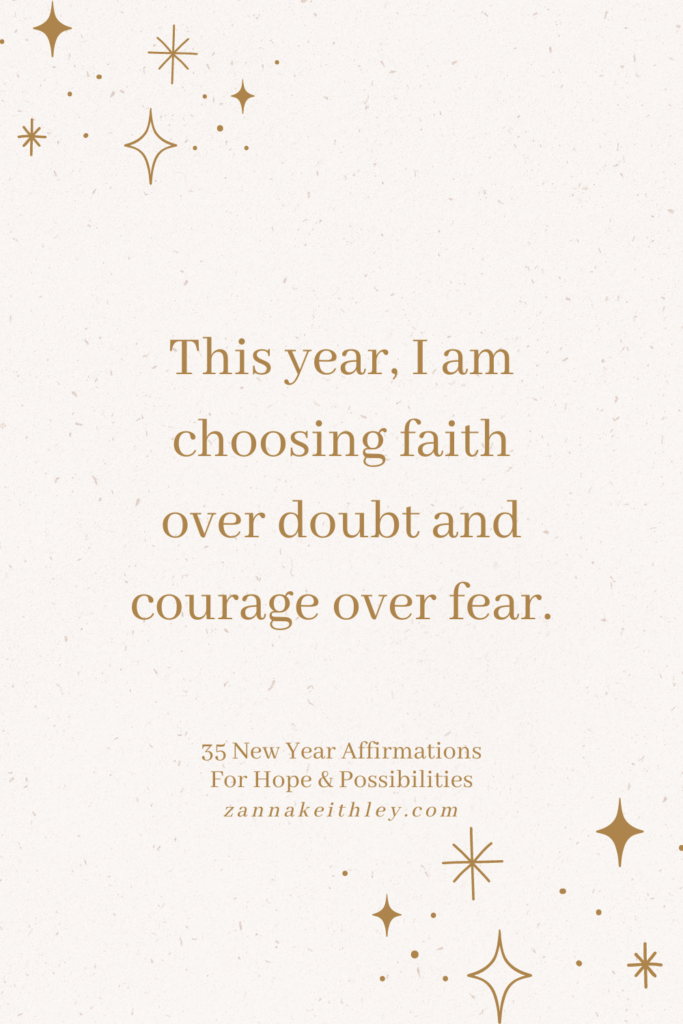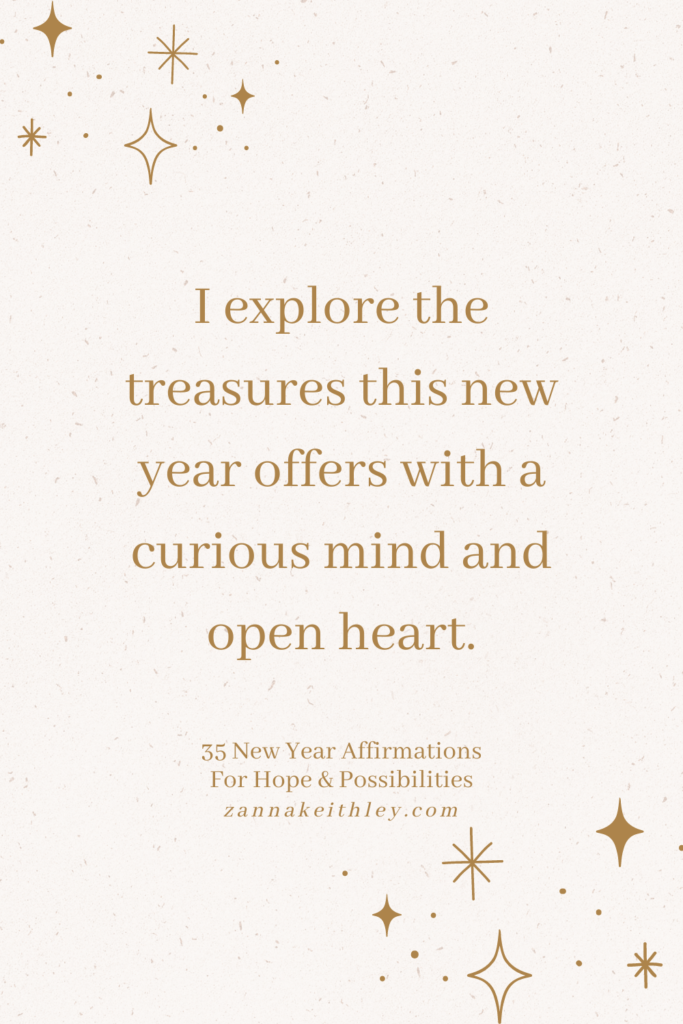 ---
What new year affirmations will you be repeating as you embrace a new chapter of your life? Share your favorite empowering words in the comment box below!
And for more resources on spirituality, meditation, manifestation, and all things self-love, be sure to connect with me on Instagram and Pinterest, where I'm posting positive affirmations and empowering messages daily.
You May Also Like:
---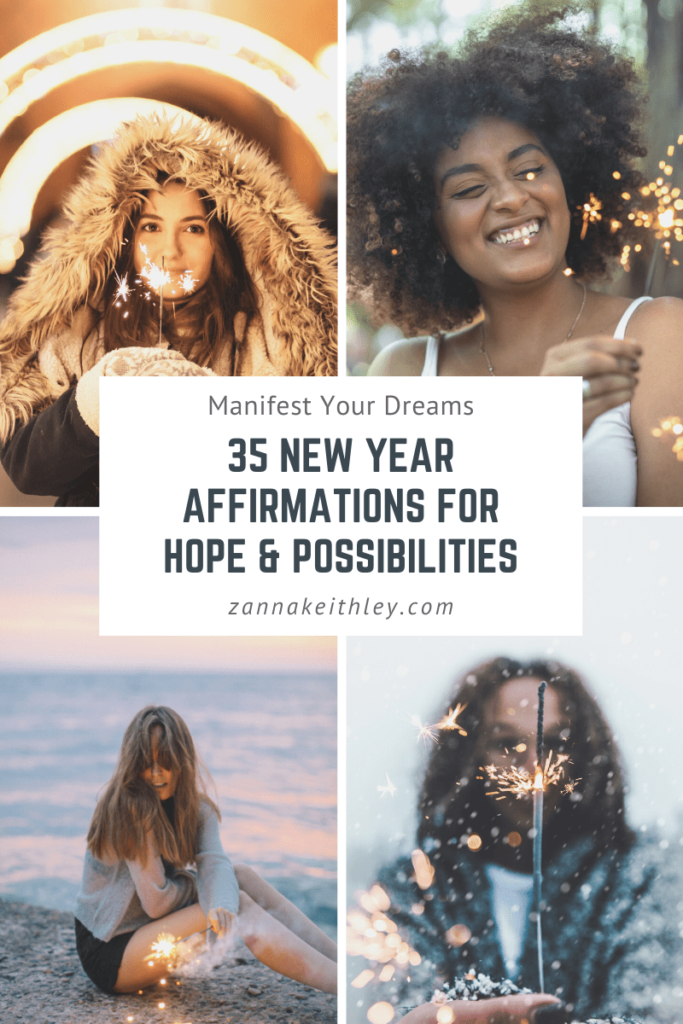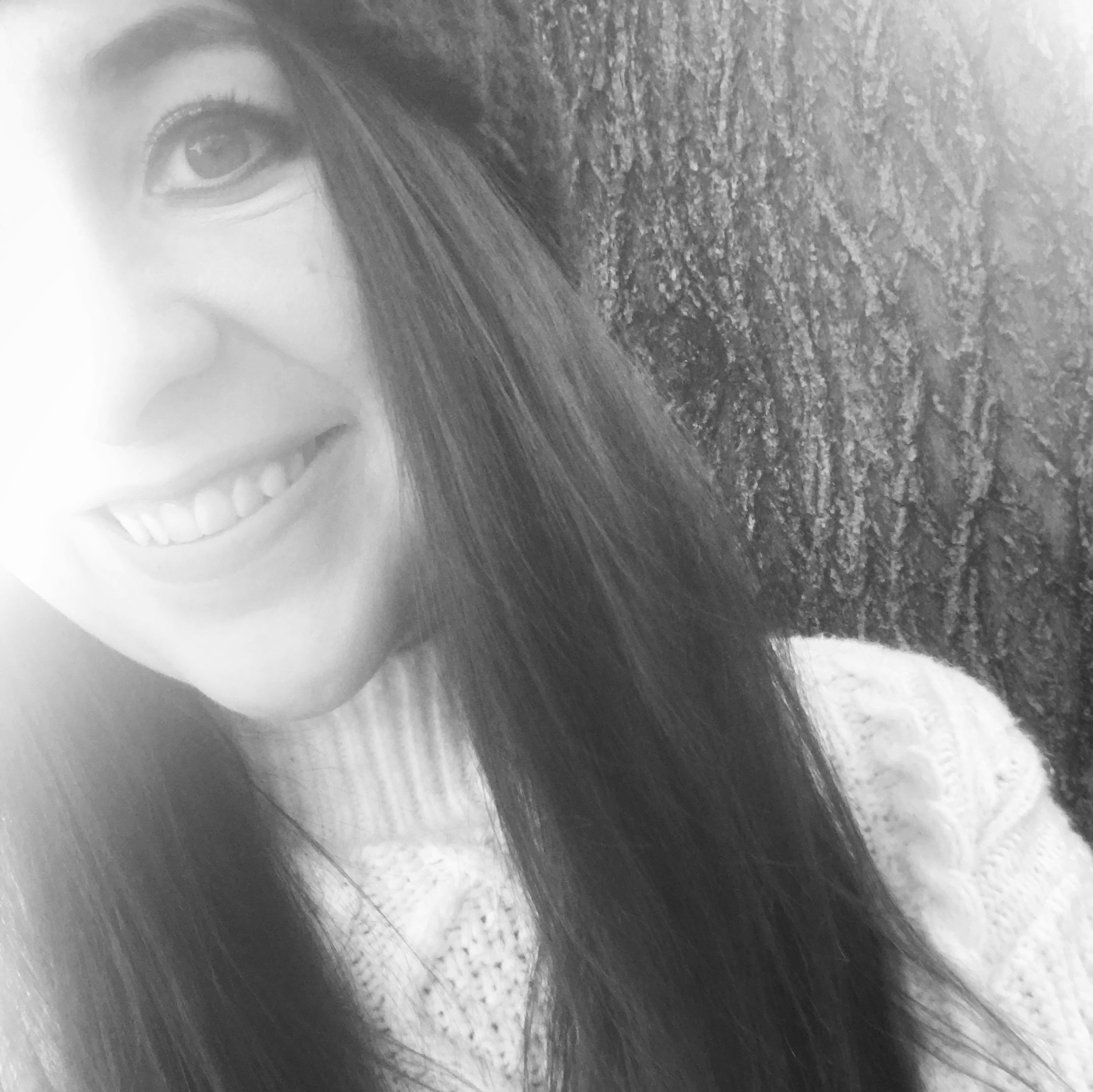 Hi, I'm Zanna! I'm a blogger/freelance writer living in Boise, Idaho. My mission is to help you break through the barriers holding you back from accessing infinite abundance and to inspire you to gather the courage and confidence to follow your dreams.